Films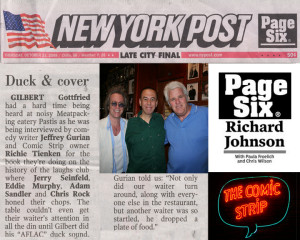 Face to Face 
Full length comedy feature film, written with Scott Baio, starring Dean Stockwell, Joe Viterelli, Alex Rocco, Scott Baio, and Meatloaf.
Synopsis: A nice Italian family story with no mob, and no gangsters. Accepted in many festivals, it won two festivals as Best Comedy Feature, Marco Island Film Festival in Florida, and the Valley Film Festival in Hollywood. It was also honored as the opening night film at the Taos Talking Picture Festival in Taos, New Mexico.
Desperate to reconnect with their emotionally detached fathers, three cousins, with the help of their mothers, and grandmother, kidnap their dads and take them on a comically ill-fated road trip for a week-end of forced male bonding.
I Am Woody
Short (24 minute) comedy/gangster film about a mob boss who's obsessed with Woody Allen. Starring Vince ( Johnny Sack) Curatola, and Bobby ( Eugene Pontecorvo) Funaro from The Sopranos, Victor (Angel Eyes, R-Xmas) Argo, Willie (Analyze That) DeMeo, and newcomer John Glenn Hoyt as Big Frank/Woody Allen.
Synopsis: Picture Woody Allen in The Mob. Now picture a huge Woody Allen in the mob. The short film , "I Am Woody", is an homage to the great writer/director Woody Allen. It is the story of Big Frank Del Guardo, a tough mob boss who's obsessed with the humor of the great auteur. He thinks Woody's the funniest man on the planet. He can quote every line from every film. He even memorizes the credits. He keeps a collection of Woody Allen memorabilia.
Frank survives a mob hit, comes out of it with amnesia, and now truly believes he's Woody Allen, hat, wig, glasses and all. The only problem is he's 6'5″, and weighs over 300 pounds.
Not knowing he's a gangster, or even that he's big, ( he thinks he's small and thin), he becomes afraid of his own men.
He's tricked into attending a sit-down as "Woody", thinking he's there to raise money for his next film, a movie about "a pants virus", which if unleashed would destroy every pair of pants in the country, leaving us a nation of men in our underwear.
Come and see what happens when a huge Woody Allen interacts with the mob. You get gangsters with names like Mike " The Mench" Mandelbaum, Sol "Thrifty" Schwartz, and Arnold " The Kibbitzer" Klugstein.
Click here for the video.
Click here for Hollywood Reporter Story on Jeffrey and "Woody", Click here for NY Post story on "Woody".
Screenplays
Baby and Max
A romantic comedy about a very unlikely couple, such as Woody Allen and Mira Sorvino, or a similarly tall, voluptuous Marilyn Monroe-type.
Almost Cut My Hair
A period comedy set in the 60's, about a 60's "freak" who, within the course of a year, goes from a preppy to a " 60's love-child/wild Stoner" hooked on listening to Bob Dylan, The Mothers of Invention, and of course, Crosby, Stills, Nash and Young. During the course of an acid trip taken with his friends to decide what to do with his life, he decides to become a dentist, and the rest of the film follows his life on his quest to achieve that goal. Almost like Animal House in dental school.
 Other Projects
• The "Men Who" Series – YOUTUBE VIDEO
• The Newz – YOUTUBE VIDEO
• Uncle Nat's Travelling Peep Show
• Men of Violence
Jeffrey has also been a "reporter" for Weekly World News where he writes unusual stories like " Tap Dancing For The Criminally Insane", "Man Slips On Pat Of Butter, Winds Up In Next Town", and "Top Model Has Abdominal Organs Removed for Thinner Look." He also has his own column entitled "Gurian's World of the Bizarre." See the Writer/Director Page for examples.