PETE DAVIDSON HOSTS SNL
I first met Pete when he was still a teenager and often came to do my late night show at The Comic Strip with his close friend Jordan Rock. Jordan and I were given the honor of hosting "late-night" at The Strip.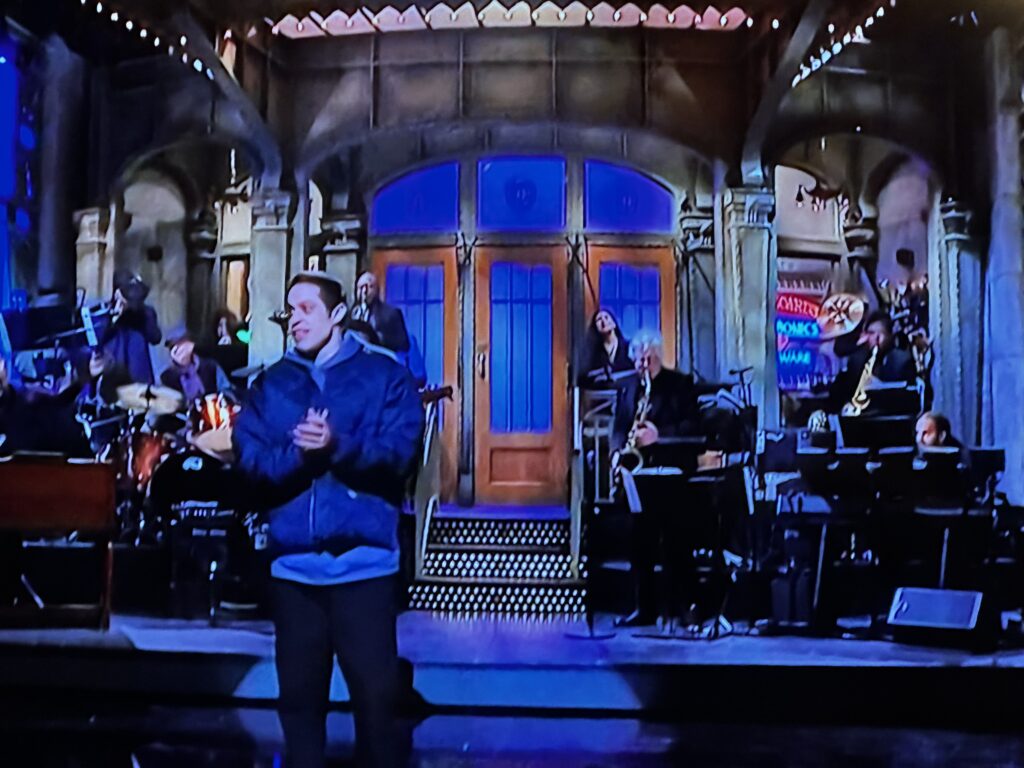 Owner/founder Richie Tienken gave us that honor because prior to that the comics introduced each other without much of an intro and just brought the next comic to the stage. I hosted Sunday and Monday night, and Jordan hosted Tuesday and Wednesday night.
Late night happened after the last show ended, and the audience was told they could stay for free to see up and coming comedians. And not just anyone could do "late-night." You had to be passed in the club by doing "the Lottery Show" which was judged by Richie, and other comics like Patrice O'Neal, and Bobby Kelly.
Pete did such a great job as the SNL host. He was very self-deprecating and showed a lot of humility by referring to himself as a drug addict, talked about being bipolar, and did a sketch making fun of his talent and his great show Bupkis, with co-stars Edie Falco and Joe Pesci. He played a lot of fun characters, some of them shirtless, and people even got to see all his tattoos.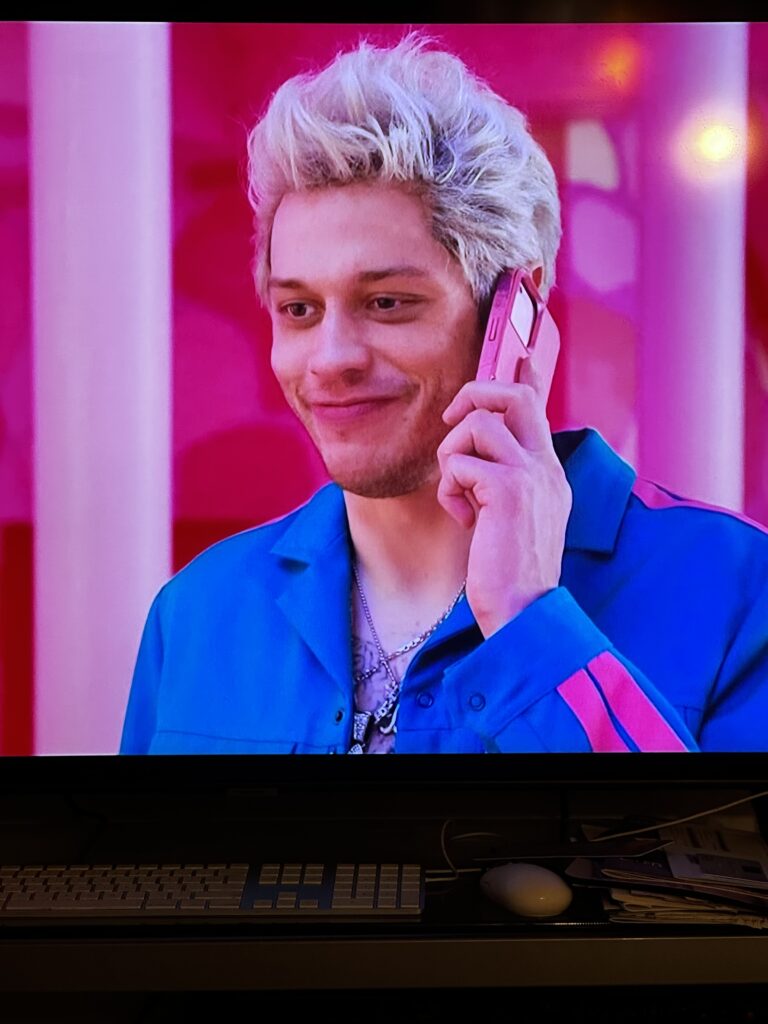 A fond memory of mine with Pete is when he introduced me to his girlfriend at the time, Carly Aquilino, one night at Gotham Comedy Club. Carly was a regular on the MTV show Girl Code at the time, and he said to her, " This is Jeffrey Gurian, a guy you can trust!" A nicer thing could not have been said.
The night I'm writing this I'll be seeing Pete perform at City Winery and so many people wanted to come out and see him that they had to add a second show! More on that in my next column!!!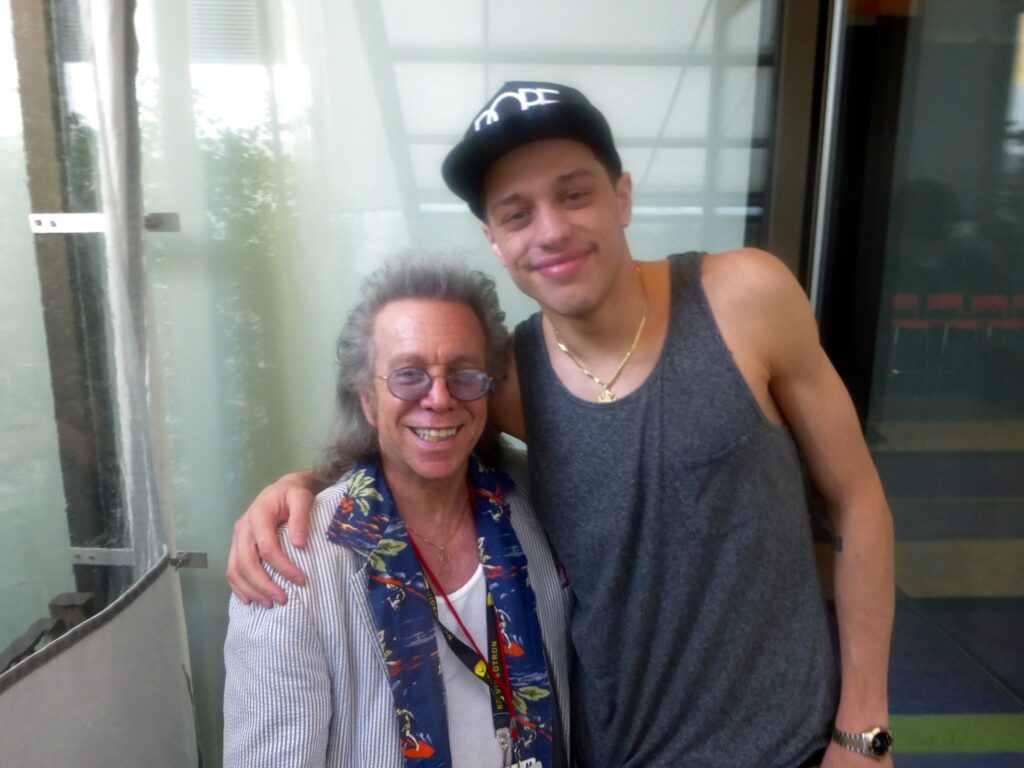 JIM GAFFIGAN POPS IN TO NEW YORK COMEDY CLUB
I didn't know my buddy Jim Gaffigan was waiting to go on next when I was on stage at New York Comedy Club. Not that it would have changed what I did, and sometimes it's better if you don't know who's out there, but I was very surprised to see him. He didn't seem that surprised to see me! (LOL) And I almost didn't even recognize him in the dark!
He was working out some new material which was very funny, … no surprise! Last time I saw him was not too long ago at the 92NY when he was promoting his co-starring role in the new Peter Pan and Wendy movie playing Mr. Smee.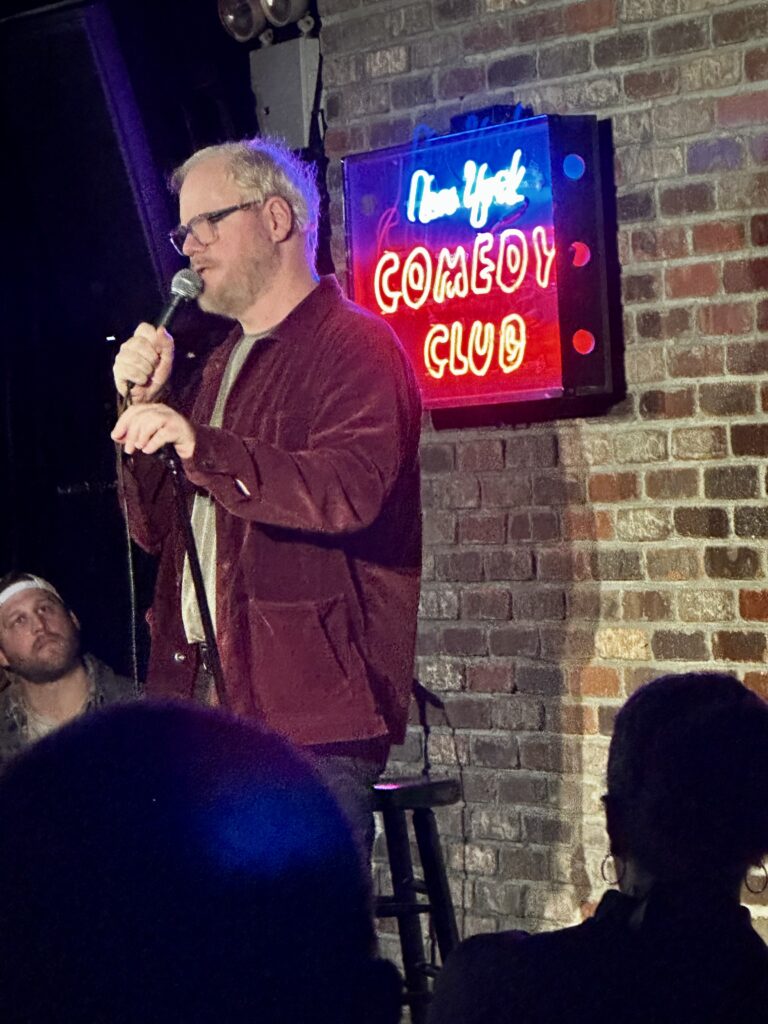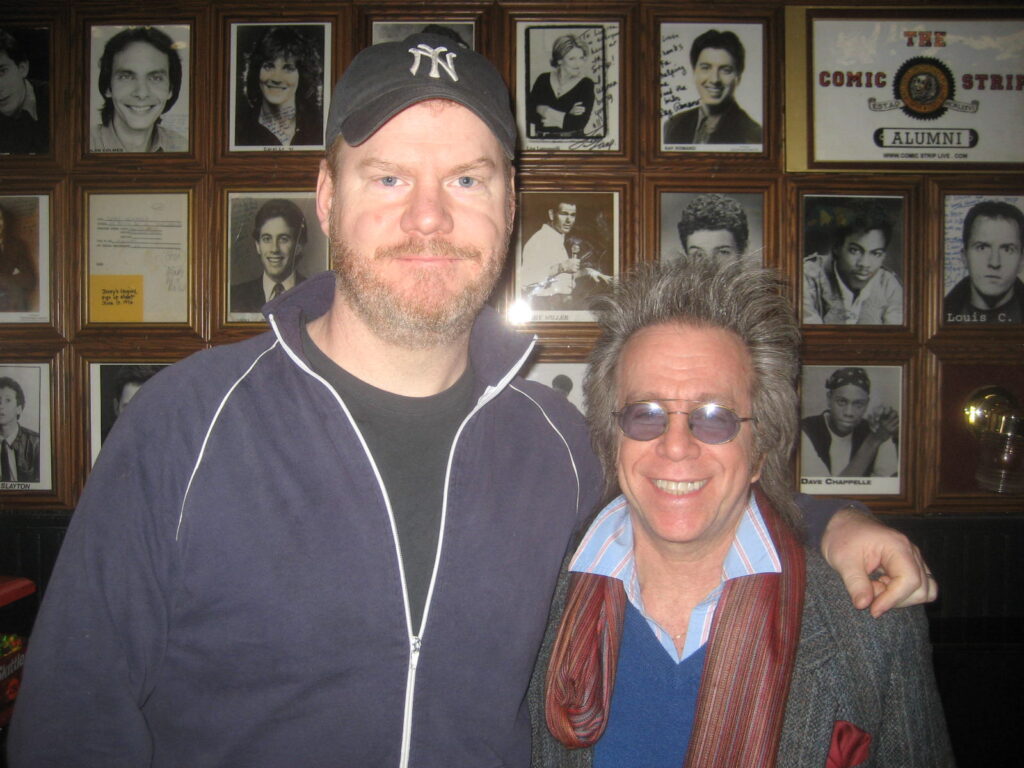 SHEBA, … QUEEN OF THE THREE MONKEYS
Sheba Mason did a very difficult thing. During Covid, July of 2020 to be exact, she opened a new comedy room on West 54th Street in a venue called Three Monkeys! Don't blame her, that's the name. In the days when most comedy clubs were closed and people were performing outdoors in parks, Sheba created an indoor/outdoor show that became very popular. The buzz was that it was definitely a room to perform in.
She called the show Sheba's Speakeasy and Dave Attell was dropping by on the regular and Louis CK popped in as well. Recently she created a podcast that I was a guest on which she called "Beat The Meat" another unusual choice for a name, that has to do with two guests competing against Sheba using artificial intelligence.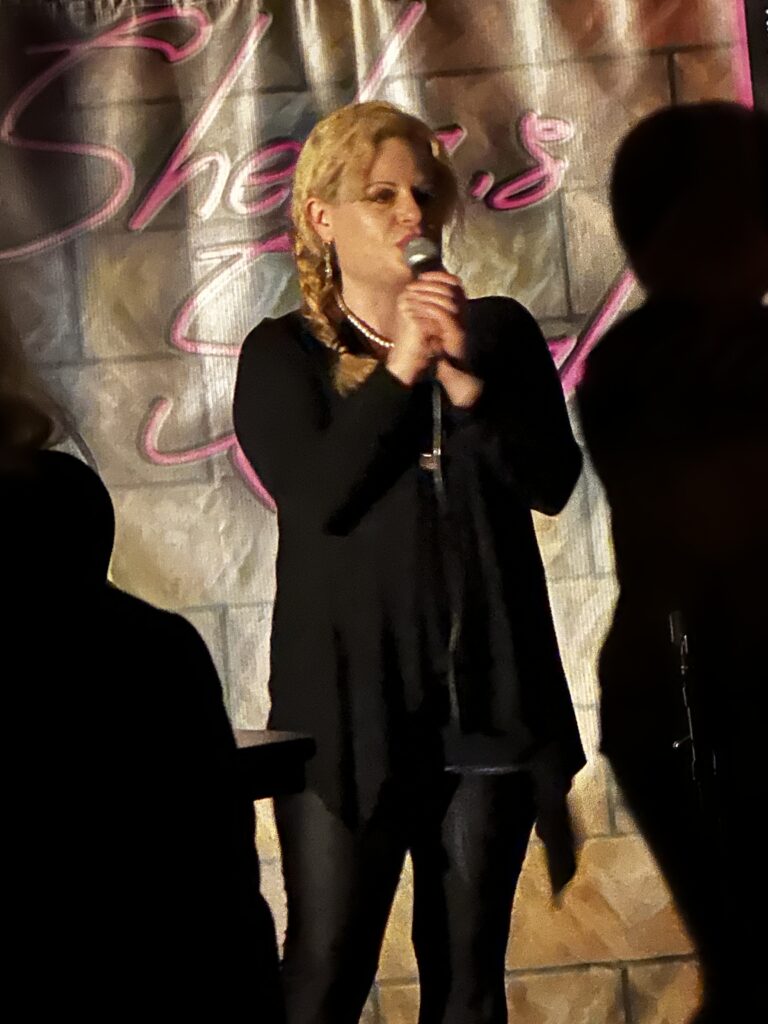 I did the show and still can't promise I understood what was going on, but it was fun. Each contestant gets a turn to choose categories that they "think" they have deep knowledge about, while as Sheba explains it, "Chat GPT generates a riddle about the answer chosen by one contestant while the other two have to guess what the hell it's describing." In addition I got to tell my heart attack story!
COMEDY AT THE NED
Mike Young and Ryan Reiss run a weekly comedy show at The Ned which draws great talent in a very upscale environment. It's in the Ned NoMad Hotel on Broadway, a private club owned by nightlife king Richie Akiva, who I know from back in the Butter days, one of his first super successful celeb hangouts.
In the couple of times I dropped by to catch up with Mike, he had great line-ups like T.J. Miller, Matt Richards, Gina Brillon, Adam Ferrara and Tony Rock. I didn't know Mike and Tony had toured together for a year and were really tight.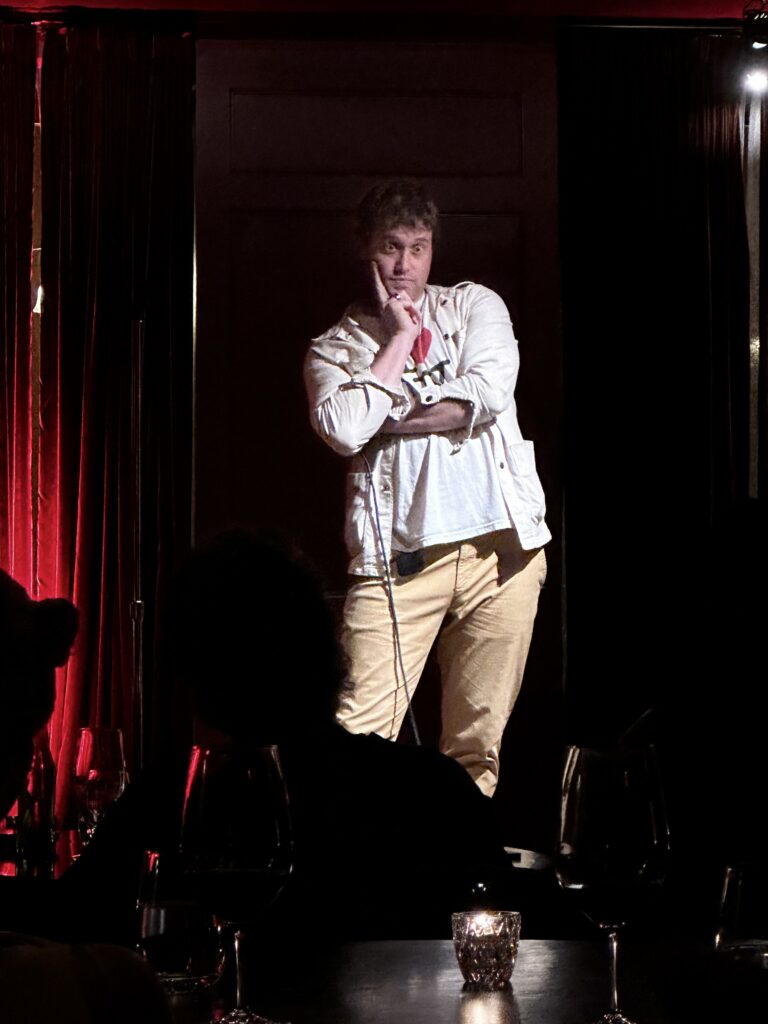 Tony and I go back to our days at The Comic Strip, and he was my feature when I produced Kevin Hart back in 2010 in a benefit for Haiti out at Westbury Theatre. Three thousand people showed up. He and Mike got up on stage together and they told a hilarious story about the time they got involved with a cousin of Tony's who was 6'9″ and unknown to them was on the run from the law. They wound up spending the night with him in an assisted living facility for the deaf, that had a flashing red light to warn them if the police showed up.
TONY ROCK AT THE NED

MIKE YOUNG AND TONY ROCK ONSTAGE

HA HA FEST IN SAG HARBOR

Comic Paul Anthony produces comedy festivals like the Long Island Comedy Festival, which I have attended, so I was really happy when he asked me to be the surprise guest comedian at the Ha Ha Festival he produced in Sag Harbor out in The Hamptons. Great line-up, great crowd, packed house! No more need be said!!!

WITH PAUL ANTHONY

PAUL ANTHONY, THE SPECIAL GUEST, AND ROB FALCONE
GAME BREAKERS COMES TO AN END
Jeremy Moses ran a great, fun and entertaining show called Game Breakers on Prime Video TV. It was a sports/comedy show hosted by two fun comedians Eitan Levine and Drexton Clemons. I was on last March and had a blast even though I don't know one thing about sports!
I was happy to be called back this month but sad to learn the show was not being renewed, … but again happy to learn I was being called back because they told me I was one of their favorite guests. I still didn't know anything about sports, so just told a lot of fun stories, and this time they had added a third fun co-host named Baker Machado, who also made me feel very welcome. We had tons of laughs and I'm sure they and Jeremy will be going on to another fun show.
Last time as I was leaving I ran into Zac Amico who was waiting to go on as the next guest, and this time I ran into the always funny Daniel Perafan.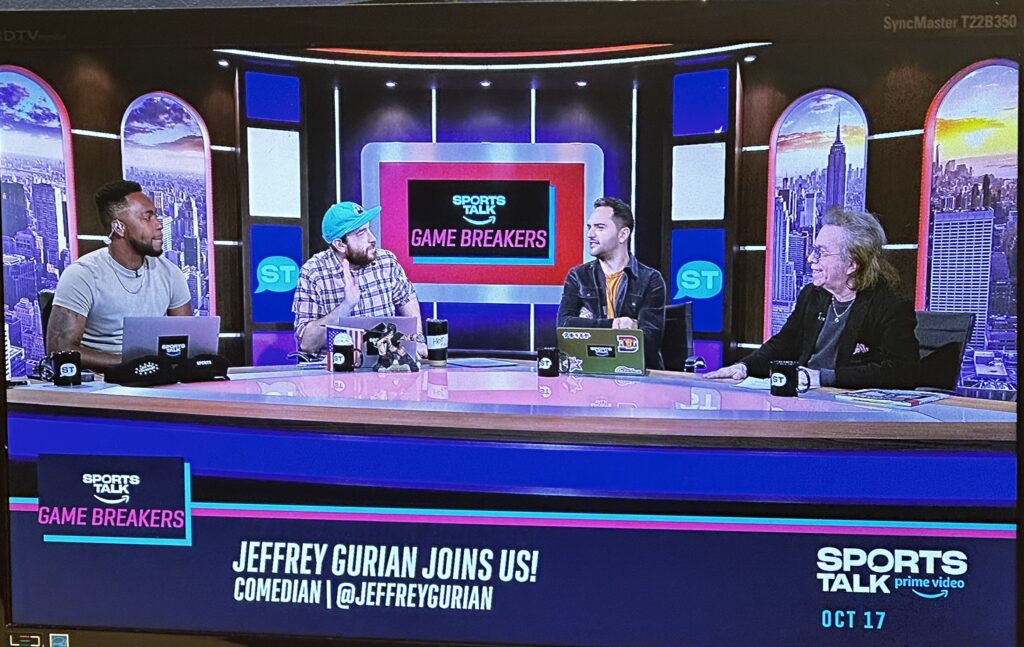 SHMOOZIN' WITH SLUTSKY
For anyone not familiar with Laura Slutsky, she is an accomplished producer/performer and a leader and innovator in the advertising world for over 25 years. She made her name with her company People Finders, casting real people for testimonial videos for TV, radio and print ads all over the world. She's appeared on Oprah, Larry King, GMA, The Today Show and more!
This month she did a fundraiser at The Triad Theater to raise money for the survivors of the Maui wildfires. It was a comedy/variety show that she hosted with comedians like Jamie deRoy, Nancy Parker and Todd Stone, … half of The Stone Brothers, and it was a really fun evening and a great success!!!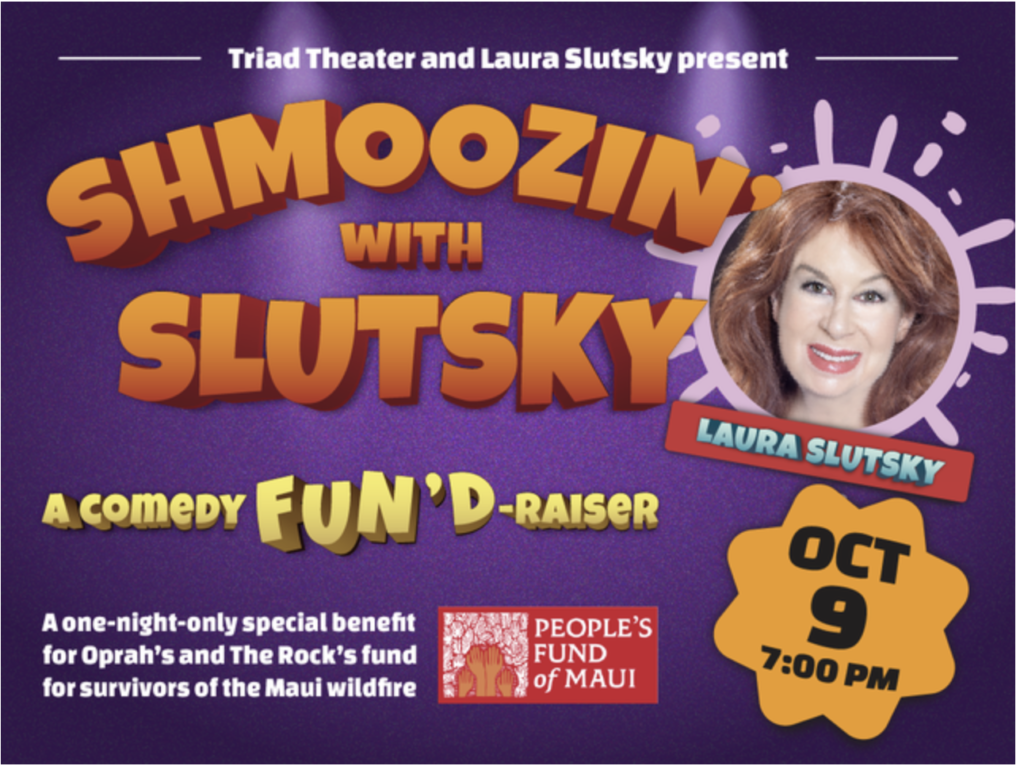 COMEDY MOB FEST AT SUNY
Not the State University of NY, but Stand Up New York and it's an event produced by comedian and SUNY regular Kevin Hurley with his partner in crime comedian George Vanarthos. It's a comedy competition for up and coming talent and the winners on the most recent night I judged were Alec Preston, Grace Lobo, Omry Hananya, and the overall winner was Mia Wilson. The finals were last week and the overall winner was Julia Kastner and runner up was Farzin Moradi.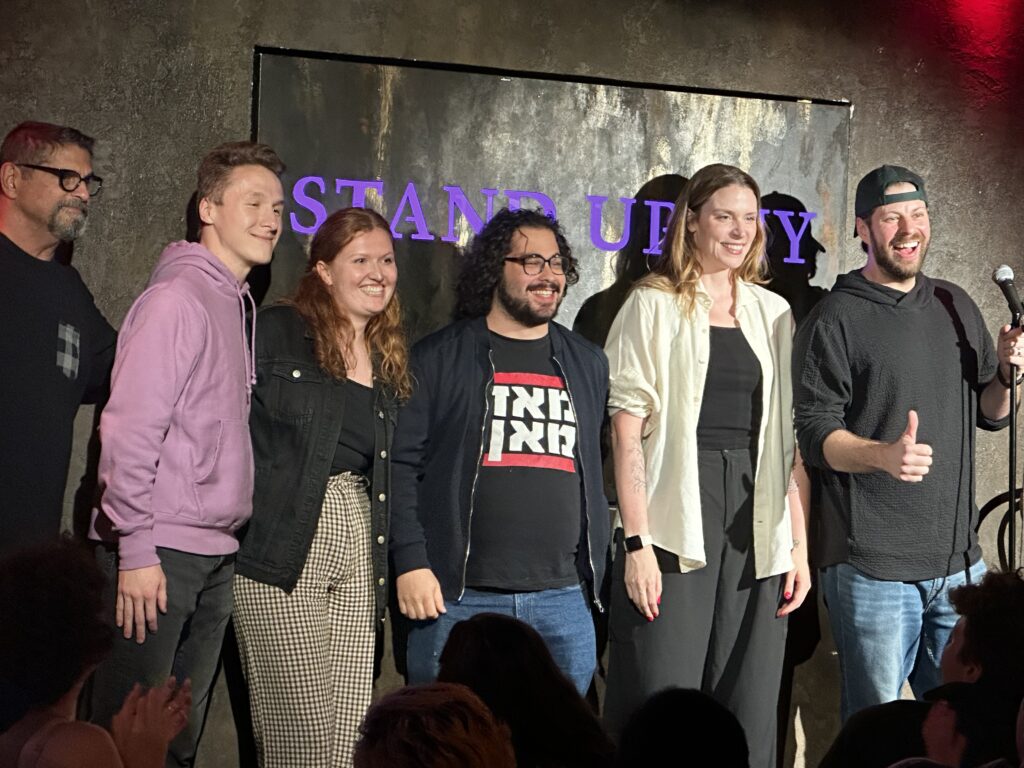 BARRY KATZ'S BLUEPRINT FOR SUCCESS
Trying to write about Barry Katz could require it's own entire column, because his history in comedy is so vast, so suffice it to say that he's an Emmy and Grammy nominated TV-film-record producer, talent manager, and podcast host, who has worked with almost every big name in comedy you can imagine.
I know Barry since the days he owned The Boston Comedy Club down on West 3rd Street in the Village, from 1988 until 2005. I recall attending a birthday Roast there for new comic Jeffrey Ross. I'd often drop by with Patrice O'Neal.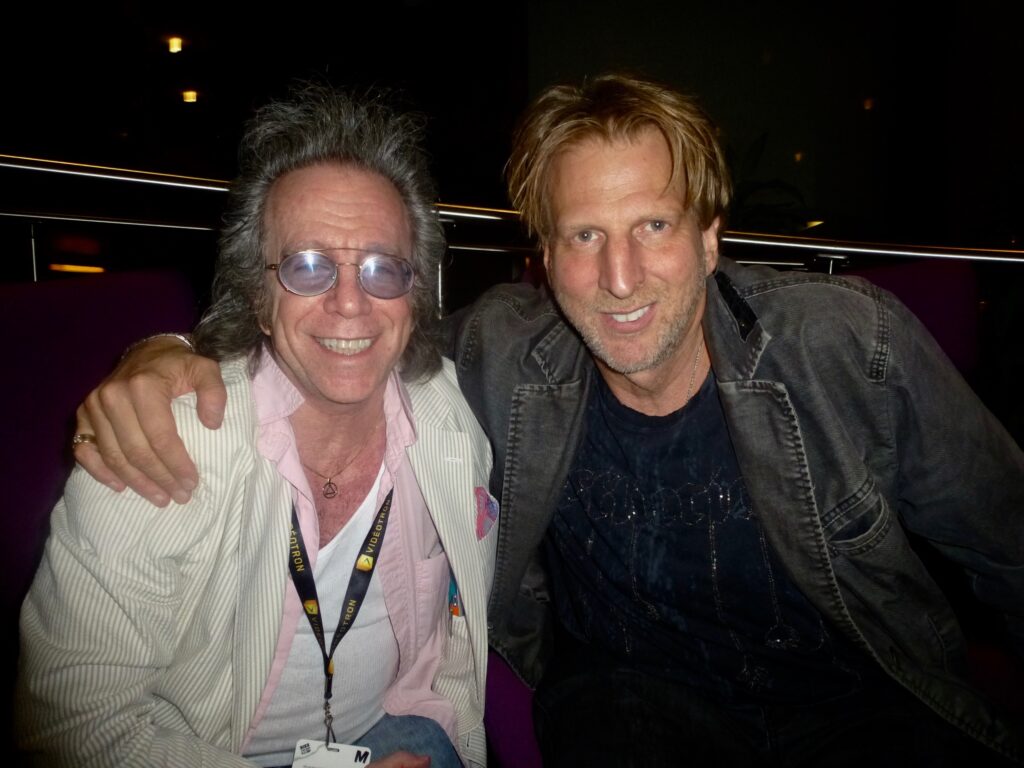 Barry has represented and influenced the careers of comics like Louie Anderson, Ken Jeong, Hasan Minhaj, and Mike Epps, gave stage time to comics early in their careers like Kevin Hart, Ed Helms, Sarah Silverman, Dave Attell, Bobcat Goldthwait, and the late Patrice O'Neal, as well as helping launch the careers of Dave Chappelle, Nick Swardson, Louie CK, Bill Burr, Marc Maron, Bert Kreischer, Jim Gaffigan, Dane Cook, Steve Byrne, Jeffrey Ross, Neil Brennan, and Tracy Morgan. Is that enough?
There's more!!! He also sold 39 out of the 40 comedy specials he produced, brokered an unprecedented 100 TV development deals, created 3 television shows, and executive produced over 50 different specials, documentaries, reality shows, and scripted series, and I think the only person he never repped was ME!!!
Now he's offering memberships to the comedy community called "Blueprint for Success" where comedians get a chances to learn from the great one and from comedy celebs and people on his team. Judging from his past, it's gotta be a winner!!! I signed up, so maybe I'll finally learn something!!!
If you'd like to sign up for Barry's classes and guidance this coupon will give you 25% off using the code JEFFREY, and this is the link to sign-up:
https://www.blueprint-for-success.com/a/2147531462/fzhPFcpo
WORKING WITH NOEL LEON IS LIKE A WALK IN THE PARK
Noel Leon is an LA based comedian/filmmaker/IG influencer with just about 1 million followers. So when she called me to star in her new short film I was definitely up for it especially when she described it as very Woody Allen-esque!
Woody was my early inspiration and my idol, from watching his stand-up on the Ed Sullivan show. He actually spent time with me and read some of my earliest material while I was still a junior in Dental School.
The film is called "A Walk In The Park" and it's a story about a very unlikely friendship, the kind of story I love. We're currently shooting it in Central Park. And as a matter of fact the bench we chose to shoot on, very randomly had a plaque on it dedicated to "Jeffry." Spelled it wrong but theoretically, the fact that it even had my name on it can't even happen!!! Stay tuned for more on that to come! Also in the film comic Victoria Arnstein!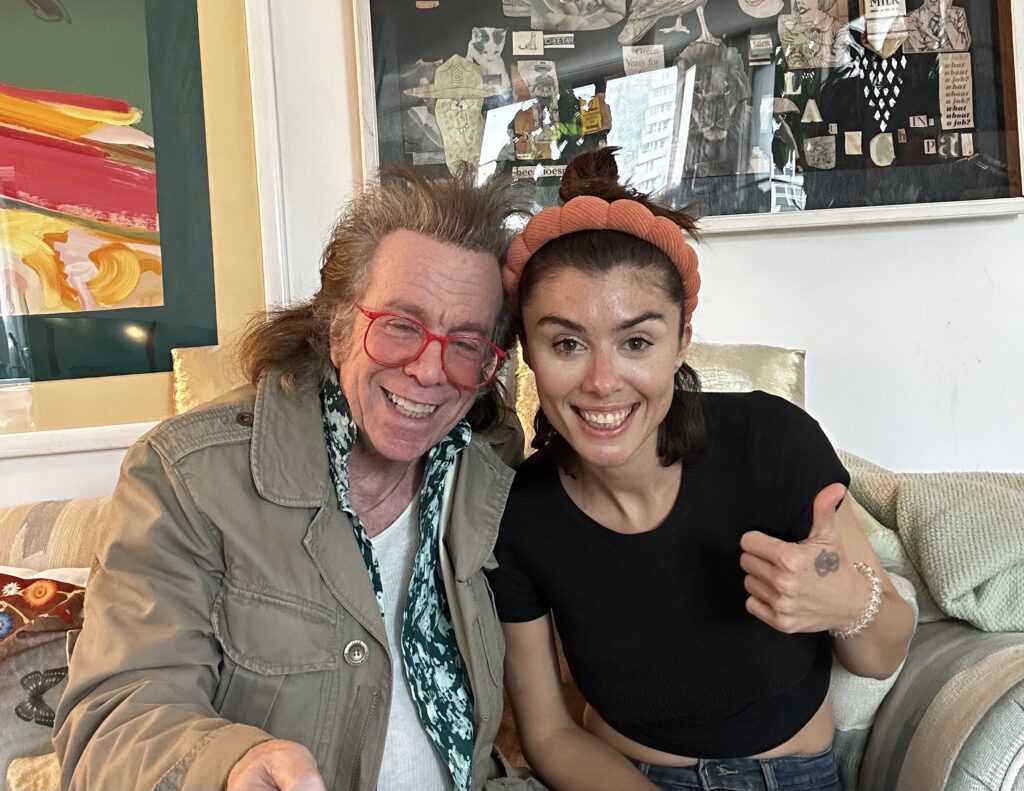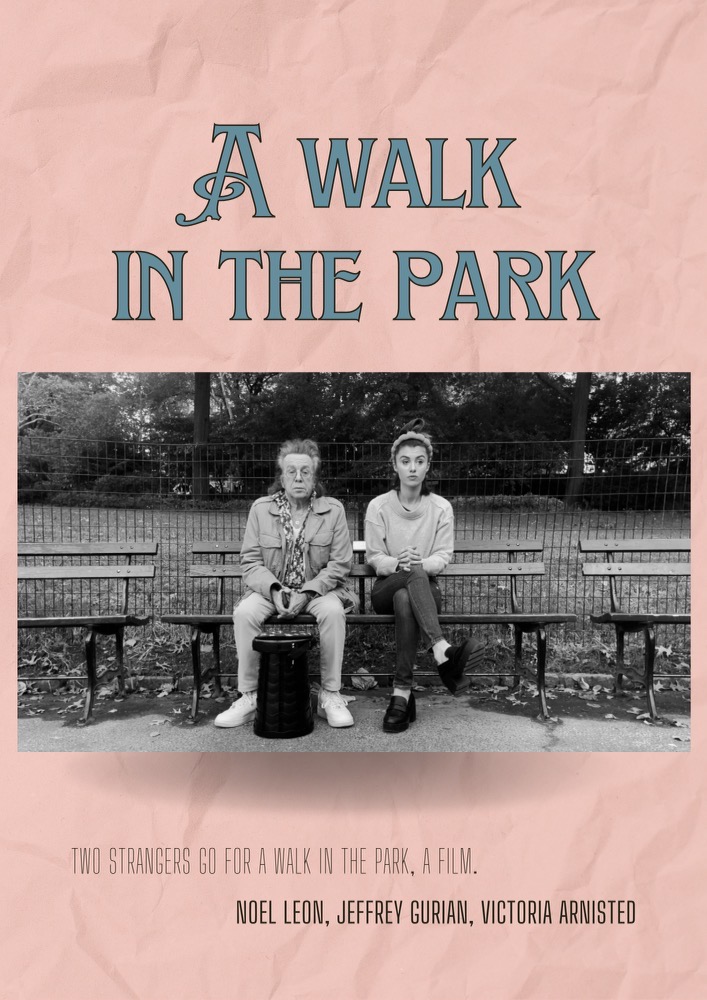 JOE DEROSA KILLS IT AT ARLENE'S GROCERY
Joe DeRosa is a multi-talented guy. Not only does he do comedy, host a podcast with Sal Vulcano called Taste Buds, and make delicious sandwiches in his shop called "Joey Roses" but he also has a kick-ass band called Salsa Windfall. I can attest to that because I had the honor of starring in the recent music video for his new song "Mouth On My Money."
We shot it in the offices of The Impractical Jokers, and the song is so catchy I couldn't get it out of my head for days. I originally thought I'd be part of an ensemble but it turned out it was just me and Joe, mostly me, … crazy dancing and lip-synching to the song.
This past weekend, Salsa Windfall headlined this cool space downtown on Stanton Street, and the place was packed with Joe DeRosa fans, many of whom recognized me from the video, and told me how much they liked it.
The band before SW was a band called Czarface, a rap band that totally blew me away. The lead singer Seamus, was just that good, and Josh Adam Meyers of Goddam Comedy Jam fame was the MC who totally brought the energy to the room.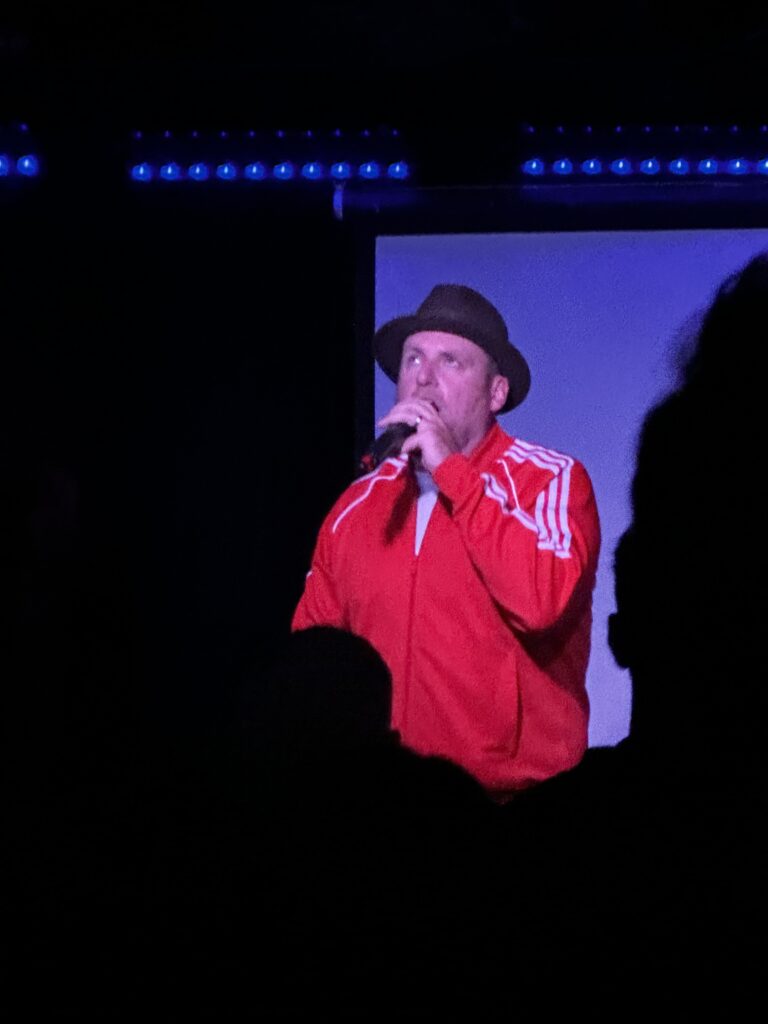 As I came in the very first person I saw was The Homeless Pimp, uber-producer of the NoPresh network that produces both Taste Buds and Hey Babe the pod done by Chris Distefano and Sal Vulcano. I have been invited to be on both and am just waiting for dates. Pimp snapped some photos of me entering the club and again backstage in the dressing room with the Salsa boys, and their manager Emilio Savone, owner of New York Comedy Club, and the photos of the event below are courtesy of The Homeless Pimp!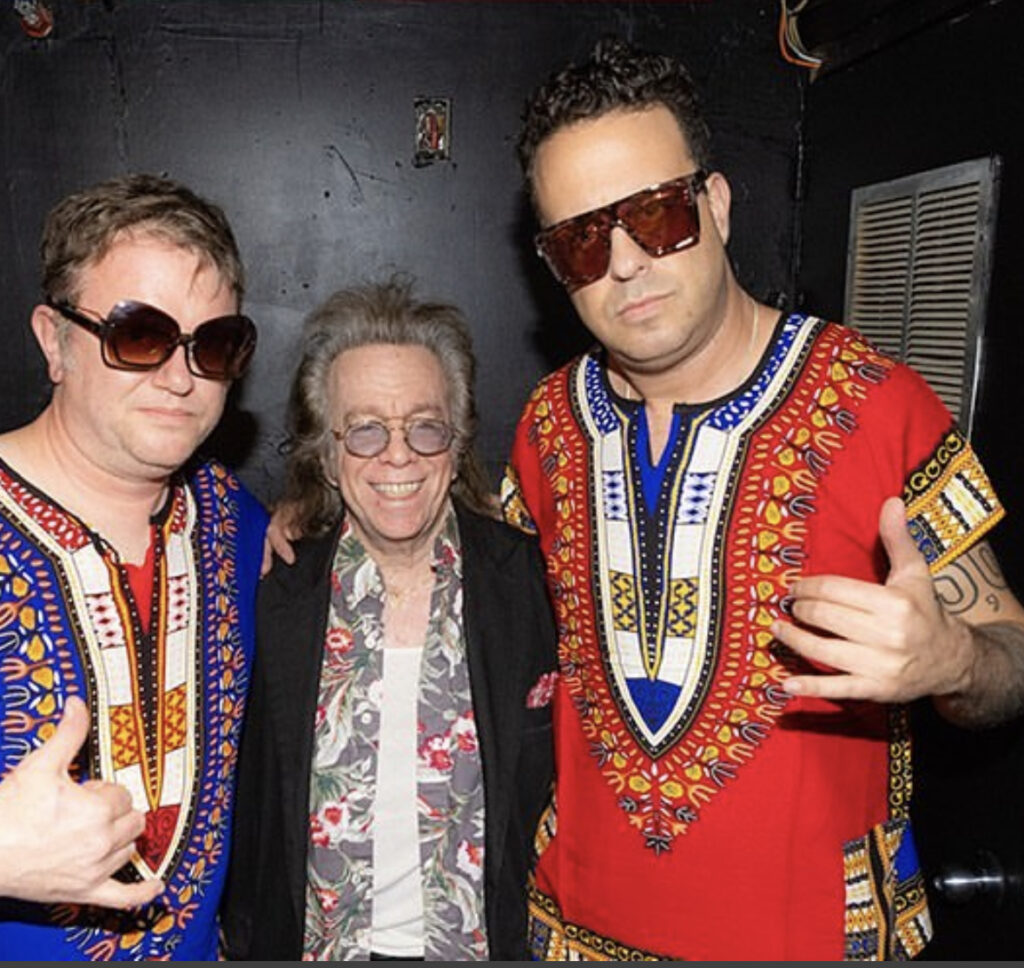 Joe and his bandmate Paul Chell had such an interesting and innovative sound, some of it purposely discordant which reminded me so much of Frank Zappa and The Mothers of Invention who I absolutely loved. After the show I went up to Joe to congratulate him on such a great show, and took what I thought was a chance telling him his music reminded me of Zappa's music. The reason I said "took a chance" was because not everyone appreciates their art being compared to someone else.
On the contrary Joe rolled up his non-existent sleeve and showed me a tattoo on his arm that said "Zappa Lives" a complete and total coincidence. It was too noisy for him to tell me the story but I'll probably have it for the next issue of this column. Gotta go now! Life is waiting!!!
Btw, so fun seeing Joe and Paul do Mouth On My Money live with me dancing on the screen behind him! At the end though he did shout me out on stage, which was very cool!
Hope you will subscribe and you can follow Jeffrey on Instagram at @jeffreygurian