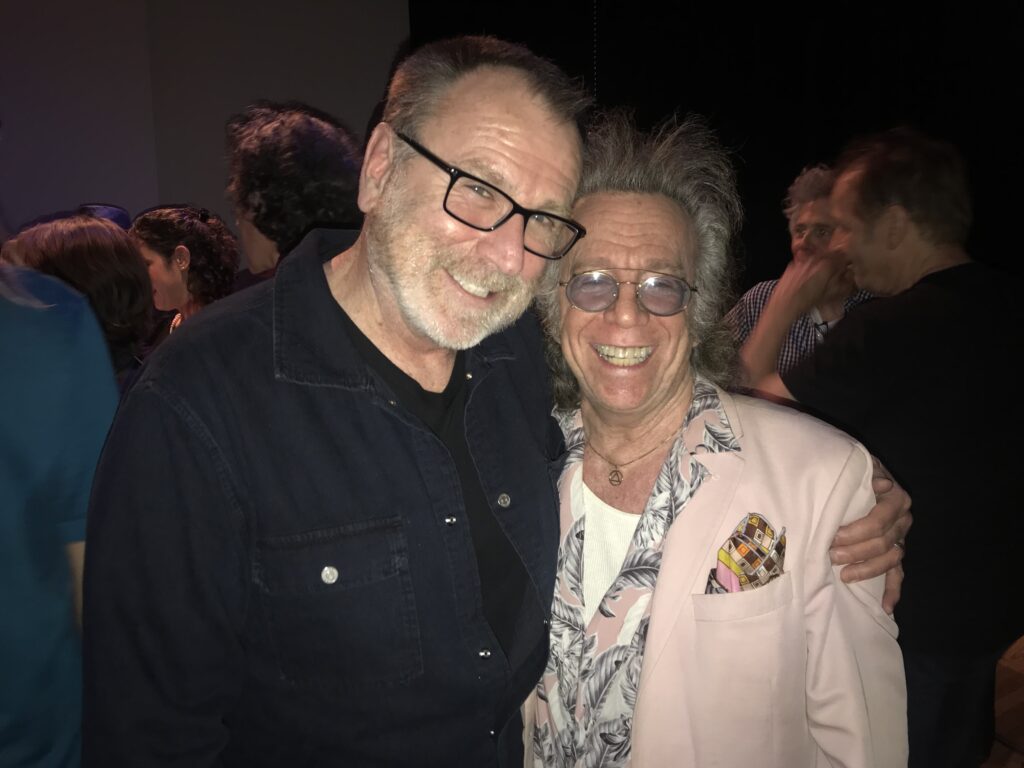 Colin Quinn and I go back to his days on MTV's Remote Control and maybe even before. It was around the time I was writing scripts for MTV VJ Mark Goodman on MTV's Friday Night Video Fights. He was my very first guest on Sirius XM's Ron and Fez show when I was a regular for two years. And I've been at all of his amazing one man shows, and he's just so funny and smart, so whenever I get a chance to see him perform I'm there.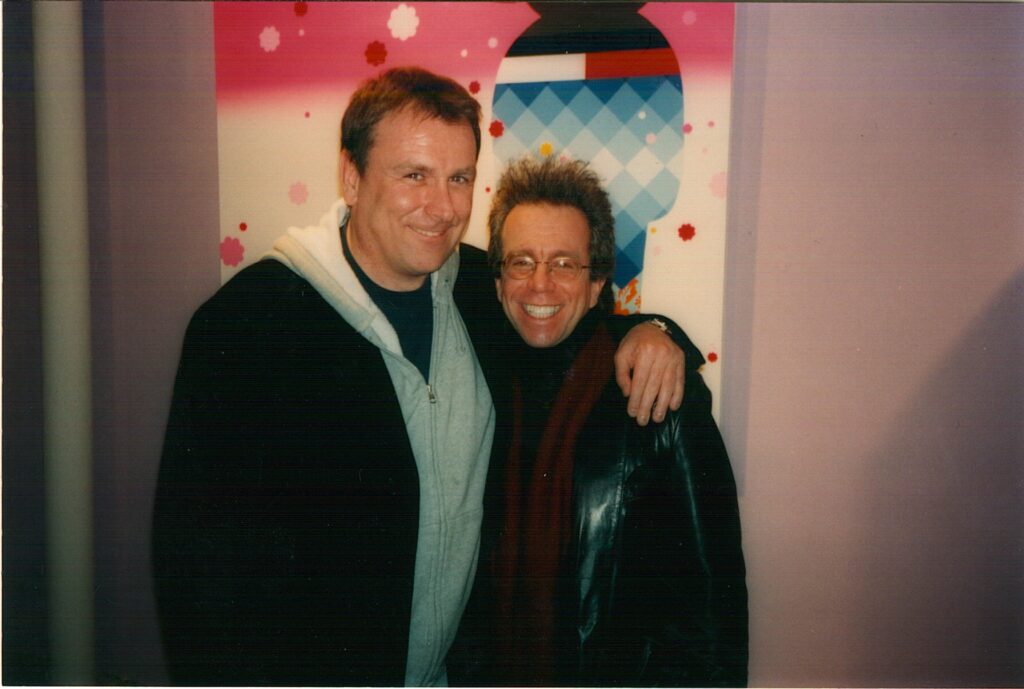 He's a unique talent and maybe only Jackie Mason, and Mike Birbiglia have had more one man shows than Colin, but it's definitely close. Colin is known to give his time to worthwhile causes so when I got the invite to attend a one act play reading called Obsessed at the Cell Theatre on 23rd Street, with a special guest appearance by Colin Quinn I made it my business to be there.
Road Recovery is a non-profit that strives to help 13-25 year-olds manage (or avoid) the pitfalls and challenges of behavioral issues, or physical or mental health trauma, poverty, or drug or alcohol dependency. Some of its supporters are Slash, Denis Leary, Darryl "DMC" McDaniels, Sharon Osbourne , and Simon Kirke the drummer from Bad Company who was there at the event, and got Colin Quinn to sing along with the Crosby, Stills, Nash song "Teach Your Children".
MICHAEL CHE AT CITY WINERY
City Winery has been killing it with great comedy line-ups, evidenced by the show that Michael Che put on. I got there early so say "what's up" to Michael, or more accurately "Wassup!" as I hadn't seen him in a long time.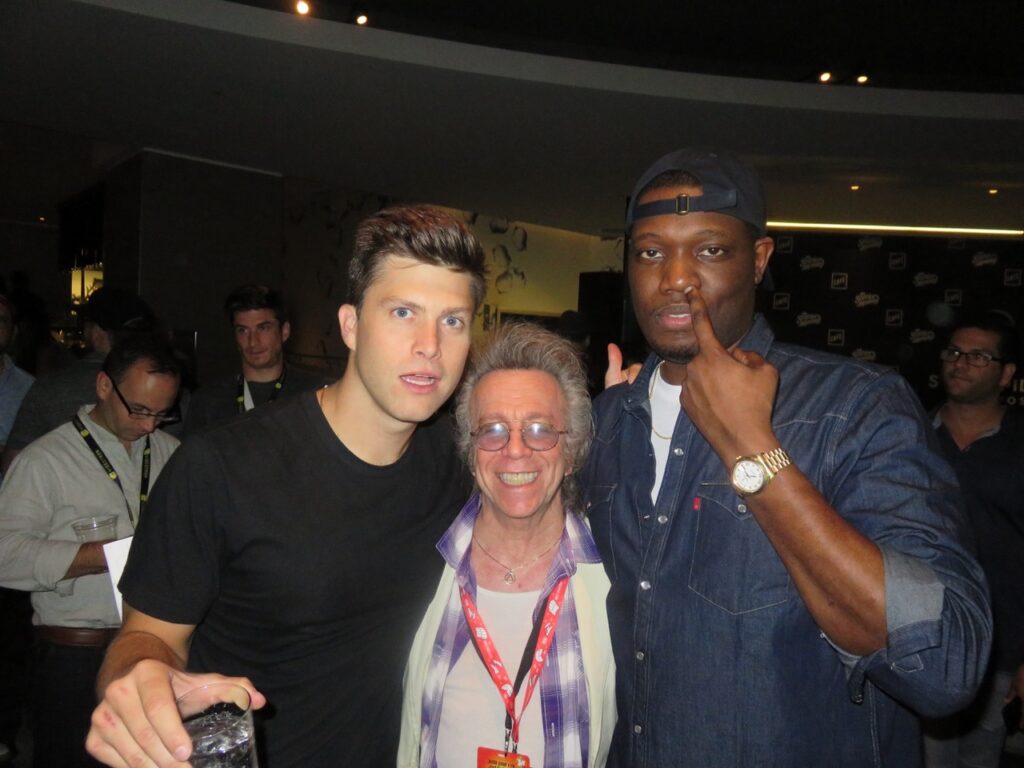 I always try and say a brief "hi" BEFORE the show in case the green room is packed afterwards or the star leaves quickly when he's done.
Michael's been very busy not only as the co-anchor of SNL's Weekend Update with Colin Jost, but he has two Netflix specials, and an HBO sketch series under his belt called That Damn Michael Che which he wrote stars in and Exec. Produced.
He was planning on disrupting Colin Jost's wedding to Scarlet Johanssen by objecting to their union but decided against it at the last minute. Colin says Michael likes to disrupt things.
Michael came out of the green room to say hi, and afterwards I took my seat in the showroom, and a guy came by in a black hoodie wearing a black mask, greeted me with a fist bump and walked by. With just his eyes showing I couldn't tell it was Wil Sylvince who was hosting the show. Wil is always a great host and really got the audience pumped up.
Jacob Williams from Nick Cannon's Wild 'N Out was also on the show. I hadn't seen him in a while either . We originally met when we were both in a TV pilot called "Off The Rip" starring Rip Micheals, also one of the stars of Wild 'N Out. It's where I first met Cardi Bi who was in some sketches that day also.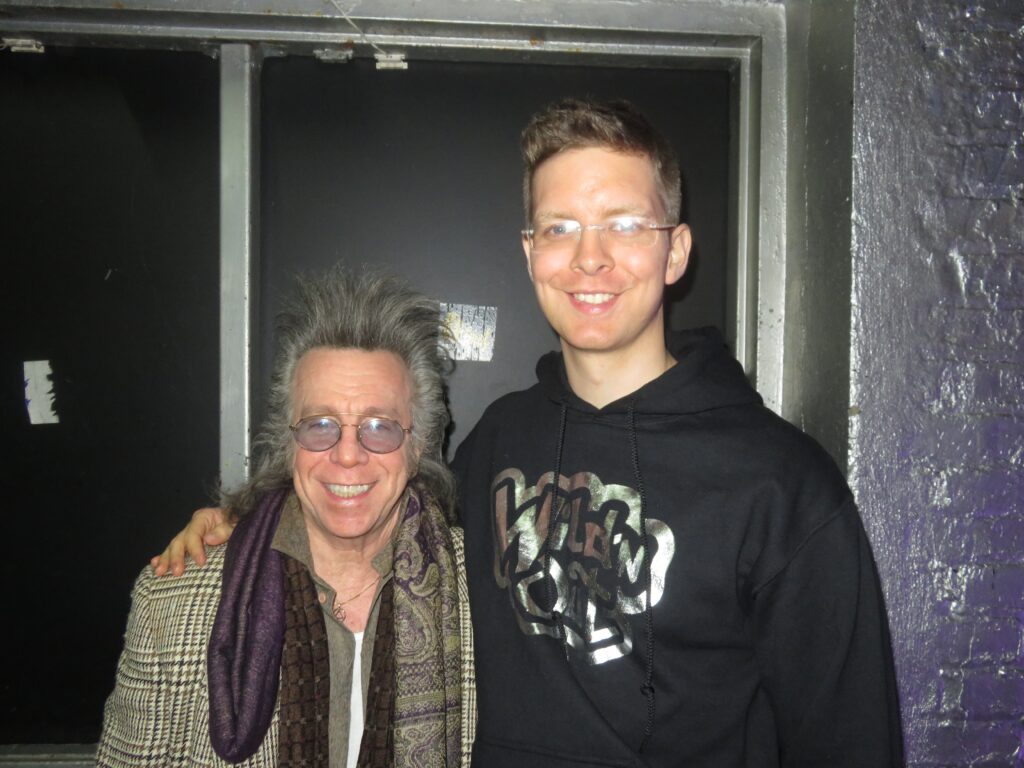 Jacob has such an interesting stage presence. He ended his set by telling the audience, " I do have to get out of here cause I'm having a panic attack." Also great seeing Monroe Martin who's always a crowd favorite as well.
When Michael came out he did just an interesting thing. He sat down on a stool, brought Will back out and opened the show to the audience in a very interactive kind of thing, where he encouraged the audience to participate. Very risky if you're not a pro like Michael!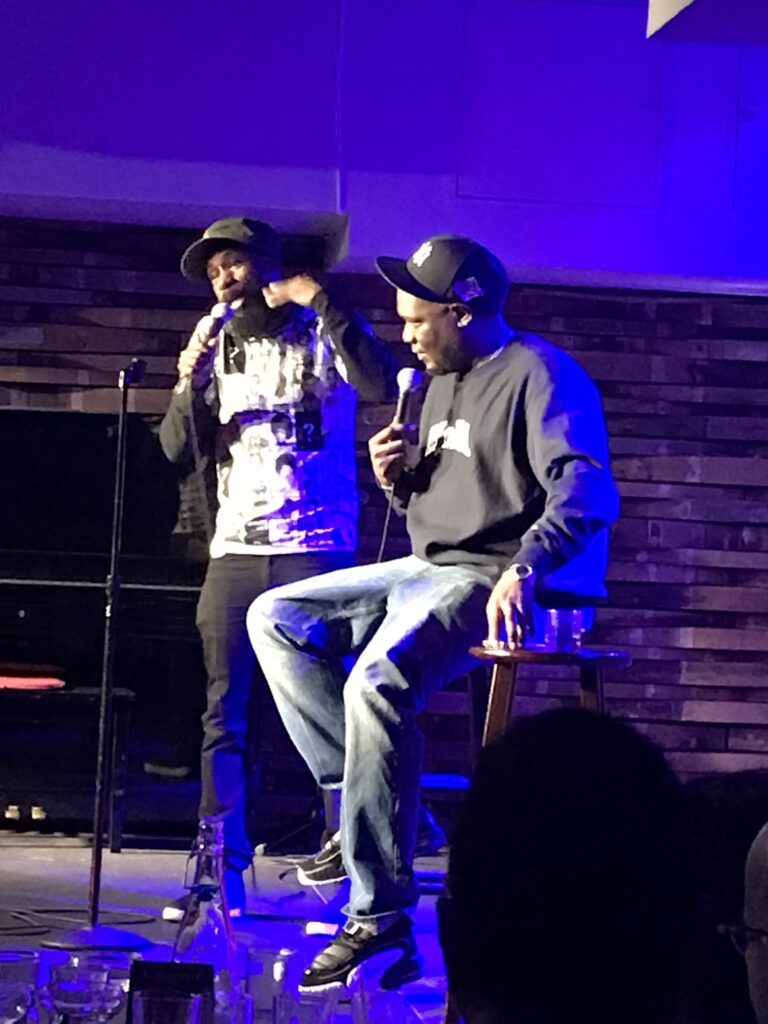 DAN LAMORTE AND NATALIE CUOMO ENGAGED
Not long after the Michael Che show I was back at City Winery to see my pal Dan Lamorte perform with his fiance Natalie Cuomo, who are engaged and getting married next year. So cool that Dan and Natalie perform together and go on the road together too!
The show was hosted by J.C. Mendoza who often hosts at The Stand, and also featured Samantha Santos, making them another couple in a relationship who get to perform together. They have a show coming up at The Stand on July 29th at 5 P.M.called Soft Launch, and do a podcast with the same name!
I admire Dan Lamorte tremendously for how he has changed his life. We met several years ago when he opened for me at a show I headlined in Pennsylvania. At the time he was over 300 pounds and was driving himself across the country doing shows wherever he could.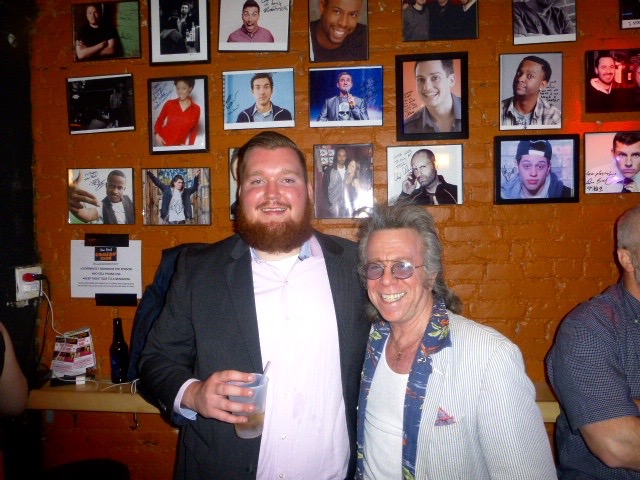 As I recall he lost a baseball career due to a shoulder injury. Anyway he managed to lose 190 pounds after having been in a car accident. He lost 50 pounds by giving up gluten and the rest by running. He told me he ran a 50 mile run while blasted on mushrooms!
One thing I didn't know about him till the evening of this show is that he was also diagnosed with Asperger's Syndrome and is on the spectrum of autism, which is why he looks down most of the time when he's performing.
He said as a child he asked his parents for 100 red balloons and they got them for him instead of testing him for autism! Many people let obstacles stop them but not Dan which is why I admire him so much. He's definitely high functioning, and the first time I saw him since the huge weight loss, I actually didn't recognize him.
So when he and Natalie, … his soul-mate, … perform together they each do 30 minutes solo, and then they close the show together. This night both of their parents were in the audience and Natalie did some very graphic sexually-oriented material she said she couldn't believe she was doing in front of her parents. She managed to survive that ordeal, but I was nervous for her! (LOL) She really made me laugh when she asked the audience, " Is anyone else a woman?"
I spent most of the show running back and forth from the showroom to backstage and we had a lot of laughs! They are definitely a match made in Heaven right down to the tattoos!!!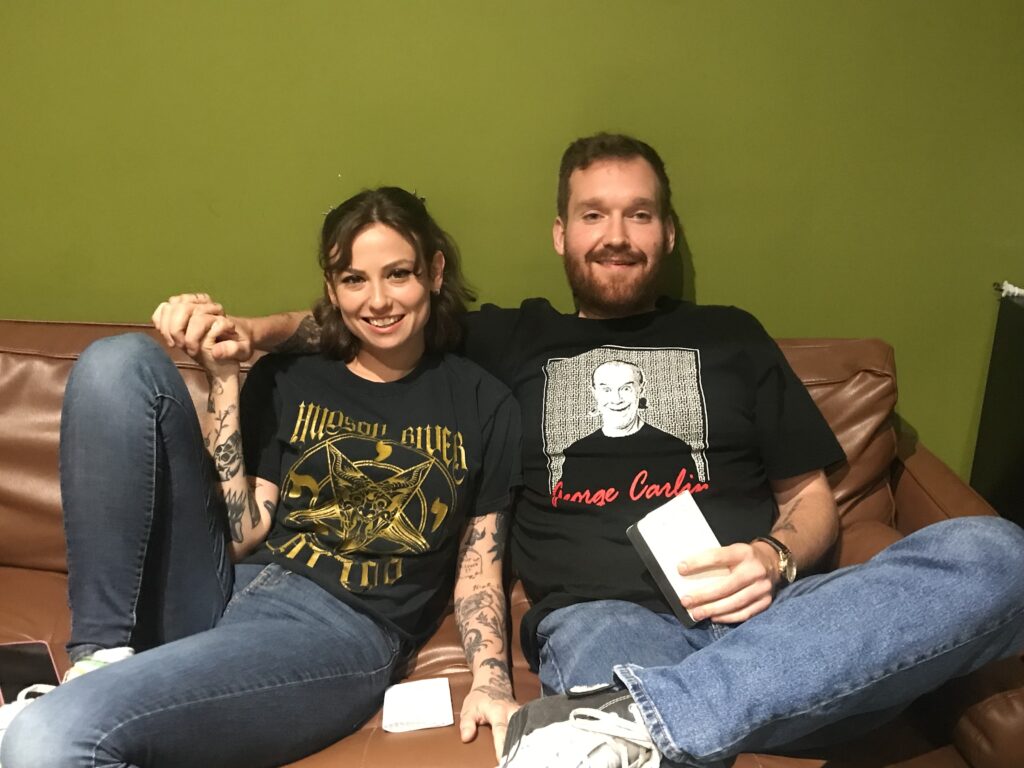 JOHN OLIVER AT STAND UP NEW YORK
I LOVE John Oliver and due to the writer's strike he's got more time on his hands than he would like. BUT it's giving him more time to perform and he likes the stage at Stand Up New York. I popped in to see him and shot this little fun video, testing out my new little wireless lavalier mics that work off my i-Phone. John was smart enough to hold it in his hand and talk right into it!
I asked him how he spends his days and he said "Sitting around nervously!"
Also on John's show was my pal Craig Gass who is one of the most talented impressionists and voice-over guys on the scene today. He's probably best known for his roles in King of Queens, Family Guy, American Dad, and Sex and The City.
He has such a fascinating back story coming from a family of all deaf people. He had to learn to speak from watching TV and movies. This night he did amazing impressions of Tracy Morgan, Chris Walken and Morgan Freeman.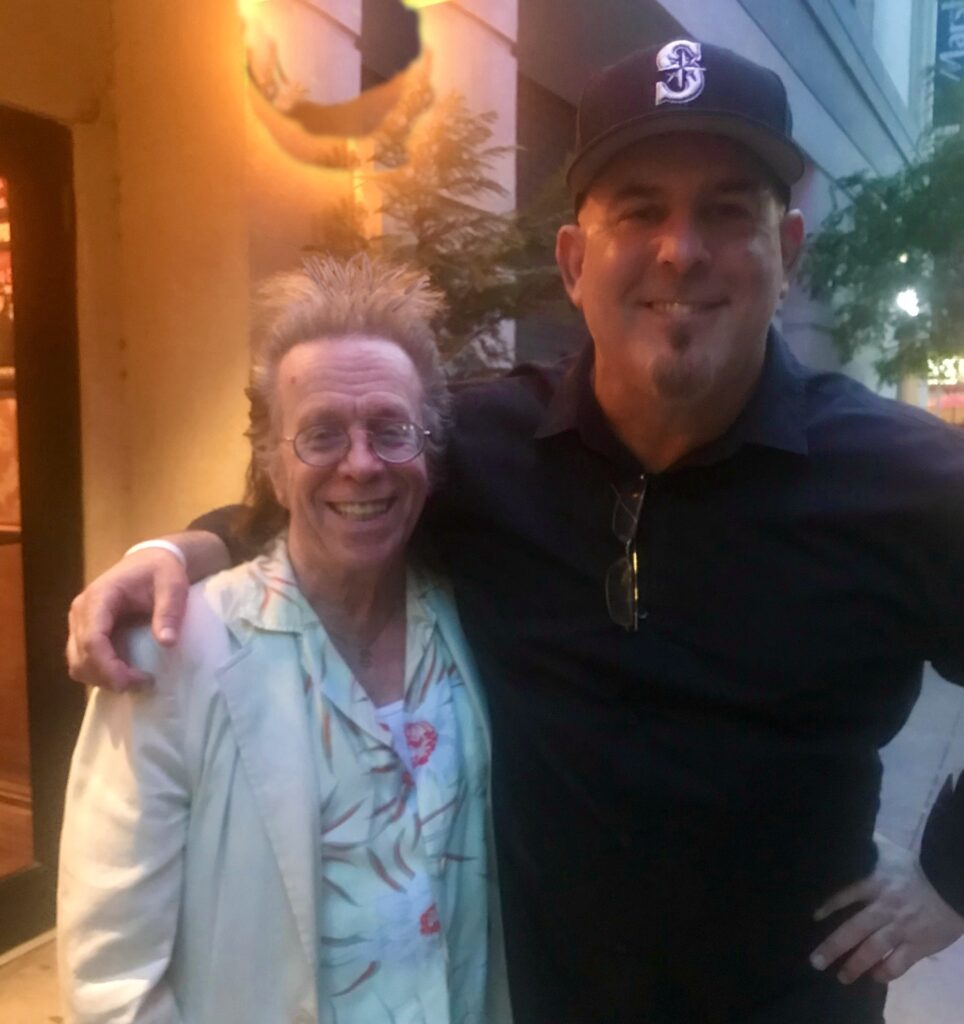 AARON BERG STARTS HIS OWN RECORD LABEL
Aaron Berg is a unique talent which Is why I try and have him on every show I produce. He spits jokes like street rappers spit beats. But faster!!! I was with him the night he made the record for doing the most sets in one night. I think it was 25! So when he told me he was starting his own record label I had to find out more about it!
It's called Uncancellable Records, and it's co-owned by Aaron and upcoming comedian Bobby Tamburro. They describe it as a "beacon of opportunity for comedians who sought an alternative to conforming to the standards set by major labels in the industry." Their primary goal is to shine a spotlight on deserving comedians who might not have otherwise found an opportunity while allowing them to maintain their creative independence. And they included Canadian comics in honor of where Aaron is originally from!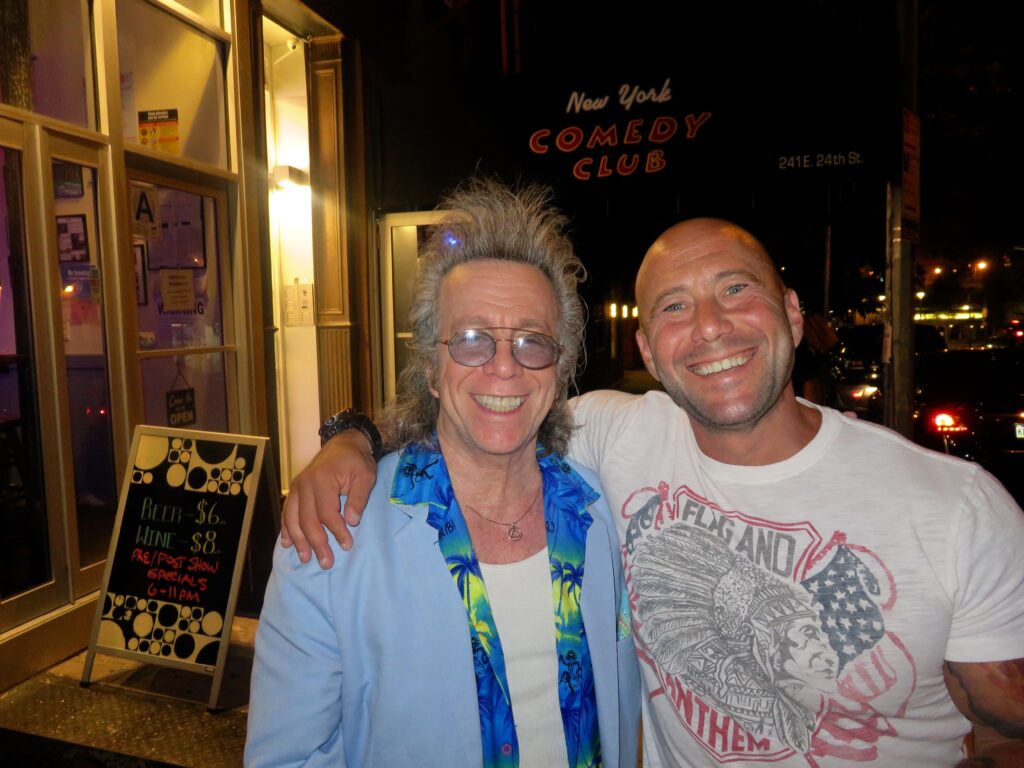 Aaron told me that "Uncancellable Records is solely dedicated to comedy and humor, irrespective of politics. The label firmly believes in the power of laughter to transcend boundaries and connect people from all walks of life." This openness to inclusivity has earned them a reputation for nurturing and promoting comedic talent without limitations, … hence the name "Uncancellable.".
He went on to say that "Uncancellable Records is there for comics that are sick of the mainstream labels gouging them, and for the comics that want to take chances on their albums. Of course I wanted to give back to my birthplace and put some Canadians on the map who deserve American exposure."
All I can say is, … it's about time!!!
JORDAN CARLOS IN THE OPEN
I get invited to the most interesting and unusual shows. One time a few years ago I wound up performing in a park. I don't recall the event and don't know why, … it wasn't due to Covid, there was just an outdoor show in a park. It was weird, and I accepted because it's important to do everything that makes you uncomfortable!
So I went to see Laughter In The Park which was kind of near me in Manhattan and right away ran into two great comics, Pedro Gonzalez, who I also love to use on my shows, and Vanessa Hollingshead once married to Lucien Hold who ran The Comic Strip for 25 years.
Jordan Carlos was the headliner and he was excited to tell me that his half hour animated comedy "Teenage Euthanasia" is in its 2nd season on Adult Swim. He described it to me as a former runaway teen mom who is dead but now is undead comes back seeking redemption with her daughter, and is failing miserably.
He said he gets to do about 5 different characters on the show which also features Bebe Neuwirth, Jo Firestone, Tim Robinson from SNL, and Maria Bamford, and was created by Alyson Levy. They record it at a studio in The Village! He said the best part is that he gets paid for each character!!!
SEASON 2 STARTS ON JULY 26TH!!!
During Jordan's set a very unusual thing happened which he handled very well. A very old woman wheeling a cart filled with what looked like her laundry came out and started yelling in a foreign accent, and I think she was yelling about her life. A very awkward moment to be sure!
To his credit Jordan embraced her, and made her part of the show for a few minutes until she was led away. But he handled it very kindly and professionally! He's a good man!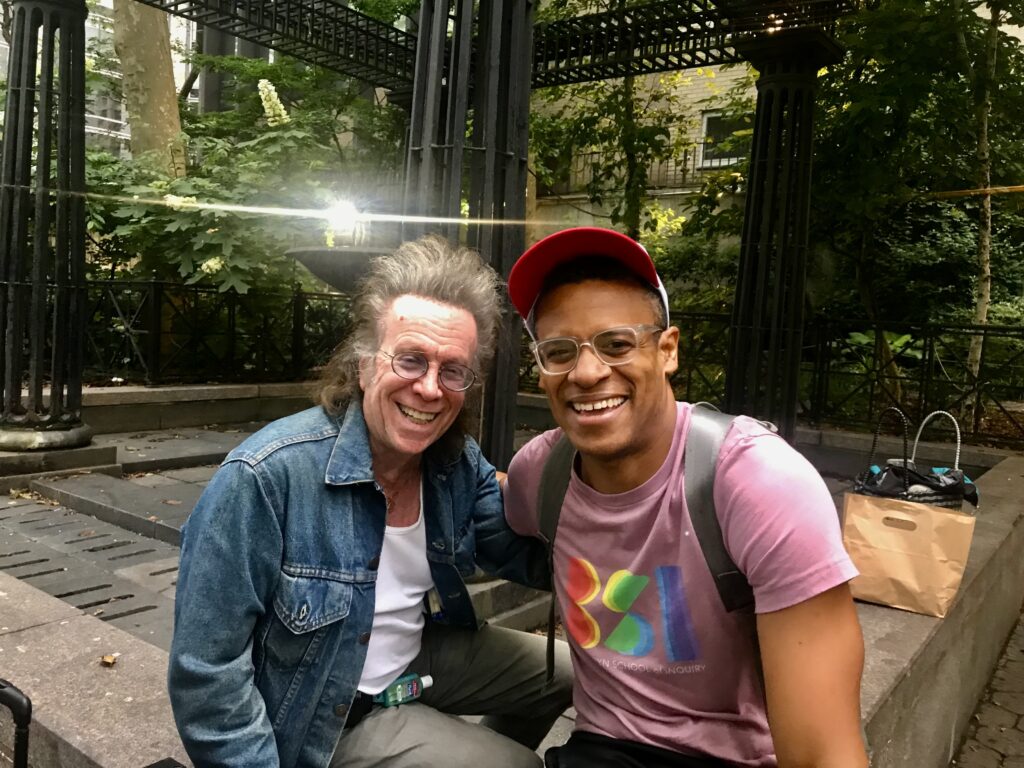 STICKS AND STONES WILL NOT BREAK YOUR BONES- IT WILL MAKE YOU LAUGH!!!
Last summer Page Six of the NY Post wrote a piece about me looking for a place in Southampton to bring comedy. Like lots of other things in show biz it never happened until this summer when filmmaker/producer Abby Russell contacted me to tell me she was opening a comedy club in Southampton with Lynn Kaplan, who has worked with Conan and Louis CK.
It's called Sticks and Stones, it's a great room, and it's in the Southampton Cultural Center. It opened on Friday June 30th with Carmen Lynch as the headliner, and I know all this because I got to perform the next night on Saturday July 1st with Jordan Rock, and my old friend Benny DeMarco from Fat Baby, who I prefer to call Benny D! Hosting was local comic Joe Winchell.
I got to catch up with Jordan who I hadn't seen in a minute. He came in from LA to do the show. Jordan and I hold the honor of being the only two comedians to have ever hosted Late Night at The Comic Strip thanks to owner/founder Richie Tienken. I did Sunday and Monday and he did Tuesday and Wednesday. Before that the comedians brought each other up to the stage. Richie asked us to host. #greathonor
Jordan and I sat and talked in the huge green room between shows, where we also had a great assortment of food and drinks ,and he told me he's touring and will be coming out with his first album probably in the Fall. The working title is Shout Out My Mental Capacity.
He did six spots at New York Comedy Club, a week residency, which he said is kind of an unorthodox way to do a special. He said he came in and just knocked it out, and didn't tell anybody he was doing it. It will be strictly audio. No name for his tour just Jordan Rock on tour! He said he wants to do pop up events to promote the album, kind of like album release parties where he makes merch available.
I got to help promote the show on WABC radio with Frank Morano who was kind enough to let me give away two tickets on the air to the first two listeners who called in, They showed up at the show and said they had an amazing time. And also did Gov's Radio with Matt Nappo on his show Coffee With The Dog. I'm guessing he's the dog cause it wasn't me! (LOL)
I decided to work squeaky clean, no F-bombs, and did over 20 minutes on each show, so I can send my set to Dry Bar and see if I can get my own special going. I really like what they do, so we'll just see what happens!
POSITIVELY ERNIE AND POSITIVELY JEFFREY
Many years ago I had a friendship with legendary newscaster Ernie Anastos when we were both Friars, in the days when it was truly an honor to be a Friar. I had the honor of writing jokes for Ernie and also wrote him a speech that he delivered at The White House.
I was so glad to be able to reconnect with him after all these years to be on his WABC podcast called Positively Ernie where he puts out Positive Energy to The Universe which has always been my goal. Ernie is like a bright light, spreading a positive message wherever he goes, and is the perfect person to host this kind of show. Kudos to WABC owner John Catsimatidis for realizing that!!!
We had the best time talking about Happiness, the power of laughter, Spirituality, and changing negative thinking to positive thinking. If you have 20 minutes you can hear it right here:
SURPRISED BY ANDREW 'DICE" CLAY
This seems to be a column about old friends, but when you've been in comedy so long it seems like everyone is an old friend. Dice and I go back to 1998, when I was out in LA and we met one night at The Comedy Store and stood in the street talking till 4 A.M. I was really tired but I would never leave because I thought to myself, " I'm talking to Andrew "Dice" Clay!"
So I hold the honor of being one of the very few people who's ever written for Dice, which is something I'm very proud of. This past weekend I was at the premiere of the new Bravo TV show Crappie Lake starring my dear longtime friend Countess Luann DeLesseps from RHONY, and my newer friend Sonja Morgan.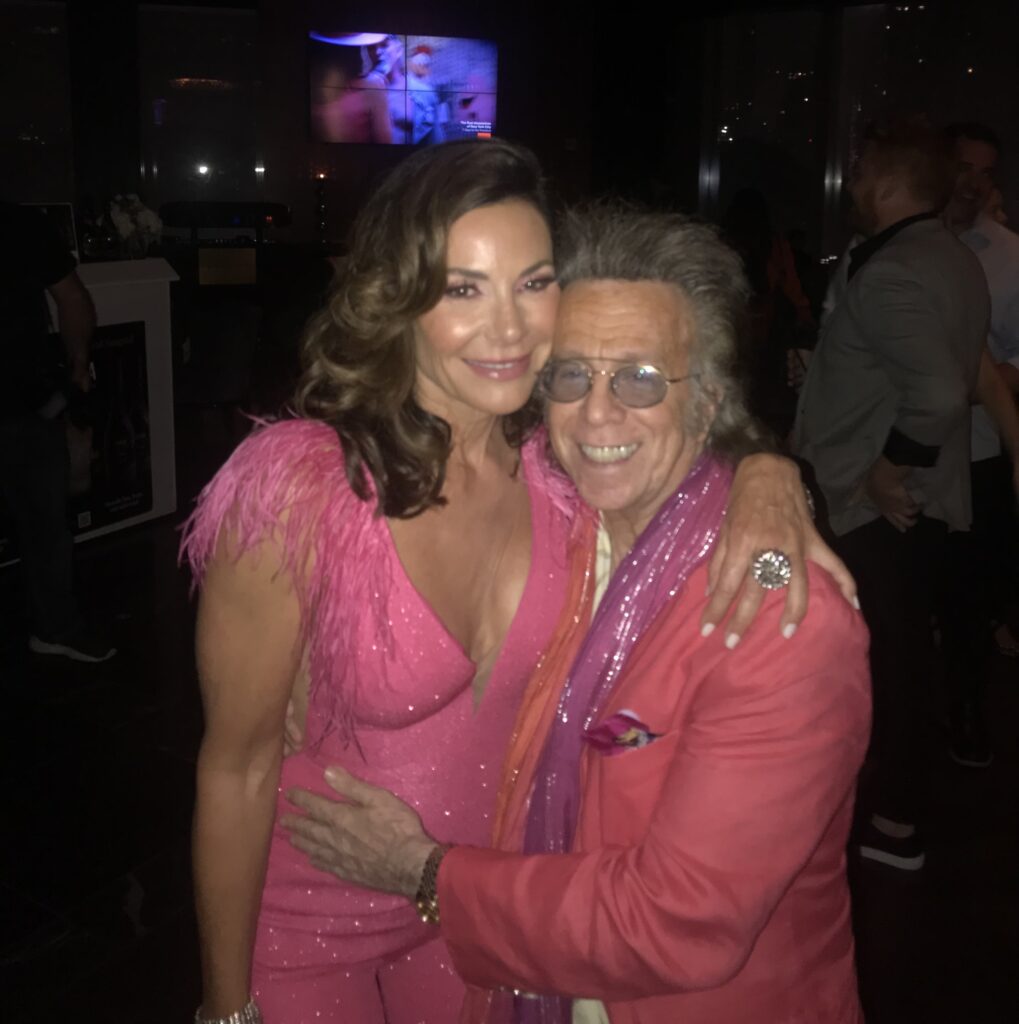 They spent 5 or 6 weeks in the tiny town of Benton, Illinois population just under 7,000. I think I have more people than that in my building. Anyway it's a hilarious fish-out-of-water concept putting these two fancy ladies in a small town like that, and hilarity definitely ensued.
The party was at the Ascent Lounge in Columbus Circle, and it was a blast. Strictly by coincidence Luann, Sonja, Broadway star Constantine Maroulis and I wore the same colors as you can see in the photos below. Constantine is currently starring in Rock and Roll Man, which chronicles the amazing life of Alan Freed, the legendary disc jockey rebel from the 50's and 60's who popularized the records that became the foundation of rock and roll. It's at the New Stages Theatre and I can't wait to see it.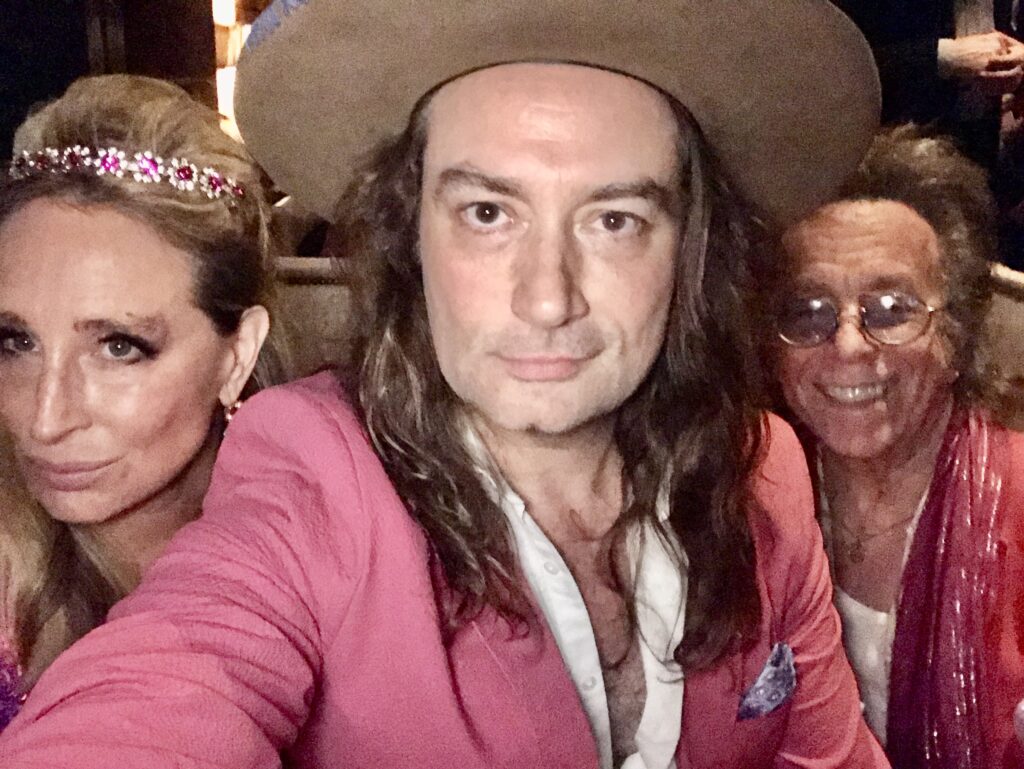 I always see Constantine performing at Donnie Kehr's Rockers on Broadway which is a fantastic organization that describes itself as a nonprofit organization dedicated to supporting arts education & community. They do a lot to help kids also and I attend every year to hear fabulous stars like Constantine sing all the rock hits we love.
Anyway I was talking to some people when someone came up behind me, put their arm around my neck and whispered into my ear a filthy line, which I won't repeat, but it had the words "nutritious" and "pipeline" in it, and I recognized it as a line I had written for Dice many years before.
I turned around and who was it but Dice himself. Celeb real estate guy Jamin Lin who is also doing comedy these days mentioned to Dice that I was there, and he came up and surprised me. He was with his beautiful girlfriend who I can only refer to as "Sugah Plum" which is the spelling that Dice prefers!
It's always so good to see him and he told me he's planning a series of live shows, and I hope he lets me know when cause he said he's using my jokes again and I'd love to hear him do them. When we took photos he was like, "Give me your phone", and he took a selfie, which I am so bad at, and he is so good at!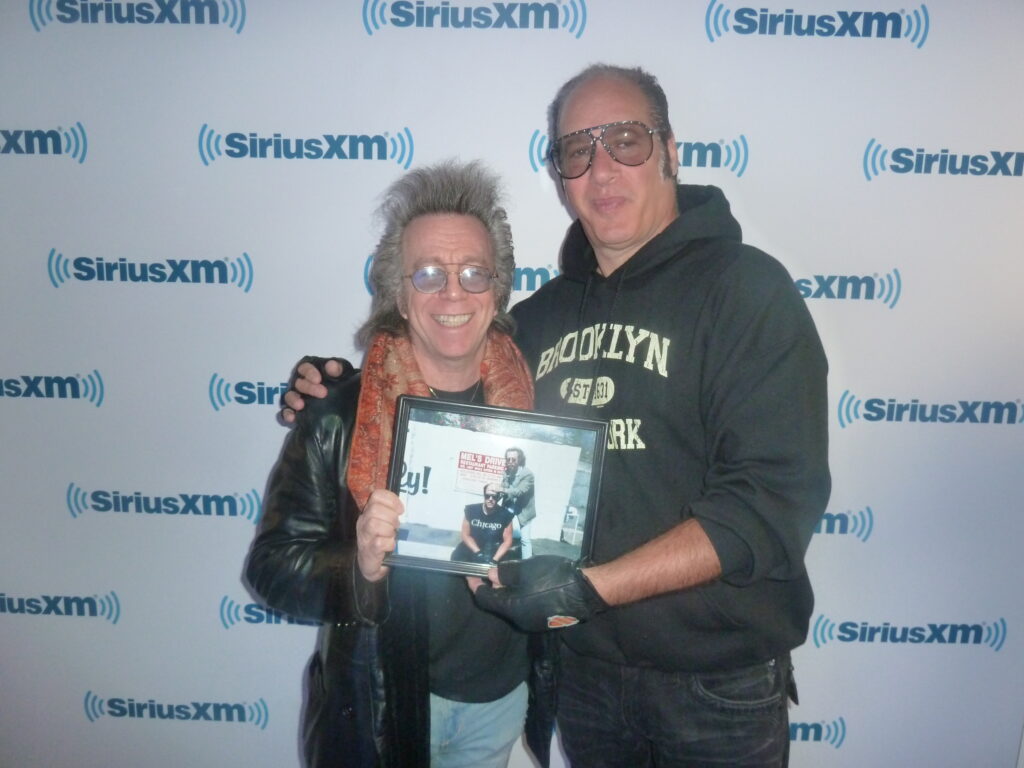 Since all good things must come to an end, this is the end of this column. Until next time stay well and keep laughing! And follow me on Instagram at @jeffreygurian for more fun stuff!!!