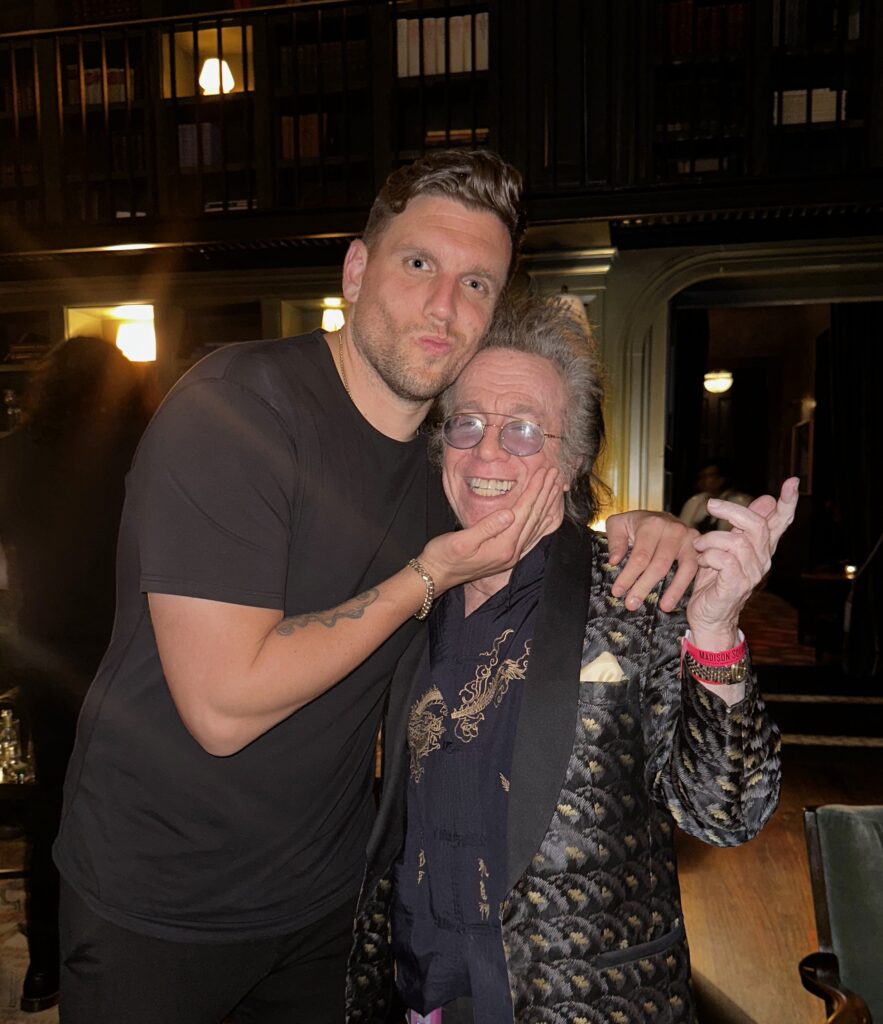 CHRIS DISTEFANO MAKES COMEDY HISTORY
So I've been covering the comedy scene for more than 20 years with Comedy Matters and until now I have NEVER seen anyone sell out Radio City and the very next night sell out The Theatre at Madison Square Garden until Chris Distefano did it this past weekend.
I'm still tripping on the excitement of being there both nights and watching him crush it so easily. He seemed very calm and I'm not sure why but I was as nervous as if I was performing! I think maybe it was the stress of getting there with the U.N. traffic that has been destroying New York for the past week!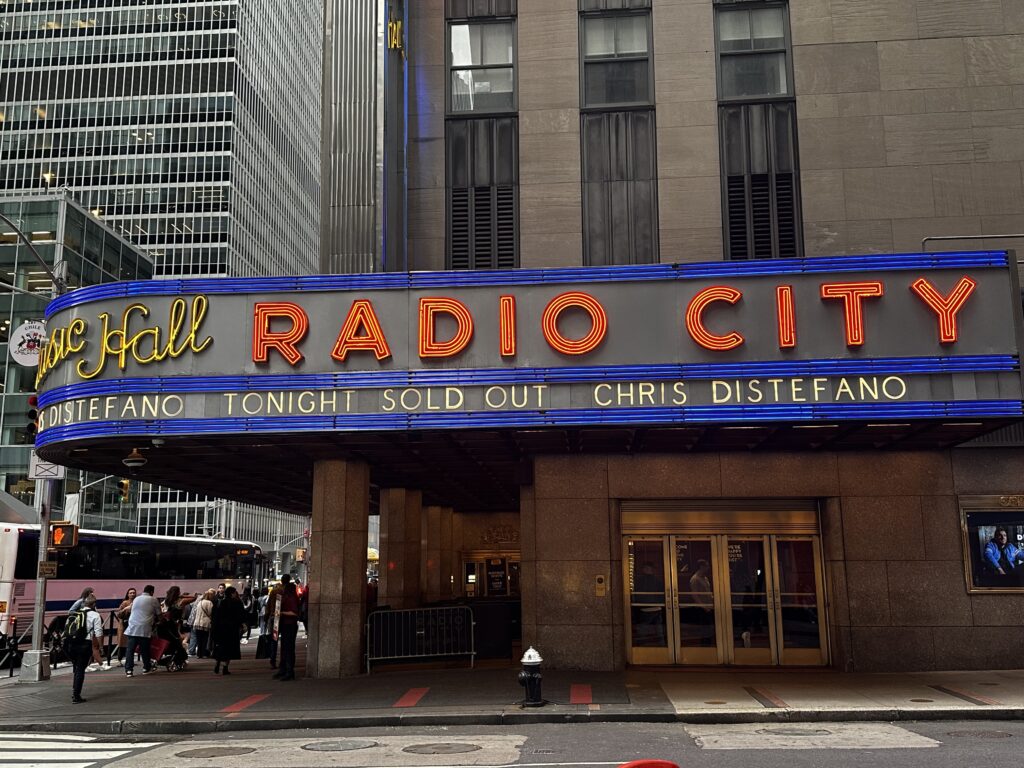 James Mattern did a great job hosting both nights. My man Mike Cannon crushed on Friday night's show, and The Homeless Pimp and NYVideoGuy filmed the whole thing. It was a classy affair with a band as the opening act, and Chris did a really smooth hour.
After the show the after-party was bangin' with lots of food, and a very hip, stylish crowd. Ryan Ling was there, the creator of MTV's Girl Code and Guy Code both of which shows Chris was on. We got to talk about a couple of new projects he's developing.
And Chris' Mom and Dad were both there, and he kept apologizing to his Mom every time he cursed or said something off color. His material is very family oriented, and I give him so much credit for being able to tell stories about his Mom and Dad, who have been divorced for many years, with them in attendance.
They are both good sports and I was very excited to meet his Mom and congratulate her for birthing such a big comedy star! We had a good laugh about all of his apologies, which she laughingly said were definitely needed!
But no one could have been prouder than Chris' manager Emilio Savone, co-owner of the many iterations of New York Comedy Club that he runs so successfully. We always like to reminisce about the fact that 15 years ago he was selling tickets to comedy clubs all over the city and how he owns them! And of course big props to Tommy Russo, "Comedy Tommy", who's Chrissy's tour manager and makes sure that every single thing is just right!!!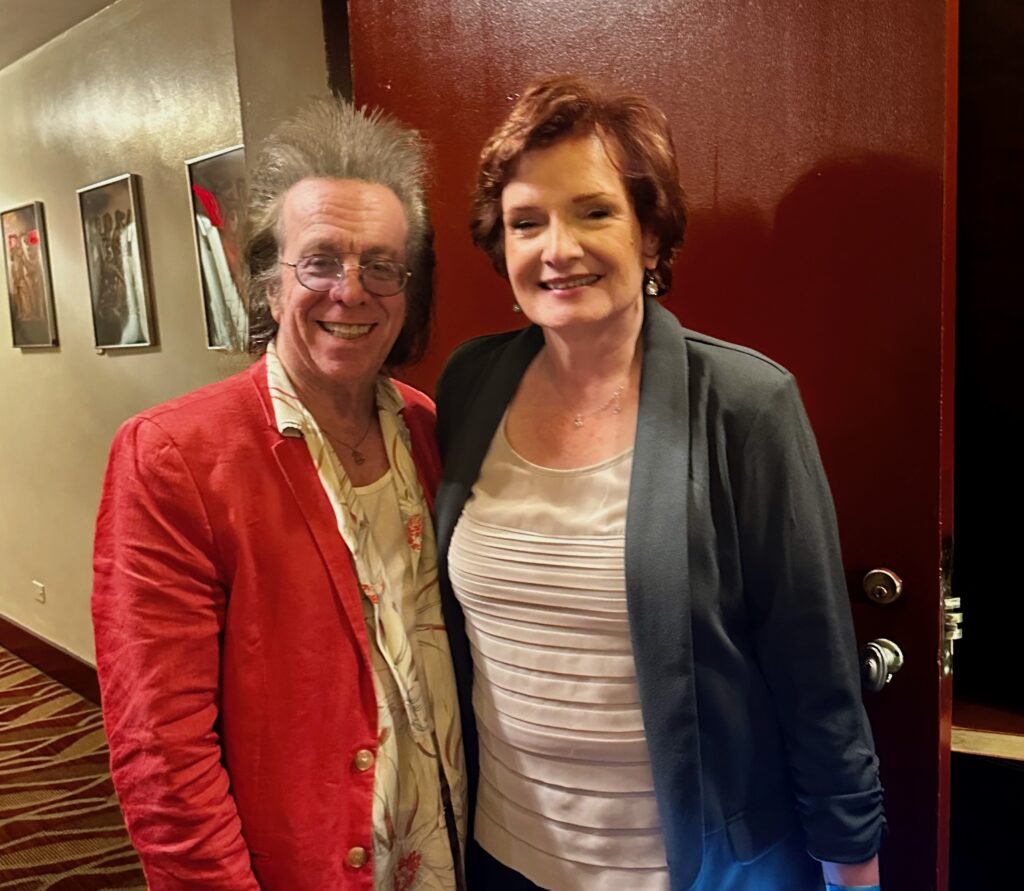 And uber agent Mike Berkowitz from WME was there because he handles every big comedy tour there is, and he too said to me that in his 22 years he has never seen a comedian sell out Radio City one night and the next night sell out The Theatre at MSG. True comedy history!!!
Chris ended the show by bringing out his "Puerto Rican family", which was Jaz and their 3 kids and it was such a nice touch. He was carrying the little 2 year old.
The next night the show opened with a drummer who drummed along to lots of hit rock songs, and the girl I was with, Princess Cindy, knew all of them! She got along great with Princess Pixie who was there as well both bringing amazing energy to the event!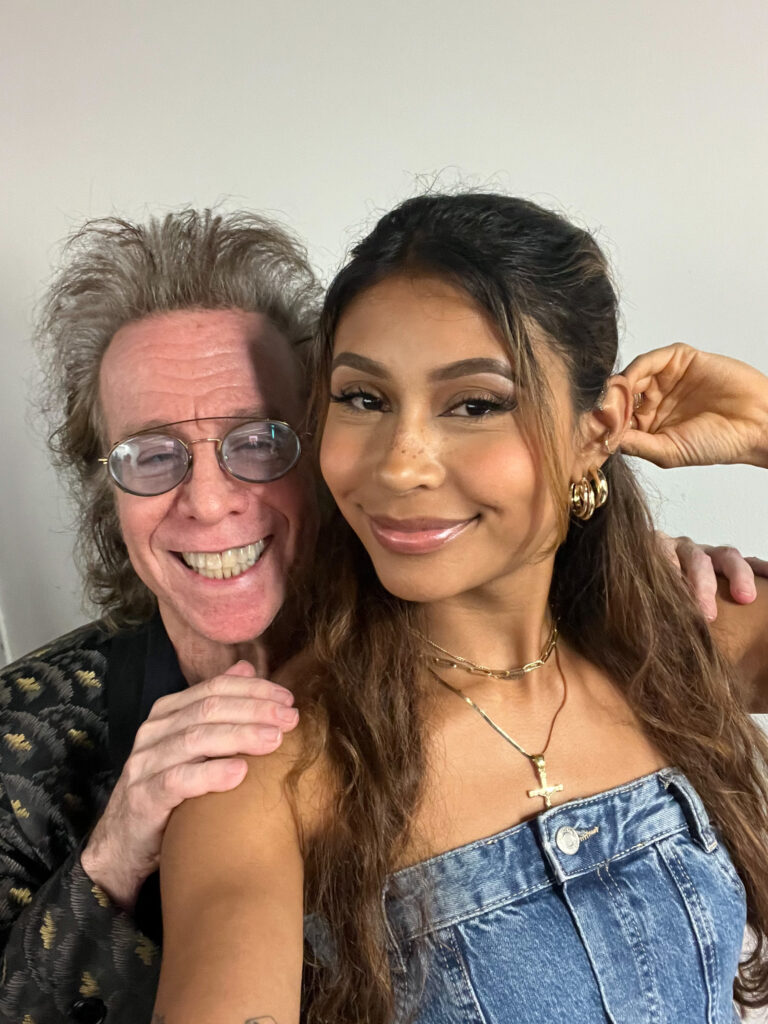 On the second night Sal Vulcano made a surprise appearance to THUNDEROUS applause. The applause was so loud and went on for so long that he finally asked the audience to stop so he could start performing. I was hoping to see him at the after party but he didn't hang out!
He also did not disappoint and did a particularly hilarious bit on what it takes in his life for a woman to get dumped by him! Made perfect sense!!!
And then there was the after-after party at Richie Akiva's private club The Ned down on Broadway! Very hip affair, with an amazing band and an hour in, tour manager Tommy Russo came and told me that The Homeless Pimp wanted me to come out and dance, which I did. Not with him though with Princess Cindy! (LOL) But it felt weird with me dancing and him not filming me, which is what he did when we filmed the Joe DeRosa music video Mouth On My Money! You MUST see this!!!
Chrissy finished his show by saying that his next goal was playing the 20,000 seat Garden and I assured him that I would be there for that too! And then we did this:
TAYLOR TOMLINSON SELLS OUT RADIO CITY TOO!!!
A few weeks before Chris's show I got a call from Judi Marmel, an exec at Levity Live in L.A. telling me that Taylor Tomlinson would be performing at Radio City and of course it was also a sold out affair. I hadn't seen Taylor since the year before up at JFL when we shot a video on the red carpet of the JFL Awards because she won for Breakout Comedy Star of the Year. Only one year later she's selling out Radio City, … 6,000 seats!!! For not one but TWO shows which meant 12,000 tickets!!!
She was filming a new Netflix special, and recently signed a deal for not one but two more Netflix specials, which will be her 3rd and 4th specials for the network! The girl is prolific!!!
Her hour-long standup debut, "Quarter-Life Crisis," premiered on the platform in 2020, followed by "Look at You" in 2022. I was just so impressed with her writing. She's so clever and delivered a flawlessly smooth performance.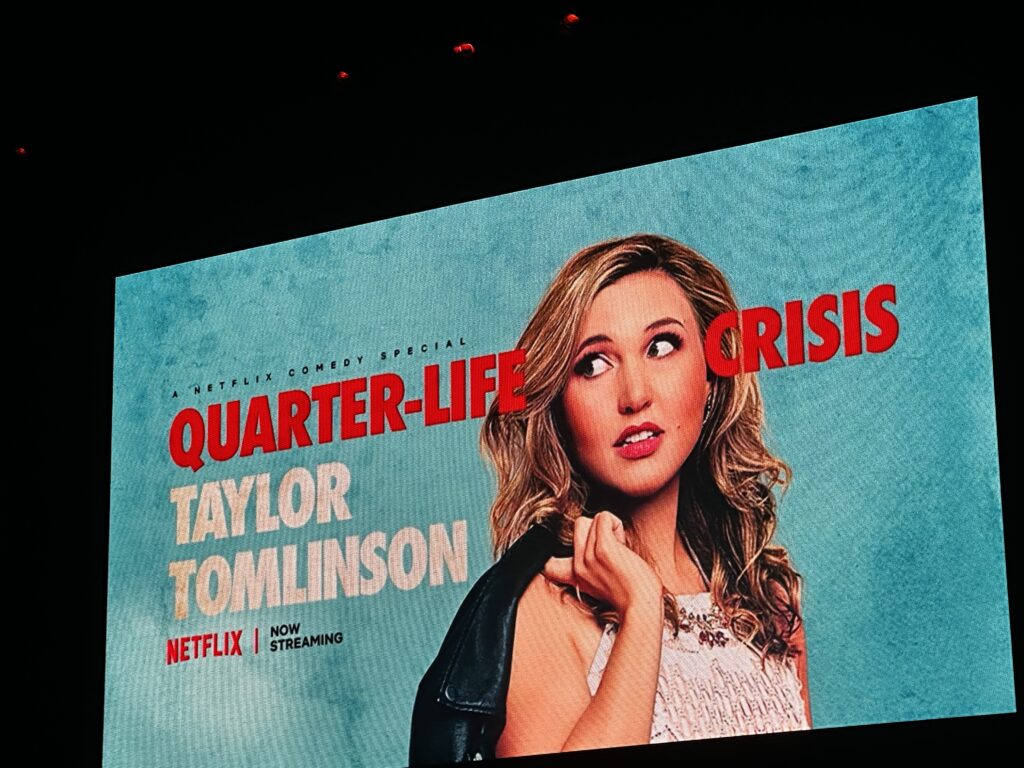 The fun part for me is always going back afterwards to congratulate the performer. I NEVER get tired of doing that, because it takes so much hard work for them to get to the point where they sell out a prestigious venue like Radio City and love to give them the support! Especially when she did such a spectacular job!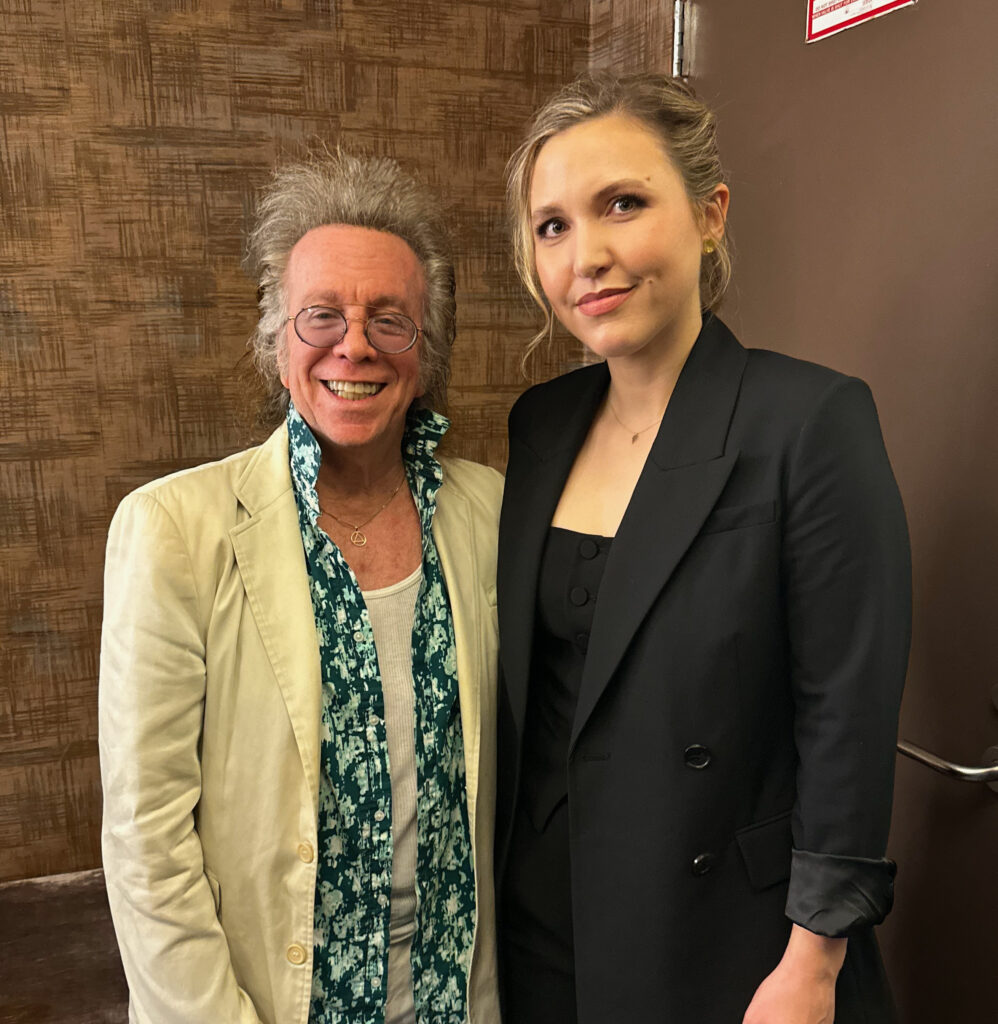 She's on her "Have It All" tour and her opening act who was very funny was Dustin Nickerson. I hadn't seen him before but I have a feeling I'll be seeing more of him in the future. The after-party was packed and I was not aware that there were so many meeting rooms in Radio City. You go in elevators and up to other floors through winding hallways. Most people will probably never see them! Also interesting to me!
HARRISON GREENBAUM HEADLINES HIS OWN SHOW IN VEGAS
Magicians have always been a staple of Las Vegas shows but legit magician/stand up comedians are few and far between, and Harrison Greenbaum stands out amongst those few. He will be making a big announcement very soon, probably headlining his own show, ( just a guess on my part!), after doing 650 shows with Cirque de Soleil's Mad Apple, and being the first comedy magician ever headline a Cirque de Soleil show.
I saw him recently in New York when he had a party and book signing for his new book "You Are All Terrible." The party was at the famous Tannen's Magic Shop, the oldest and most venerated magic shop in NYC, and the only place you can get the book.
And Harrison regaled the attendees with stories like how Criss Angel snuck in to see his show, how his 1 or 2 day gig in Vegas turned into a 1 1/2 year contract and how his jokes and tricks almost got him fired, sued or killed!!!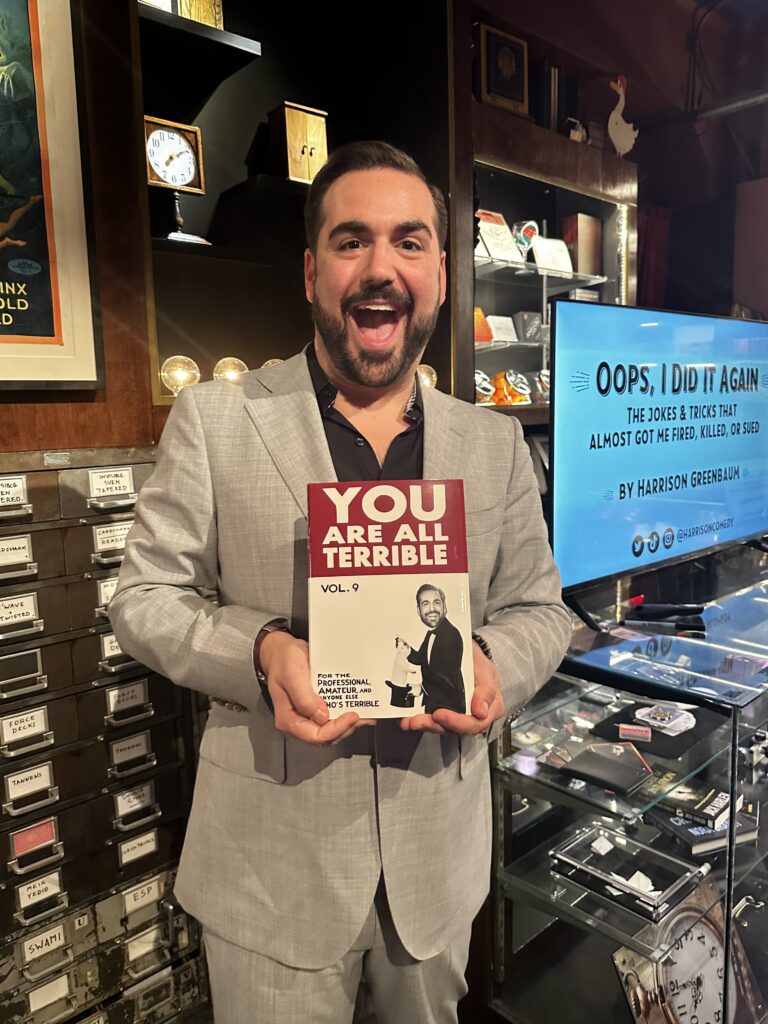 But one thing I will never forget about Harrison is how when I was in the hospital with Covid Double Pneumonia back in March of 2020, he and Corinne Fisher organized a get well video for me of many of the comedians in New York! Such a kind thing to do, which really helped me to gain the strength to recover. I always say it's a shame you have to be so sick to know that people care about you! (LOL)
This is the video.
ICE-T AND COCO HIT THE HAMPTONS
My long-time friendship with Ice-T and Coco goes back to my longtime friendship with Richard Belzer, which Ice reminded me about when I went out to Southampton to attend The Barbie and Ken Pink Rose Soiree, a charity event to raise money for sick and underprivileged children. The event was held at the fabulous Bentley Hotel, and was produced by nightlife guru Richie Hosein.
The event was absolutely packed. Valet parking worked overtime to accommodate all the cars, and Ice's wife Coco Austin wore an amazing pink outfit that was definitely a highlight of the event! Both she and Ice were very gracious, as they always are, in interacting with the crowd and posing for photos with everyone who asked!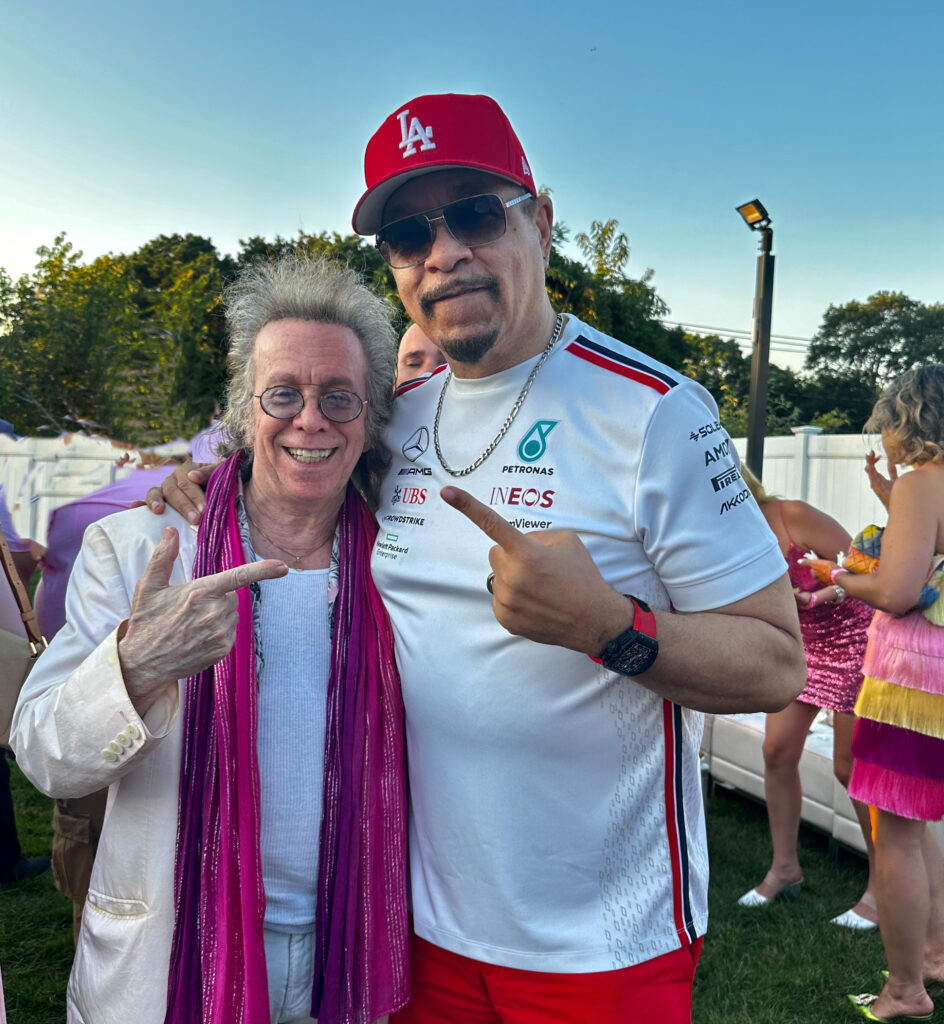 THE GODDESS OF COMEDY VISITS NY
There was a time when women in comedy had to play it down and make themselves look plain. Not anymore! Lauren Francesca is a You Tube star with more than a million followers on Facebook and hundreds of thousands on IG.
I get to see her when she's in NY, visiting from her home in LA, and planning a new project because she was in my very first You Tube video back around 2011 and I created HER very first You Tube video in which she played a woman named Besame Mucho, the "Best Kisser In The World."
So she came by the Comedy Matters crib so we could shoot a couple of IG and Facebook Live videos. And it goes without saying that I took her to a show at Gotham Comedy Club, where I always have my own table, and where I recently shot the pilot for The Raw Side of Comedy! Shout out to Chris Mazzilli!!! (LOL) Stay tuned for more on Lauren!!!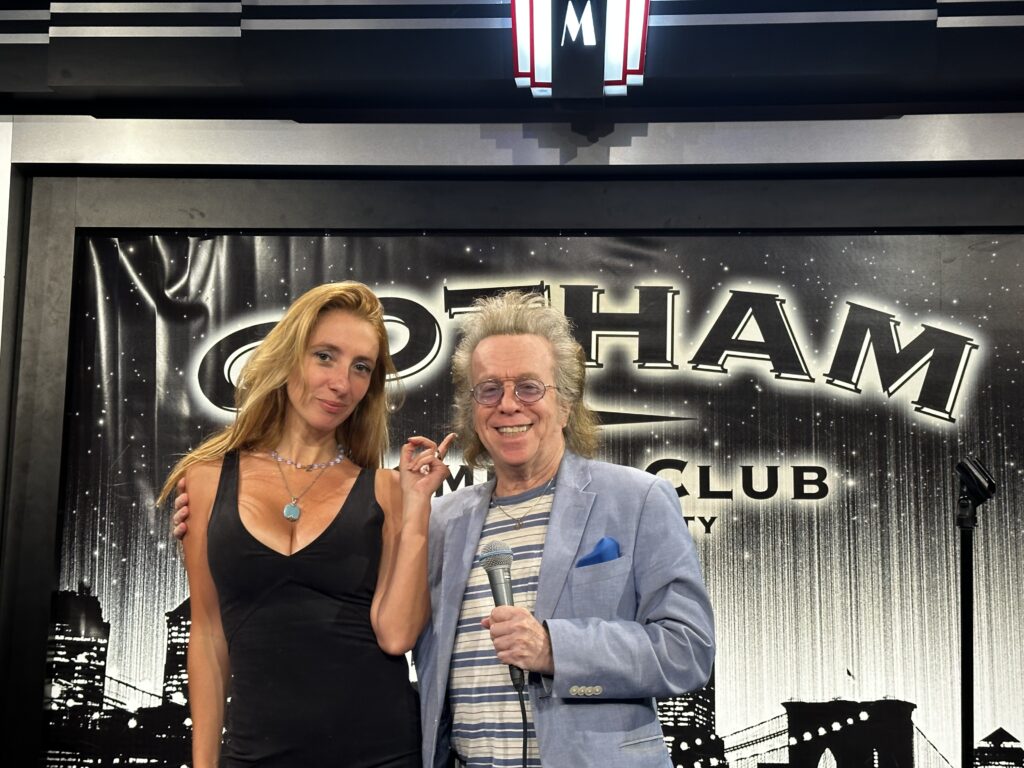 POSITIVELY ERNIE AND POSITIVELY JEFFREY
Ernie Anastos is a broadcasting legend with over 40 years of radio and TV on his resume, even though he looks too young for that to be true. I was going to say "under his belt" but he's still so slim it wouldn't fit under his belt!!! (LOL)
Everyone knows that comedy carries a message even more than being serious, so I've had the privilege of being on air with Ernie on his 77 WABC radio show called Positively Ernie, talking about Mental Health and then again on the importance of Family. and connection to combat the epidemic of loneliness that is a true killer.
We impart information at the same time making it humorous and people love it, as evidenced by the number of callers who can't wait to participate.
It's always been a dream of mine to have a show that only present positive content, and Ernie is doing it! He just got his own TV show called Positively America which will air on Sunday mornings on WPIX, Channel 11. Congratulations Ernie I know it will be a big hit!!!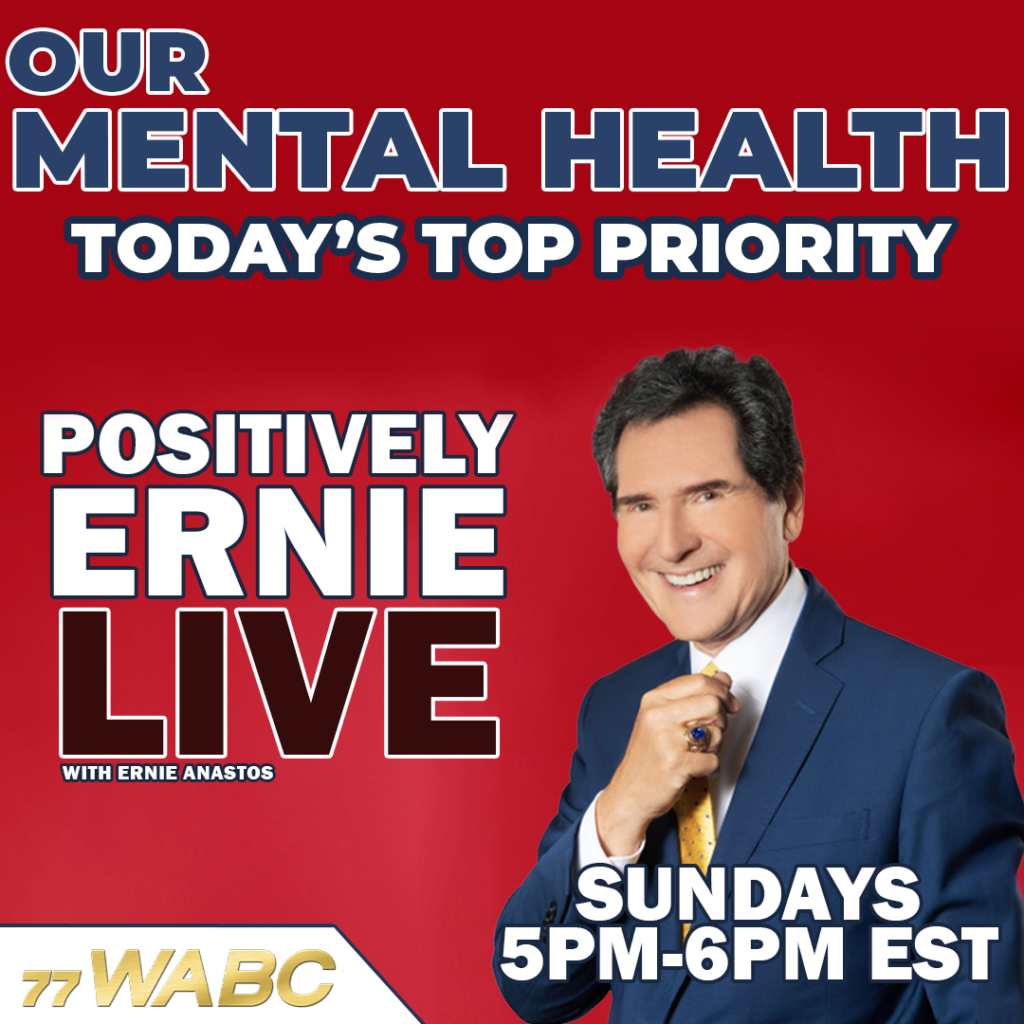 SETH HERZOG CELEBRATES 19 YEARS OF SWEET
This seems to be a column for record breakers! Most comedy shows are glad if they can last a couple of years. In 2004 Seth Herzog, the warm-up comedian for Jimmy Fallon started a show called Sweet and it's in it's 19th year.
He celebrated it's anniversary in it's new location, Chelsea Music Hall on West 15th Street, with a variety of talent, including a mentalist, social media stars, and with the great Adam Pally as his co-host. I first met Adam through Nick Kroll when we shot Kroll Show together and had an amazing time with so many of Nick's friends who were on the segment with us.
Adam opened the show and made sure to say he wasn't a stand up comedian but was consistently funny the whole time he was on stage. Needless to say it was a great show. I did it once and Seth and I decided that I need to do it again! More on that to come!!!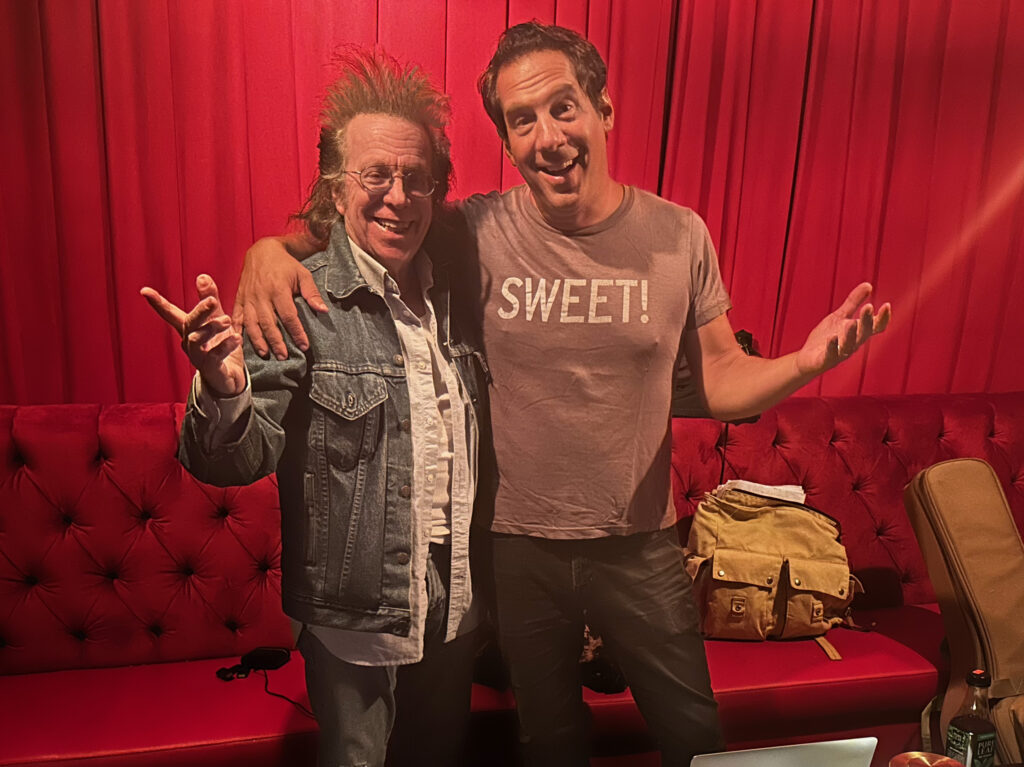 SOHO FILM FEST FEATURES ROBIN GIVENS FILM
The Soho International Film Festival is a very prestigious festival and I get to cover it every year thanks to Exec. Director and Head of Programming Sibyl Santiago, and Carlos Santiago, Jury Director of Film Selections, and their PR guru Rick Eberle! There's so much competition especially to be the opening night film, and this year it was a film directed by actor/director Robin Givens, who I've wanted to meet for a very long time!
I actually met her once a long time ago at a place called Columbuis Cafe which was like the Spago of New York for celebs, but that's a story for another day!
The film is called "The Nana Project" starring Academy Award winner Mercedes Ruehl with two very dissimilar grandsons played admirably by Nolan Gould and Will Peltz. She is their only family and they are her only family and it's a great story.
Robin was very gracious and spent a lot of time on the red carpet allowing her fans to take photos with her. She was so excited she described herself in my video as being "speechless"! As a matter of fact she was so excited she ended my interview with a kiss and then offered me to return it which I did very gladly!
It was also a special treat that she knew jewelry designer to the stars Jessica Robinson who was there with me, and was kind enough to commandeer my camera, and take all the photos and videos I needed! Thanks so much Jess!!! The other videos and photos were snapped by celeb photog Jeff Smith who can usually be found on every "hot" red carpet!!!
The full video is below but in case it doesn't open you can use this link:
https://www.youtube.com/watch?v=Ma5ldMVlvQw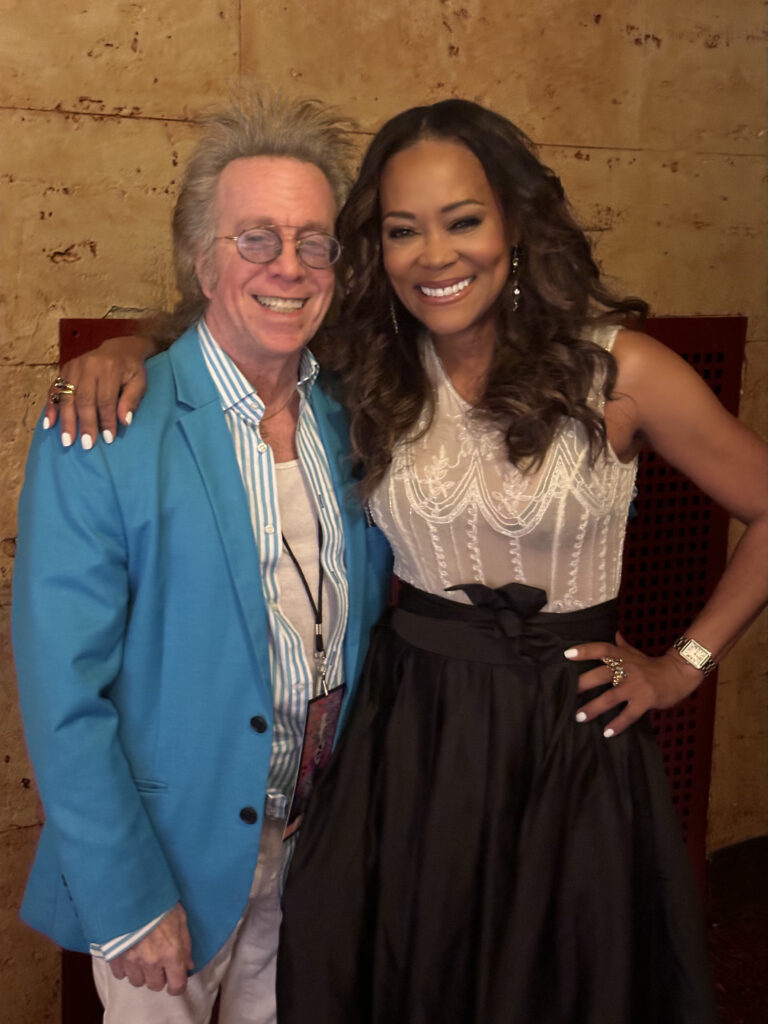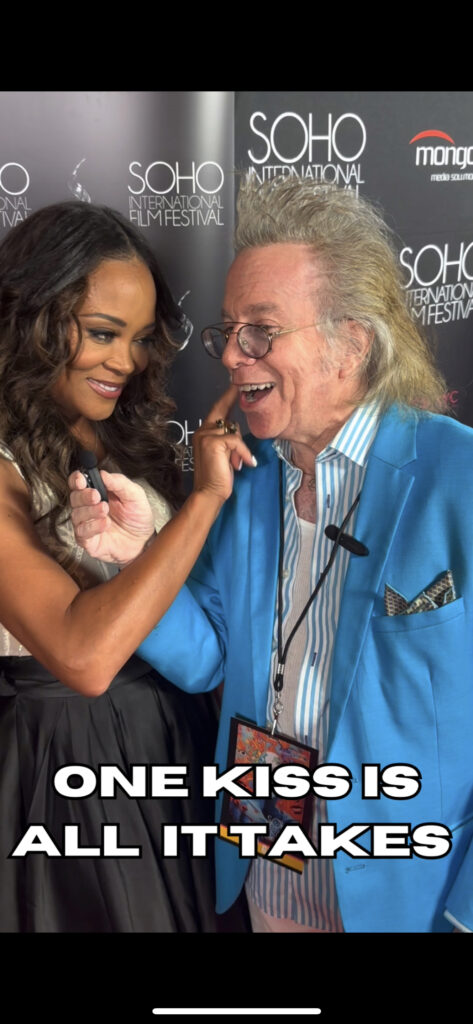 Unfortunately every column must eventually come to an end, and I guess this is it! Please feel free to share this with your peeps and tell them it's cool to Subscribe! You can also subscribe to the Comedy Matters You Tube channel at www.youtube.com/comedymatterstv for more videos with your favorite comedians and follow Jeffrey on Instagram at @jeffreygurian. Bye , .. for now!!!