It's hard to describe the insanity and raucous good time that is Skankfest unless you've been there to experience it. It's the 4th year and the second year at the Brooklyn Bazaar. They had to move from Long Island City's "Creek and the Cave" because it just got too big. SKANKFEST IS A PHENOMENON!!!
Rebecca Trent, owner of The Creek is still one of the producers along with Christine Marie Evans, and the guys from The Legion of Skanks, Big Jay Oakerson, Luis J. Gomez, and Dave Smith. I've been at all of them, and it gets bigger and crazier every year.
I was there for the second night and will be returning for the third night later today, but I felt it deserves at LEAST two posts. People come from all over the world to celebrate with the Skanks. Within a short period of time I was approached by Patrice O'Neal fans from The UK and two Indian-looking dudes from Scotland believe it or not who said they loved listening to me and Patrice on The Black Phillip Show and asked to take photos.
The two brown dudes even had the kind of sense of humor where they said they needed a flash or all I would see was eyes and teeth! Skankfest is the home of the un-PC crowd which is so refreshing. Literally anything goes, as exemplified by Louis CK's surprise set, where if you hadn't heard anything he said, by the applause you'd have thought The Messiah had showed up.
Needless to say there were more beards than you ever thought could fit into one room, and for anyone who felt they didn't have enough tattoos there was even a tattoo room for you to fulfill your tattoo desires.
I walked in when Bonnie McFarlane and Rich Vos were doing their show "Would You Bang Him?" with judges Kerryn Feehan, Kim Congdon, Corinne Fisher, and Krystyna Hutchinson the acknowledged experts on banging. Bonnie pointed out that their names all started with the "K" sound, the four cunts as she put it!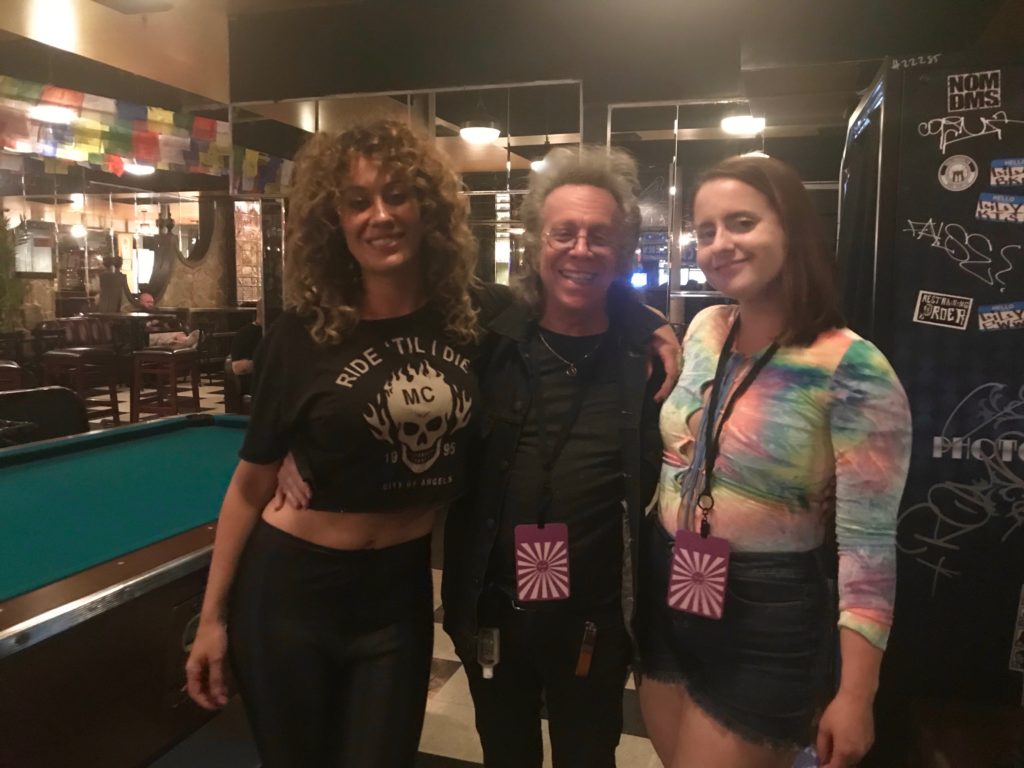 Josh Adam Meyers of Goddam Comedy Jam fame was the first of the contestants who coined the phrase "Journey Legs" to describe how the band Journey walks in their video, and how ridiculous it would be to walk that way in real life!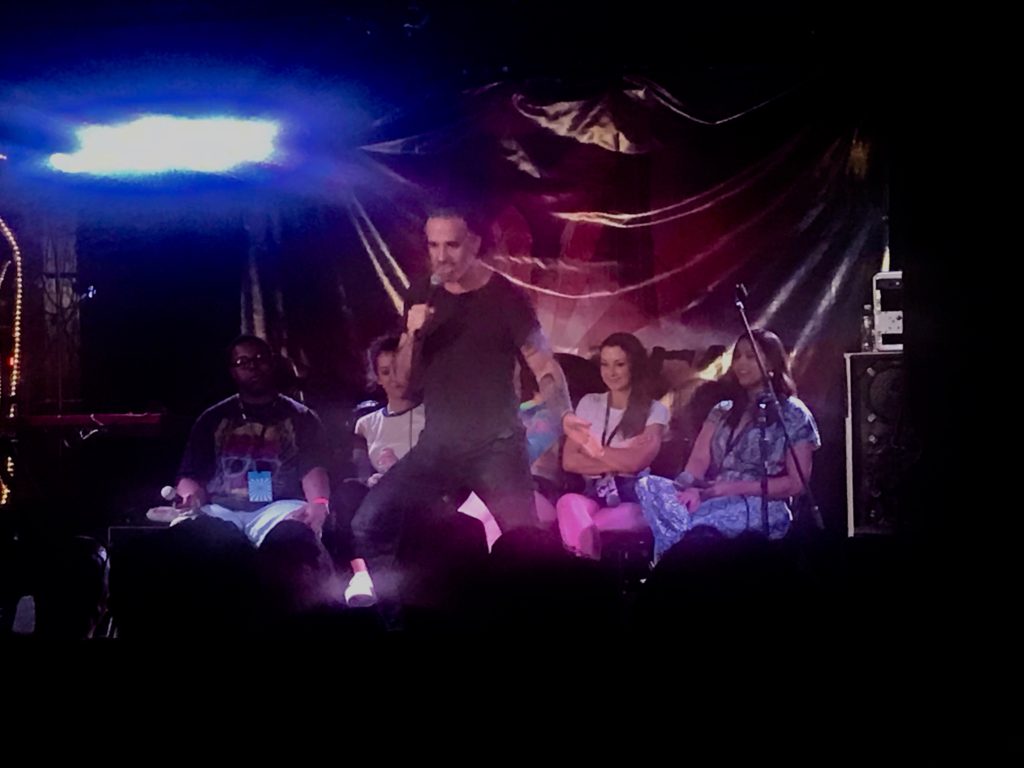 Michael Che was one of the contestants who came out and said to roars of laughter, " I don't really wanna do this. This can't help me at all!" And then went on to do a hilarious set including a story of how he wound up in an after hours club and some gay dude bought him drinks all night hoping to get with him.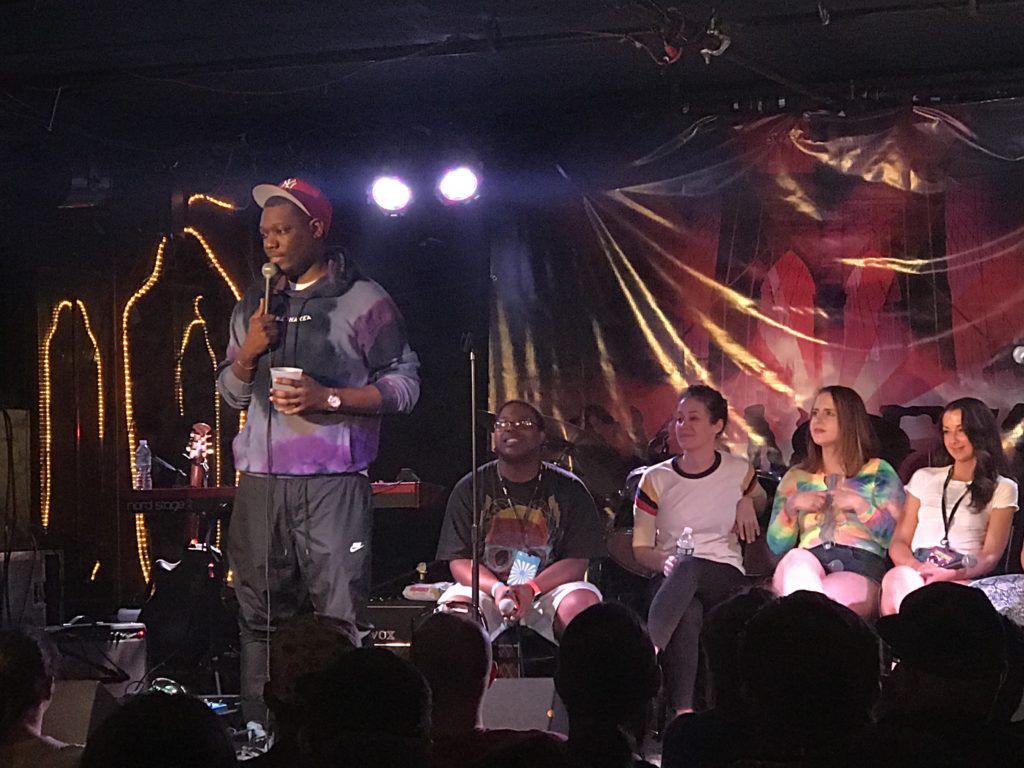 After the comic performs the judges declare whether they would bang him or not, according to various factors including their history together. Corinne voted "No" due to Michael having once put her up on a show after two heavyweights like Joe Rogan and Bill Burr, where she felt a bit overwhelmed.
Ari Shaffir was also a contestant and at one point chased Rich Vos off the stage by pulling out his dick at the request of the judges and waving it around in a threatening manner! No one shook his hand as he left. It was an insane show to say the least! And packed to the proverbial gills!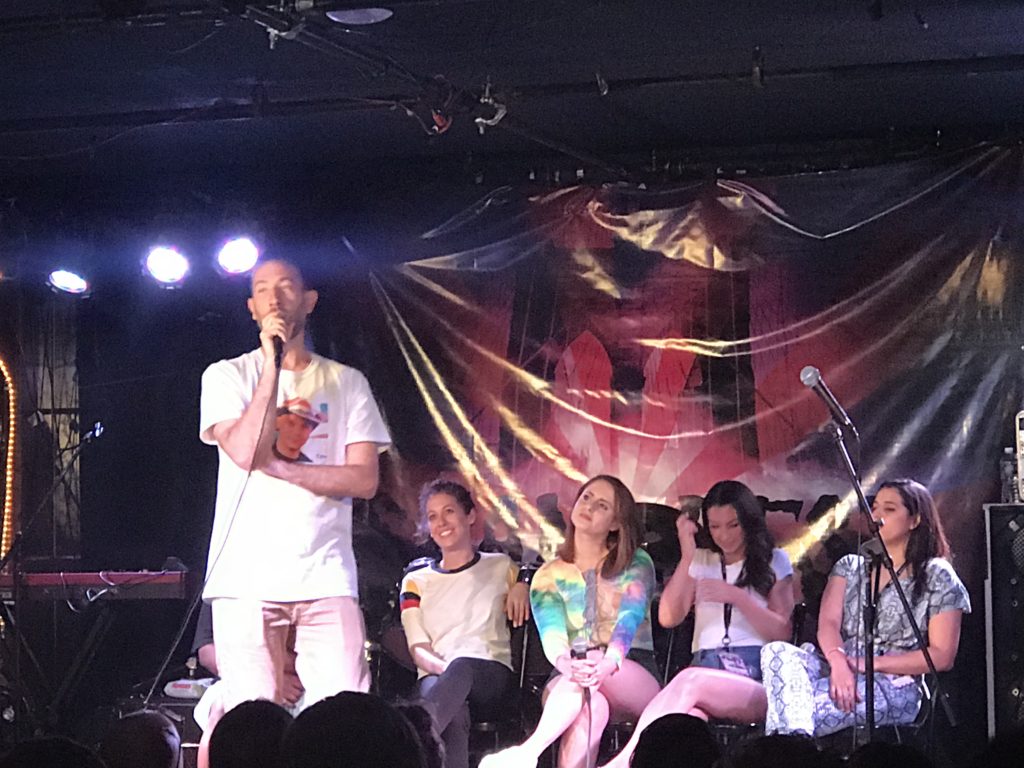 For the big stand-up show that Louis CK was on, I went backstage for a bit and Louie stayed and hung around after his set schmoozing with Dan Soder, Joe List, MC Justin Silver, and Nate Bargatze who closed the show with amazingly funny stories.
Nate is also one of the great story tellers evidenced by his new Netflix special "The Tennessee Kid" and he will be co-starring in the upcoming sitcom with Jerrod Carmichael.
He told an amazing story about pranking Luis J. Gomez when they were out to eat at a McDonalds by taking a bite out of his sandwich while he was away from the table, and re-wrapping it and watching Luis go crazy on the McDonald's staff for serving him a sandwich with a bite taken out of it. I actually laughed out loud as did Louis CK. Not sure about Louis, but very rare for me!
Back in 2014 I brought Nate on as my guest on the Ron and Fez show up on Sirius XM because I could tell even then that he was destined for great things. And last night he and I were wearing the exact same sneakers!
There's a stand-up show every hour on the hour so I stayed till around 1 A.M. to catch late night sets from Derek Gaines and Sherrod Small.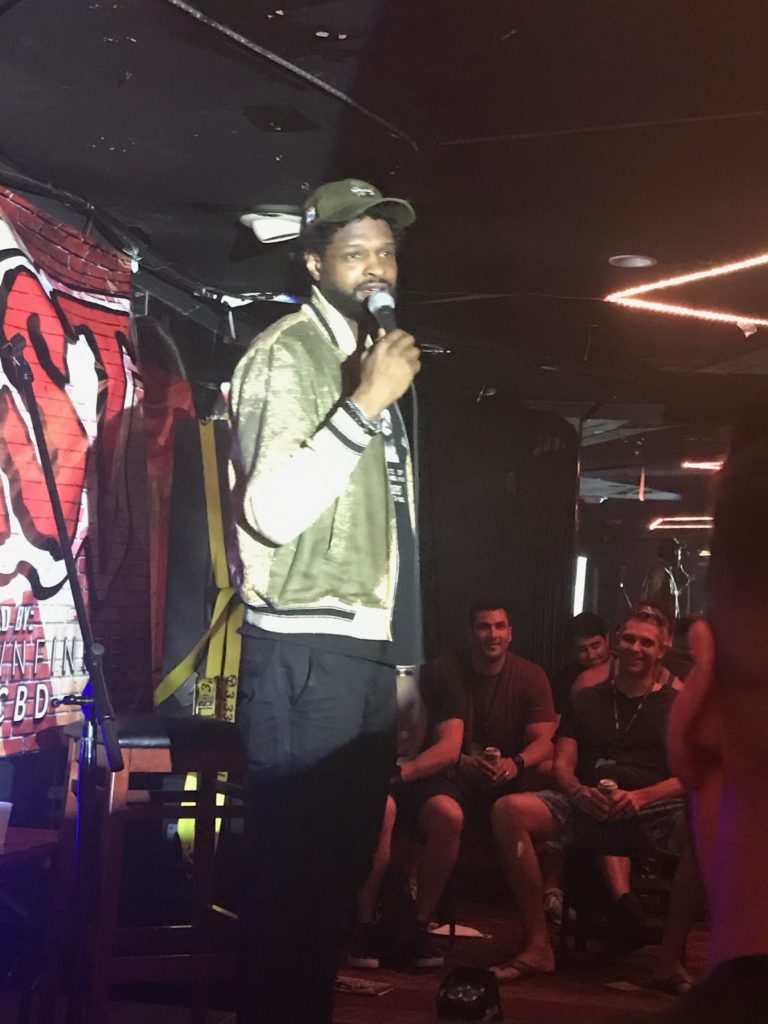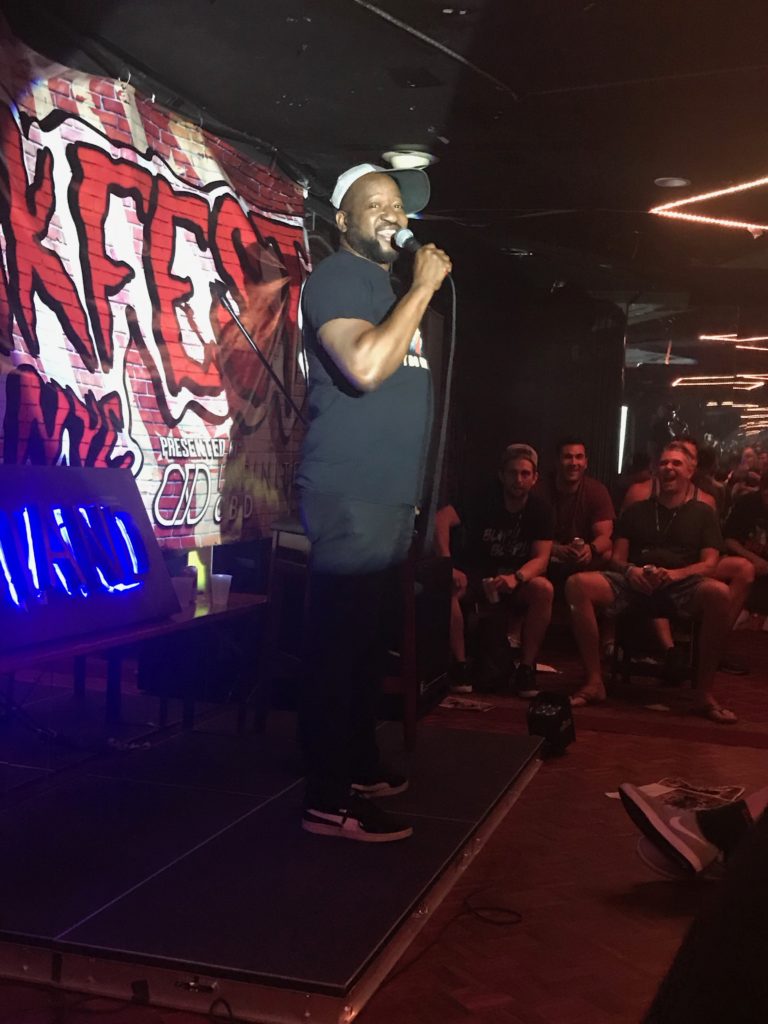 Other stars expected today are Dave Attell, Gilbert Gottfried who I'm sure will do a squeaky clean set, Ron Bennington, Chris Stanley, Monroe Martin, Mark Normand, Judy Gold, The Lucas Brothers, Tony Hinchcliffe, Zac Amico, Robert Kelly and so many more!
I gotta run to get back there so more on Skankfest 2019 tomorrow!