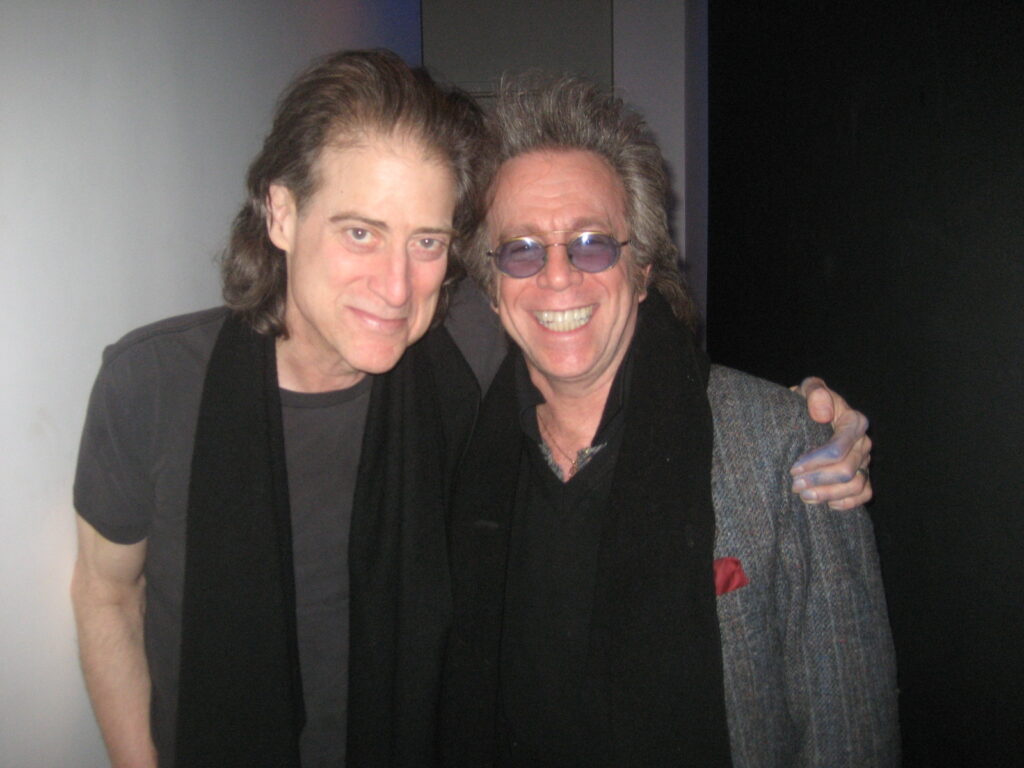 RICHARD LEWIS IS BELOVED
My history with Richard Lewis goes back to the early 90's if not the 80's, but my first real memory of us together was in 1995 at the NY premiere of the film Drunks in which he was the star. Richard had a reputation of never using anyone else to write for him, but I was determined to at least give it a shot.
I felt like i knew him so well, and that he was me in a different body. I related to every story he told about his family. His persona was very comfortable to me. His nervousness, his self-deprecation, his Jewish background. It was me in a different body. At least that's how I felt.
Anyway, I was invited to the premiere and I wrote up a bunch of jokes, proposing a tour called "Born To Be Nervous", because if I ever got a tattoo, that's what it would say. Some guys get "Born To Be Wild"! I get "Born To Be Nervous."
I got to the theatre early hoping to see Richard to give him the material which I had typed up,and put into a folder. Probably after having made a carbon copy! ( Some of you probably don't even know what that is! (LOL)
All I remember is getting on the wrong line, which is perfect for me, in exact alignment with my ADHD, and what usually happens, … and I recall being told that I just missed Richard and that he was already in the theatre. I decided to go to the rest room, ,and as I was going down the stairs, who was coming up the stairs but Richard Lewis, which is also the kind of thing that happens to me.
He looks at me surprised and says, " What are you doing here?" And I said, "Picking up some chop meat for my mother" which was my usual answer if I was somewhere like on the beach and some "nudnik" greeted me with, " What are YOU doing here?" as if I was not allowed to go to the beach like everyone else!
I blurted out that I was here to see the film and support him and that I brought him these jokes that I wanted him to read. Inside was a note asking him to let me know his thoughts. He took the envelope and went into the theatre.
I don't think I saw him when it was over and before I left but that very night, this message was on my answering machine, and I have treasured it ever since. Hope you can hear it! It's 28 years old but listen for the word "Hilarious"!
When I wrote my first Happiness book called "Healing Your Heart, By Changing Your Mind- A Spiritual and Humorous Approach To Achieving Happiness" in my other persona, I asked Richard for a blurb and this is what he wrote for the cover:
"Dr. Gurian is a master of so many disciplines , including being a brilliant humorist, the pressure probably caused his own heart attack. Lucky for us, his genius helps us minimize our risk and live healthier after an episode. He's on my speed dial along with God."
And when I produced a black tie event in honor of Susie Essman for the Gold Coast International Film Festival Richard and I met up at The Friars Club, when it was still prestigious to be a member of the Friars Club, and we shot a little tribute to Susie, … where else but in the Men's Room! The Friars had just done a big article on me in The Epistle which is what we were reading!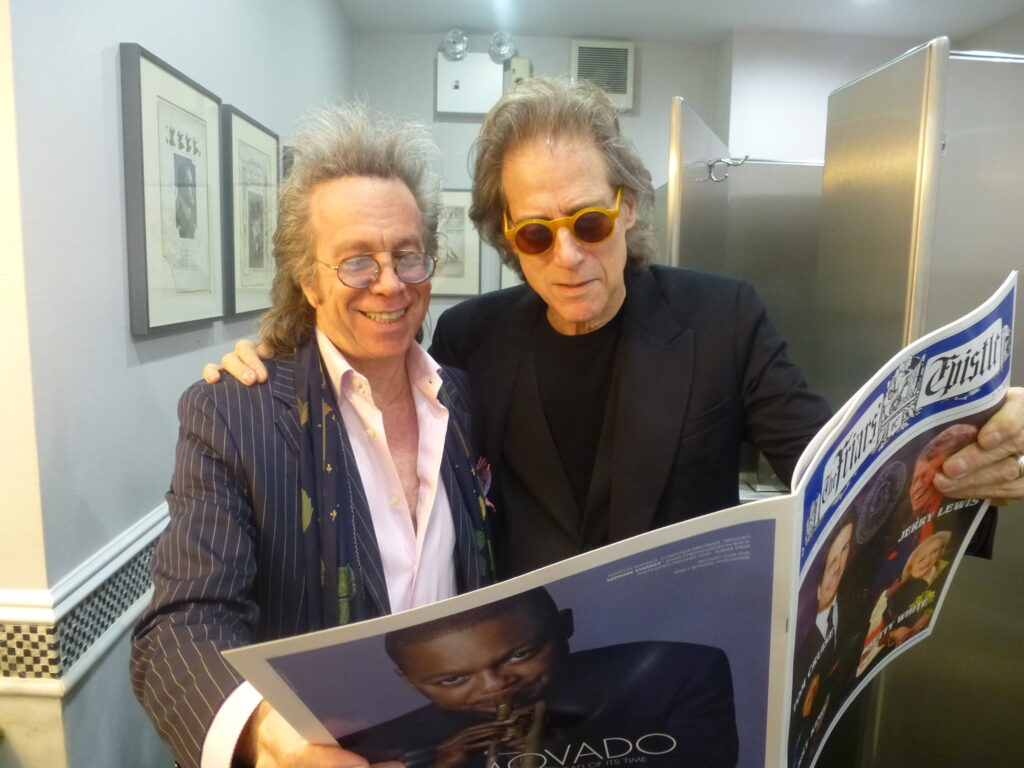 We also shot a bunch of fun videos at The Friars and whenever Richard was coming to town he'd let me know and we'd hang out and have lunch, which was a good thing to do when The Friars was The Friars!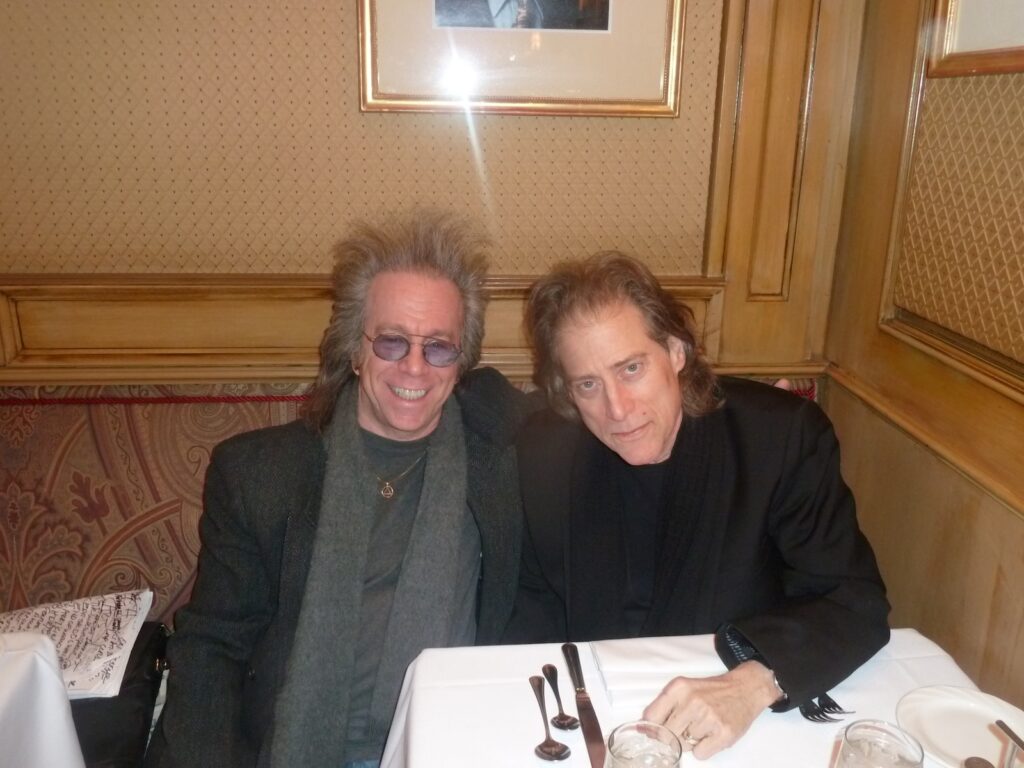 So when I heard the news that he was diagnosed with Parkinson's disease I was very upset. I had spoken to him fairly recently and he told me he was shooting Season 12 of Curb, and was very excited about it. I had planned to call him today when just as I was about to, he sent me the little video he posted on Twitter.
I had no idea about the four surgeries, or that he made the choice to retire and then this happened. Life is very crazy, but Richard Lewis is amazing, a true tower of strength, and one of the funniest guys of all time, and I know he'll be okay. He's truly beloved. Sending prayers for his continued good health, and much gratitude for his longtime friendship.
AMY POEHLER'S SWEDISH DEATH CLEANING SERIES
One of the advantages of what I do is getting invited to cool things! So when I got invited to the screening of Amy Poehler's new show on Peacock, sponsored by The Hollywood Reporter, I made sure to RSVP immediately. It was at the Crosby Hotel in Soho.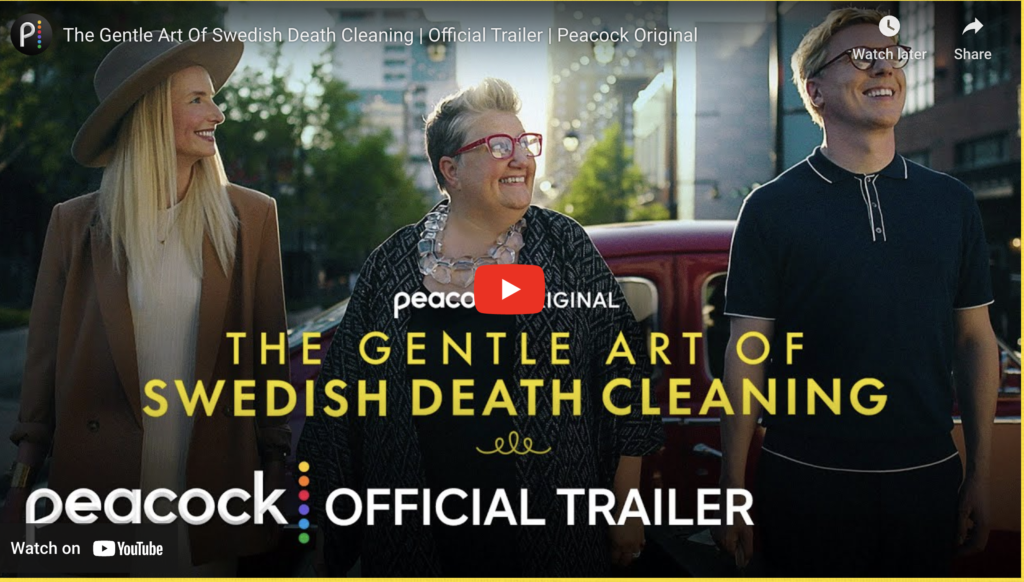 Amy's goal was to create an unscripted series with no fighting. Something positive and not catering to man's basest instincts like most reality shows. Most reality shows seek drama and allow people to ruin their lives on screen. Most participants don't go unscathed! I have personal experience which I won't go into here.
She, under her Paper Kite Productions along with Scout Productions, the creators of "Queer Eye", and her producing partner Kate Arend created a show called "The Gentle Art of Swedish Death Cleaning". I was afraid it was going to be very sad, but it was really quite uplifting in a way. The concept is based on the fact that we're all going to die, a very unpleasant fact. It seems that life is a death sentence.
But when we make our transition someone has to go through all the stuff we've collected, and some of us border on being hoarders. My apartment is packed with things from decades, some of which I have not looked at in just as long.
In the episode we viewed an artist from Kansas City named Amy Moreno was the subject. She was an openly gay, proud, Chicano artist who had lost her longtime partner to Covid. Her rooms were just completely covered in piles of papers, books, art supplies, and art work to the point where the furniture underneath them was not even visible.
Hence the need for the Swedish Death Cleaners, three caring, very diverse people who go through the whole entire home, and figure out what needs to be kept, what can be donated to a new home, and what can be disgarded.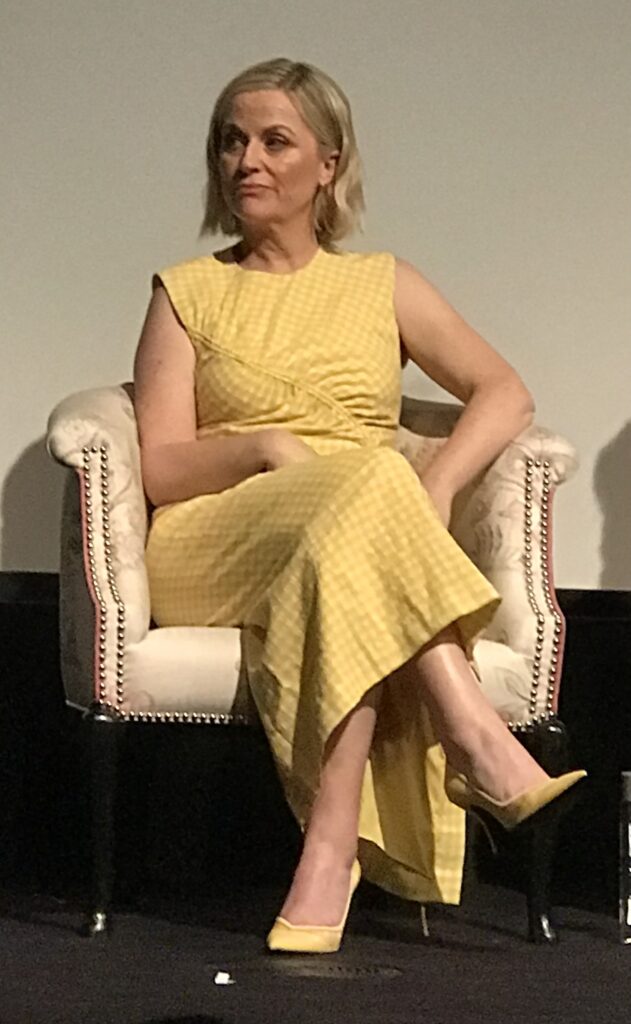 Looking through a lifetime of memories was at times tearful and at other times joyous. At the end her home was absolutely beautiful like an art museum, and the art she donated led to her receiving an award from the Mayor of her town at a surprise event in her honor arranged by the Swedish Death Cleaners.
After the showing there was a Q&A, and then they had a lovely reception with lots of food and drinks and bags of Swedish Fish. Amy didn't stay for the reception and kind of snuck out, but at least I had the chance to congratulate her before she left, and she was so surprised to see me! She and I go back a ways and her photo was one of the ones they used in my recent cover story in Sutton Place Magazine.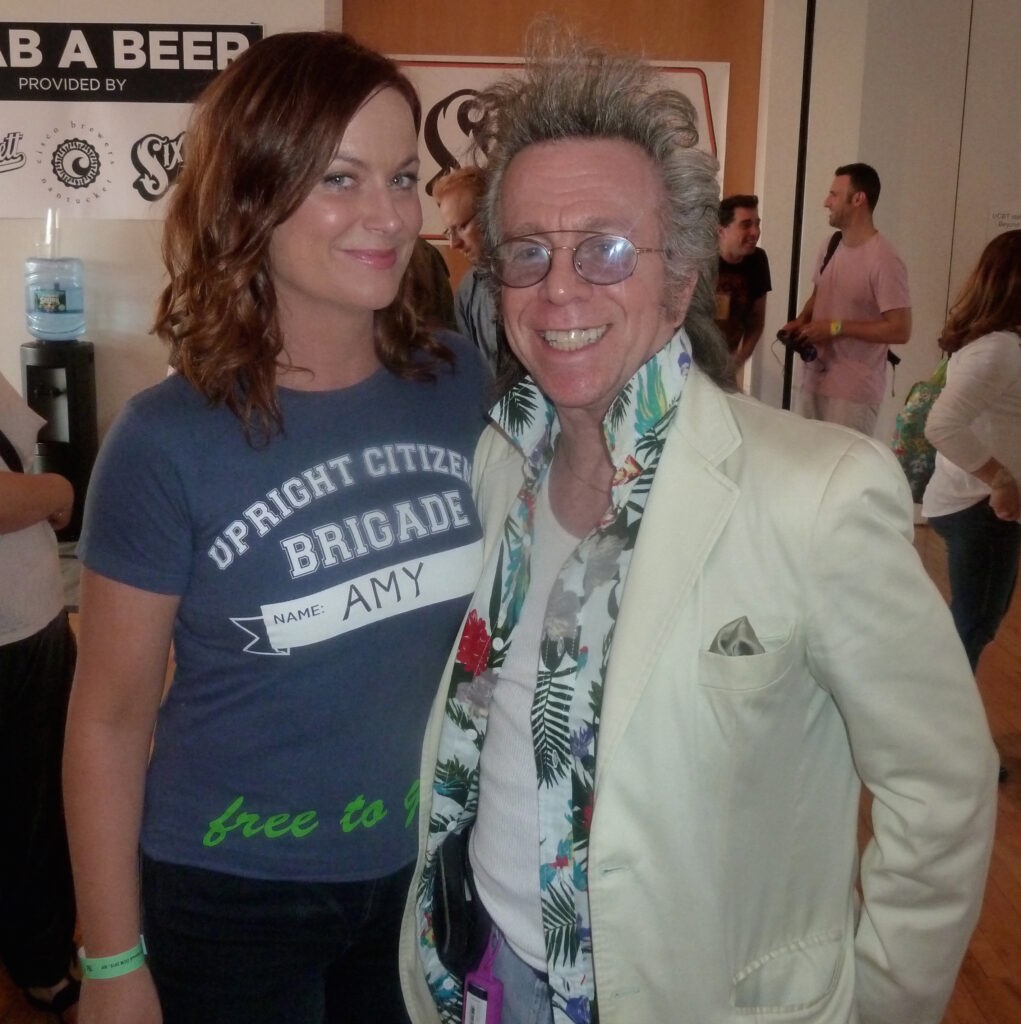 SPORTS OR SCHWARTZ???
When I got the call from producer Jeremy Moses asking me to be a guest on Game Breakers I asked him what kind of a show it was. When he told me it was a sports/comedy show I had to laugh because there's probably no one who knows less about sports than me! I know about Schwartz! Wide World of Schwartz is my specialty!
Ron Bennington from Sirius XM used to kid me about it all the time and they would sign me up for these in office game lotteries and tell me who to vote for. I didn't have a clue. But Jeremy assured me I would not have to know much about sports, … they just wanted to talk to me.
I love a challenge, so I grabbed my Gurian Angels jacket that Nick Kroll and John Mulaney had made for me to open their hit Broadway show "Oh, Hello", and I went as the captain of the Gurian Angels, one of the top teams in the sport of Biggling, the most politically correct sport of all time.
There's two opposing teams in Biggling. One guy stands up at the plate holding a ball and the other guy throws a bat at him. The first guy swings the ball and tries to hit the bat. If he does he walks very slowly around 6 bases. No one wins or loses. Very politically correct.
Anyway I had a blast with the two hosts, comedians Eitan Levine and Drexton Clemons. We laughed for the whole time, and they even said they wanted me back. I'll go if they do!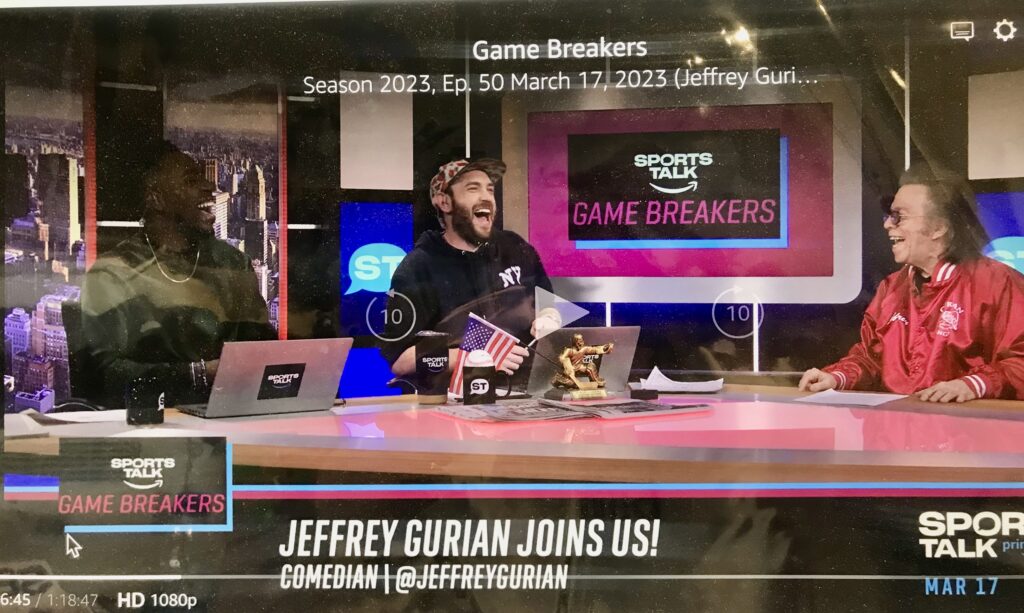 RUGELACH AND REVELRY
Not many people could figure out how to combine the two but Periel Aschenbrand did! In conjunction with Old Jewish Men from Instagram fame, she does a monthly brunch comedy show at Stand Up New York, another one of my favorite places, that's catered by Zabar's. The Rugelach were exquisite, as was the line-up.
Periel was the host. She has an Israeli husband and therefore according to her, a lifetime membership in the IDF! (LOL) She had a great line-up with Rich Aronovich, Chanel Ali, who claimed to be Jewish as the comedy Drake, and went to Israel on birthright, Kosha Dillz, who's a comedy rapper, Dan Naturman who's always so funny and Modi who closed the show with a bang. Modi has the kind of stage presence you don't see much anymore. He works with an energy and a flare. and commands the stage in a way that is reminiscent of the great Mal Z. Lawrence, who I knew well, and which I say to be taken as the greatest compliment.
Rich Aronovich has created a character on Instagram whose dancing can have me mesmerized and laughing for an hour trying to figure out how he has the nerve to do what he does. If I ever feel down I look up his profile. He will be in my new show The Raw Side of Comedy!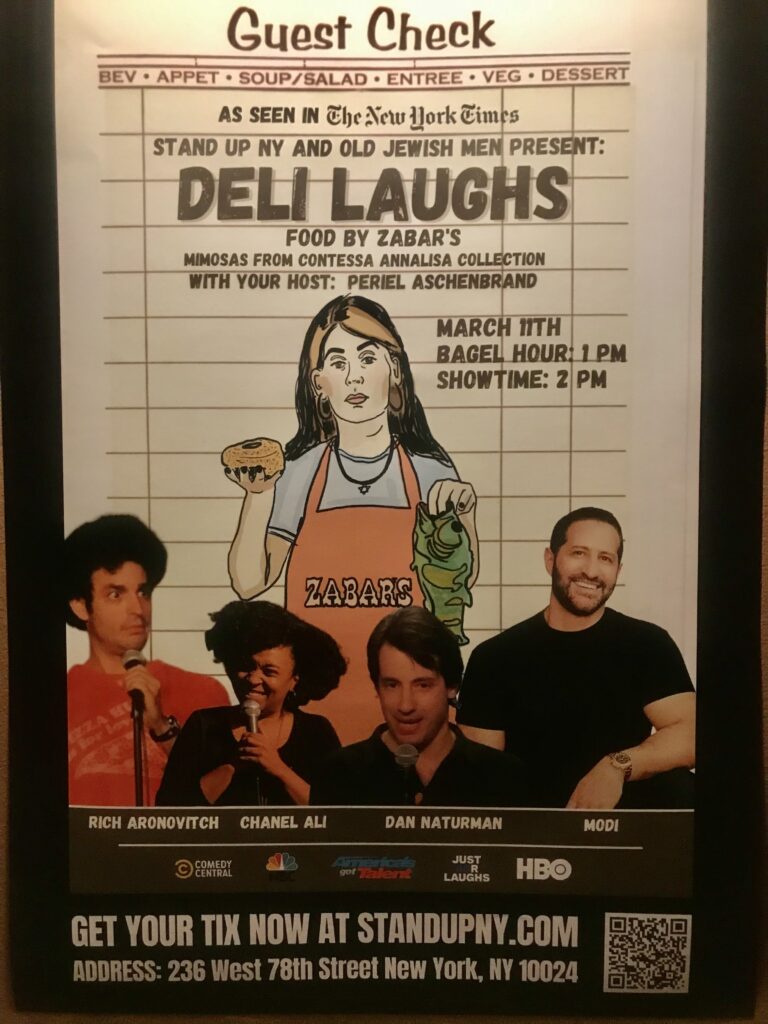 CITY WINERY KILLING IT WITH COMEDY
Another great show at City Winery from Unhinged Comedy hosted by Jahan Djo, who wondered why there's no Jewish superheroes, and featuring Matt Ruby who has a new special on You Tube called "Substance' made up of 4 sets, … three where he was under the influence of different things, and one set sober, Raanan Hershberg, who describes himself as looking like an Israeli Jonah Hill, and talking about how hot people should not be spokespeople for body positivity, ( a great concept!), the always funny Jared Freid, Adrienne Iapalucci who just came off opening for Louis CK at MSG, and Jeff Arcuri who had one of the most unusual things happen ever on stage.
He was about to tell jokes about his ex-girlfriend when someone in the crowd yelled out that they knew her. And they actually did, and knew the details of their break-up! . He was so astonished he could hardly speak for a moment, which led him to say, " I've never been heckled by my past before" which got a HUGE laugh.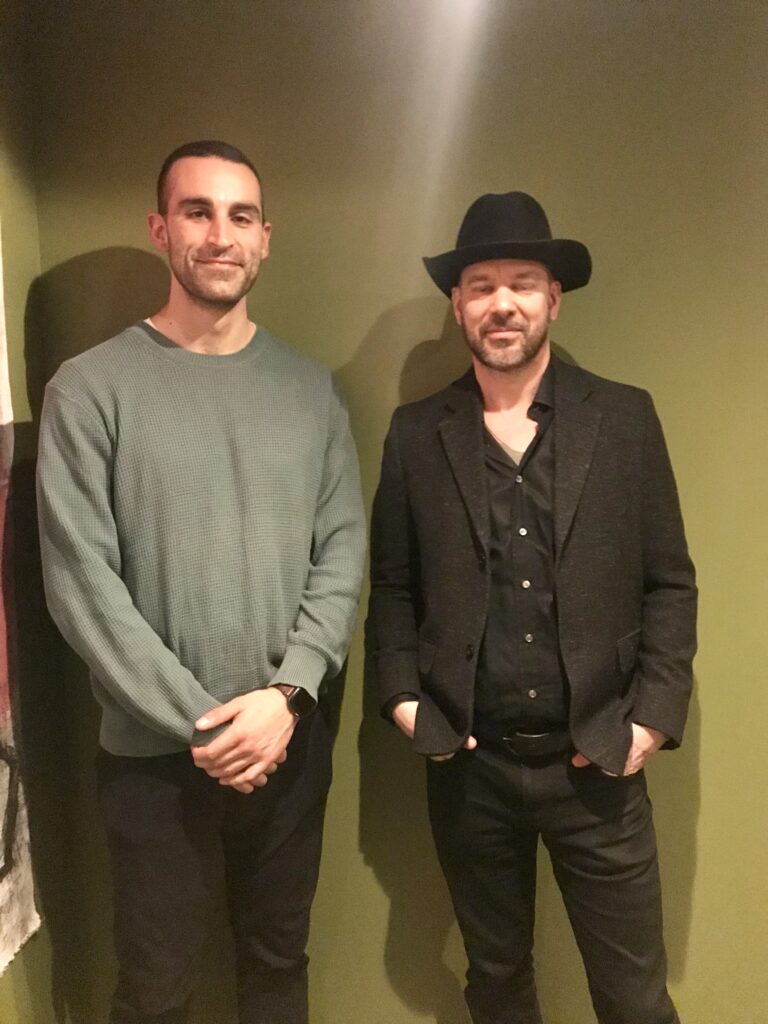 HAMPTONS COMEDY FEST IN SAG HARBOR
I enjoy The Hamptons as much as anyone else but it's a long drive to go back and forth in one night. However when I saw the line-up that comic/producer Paul Anthony put together I knew I had to attend. People have no idea how much work it takes to produce a show, so kudos to Paul for the sold-out show I attended.
I could easily do a paragraph about each comic but this column tends to get so long that I have to be cognisant of that. Paul is best known for producing the LI Comedy Fest for 17 years, the Berkshire Comedy Fest for 5 years, and the 50+ tour with all comics over the age of 50! It's mostly clean family type comedy with a mature appreciate audience.
It was held at Bay Street Theatre in Sag Harbor and I got out there early enough to enjoy the scenery. There will be two more shows to the festival, one in September and one in October wrapping around the high season as Paul explained.
David Weiss a comedian who's also a reporter from 1010WINS radio opened the show. I think I knew David from when I used to be a judge at the NY's Funniest Reporter Shows at The Comic Strip produced by Ryan McCormick and Mark Goldman of Goldman/McCormick PR.
He was followed by Rich Walker, who jokingly claims to have walked away from the chance to do a sit-com called "Everybody Loves Richie", Kendra Cunningham who has a special called "Meatball Therapy", and Bryan McKenna who's been touring with Jim Breuer for the last 7 years. Jim called Governor's looking for an opener and Bryan was the only one available. Talk about good luck and being in the right place at the right time! Jim produced his first album and he's doing another one from Westside Comedy Club in October.
Closing the show was my buddy Chris Roach who was a co-star on Kevin James' show "Kevin Can Wait"and who travels with Kevin and will be opening for him on May 20th in Westhampton. I guess I'll have to drive out there again! (LOL)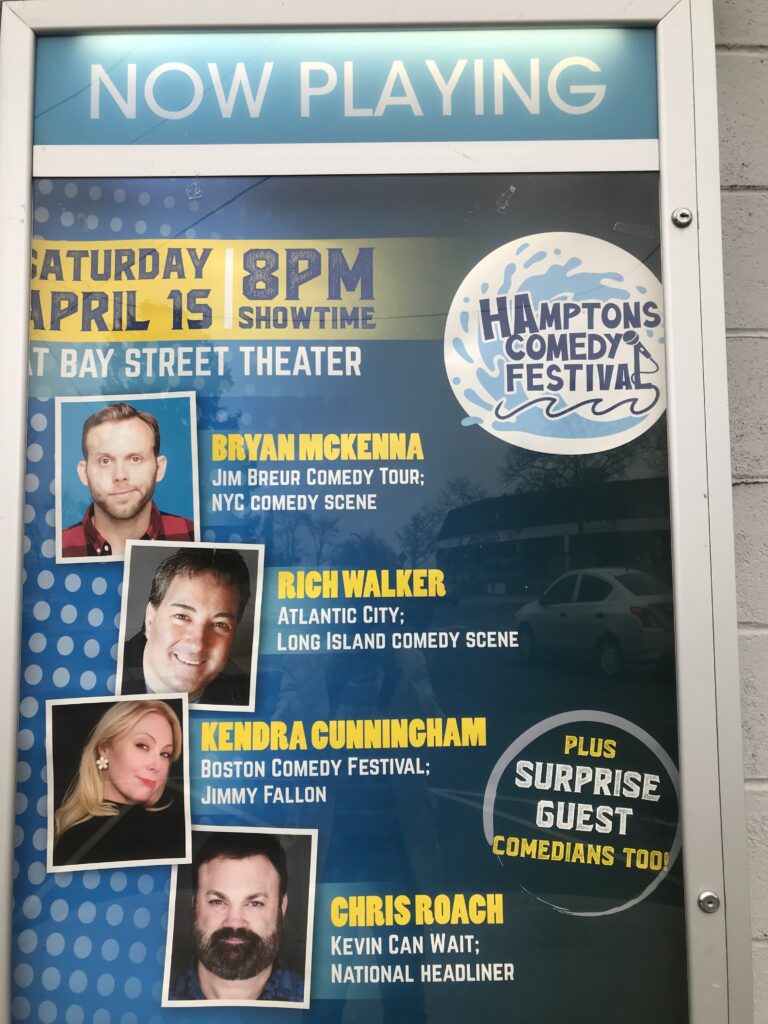 ERIC NEUMANN SELLS OUT GRAMERCY
It's always so gratifying to me to see a comic I know since they started out doing so well that they have so many fans they can sell out a venue. I know Eric from his very early days at The Comic Strip where he often did shows with his friend and partner at the time Marc Gerber.
Now he's handled by Emilio Savone who owns the New York Comedy Club chain and who also started out many years ago working at The Comic Strip. That's how far we go back so when I heard that Eric was at the Gramercy I knew I had to show up.
I sat right behind Eric's Mom who he kept referring to throughout his whole time on stage. And she laughed as much if not more than everyone else! She always told him not to do too much crowd work but he didn't listen, and did it anyway referencing her the entire time.
Dan Altano hosted the show, followed by Marc Gerber, and Jen Gittess who "admitted" to being in a relationship with Eric. We all got to hang out backstage afterwards at the party, and they seem really happy together. It was great meeting Marc's wife and finding out they have a child. Life can not be about comedy alone, or else you will feel very unfulfilled!!!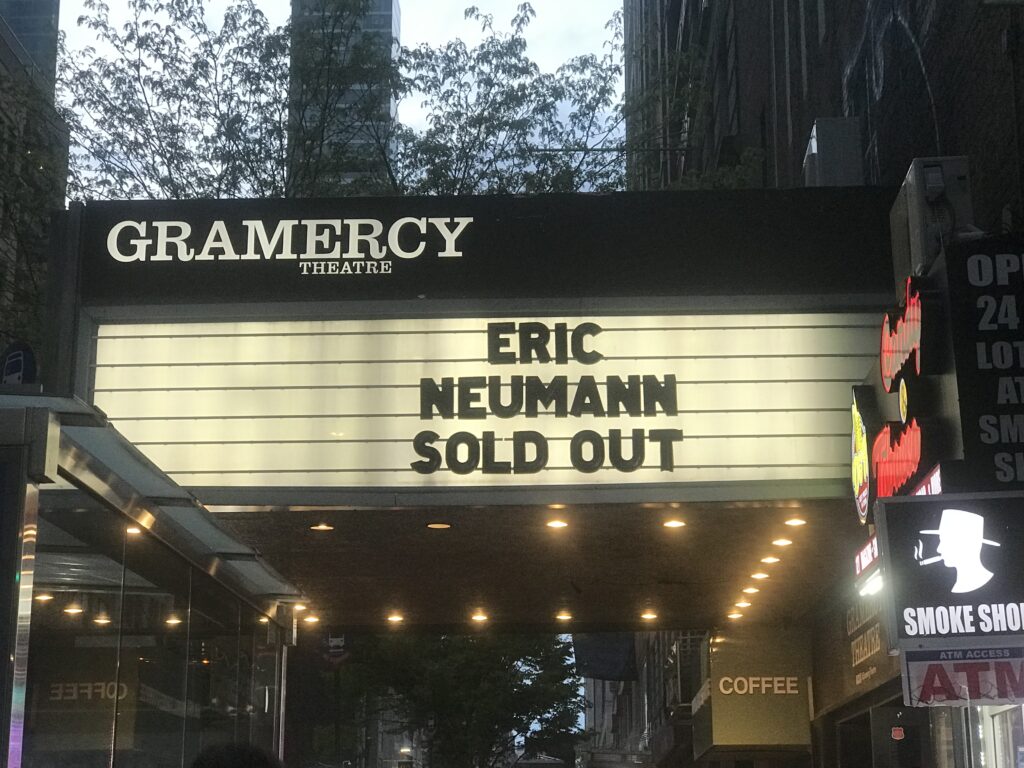 AND WITH THAT I SIMPLY MUST END THIS COLUMN! (LOL) I ACTUALLY HAVE MORE TO ADD BUT IT WILL HAVE TO WAIT! JUST WANTED TO LET YOU ALL KNOW THAT MY SHOW ON MAY 10TH AT THE EXPO IN THE NEW OLLY OLLY MARKET WAS A BIG SUCCESS! WITH AARON BERG, DREW DUNN, ANDRE KIM, RAANAN HERSHBERG, AND JEFF ARCURI! WITH A SPECIAL SURPRISE GUEST SPOT FROM THE AMAZING DEREK GAINES!!! HOPE TO SEE YOU AT THE NEXT ONE!!!
SPECIAL THANKS TO CELEB PHOTOG JEFF SMITH FOR THE GREAT PHOTOS AS USUAL!