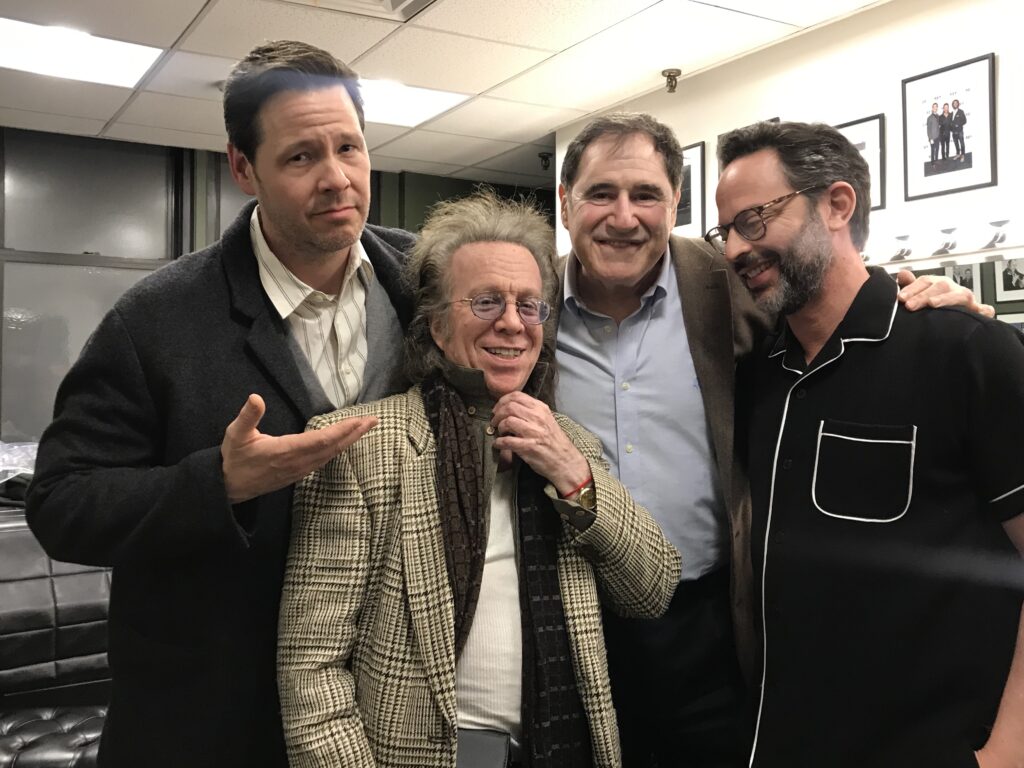 THE PASSING OF RICHARD BELZER AND RICK NEWMAN
We lost two icons in the world of comedy within one day of each other. They had been friends for more than 40 years and passed away one day apart! Richard was in France at the castle he bought with the money he got from when Hulk Hogan dropped him on his head on live TV! (See it on You Tube!) And Rick, the founder of Catch a Rising Star, had been living in LA.
My friendship with Belz went back to the beginning of SNL in the mid 70's when he was guest hosting, and in those days they had assigned seating. I arrived to find Arnold Schwarzenegger sitting in my seat and I had to ask him to move! Very politely I might add! (LOL) True story! He was very gracious, he apologized, we exchanged information (pre-cellphones), and I wound up writing jokes for him to do on the Mike Douglas Show when he was promoting Pumping Iron.
In 1992 Belz agreed to star in a little short futuristic comedy film I made for Playboy TV, called "The Bar Channel", which predicted video-dating many years before it actually happened. It starred Belz and Phoebe Legere!
When I did the book "Make 'Em Laugh" about the history of The Comic Strip with an intro by Chris Rock I invited Rick Newman to be in the book. Comic Strip founder Richie Tienken was good with it because when he opened The Strip in 1976, which was only a few blocks from Catch a Rising Star, he and Rick became friends and helped each other out sharing comics.
When Rick came to The Strip for the interview they hadn't seen each other in years and now both had white hair and Richie was able to tell Rick that he had been his idol and inspiration, and I got a photo with both of them together. It was a very special moment. Hard to believe they're both gone!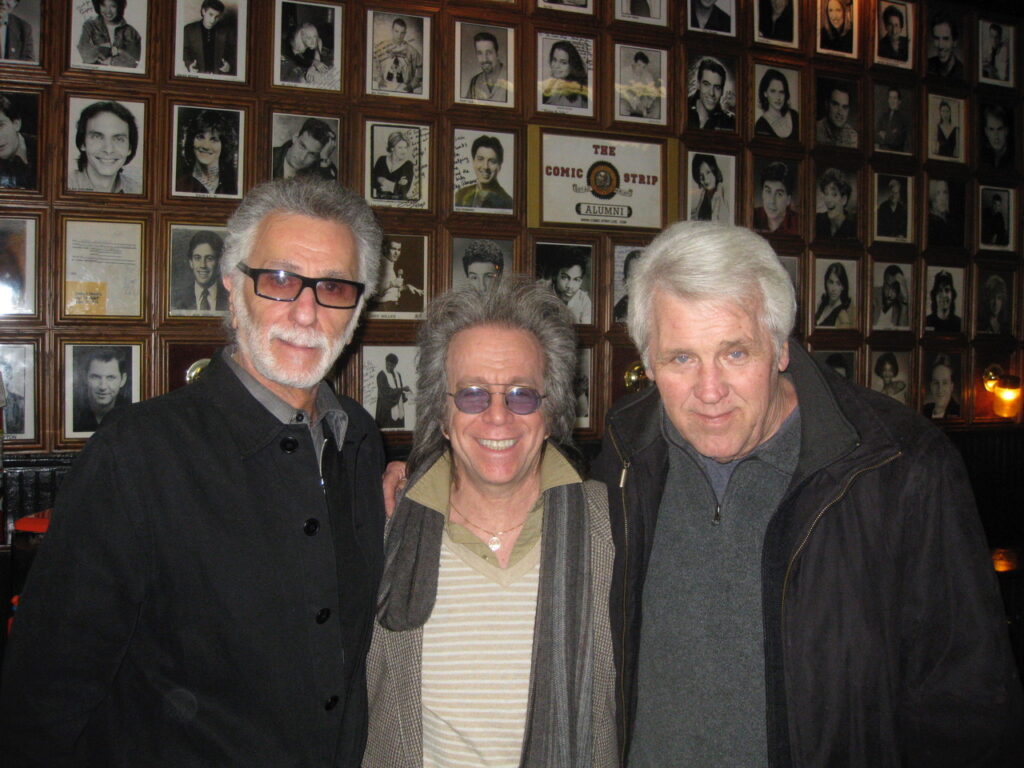 MIKE CANNON SELLS OUT GRAMERCY THEATRE
I love walking up to a venue where a friend of mine is performing and seeing the marquee say "SOLD OUT." That must be such an exciting thing for a performer to experience. That was the case when I went to see Mike Cannon headline to over 400 people. I think that's the biggest audience I ever performed for.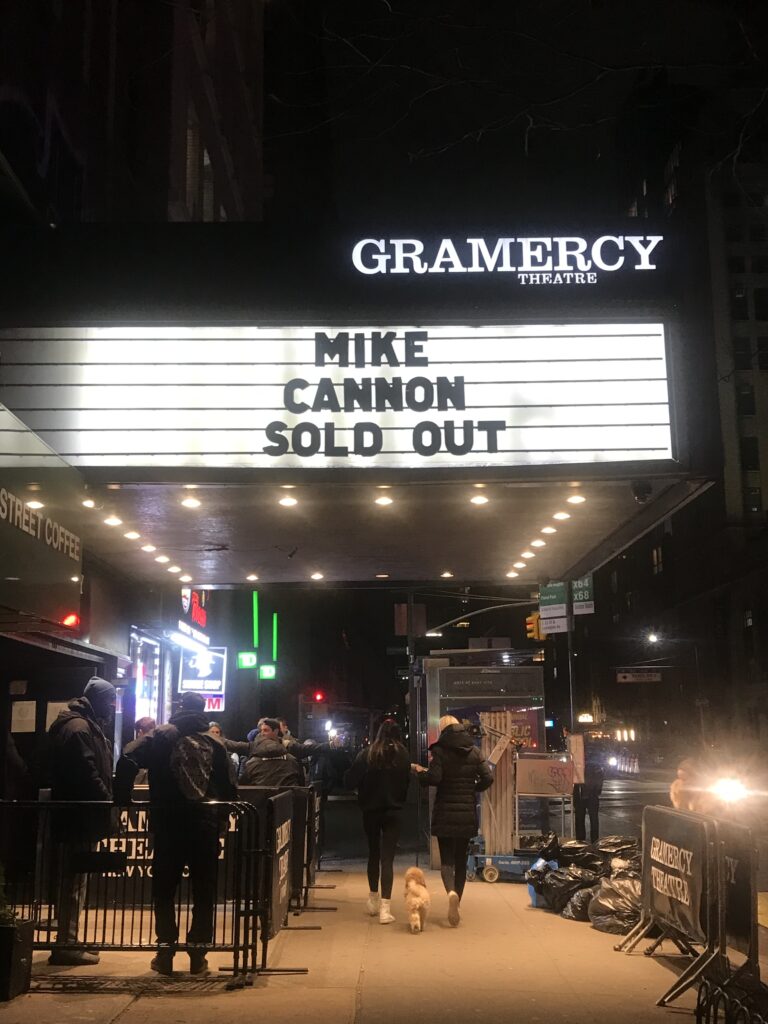 His opener was Casey Balsham who told the audience she was 40, was 8 months pregnant and did a bunch of funny stuff about being a slut! She brought her A-game and did a really strong half hour.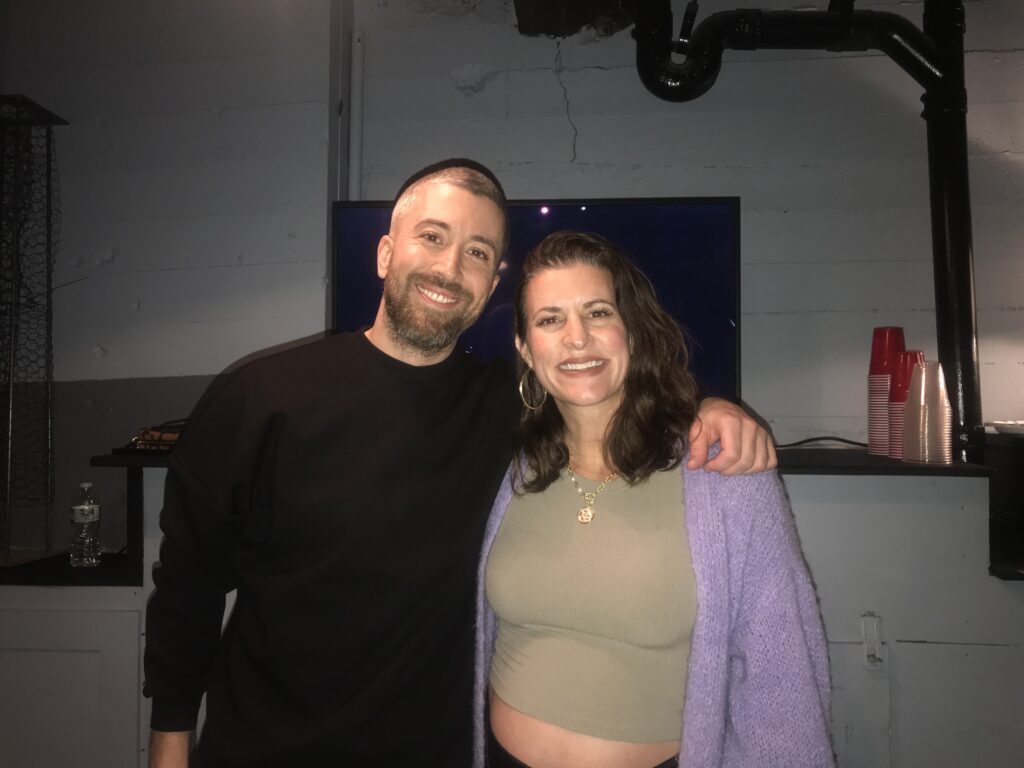 Then Mike came out and killed it for a smooth hour talking about being a fairly new Dad, and lots of family stuff, and afterwards we all hung out in the green room before the big after party. It was all of Mike's buddies from New York Comedy Club, like Mike Feeney his co-host on their podcast The Irish Goodbye, Brendan Sagalow, Adam Gilbert, Phil From Chico and Matt Pavich, plus his manager , and owner of NY Comedy Club Emilio Savone, who needless to say was very proud of Mike!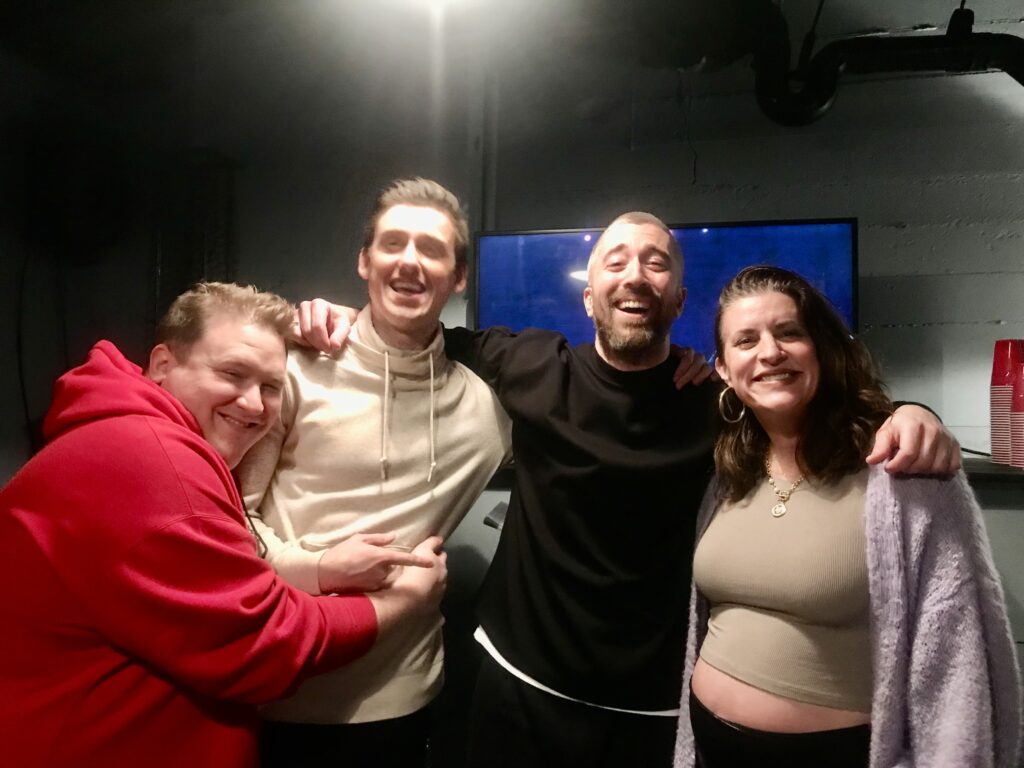 Then I got to ask Mike how he felt about all those people coming out just to see him!
A lot of the people backstage also showed up to celebrate James Mattern's birthday at comic Joe DeRosa's amazing sandwich place called Joey Roses on Rivington Street, and Joe also catered Mike Cannon's green room and the after-party! Good to see Adam Gold there of Adam Gold Management. James, who is one of the best hosts in NY, has been touring and opening for Chris Distefano! More on that later!!!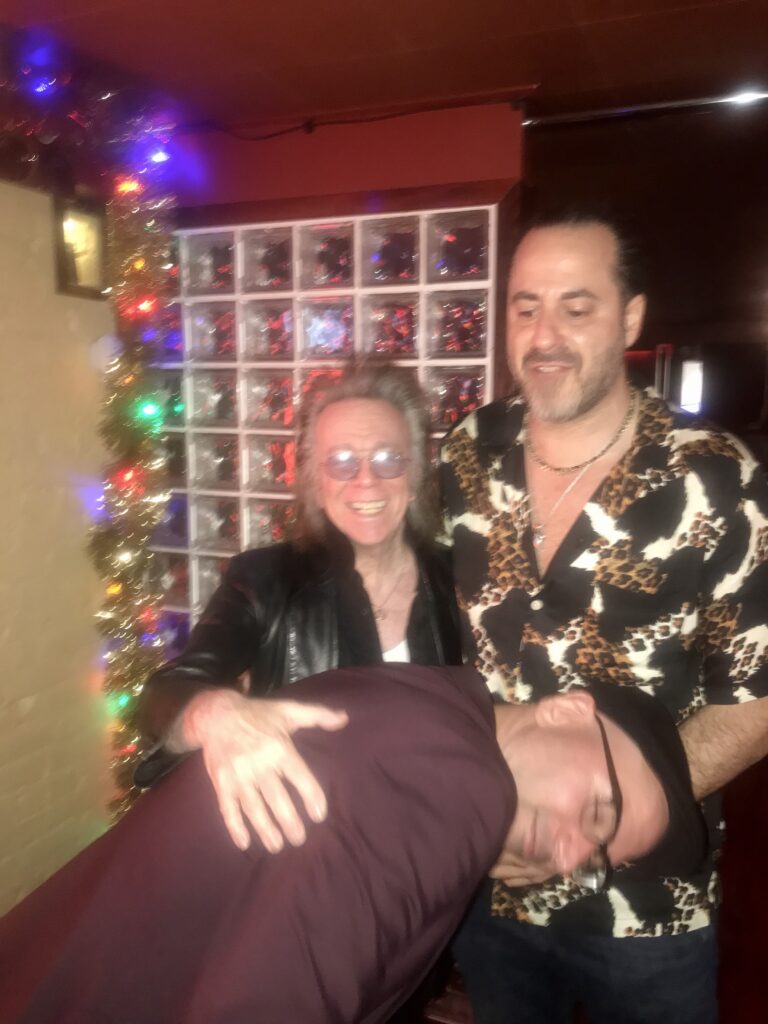 JIAOYING SUMMERS SELLS OUT LE POISSON ROUGE
Being on the cover of Sutton Place Magazine had it's perks and one of them was that I got invited to attend the showing of a 6400 square foot, 5 bedroom, $6 million dollar apartment on Sutton Place being shown by Ryan Serhant formerly of Million Dollar Listing, and his team led by Jamin Jamming!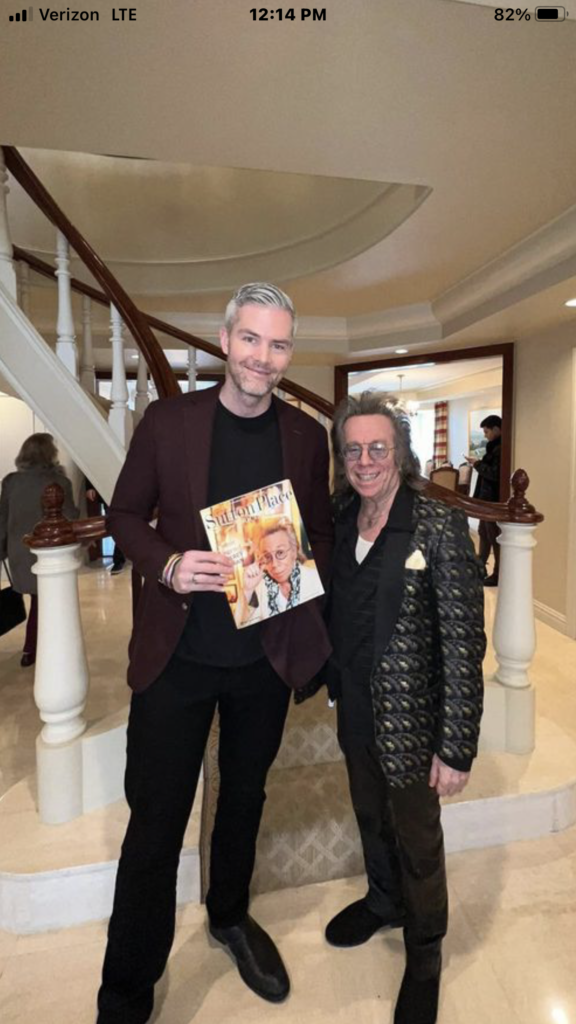 The place was amazing as you might expect and it was announced that there would be a celebrity guest! Who did it turn out to be? None other than Jiaoying Summers, who came in from Cali to do a new hour at the beautiful venue Le Poisson Rouge, known more for doing large music events like Rockers on Broadway than doing comedy! Although I did go there once to see The Impractical Jokers!
It was so great to see her again. She was there with her brother Derrick, and You Tube star/comedian Mario Adrion. Her show was that very night and so Jamin who is new in comedy and I made plans to go, and needless to say, the show was amazing!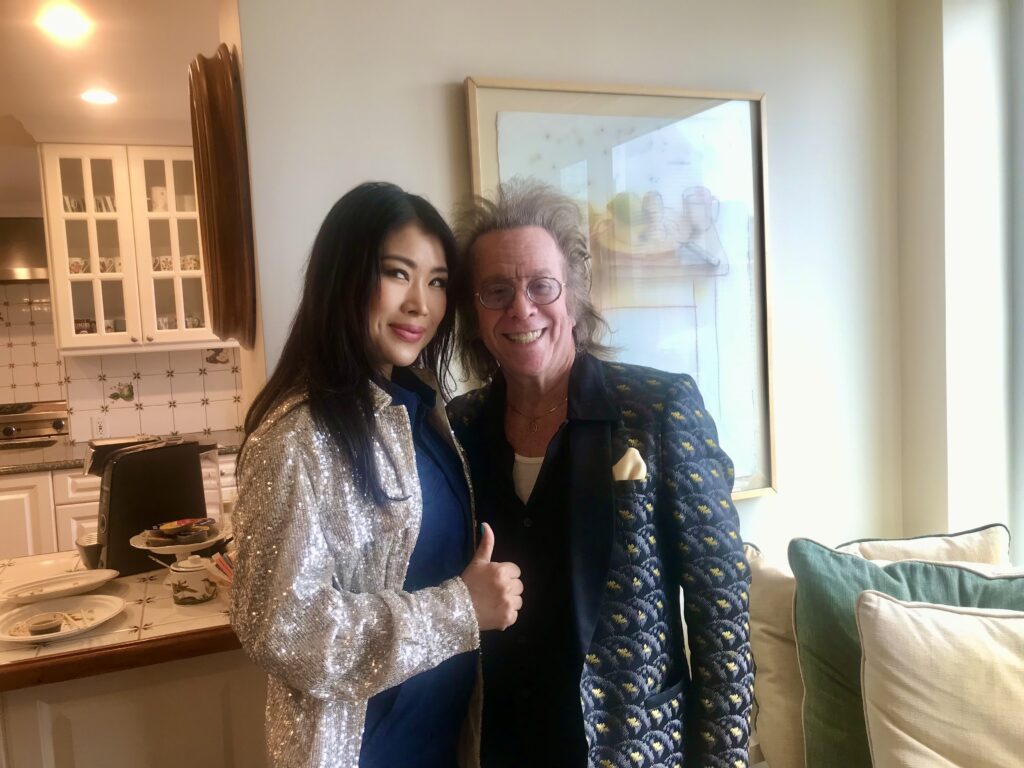 Julia Kastner did a cold open, then Mario Adrion took over as host, followed by Jewish rapper Kosha Dillz, Alyce Chan, and Andre Kim, he of the very deep voice who I've performed with several times before and then Jiaoying came out and slayed the crowd.
Mario is very funny, had great stage presence, and was a great host. Andre, being Korean, was forced to admit he does not know Kim Jong-Un, and Alyce Chan said she had two pregnancy scares. One just turned 9 and the other turned 6!
Jiaoying came out to HUGE applause, and claims she's not worried about being cancelled because no one can pronounce her name! I actually love the way she speaks. It's not a typical Chinese accent! It's like a hybrid and she pronounces her words in a very exact way. Maybe because she went to college in Kentucky, … which I always thought was a made-up place! (LOL) It always struck me funny that no one even HAD an accent until they left the country where they were born and went somewhere else. Suddenly they developed an accent! (LOL)
She did a flawless hour ending in crowd work and left the stage to resounding applause as you can see in this video! My favorite line is when she says " My sister is getting married, but she's way too young. She's actually older than me but her name is Way Too Young!" That is HILARIOUS!!! She even has her own stylist, Vita Horowitz who gets mentioned a lot on stage, especially by Mario!
Kosha Dillz and I had been planning to meet up after connecting on social media, so it was great to hear his story about he got to be on Nick Cannon's Wild 'N Out! He was just rapping in the street as he is prone to do, outside of MSG when Fat Joe came along and joined him. Dillz's gf, Miranda Lapides of The Shabbat Drop, filmed it and the video went viral leading to a video audition, and the rest is history. He wound up doing season 19 and 20 and has 11 episodes coming out! So awesome! I LOVE stories like that because you never know where a break will come from, but you have to be putting yourself out there in order to get it!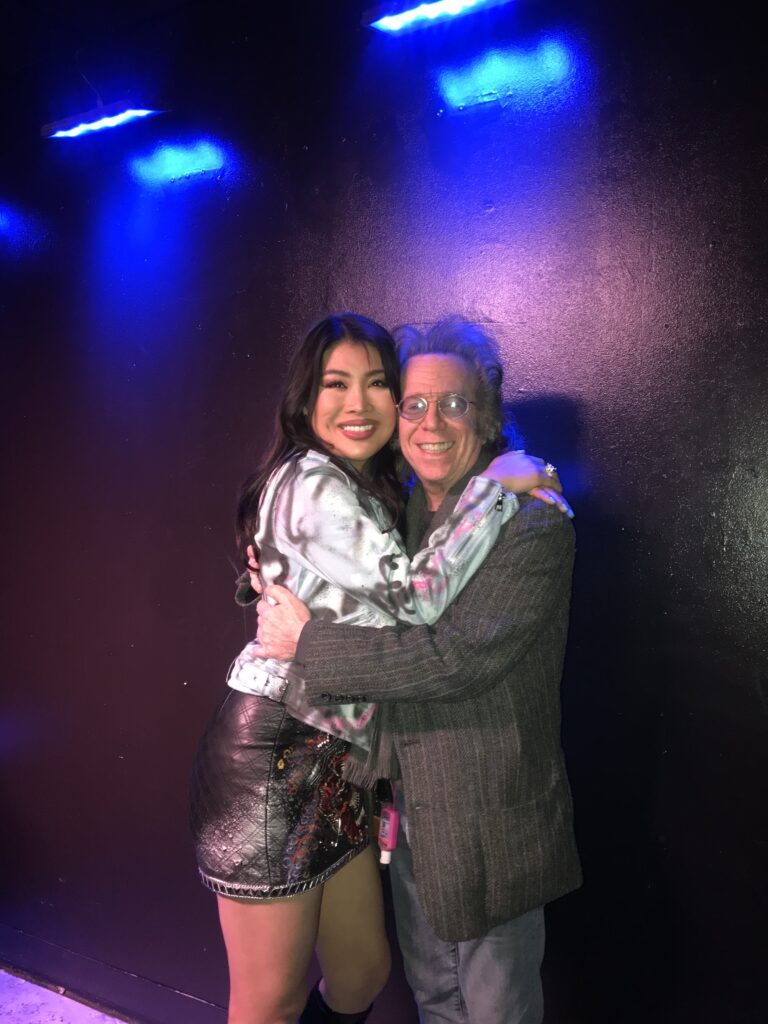 100 COMEDIANS ON ONE WALL
Emilio and NY Comedy Club are doing all kinds of special events. In this one Holly J. Salerno a very talented artist hand drew 100 different comedians over a period of 100 days, and their pictures were posted on the wall of The Foley Gallery on the Lower East Side. I looked very, very closely but I wasn't up there! But she promised me I'd be 101! (LOL)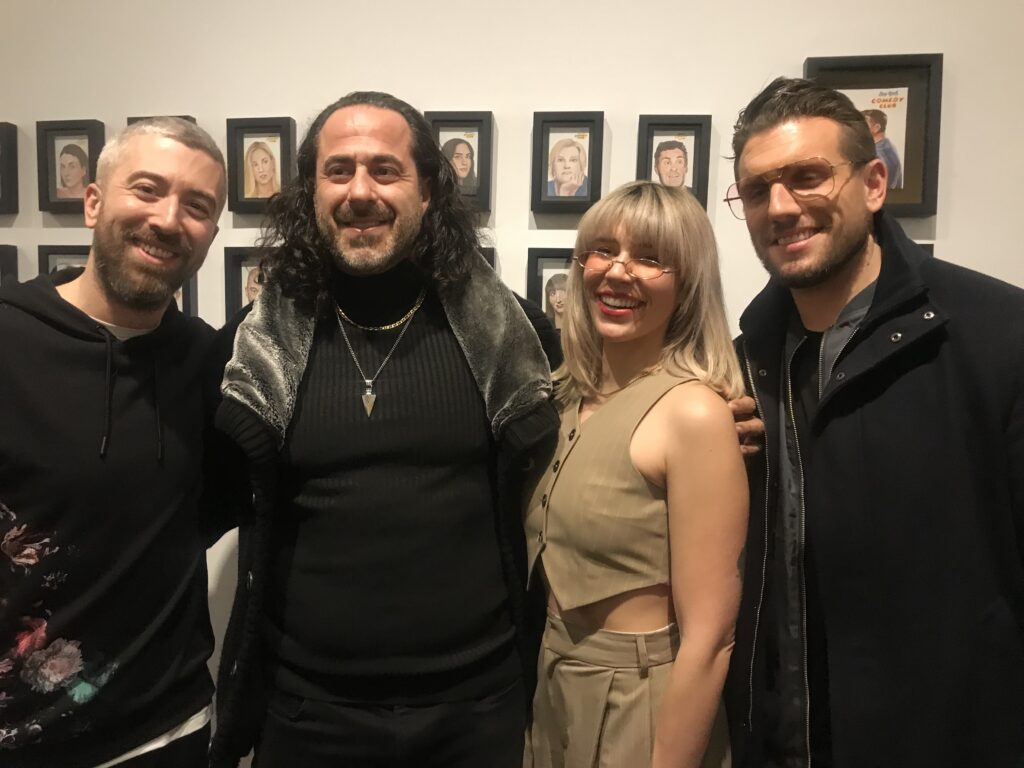 The exhibit was followed by a kick-ass comedy show hosted by the very funny Phil Duckett, with Katie Boyle and her lovely Irish accent, my old friend Aminah Imani who said that Phil was channeling his inner Steve Harvey, Mike Cannon who laughingly said he has two older sisters so he has a history of hitting women, another old friend Calise Hawkins, who shouted me out from the stage as a "comedy aficionado" but had trouble saying "aficionado" which can be a hard word at times, Ashley Austin-Morris, newly engaged who told a man in the audience not to worry that another male comedian would be out in a minute, James Mattern who is just so quick it's amazing, and what makes him a great host and warm-up comic, and then the ever-classy and hilarious Chuck Nice who wondered why he was the only comedian asked to pose in the nude, and then had clothes painted on for the final result!
And this event inspired me to bring back my Comedy Matters Girls of the Month piece featuring three special women who love and support live comedy, … just by coming out!!!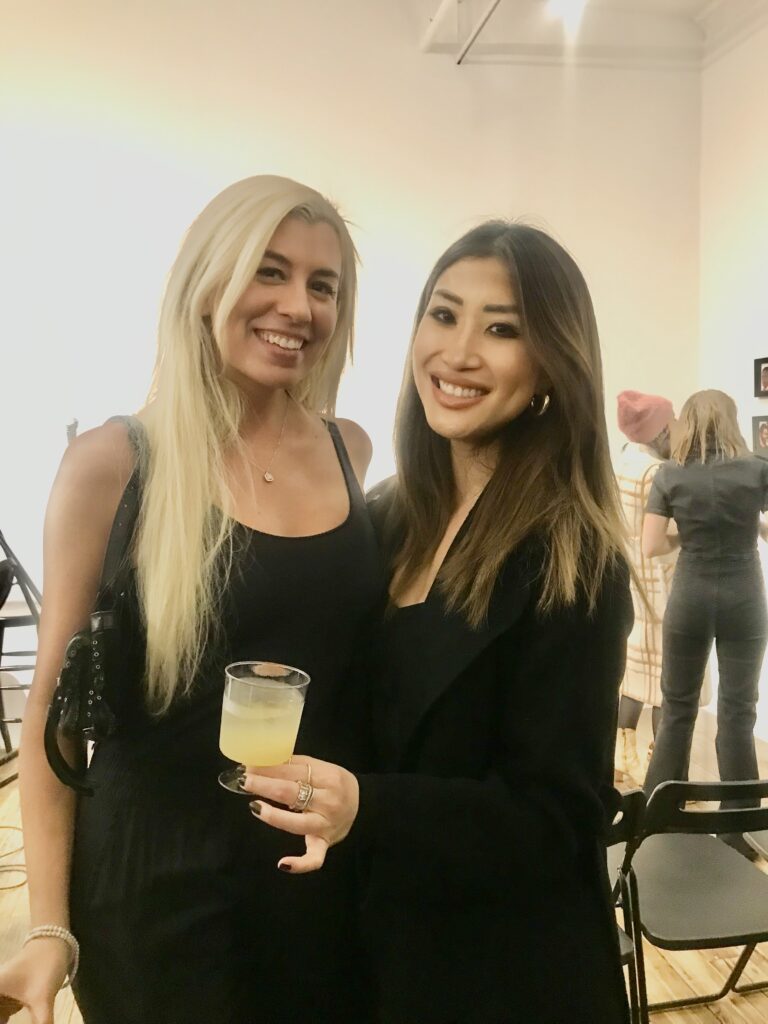 PURIM COMEDY AT 92NY
When 92NY lets me know they're having a comedy show I always show up because they have good taste in comedy and get great shows. This time it was a showcase performance show on the first night of Purim which is one of the happier Jewish holidays. It commemorates another time when the Jewish people avoided being wiped out thanks to the bravery of a woman known as Queen Esther.
I have no photos of her because it was a long time ago, but it seems that she was a very smart and brave Jewish woman who was married to a king, Ahashverosh, which is a name you don't hear a lot these days. When Esther learned that Haman, who worked for the king, was plotting against the Jews, she summoned the courage to tell the king about Haman's evil plan and saved her people. And now we eat "Hamantashen" which are triangular pastries somehow named after the evil Haman. Not sure why! I'll have to ask my Rabbi!
The show was in a little secret room I had never seen before and it was produced by Michelle Slonim. I got there late from another event, but just in time to see Pamela Rae Schuller who is always funny, and does a lot for disabled people, and Matthew Broussard who was the headliner and who I was shocked to find out was Jewish. He's Cajun and Jewish, grew up down South, and was hilarious! And I don't use that term lightly.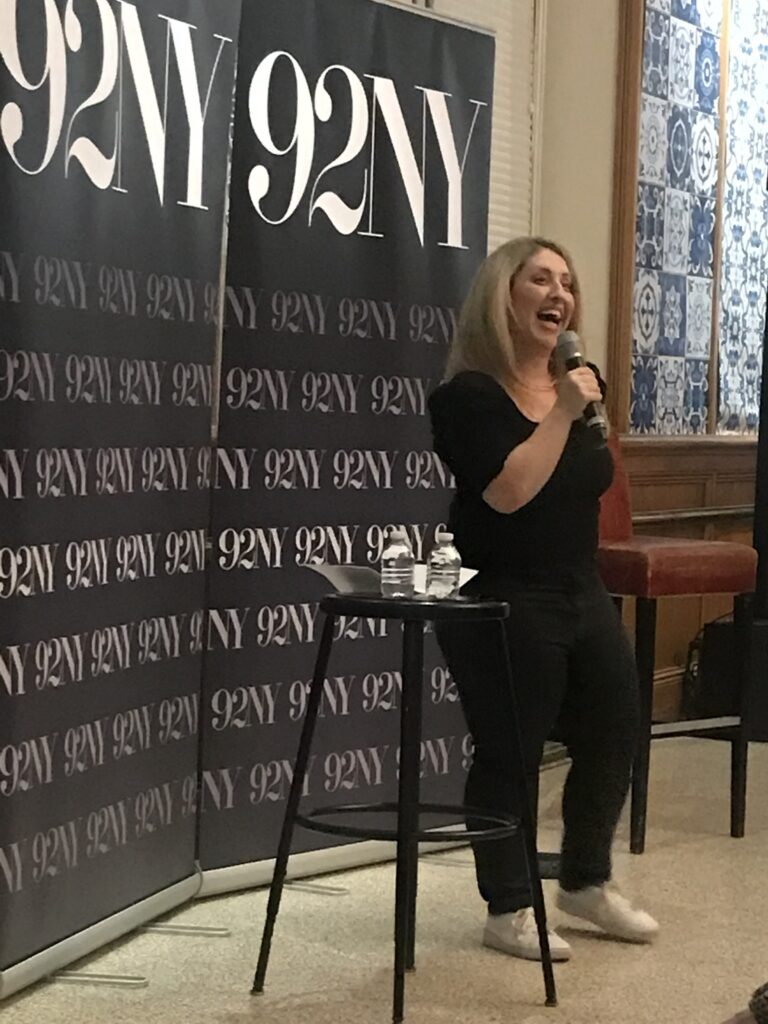 He described himself as sounding like a weatherman, and the reason why Mitt Romney lost. And he described Moses as a famous union leader. He also referred to Sodom and Gomorrah as "SoGo"! #veryclever He lost his Dad but he said his Mom is bipolar so it still feels like he has two parents. I really enjoyed his set! And I will be back at the 92Y later in this column!
SUPER MAXIMUM RETRO SHOW AT JOYFACE
I could say "Joyface" all day. And I could listen to Chris Distefano all day, so you put those two things together and you have a winning combination. Chris is hosting a new show on VICE TV and the premiere party was at a place called Joyface. He was there with his team, The Homeless Pimp and V who were busy filming most of the night!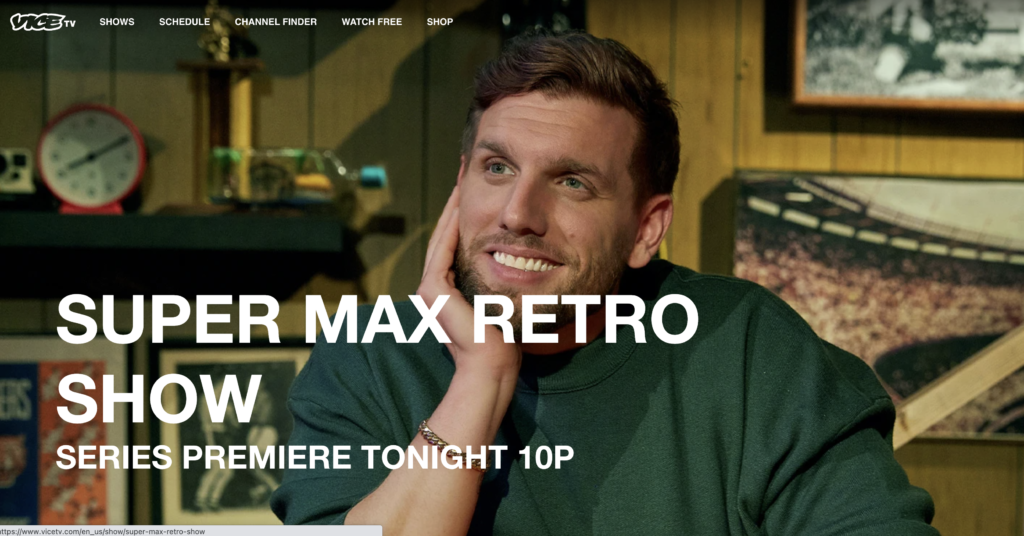 I couldn't wait to get there. It's a show that reminisces about stuff from the 70's, 80's and 90's and as Exec. Producer Ryan Ling put it, " It's funny stuff that would have gone viral, but it was before the internet!" Ryan knows funny because he created both Girl Code and Guy Code for MTV both of which Chris was on! Chris made me feel very welcome even though he found out about me and his Mom!!! (LOL)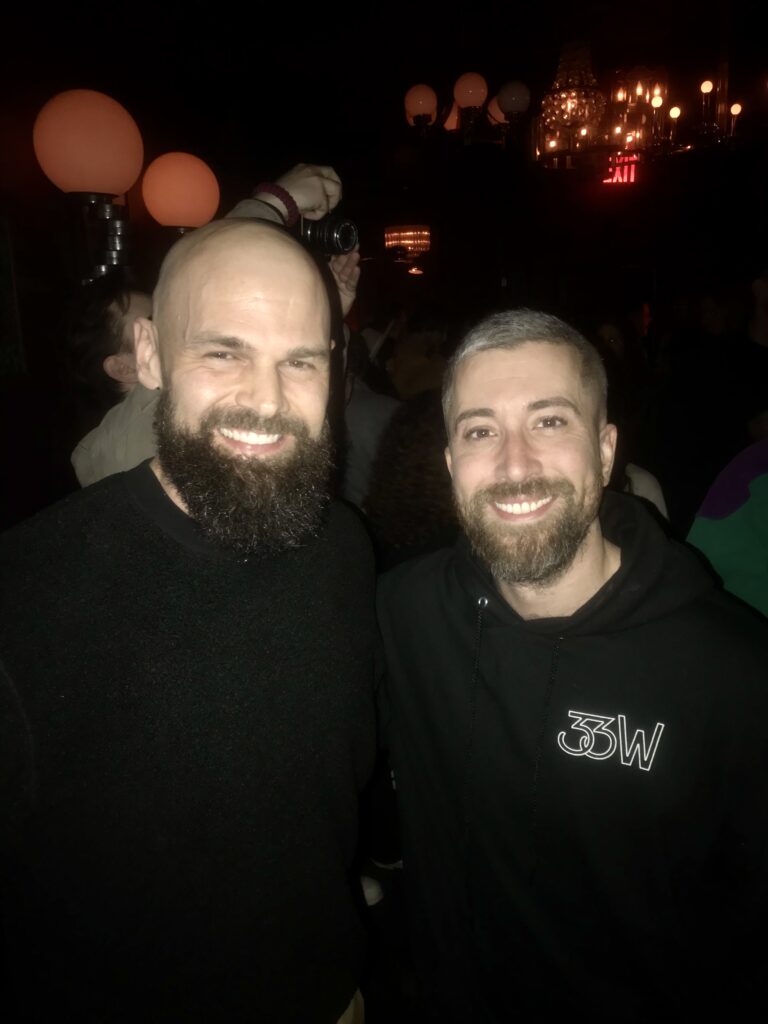 Jimmy Kimmel is also an Exec. Producer but was not at the party. Mike Cannon who's showing up everywhere these days was listed as a producer and told me he's also a writer. The first panel was Roy Wood Jr., Ricky Cobb, Chris Gethard, and Napoleon Emil. Napoleon did show up for the party. If the others came it would have been after I left. Really fun time!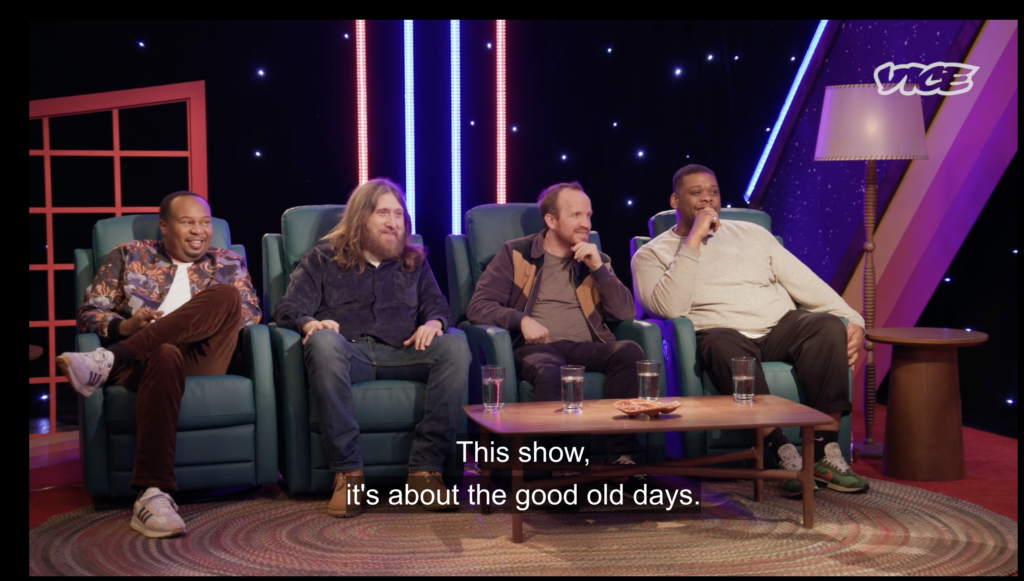 NICK KROLL AND IKE BARINHOLTZ TEAM UP WITH MEL BROOKS
I can only imagine how excited Nick Kroll was when he got the call from Mel Brooks asking him to Exec. Produce History of the World Part 2, 40 years after History of the World Part 1. Nick says that Mel was his idol.
I can relate in some way since I grew watching Milton Berle on TV, never in my wildest dreams thinking I would ever know him and when he became a friend and my sponsor in The Friars Club, every time I was on the phone with him I'd be thinking, " I'm on the phone with Milton Berle, and he actually knows he's talking to me!" And then when I got to write for him and heard him saying my words it was a whole other level.
So for Nick Kroll and Ike Barinholtz to have the honor of being asked by Mel Brooks to carry on the tradition of something he started 40 years ago, it had to be an amazing feeling. And they talked about it at the premiere of History of the World Part 2 at 92NY in a talk moderated by legendary actor Richard Kind.
Nick said that the first place they took the project to was Hulu. He described their meeting with Hulu execs as Mel at 96 years old, dressed in a sharp blazer with a red handkerchief and at the end of the pitch meeting he says to the execs, " Just so you know, everyone in town wants this show, so buy it now or lose your chance!" And the 92NY audience erupted in laughter!
Ike said that Mel told him that the only reason he decided to do the show is because he needs healthcare! Ike also whispered something to Richard Kind, and Nick disclosed that he asked Richard to mention that he won Celebrity Jeopardy!
Mel warned them that they'd get some letters and he said that was good, meaning that they'd "ruffle some feathers", which Nick said showed that Mel still had faith in the postal system! (LOL)
Nick also said that Mel's jokes are sprinkled throughout and there was one he had been wanting to get in somewhere for 50 years. Robert E. Lee is sitting with General Grant at Appomattox signing documents ending the Civil War, and as he gets up his sword accidentally hits three of his soldiers in the balls!
Richard asked very insightful and funny questions and Ike said it was the first time the moderator was more famous that the people he was interviewing. It was a very special night and I was so glad to be able to go back after the show to congratulate them all on such a fun event!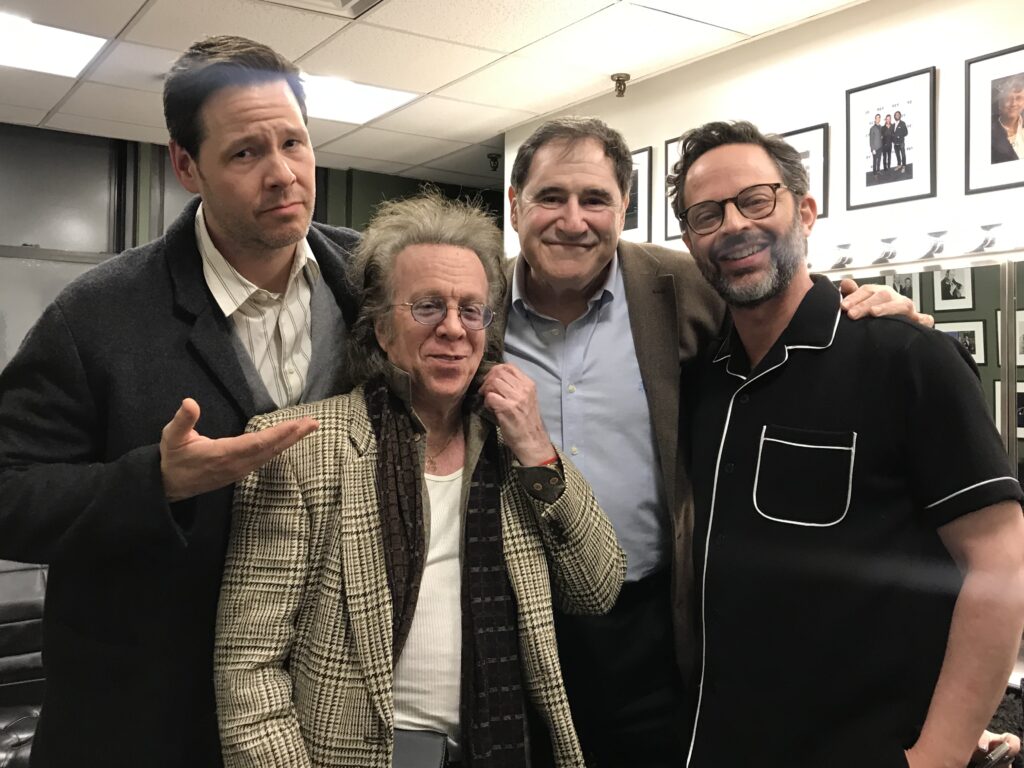 That's it for this issue but the next one will be coming soon because Comedy Matters TV is back with a vengeance!!! (LOL) Follow Jeffrey on IG at @jeffreygurian and on You Tube at www.youtube.com/comedymatterstv