I think that everyone agrees that Leslie Jones is funny.  Not just because she's on SNL but because she's genuinely funny.  So when Comic Strip owner Richie Tienken told me she'd be appearing at The Strip I changed my plans and made it over there to catch her.  It was a 10:30 show, and when I arrived at 10:30 the line was so long and the entrance was so packed I could barely make it to the little office where Richie lives.
That little office was at one time the coat room, but since I know it everyone in comedy has been in there, like Chris Rock, Eddie Murphy, Jim Gaffigan, and one time we had Ray Romano in there with five other guys and I think we stretched out the room to it's capacity.  It really only accommodates approximately 2 people, and probably about a hundred something coats.
I fought my way to the office but Richie wasn't in there and I was trapped by myself for a while until the crowd was seated. Then I found Richie and he told me to come outside with him where I found him standing with manager Tom-E and Leslie Jones.  It was raining and she had a hood on and I couldn't see her hair and for a minute I wasn't sure it was her.  It was definitely her!
Leslie, Richie and I went back into that little office to chat before her set.  Ruperto Vanderpool was hosting and I was thrilled to see the club so packed.  There was literally not a seat to be had.  It was like when Jerry Seinfeld taped his Netflix special this past year.  That kind of crowded. As a matter of fact that's what rejuvenated the club.  Ever since that time, and then when Adam Sandler followed up taping his Netflix special there, the club has found a new life.
Jerry decided to come back to his original home where he spent the first four years of his career, from 1976-1980, and where he achieved the rank of permanent MC faster than anyone else had ever done. Adam's taping was a secret kept from Richie until he arrived at the club that same night! Nice surprise!!!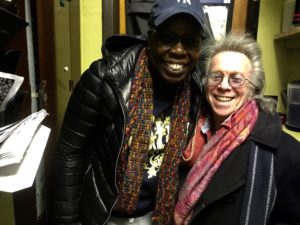 The club had been Jerry's home and where he met his best friend George Wallace who happened to be in town this week and was hanging out with Jerry.  I know this because I ran into them the night before this all went down.
Anyway there's only room for two chairs in the office so Leslie sat, and I stood and we all took turns regaling each other with stories from the past about the club, about Eddie, and how he discovered Chris Rock one night around 1986, and how Leslie started out as a short order cook, and waitress, and started doing stand-up in a place in LA that Eddie used to frequent.
She recalled a story of seeing him years later and humbly telling him she never thought she did that well when he came in, and he told her that he thought she was ALWAYS funny!
Leslie told great stories of how she's gotten everything she wanted. Through a lot of hard work! She also shared stories of how she got SNL, got to be a regular cast member, and how much fun she has doing the show.
She prayed for the manager she wanted and got him and she prayed for a writer and got Lenny Marcus who she's thrilled with.  She and Lenny met down at The Comedy Cellar and she thought he was funny, so she invited him out to a baseball game, and then REALLY thought he was funny.  Then he started giving her detailed notes on her act that made sense to her, and now they work together on the regular.
They just did a big outdoor gig together in Times Square for New Year's Eve. We also talked about how you can be doing stand-up for many years and still feel nervous before going out there, especially if you're not on stage every night.  Leslie's duties on SNL  take up so much time that she doesn't get a chance to perform that much and she LOVES doing stand-up.  I shared the story that Jim Gaffigan shared with me that for the first 6-8 years of his career he got physically sick every time before he went on stage. Finally it went away.
So when Leslie went up to HUGE applause, (the room really went nuts), she went out there with some notes, and did her thing. She started out using some 20 year olds sitting in front as her foils, and worked into a smooth half hour of material.  Great physicality.  She moves and jumps around the stage which really builds the energy in the room. She keeps a towel handy to wipe off the sweat that builds up from the energy she puts out. She said she had only planned on doing 20 minutes but once you're up there and it's flowing and the audience is loving it, it's hard to stop yourself.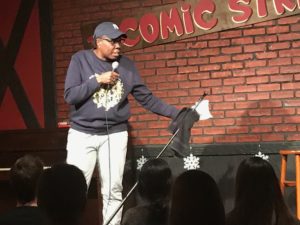 At the end she closed with a new bit about a Time Machine, and how she wishes she could go back and talk to her 20 year old self, and how her 80 year old self would come back and talk to her 51 year old self, and it may have been new but it was masterful. Most comics like to leave the stage with a big laugh.  This was more powerful than just a big laugh. She left the audience laughing but with a very positive message about appreciating and enjoying whereever you are in life, and the applause she got validated that they got it and appreciated it.
Afterwards we got to hang out a bit at the bar and she and Ruperto reminisced about all the gigs they had played together in different places around the country. It was a very special night and she'll be back next week before SNL goes back on the air.
I told her I'd bring her a copy of the book I wrote with Richie on the history of the club. The latest version is called  "Laughing Legends" and it features a foreword by Chris Rock, lots of cool photos from the past, and interviews with Seinfeld, Ray Romano, Colin Quinn, Jeffrey Ross, Jim Gaffigan, Susie Essman, Lisa Lampanelli, and so many more of the big stars that came out of this iconic club.