SYLVIE'S LOVE PREMIERES AT SUNDANCE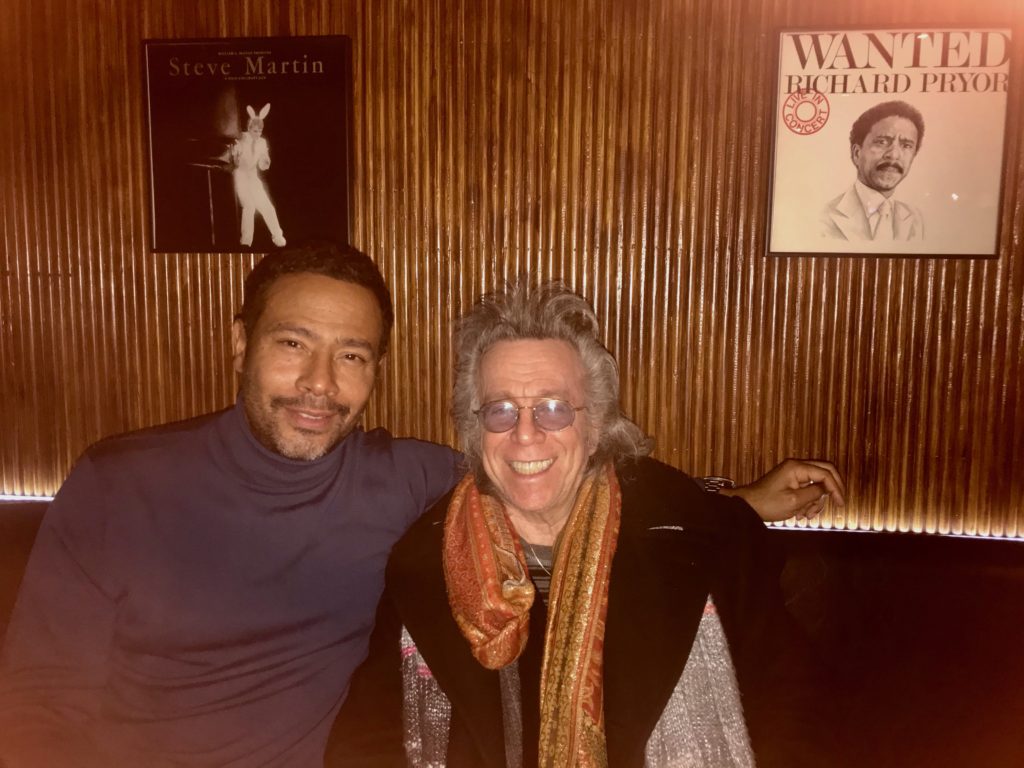 I dropped by West Side Comedy Club to wish everyone a Happy Holiday and ran into owner Eugene Ashe. Always good to see Gene but he's not there as much as he used to be because he's also a writer/director/filmmaker and travels quite a bit.
He had great and exciting news for me. A film he wrote and directed called Sylvie's Love, will have its world premiere at Sundance on Jan. 27, 2020, less than a month from when you read this.
It's a period piece set in 1957, with a star studded cast, including Tessa Thompson,and Eva Longoria. Tessa Thompson plays Sylvie a young woman fighting to stay loyal to her fiancee who's off fighting in the Korean War. She's an aspiring film producer working in her father's record store in Harlem when she falls for Robert, a talented saxophonist played by Nnamdi Asomugha, and try saying THAT 3 times fast.
Nnamdi Asomugha is a Nigerian-American actor, producer and former American football cornerback who's married to Kerry Washington, and played for the Oakland Raiders, the Philadelphia Eagles, and the San Francisco 49'ers.A
Years pass, the world changes, and their lives take different paths — but fate brings them together again, and they discover that their feelings for each other remain. Now both must decide what they truly want.
It's Gene's 2nd feature and took him about five years to write. Many good scripts take that long and longer. In an exclusive interview while sitting in a booth at West Side, Gene told me they originally wanted to shoot in New York, but because of the weather and the schedules of the actors they used they had to shoot in LA. They basically shot around Tessa Thompson's schedule because the girl is so crazy busy.
But he said it was so cool to shoot on the classic backlots like at Warner Brothers, Paramount, and Disney, and "we kind of leaned into the fact that we were shooting on these incredible historical backlots and created this fantastical Hollywood love story."
He continued, "The film's period ranged from 1957 into 1962-63 so it went into like the Mad Men/Breakfast at Tiffany's era, and people compare it to The Notebook, or The Way We Were, or Mahogany with Diana Ross."
I asked him if it was a problem getting the cars and clothing for a period piece like that and he said it was "but one thing about that was that we got gowns donated to us from Chanel, so we have about 11 gowns that Tessa Thompson wears, and all from that era."
"Tessa had about three to four weeks available in February, between shooting Marvel movies, Westworld, and Lady and the Tramp for Disney and we just decided to shoot it then in Los Angeles and just followed her wherever we could, because she was just such a perfect lead for our movie."
I wish him so much luck, but even more I wish I could be there with him in Sundance to actually see the premiere!
EDDIE MURPHY HOSTS SNL
They say if you wait long enough everything will happen. Well if you were willing to wait 35 years you got to see Eddie Murphy come back to host Saturday Night Live.
I actually stayed home to watch it and it was worth the wait. In the middle of Eddie's opening monologue he was first joined by Tracy Morgan, then by Dave Chappelle, who I ran into the very next night but that's a story for a few paragraphs down, and then by Chris Rock who he discovered at The Comic Strip back in 1985. Each one of them asked Eddie if he looked at the sketch they supposedly sent him.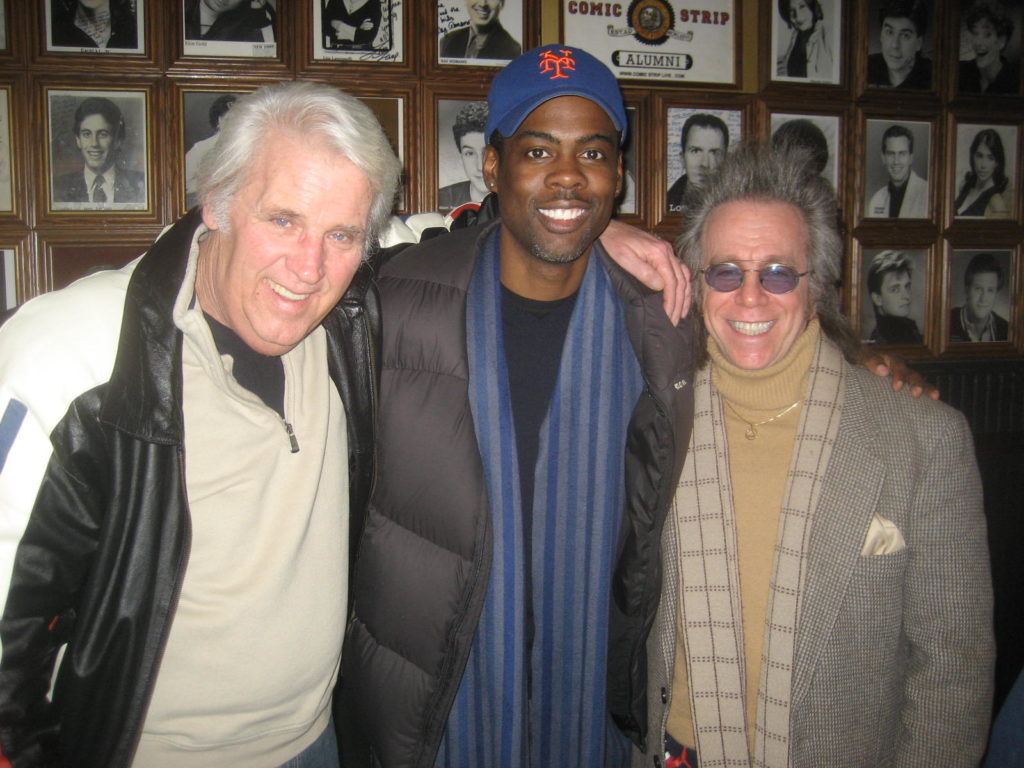 Chris wrote the intro to my book "Make 'Em Laugh" which is about the history of The Comic Strip and features interviews with all the big stars who came out of that club like Jerry Seinfeld, Ray Romano, Colin Quinn, George Wallace, Billy Crystal, Jim Gaffigan, Susie Essman, Lisa Lampanelli and more.
Eddie was being managed by Comic Strip founder/owner Richie Tienken, whose son Richie Jr. now works at SNL and introduced himself to Eddie after the show. Eddie remarked that Richie Jr. has the same cleft in his chin as Richie Sr.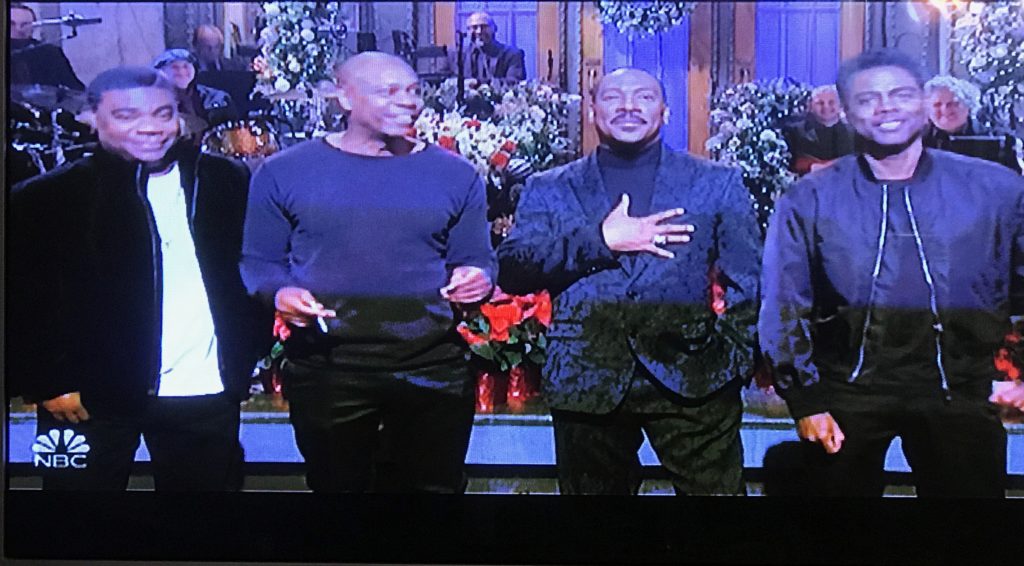 Eddie himself is not in the book as we were told that he often doesn't like to relive the past. However he did shout out Richie on a comedy awards show in recent years.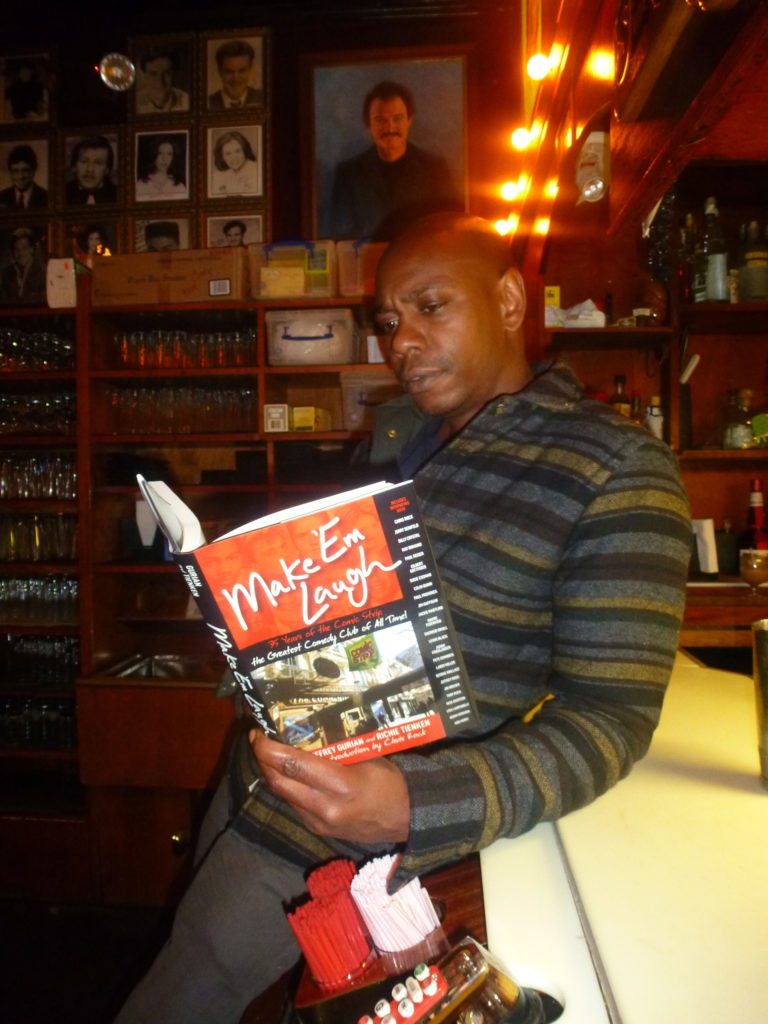 DAVE CHAPPELLE AT THE CELLAR
When you walk into the Olive Tree Cafe which is the restaurant connected to the original Comedy Cellar on Macdougal Street you never know who you're going to see there.
I walked in on the Sunday night after Eddie hosted SNL and it was so crowded, you would have thought they were giving away money. "The table" where the Cellar comics sit was packed into two rows, and was headed by Dave Chappelle himself. Also around the table were Keith Robinson, Rachel Feinstein, Michelle Wolf, Mark Normand, Sam Morril, club manager Liz Furiati, and several more!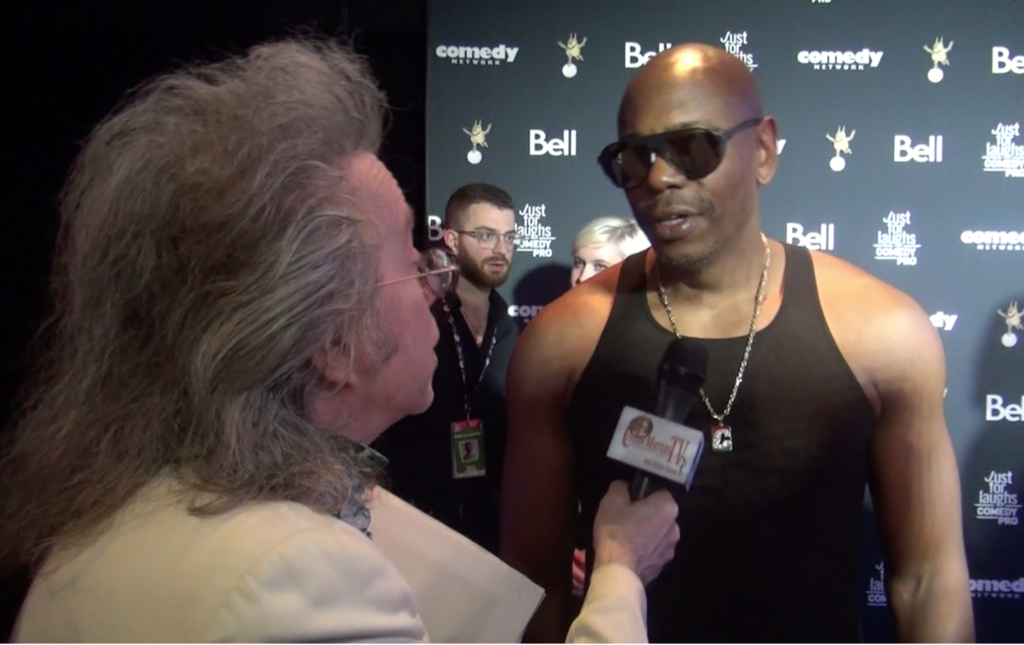 I joined a friend at the bar and sat across from Eagle Witt, Neko White and Rafi Bastos the 6'7″ Brazilian comedian, actor, journalist and TV personality with literally millions of followers on social media, who I've profiled in the past and who came to the Comedy Matters TV offices to shoot a video interview.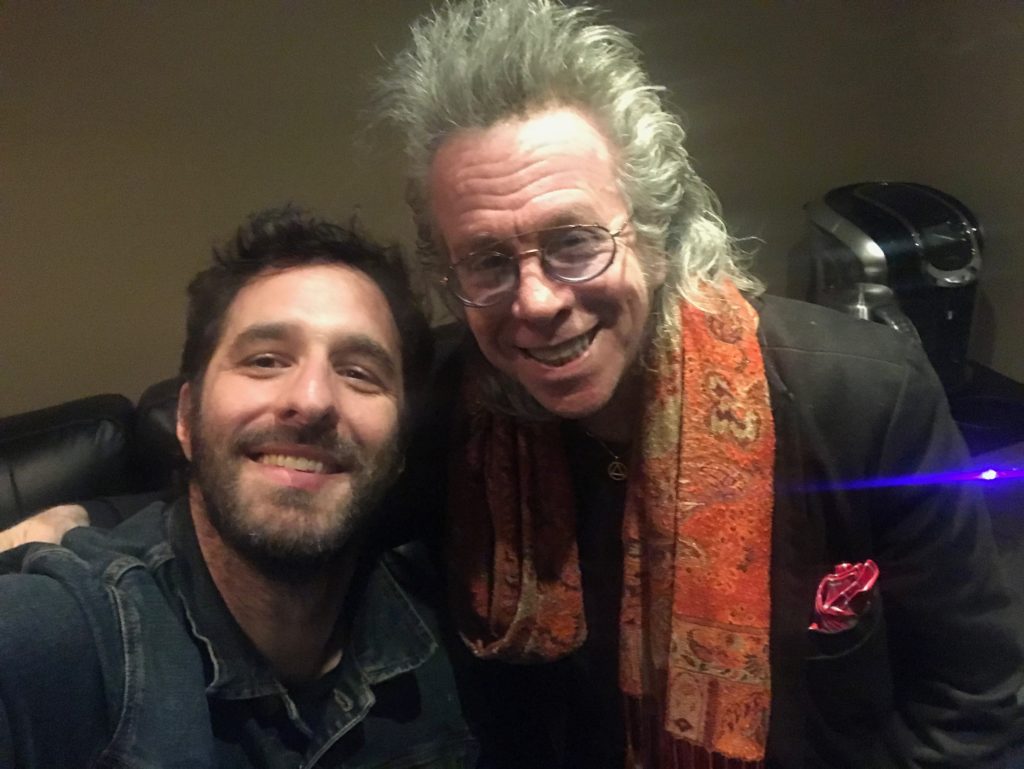 Rafi told me he moved here permanently after living in LA for a very short time. He said he was thrilled to be passed at The Cellar right away after auditioning for Estee!
Anyway Dave held court as comics came and went to say hello and pay their respects, and as he turned, saw me, and waved, I went over to exchange holiday hugs and tell him how cool it was to see him with Eddie on SNL.
Sometime after 1 A.M. as I was leaving I saw him go downstairs with Wil Sylvince and take the stage to the delight of the crowd. That's how it is at The Cellar!
NEW COMIC MEZZY AT BROADWAY COMEDY
Every once in a while I'll go check out a new comic which I did recently because I had met her years before while doing a radio show with L'il Nat. Her name is Mezzy Desravines and I took her to some comedy shows, and now years later she's performing. She says I'm her mentor and I'm good with that because she's a natural. She's got great stage presence and was born to do comedy!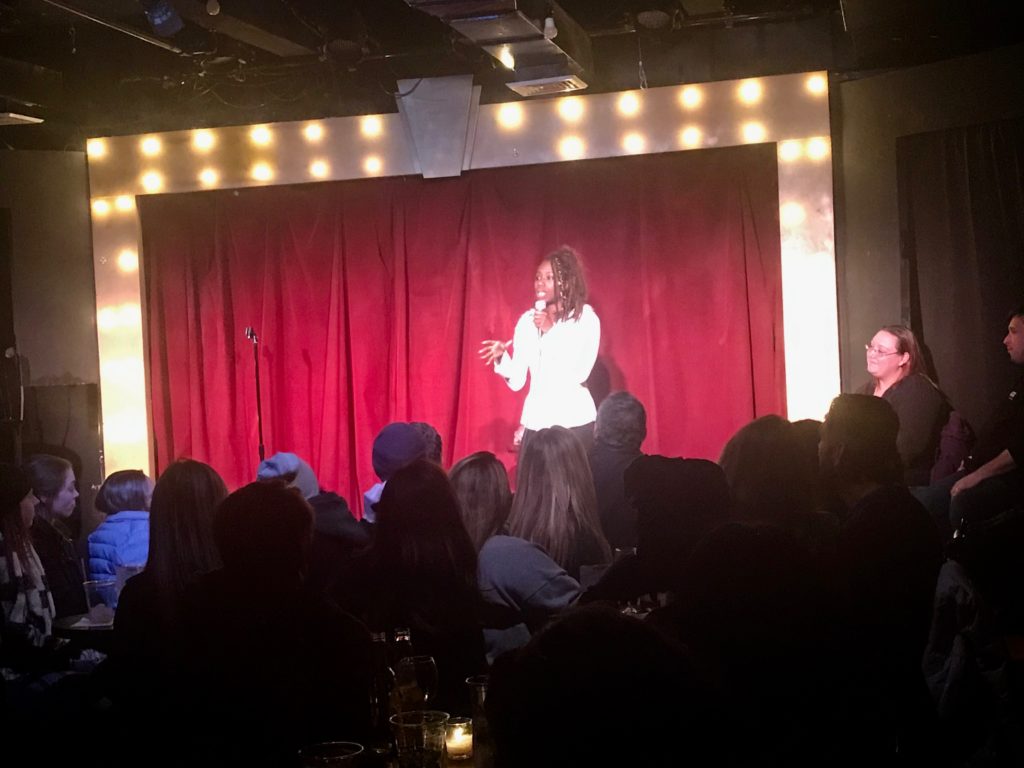 BRETT DAVIS AT THE SULTAN ROOM
Brett Davis is an Andy Kaufman award winning comedian, known for doing some pretty cool and unique shows. He took over Chris Gethard's space at MNN to produce The Special Without Brett Davis which I attended, and was a guest on more than once, as well as his Podcast for Laundry, and now he's one of the creators on Evan Shapiro's new National Lampoon Radio Hour.
So when he invited me to be the special guest to be interviewed on his new variety show at a place called "The Sultan Room" I immediately said "yes" even though it was out in Brooklyn. I packed a beard and headed out there. It was a real variety show with comics, sketches, character pieces, music, and surprise audience interaction!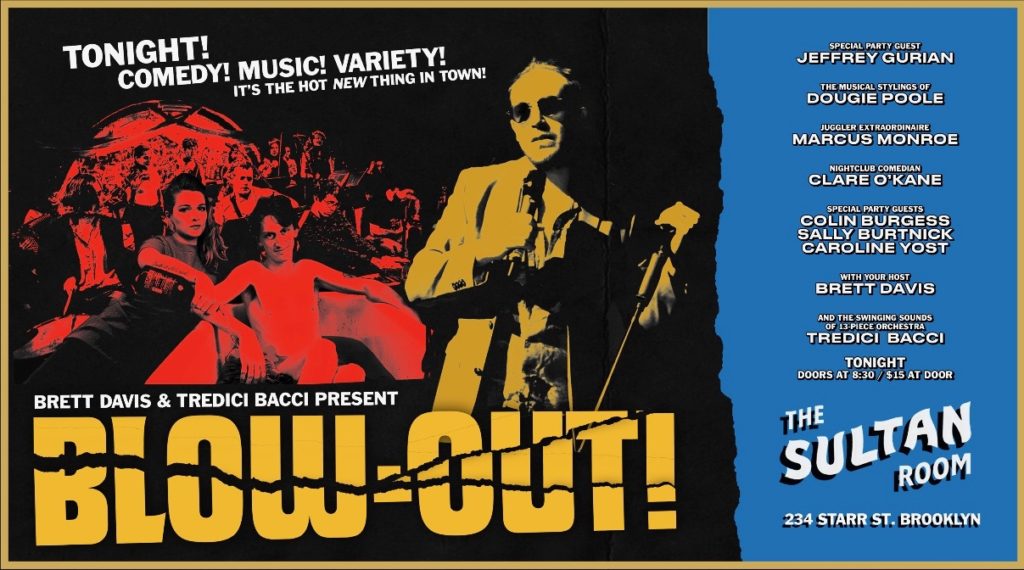 The Sultan Room lived up to it's name, and I was so impressed with the decor. I don't think you could have a place like that in Manhattan. Maybe on West Broadway, but it was perfect Brooklyn vibe. The theme was New Year's Eve 1970 and I might have been the only one there who actually remembered it! (LOL)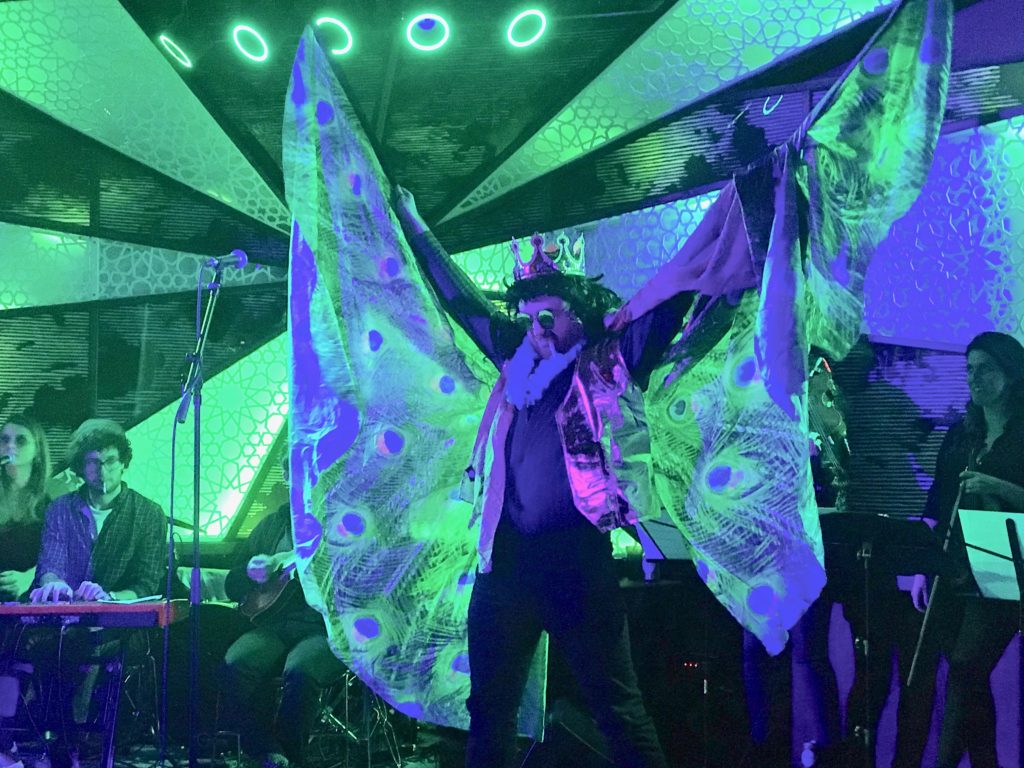 Brett produced the show with a band called Tredici Bacci and had a cast of interesting and very talented characters like Dougie Poole, Colin Burgess, Caroline Yost, and Sally Burtnick. I had such a great time. It was a real experience and I was sorry when the night ended with the entire room dancing and swaying to the tune of Auld Lang Zyne!
MARINA FRANKLIN BIRTHDAY PARTY
Before I hit The Cellar and ran into Dave Chappelle I stopped off at Fat Black Pussycat bar which is also part of The Cellar to wish Marina Franklin a Happy Birthday!
When I walked in the party was in full swing with Yamaneika Saunders, Matteo Lane, Keith Robinson, Vondecarlo and Marina singing along to hot songs that the DJ was playing. They all had great voices. At one point Keith shouted me out on the mic.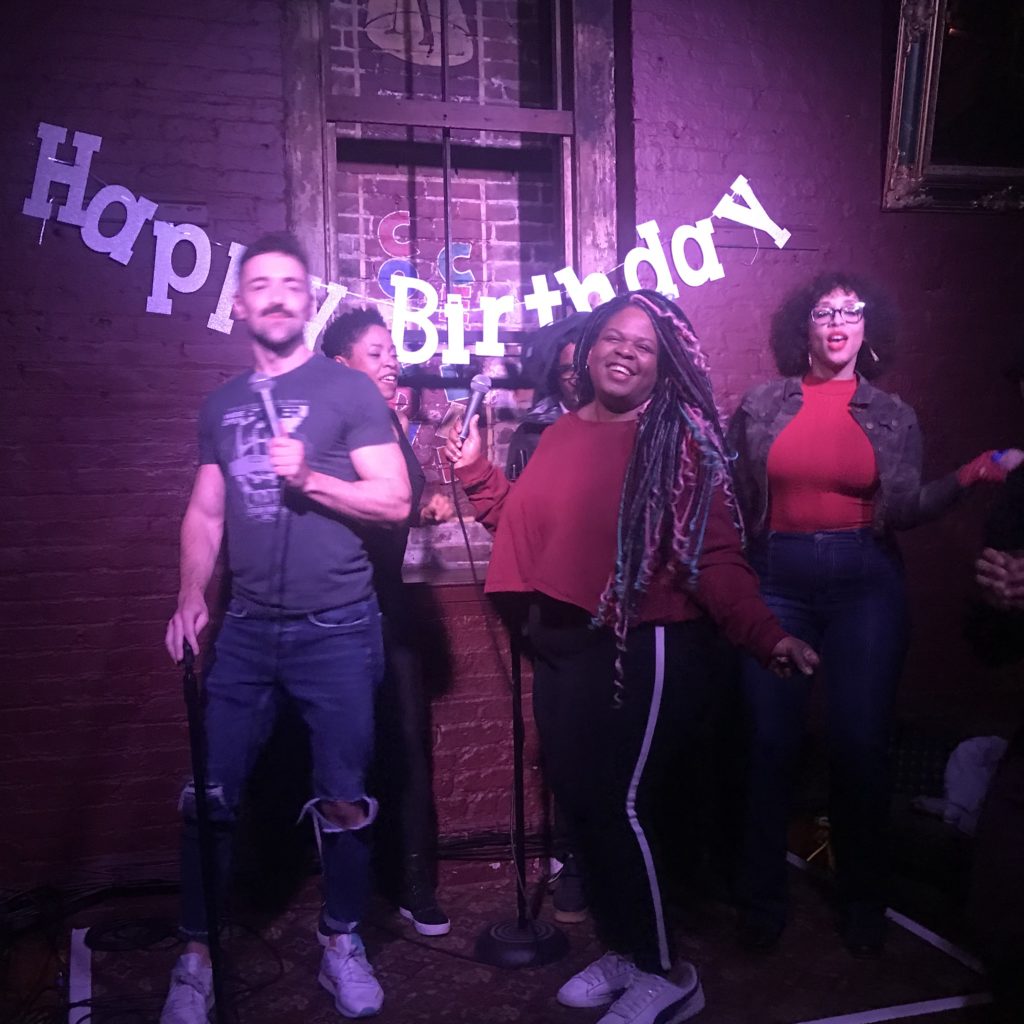 There were all kinds of snacks, like fries, cupcakes, chicken wings and other good stuff and I sat down with my man Derek Gaines until he got up to dance with Marina.
Marina complained that not enough people were dancing, so the highlight of the evening was when Keith Robinson, despite having had a stroke, ripped off his jacket and got down with Marina, and she said " If Keith can do it, the rest of you can too!" Keith is a perfect example of not letting obstacles stand in your way.
At one point Marina made a very heartfelt speech thanking everyone for coming and alluding to people we lost recently. It was a very special evening.
There's probably more but I'm tired, so tune in soon for the next edition of Comedy Matters! And please subscribe to Comedy Matters TV with over 2.1 million views at https://www.youtube.com/guriannewsnetwork
AND HAPPY NEW YEAR TO ALL MY COMEDY MATTERS PEEPS!!!