If you look at this little video below, you'll hear Paul Provenza openly declare that I know everyone in comedy and you'll hear Nick Kroll freely declaring that no one has more access to people in comedy than me. So when I hear about a comedy star that has 12 million followers on Twitter, 2.5 million on You Tube, and 1.5 million on Instagram and I realize I don't know that person, it makes me very nervous!
Such was the case with Rafi Bastos, the comedy superstar from Brazil. I heard he was performing at Gotham Comedy Club in an early 7 P.M. show.  It was Wednesday and really cold out, and I wondered if he'd draw a good crowd.  It was beyond expectation and when I got there the room was packed with fans.
I took my usual table and heard a voice call my name.  It was the hilarious Aaron Berg, the tatted up body builder from the foreign country of Can-A-Da!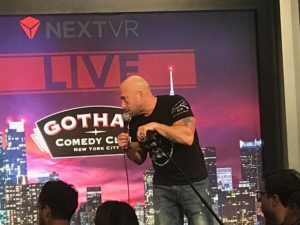 He was sitting with Alexis Guerreros, and Charles McBee who was hosting the show, and he said, "Hey Jeff I wanted you to meet Rafi, he's headlining tonight."
So I shook hands with Rafi who was sitting down and who seemed to be the same size as all the other guys at the table. I say that, not because people usually look to see what size someone is, but because I didn't notice anything until he stood up and saw that he was 6'7″.
Aaron went up and totally killed as usual.  He always announces his Jewishness, despite the fact as he says that he looks like he eats Jews and mixes them with protein powder.
He and his wife and baby Piper are moving to a new house next week.  Congrats and best of luck to the Bergs!
Anyway Rafi went up and did an amazing thing.  He did a smooth hour in a language that is not his first language. He has a nice Portuguese accent, and his English is amazing. It's hard enough to be funny, but to be funny in another language you were not born into is a whole other thing. And he like Aaron Berg also announced his Jewishness. It seems we come in all shapes and sizes!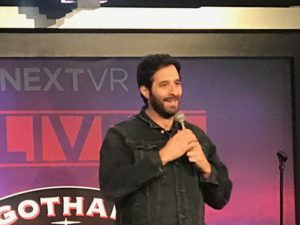 He had lots of Brazilian fans there, and said that when people think of Brazil they think of two things, Brazilian waxes and Pele. At the end of his set he did a Q&A in which he invited questions in both English and Portuguese.
The Portuguese fans were very exuberant, and for a few moments I was afraid that a soccer game might break out, complete with hooligans. But fortunately everything stayed under control.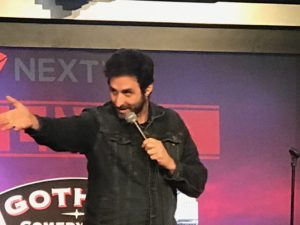 After the show Rafi was very gracious and stayed to take photos with all of his fans. Afterwards we sat together in the green room so I could ask him a few questions, and shoot a little video.
He was a funny kid growing up but not the class clown.  He'd sit in the back of the room in school waiting for the right opportunity to say something funny.
He originally thought he wanted to play basketball, but according to him he had the height but he wasn't good enough, and wound up with a broken cheekbone. I think he made a better choice, and so does he.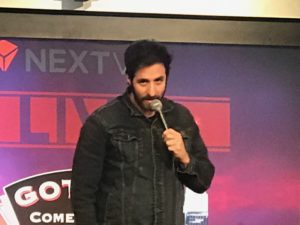 He owns the biggest comedy club in Latin America and since Brazil shares a border with 10 other countries including Uruguay, Argentina, Paraguay, Peru, Bolivia, Colombia, Venezuela, Guyana, Suriname and French Guiana, he has plenty of room to expand!
The club holds about 300 people and he described it as kind of a cross between Gotham and the old Comix on 14th Street which he experienced, because he came here in those years to check out NYC.
In 1999 he had won a scholarship to play basketball in Nebraska. A tall, Brazilian Jewish guy with a good sense of humor playing b-ball in Nebraska. It doesn't sound right and it didn't feel right either.
I complimented him on his English and compared it to our mutual friend Gad Elmaleh, who also studied very hard to lose his accent so he could perform in English.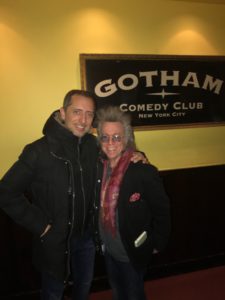 Rafi said his biggest challenge has been to speak English and have sex at the same time. He can only do one or the other comfortably. By the reaction of the female part of the crowd, I have a feeling there were a lot of girls at the show who would have been willing to give him a chance.
He's also the Exec. Producer of Brazil's version of SNL, and he's the host of the Brazilian version of the Netflix show "The Ultimate Beastmaster."
He was heading first to Boston to perform this weekend at Laugh Boston, a club the size of Gotham, then back to Cali to work on his comedy, and plan a tour with the working title of "Conquering America", but we made plans to get together when he comes back to NY and hopefully do some comedy together someplace!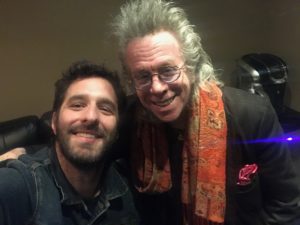 There was no one with us to shoot the video but his extended reach came in handy and he shot it himself.  After I left I realized I had totally forgotten to tell him that Pele lives in my building! Maybe he'll see this and we'll have a good laugh about it!