Gotham Comedy Club is known for getting great headliners so when owner Chris Mazzilli told me that Bill Burr would be doing a special early show there one night I wasn't the least surprised.  I got there early because I knew it would be packed but before I could even get to my regular table, #69 which is what they give me, I ran into J.Ken Feder, formerly known as comic Club Soda Kenny, who's a former FDNY police detective and now owns a security company. Club Soda Kenny was a name he got from Andrew "Dice" Clay who he often did security work for as well.
We greeted each other and he asked me who I was there to see.  I said I was there to see Bill Burr and he said very seriously that Bill wasn't performing that night and I must be mistaken.  Now I knew from the owner that Bill was expected and had even seen it on the website but Kenny sounded so convincing that I asked him who HE was there to see and he said " Joe List."  Now Joe List is very funny, and would probably fill Gotham but the place was overflowing with people, and something didn't seem right. I couldn't see how I could have made that big a mistake.
I sat down with Kenny at the comics table on the side as it was so crowded that my regular table was already taken, and we just talked about comedy and stuff and then we were joined by Paul Virzi who travels with Bill and is usually his opening act.  This was really strange.
Joe List comes over to say hello and then goes up on stage to host the show. I order my usual chicken sandwich, and am still talking to Kenny about comedy and all kinds of stuff.  Joe gets off after warming up the audience, and then Paul Virzi goes up and kills for about 20 minutes.  My food comes and I'm looking down at my salad when I hear a familiar voice laughingly say, " So you're watchin' your weight eh?" and I look up and of course it's Bill Burr.
Kenny and Paul were playing a trick on me and I fell for it.  Kenny was actually there as Bill's security, but he played it so well that for a moment I actually questioned whether I was wrong and that Bill  wasn't going to come.  I happen to like Joe List and was going to stay anyway!
So Paul finishes his set and then Bill is set to go up when out of the corner of my eye I see a familiar form with a baseball cap pulled down low over his eyes, and it's Seinfeld standing with Chris Mazzilli. Joe List goes up on stage and tells the audience that at Gotham, you never know who's going to stop by, and announces Jerry Seinfeld and the crowd goes berserk!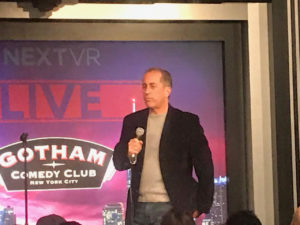 Full on standing ovation as he takes the stage.  Very rare to get a standing O before you even say a word.  Jerry came out with papers and did about 20 minutes of what sounded like new material.  Whether it's old or new it's always hilarious. He also did a Q&A and announced that he'd be back at The Beacon Theatre where he's had a residency.  He loves Gotham and is good friends with Chris Mazzilli.  They are both avid car collectors.
And when he was done Bill Burr greeted him as he got off stage and they hugged.  And then Joe List announced Bill Burr and it was another standing ovation.  It was a straight hour of laughs and only one woman stood up and said she was "offended" by something innocuous that Bill said.  The audience cheered as she walked across the room and left.  And Seinfeld stood in the back watching Bill's set.  He hardly ever does that, but it was so fun watching him laugh at Bill.  They couldn't be more different in their styles and type of material, but talent at that level respects other talent at that level.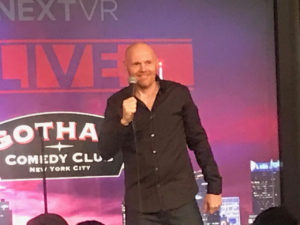 Keeping 300 people laughing for a straight hour is not an easy task but they both know how to do it. The audience got more than what they paid for and it was an amazing night!