Magic is the only word that came to mind when I got to the Grisly Pear at 107 Macdougal Street. I had performed there many times when it was a bar upfront with almost kind of a comedy space in the back. Now it's a legitimate comedy club in the back with a bar up front! And it's all thanks to the hard work and dedication of comic/producers Kenny Warren and Gabe Dorado.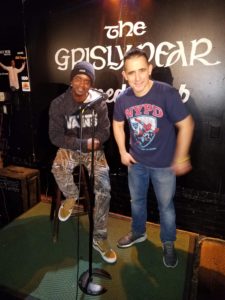 You may know Kenny from his show "Comics Cutting Comics" in which he cuts comic's hair before they get up to perform, which would be horrifying if he wasn't a legit barber. Fortunately he is, and works out of a shop up in Harlem called Levels. I've been there for a shoot we did together called " Comics Cutting Comics Live" where I had the chance to perform in the barber shop, which was scary to me. Those who know me know I do not frequent barber shops! (LOL) Just the thought freaks me out, but for Kenny I show up! (LOL)
And to show you the kind of guy  he is, he was nice enough not to insist on cutting my hair. Even when we did the show out at the Creek and the Cave, he let me slide on the cutting part, and he still let me perform.
When I got to The Pear, the first thing I happened to notice was a big poster like art thing of AMarie Castillo mounted on the wall.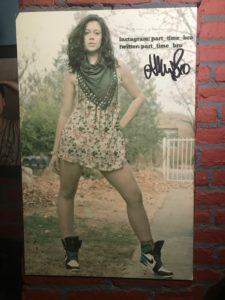 It caught my attention, and then as I looked around I saw Kenny Babbitt, Napoleon Emil and Mallory Bryant up there too. And then I noticed that the walls of the entire place were covered with beautiful graphics of all the comics who performed there, with their social media tags.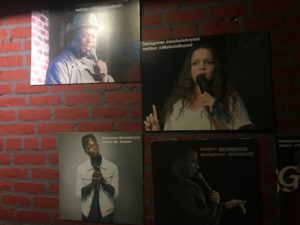 Kenny is very big on giving up-and-comers a place to work out and feel at home. He even refers to the place as "the dojo." He understands the struggle and what it takes to try and get known in this crazy business, and let me tell you it's a very big thing to come into a club and see your very own picture up on the wall.
He's doing six shows a week there, Wednesday, Friday, Saturday and Sunday, including three on Friday alone, 8, 10, and 12, and he gets a packed house most of the time, unlike when the space was shared by other producers. He's basically doing it on his own with people like Kathryn Henson producing their own shows, like her show "Late Night at The Pear" on Thursdays at midnight. Gabe Dorado runs the shows on Thursday at 10 P.M., Friday 6 and 8 P.M. and Saturday's 10 P.M. and 12 A.M. slots.
The show I was on had a great line-up with the very funny Phil Duckett bringing it as the host. He really got the energy flowing, and then there was K.C. Arora, the aforementioned Katharyn Henson, Kareem Green who brought down the house with a very funny "choking" routine, a young funny comic named Marcello Hernandez, Onika McClean and just as I was leaving Neko White dropped by to do a set!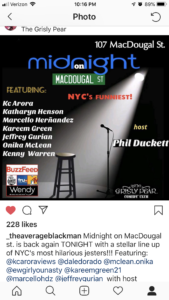 Kenny will be out in LA this month appearing at the clubs, and we wish him lots of luck! As for me, I hope to be doing more sets at the new Grisly Pear Comedy Club! Thanks Kenny!!!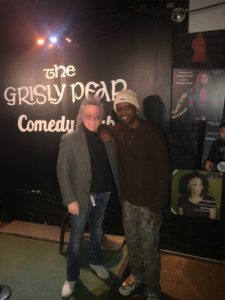 PLEASE LIKE, COMMENT AND SUBSCRIBE TO COMEDY MATTERS TV ON YOU TUBE AT HTTPS://WWW.YOUTUBE.COM/GURIANNEWSNETWORK COMING UP ON TWO MILLION VIEWS!
@jeffreygurian on Twitter and IG