I've had the good fortune to know Lil Rel since at least 2012 when we met up at the Just for Laughs Festival in Montreal, which is where this photo was taken.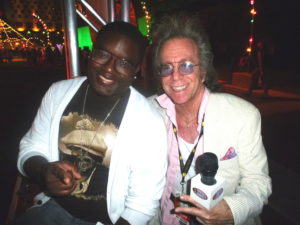 Over the years since I've seen him many times and watched as his career blew up very deservedly I might add. The man is hilarious and multi-talented.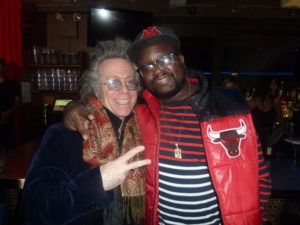 This past summer at the very same festival, which is the biggest and most prestigious comedy festival in the world, Rel received the award for "Breakout Comedy Star of the Year", presented to him by his friend Deon Cole. This video was shot on the red carpet of the awards show.
Since his breakout performance in Jordan Peele's smash hit "Get Out" back in 2017 Rel has been on a constant roll, with films Uncle Drew, Bird Box which is out right now, and his new film which will be at Sundance this year, "Brittany Runs a Marathon" co-starring Jillian Bell.
He's currently on his Relevant 2 Tour and made a stop in NYC to headline at Carolines on Broadway one of the most prestigious clubs in NYC. I dropped by to catch the show and support, and needless to say it was a killer show, but I'll say it anyway. And Rel looks great.  He lost weight and looks really in shape. They even commented on it on his recent appearance on The Breakfast Club with Charlamagne Tha God.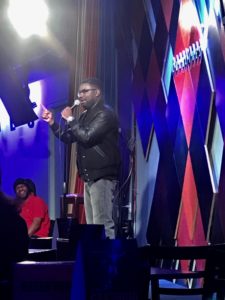 He had comic/actor/tour-mate Jay Alexander from "Rel" hosting the show, with comic/actor Reedo Brown from "Caught The Series" and "Rel" as his feature. Both were really funny and then Rel came out and totally crushed the room. He has such an easy way on stage and is so likable that he had the crowd from minute one! His delivery and intonation add to the humor and he's very physical onstage as well.  A couple of times he showed his ability to move, and the man can dance! (LOL)
He's also a great story teller and his story about going to see a show where he expected to see The Jackson's performing, but only Tito showed up on stage, and only played his part of the songs he sang in, was hilarious, as were the stories about his family and the people who hit him up for money now that he's doing well. It was a smooth hour of non-stop laughter.
I was waiting for him when he got off stage and went back into the green room to hang out a little bit. Emmy nominated comedy writer/comic Sam Jay was there, who commented positively on my scarf, and told me she's back writing for SNL, and having a blast, as was my man Jack Thriller who I didn't recognize at first.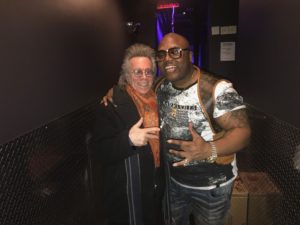 He was there with his trainer who's turning him into a beast, and I was sitting right across from him thinking, " This guy looks so much like Jack Thriller", and finally someone addressed him as Jack and I realized that it actually WAS Jack Thriller. Jack told me he's finally moving his fun, crazy Party and Bullshit Show down to Times Square in Manhattan where it belongs. Last time I was at the show he had Safaree from Love and Hip Hop performing. It's always a whole lotta fun, packed with tons of girls too!
Rel was very accommodating to all of the people who came back and wanted to take photos with him, because he's really humble and handling his fame really well.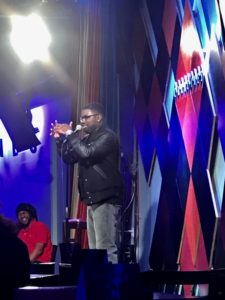 After Sundance he'll be in Nashville, Orlando and a whole bunch of other places so check it out on his website: https://thelilrelcompany.wordpress.com/ and follow him on Instagram at @comedianlilrel
That's it for me.  Until next time, remember that Comedy Matters!  I'm OUT!!!