Every once in a while something very special happens to me. Last night was one of those times. I've known Andrew "Dice" Clay since 1998. There are very few modern day legends in comedy, but he's definitely one of them.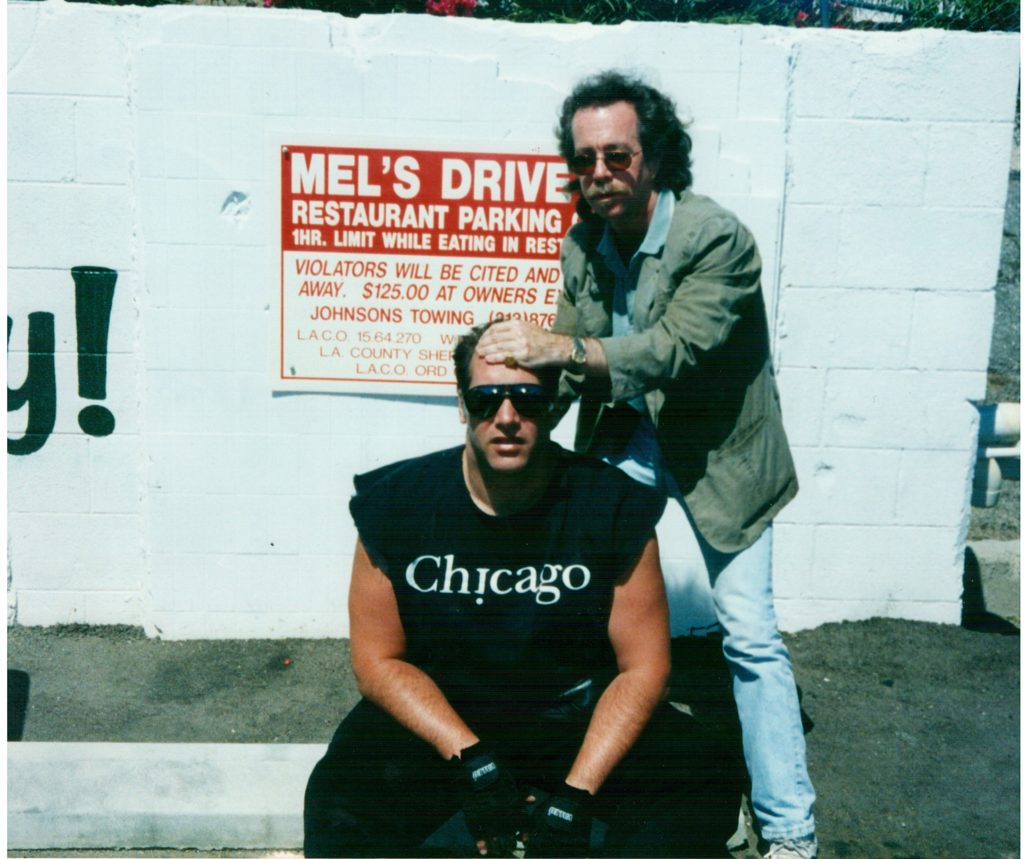 I had the honor of knowing and working with some of the legends from what they call "The Golden Age of Comedy" like Milton Berle, who was my sponsor in The Friars Club, Jerry Lewis, Henny Youngman, Sid Caesar, Buddy Hackett, Red Buttons, and more, but there's only ever been one "Dice". A comic who back in the day was one of the first and very few who could fill stadiums, … and did! ( AND STILL CAN!!!)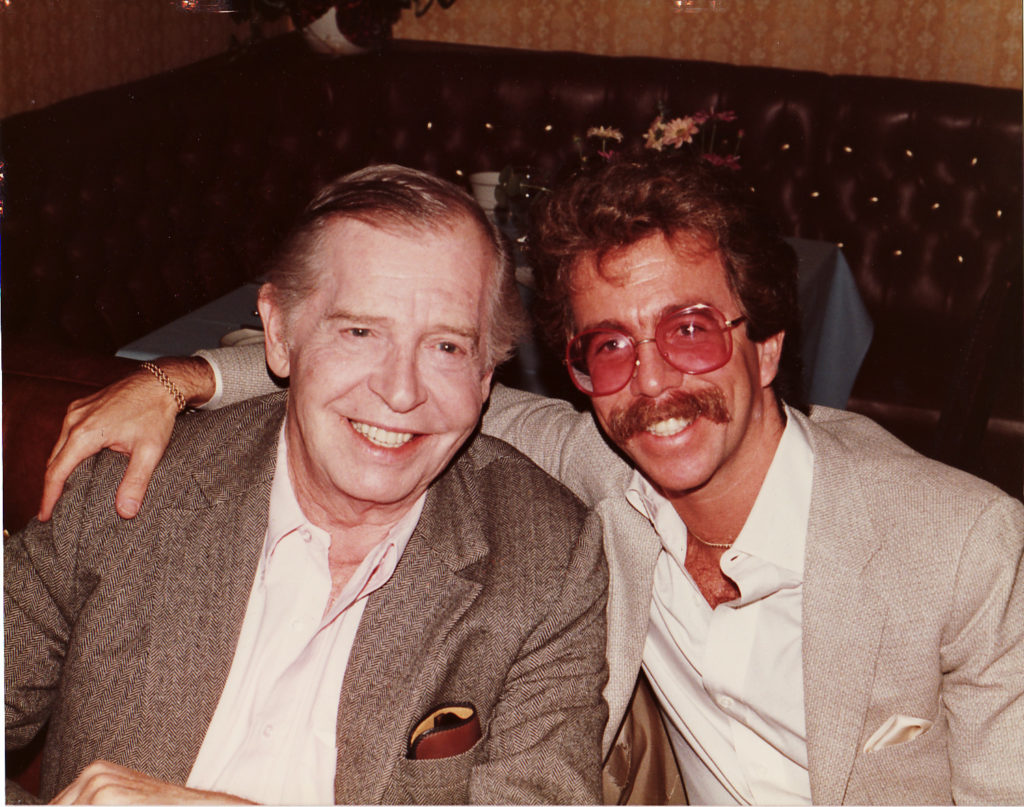 Last night I went to see him at The Stand in it's new location on East 16th Street in Manhattan. The place is amazing. It's huge, on two levels, with two showrooms, and a great restaurant, … with a real chef!
The show was sold out but co-owner Paul Italia was nice enough to find me a great seat. Eleanor Kerrigan who's been Dice's opener for the last 10 years killed the crowd with her opening set, as she always does. More on that below!
Dice took "Dice" to a whole other level and his refreshingly un-P.C. material was rewarded by screaming laughter and applause from the crowd. There was no doubt they were loyal fans and were there to hear what he had to say. And when he said something particularly outrageous, he was like, "What are they gonna do to me, … I'm rich!" And I'm happy to say that no one was offended. They knew why they were there and who they came to see!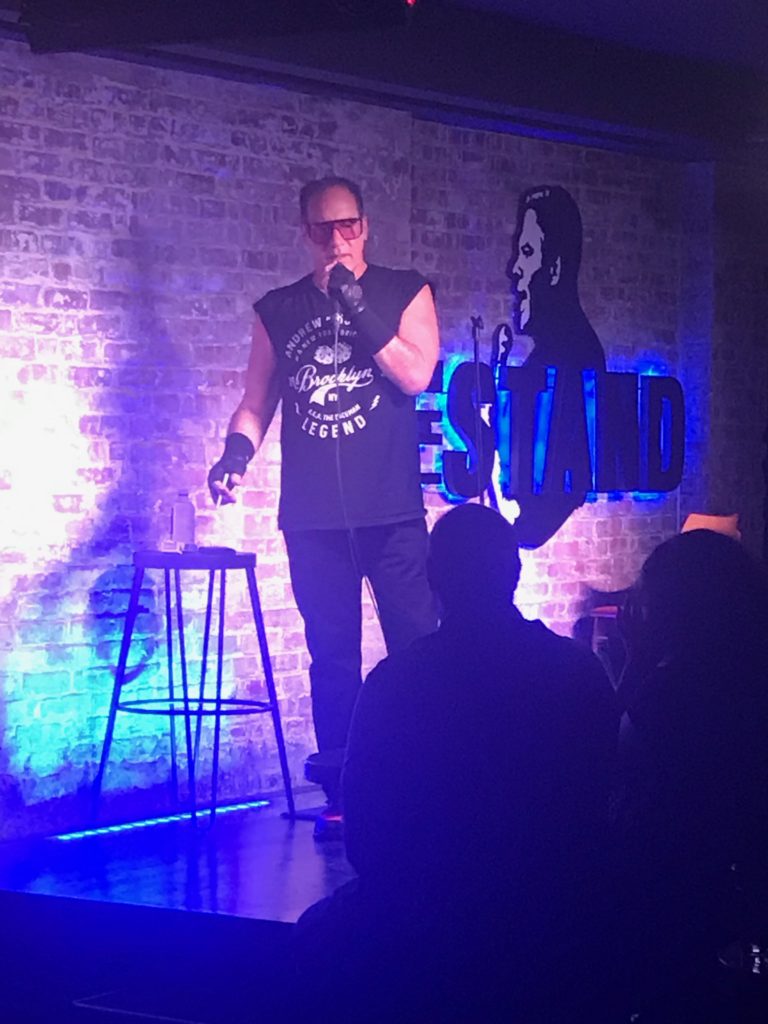 He interacted a lot with the audience which they love, and gave advice on marriage and relationships, which should probably be it's own call-in show.
I think that would be a big hit, "Dice on Relationships". Kind of like what I did with Patrice O'Neal on the Black Phillip Show back in 2008, which I still get thank you messages for from guys who were grateful for the info we put out!
During the show the audience was instructed to not take out any cell phones but at the end of his act he told the audience they could take out their phones and do whatever they wanted. He showed his warm side when an audience member asked to take a photo WITH him and he called her up on the stage.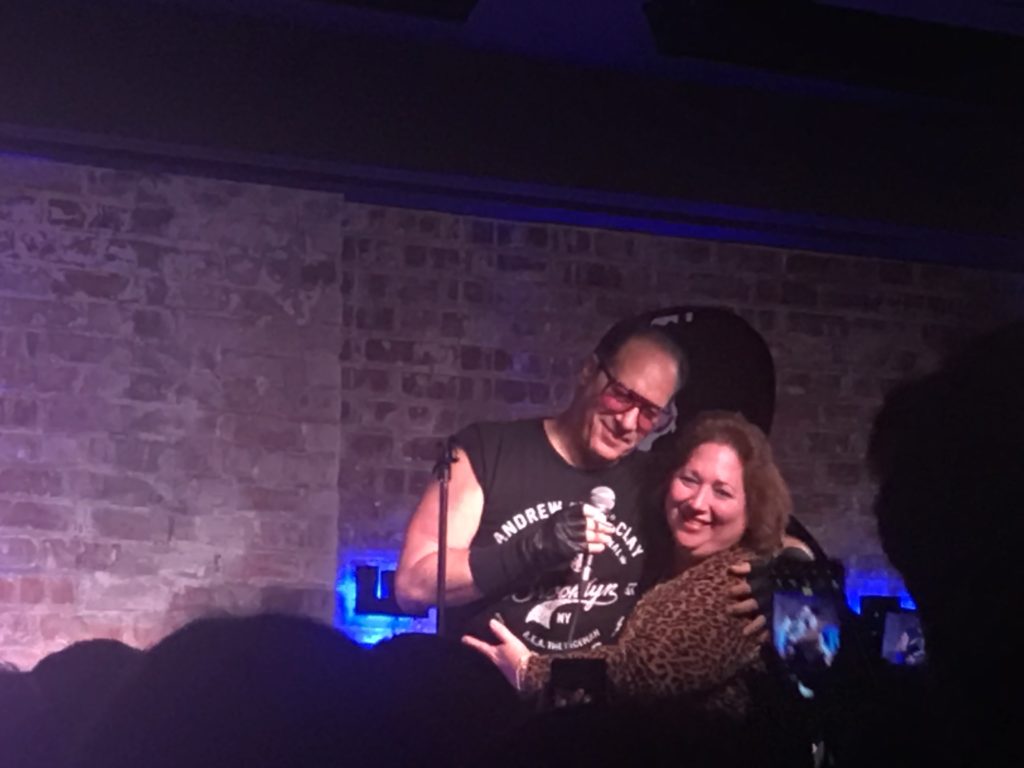 It's only when you get to know the real Andrew "Dice" Clay that you can tell him apart from the guy on stage. The real guy is a warm, caring family man, whether he'd want you to know that or not!
To close the show he broke into a few of his Mother Goose nursery rhymes, a blast from the past. He'd start them and then stop, and the audience would yell out the rest word for word! It was amazing!
He did an hour and 17 minutes of non-stop material, during which he came up with some new names for female body parts, one of which was something like purple bacon slices, and I might add the women laughed as hard or harder than the men, … and then after he left the stage he was escorted from the room by his longtime friend and security head Club Soda Kenny, a guy you don't wanna mess with.
Dice breezed past and I called out to him, but I didn't think he saw me. Kenny escorted him backstage, and I debated just leaving because I know that Dice likes to chill after a show, and I didn't text him to tell him I was coming, like I usually do because I try and attend all of Dice's shows any time he's local!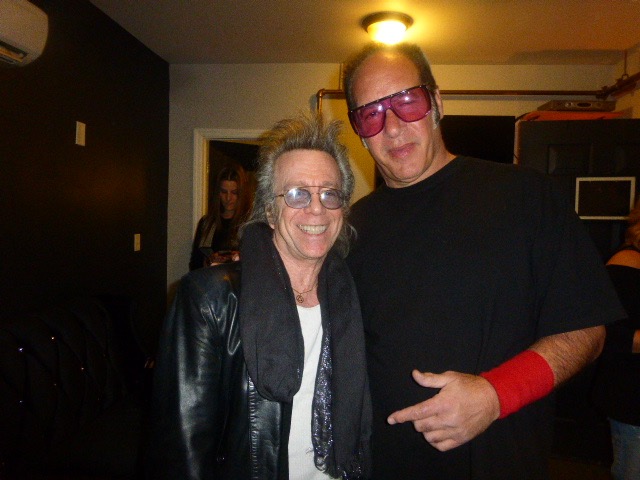 Two minutes later, Kenny comes out and says " Jeff, Dice wants to see you." He led me backstage where Dice greeted me with a big hug. He was sitting with Eleanor Kerrigan, and he said to me, "Jeff, tell Kenny the bit that you wrote for me that I did in my special!"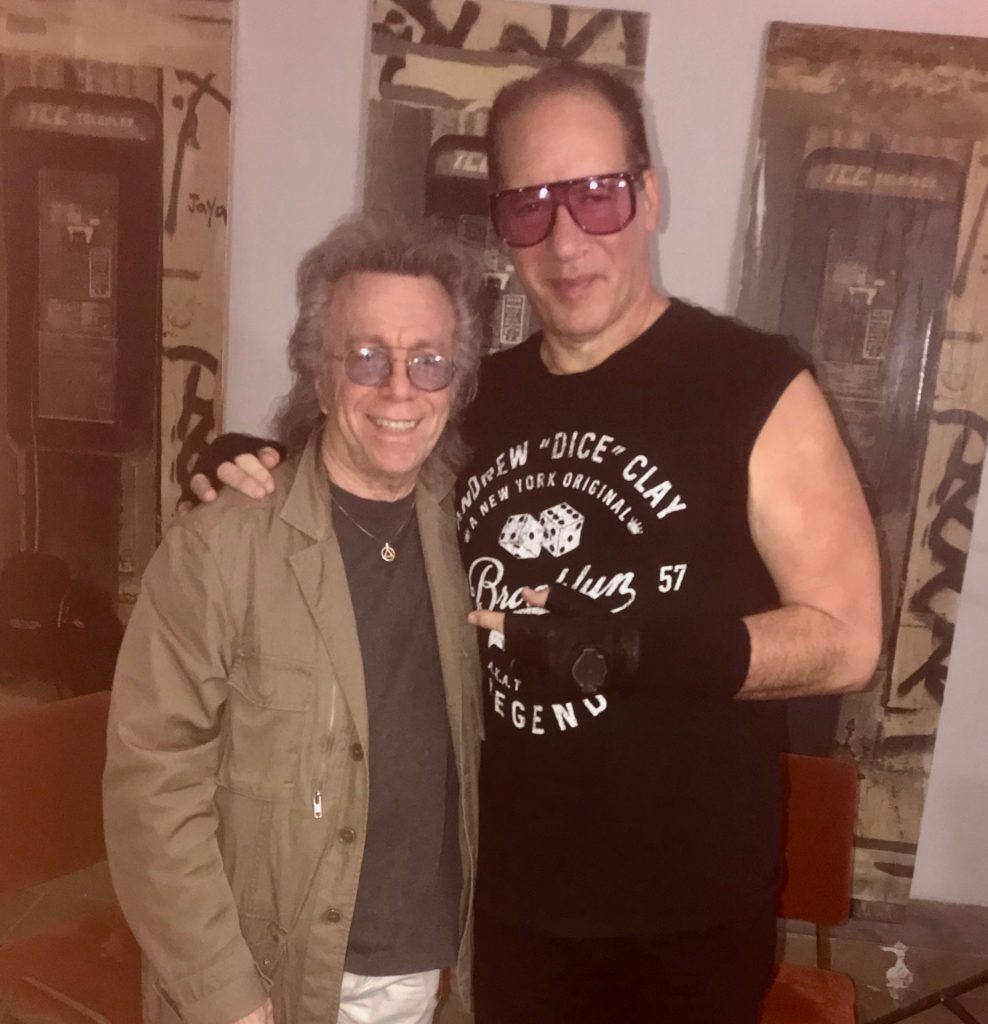 It was a very rare honor for me that I got to write for Dice because hardly anyone else ever did. He actually talked about it and shouted me out three times during a one hour interview he did up at Sirius XM with Ron Bennington.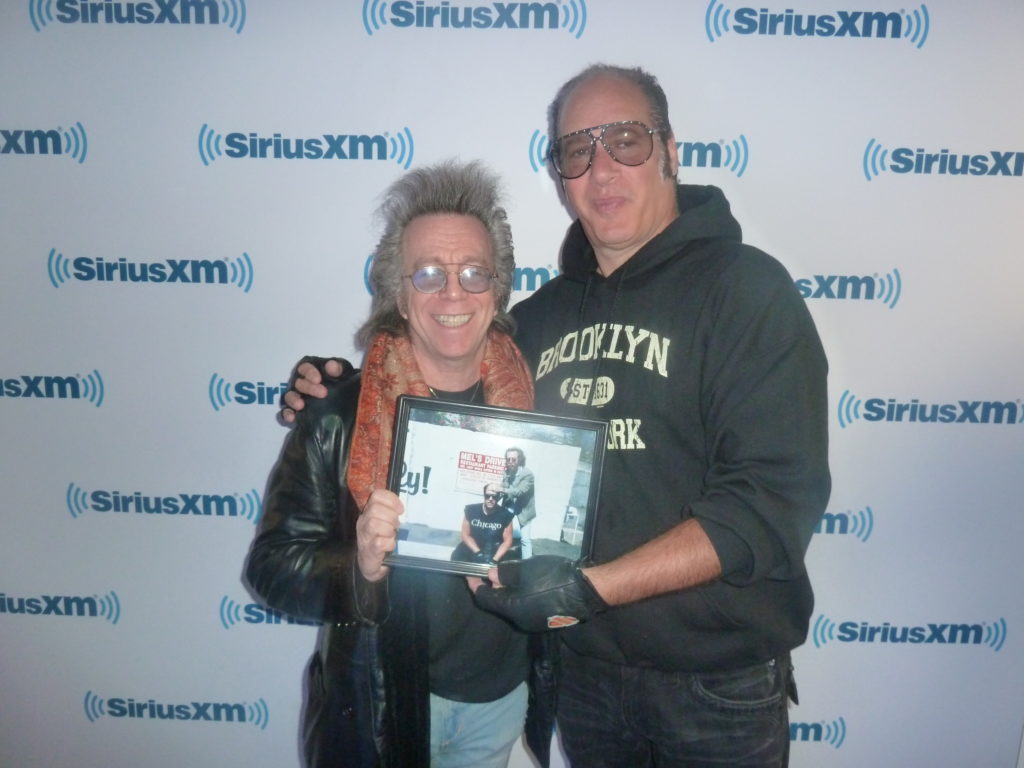 I can't repeat the bit here, but suffice it to say it had to do with Dice being able to cure world hunger in a very interesting and unique "Dice-like" way, and a couple of the keywords were pipeline, cropduster, and sparrows!
Dice said he often doesn't remember things he didn't write himself. I'll never forget the night he did it for the first time on the stage of The Comedy Store. I was right there in the audience. He liked it so much he didn't have time to memorize it so he did it right off the paper! So awesome!
When I asked him what he had coming up he said I could announce that he'll be coming back to The Stand in December, and that's a scoop cause nobody knows that yet, … except the owners of The Stand!
One of whom, Cris Italia came in to bring Dice a custom made pizza in his honor. I think Dice said it had honey truffle chicken.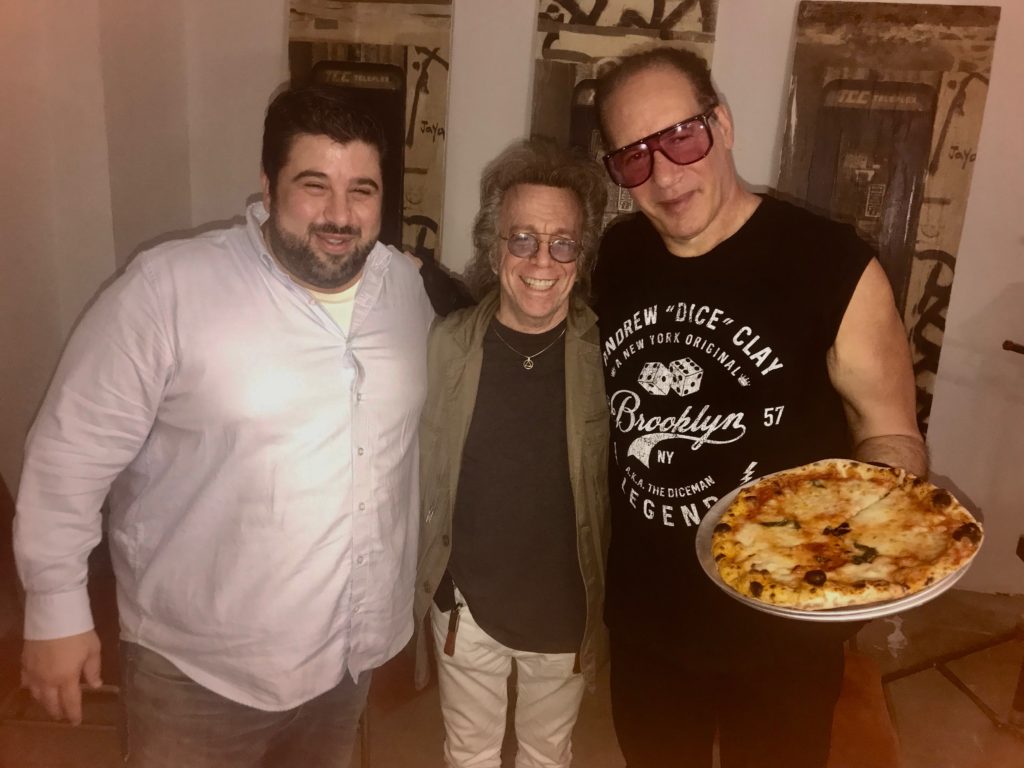 Before I left, Dice wanted to say a few words about Eleanor Kerrigan and his fans, who he lovingly says are "animals" and they're proud of it and own it. I taped it to make sure I got it correctly.
Dice had just got off a tour with Roseanne, and he said that when Eleanor opened the shows for him and Roseanne, "and they were shows she's not used to doing, like bigger than life shows, like the arena we were in in Atlantic City, it's gigantic, and she came on cold in front of like Roseanne and myself and I felt that she stole the show.
It's a gigantic stage so I was able to just watch her work, and she was just killing! You know, … like they were there to see her! And I've had certain openers, like I talk about Eddie Griffin a lot or Jim Norton a lot, but she's like the best there's been and also the fact that she's a woman comic and has gone up against every kind of audience, and my audiences are probably the toughest there are.
And that's why she's the best, and that's how I really feel about her, and I wouldn't say it if it wasn't true. We're friends for nearly 25 years, but she's been opening for me for 10. From nothing. From getting booed off the stage at Westbury, (which Eleanor acknowledged happened!). I put her up there, I knew it was gonna be tough, but my audience is animals, so it was just an experience, but instead of backing up she went forward with it and just became the best, and kills every crowd, every night, all year long, wherever we are.
And when I asked him if it was ok to quote that his audience are animals, he said, " They know they're animals. They made ME a star. Eleanor added, "That's what makes them so great. That's their energy." And Dice added, " They're the real deal, my fans. They're as honest as they come. They're in your face and I would say that myself and Joe Rogan have the most aggressive audiences ever in stand up! Definitely!
And he ended by saying, " This was so much fun. And I'll just take the small clubs over the huge arenas. You gotta do the bigger places to make your living, but I love the smaller clubs more than everything, because that's when you can really get into stuff, like I did tonight.
And with that he said, " Gimme a hug", we wished each other a Happy New Year, and promised to stay in touch!
He's there for one more night if you're lucky enough to be able to get tickets! For me it was one of those very special nights! And I wish I had taken a photo of Eleanor but maybe I'll go back tonight and get one!!!