National Lampoon which celebrates its 50th anniversary in 2020, just launched a new comedy space and weekly stand-up series, "LIC Comedy," in Long Island City thanks to Lampoon Pres. Evan Shapiro, and Exec. V.P. of Digital Media Gian Hunjan, along with Creative Associate Claudia Barran. They acquired the brand back in 2017 but just partnered with LIC Artists and The Plaxall Gallery to do a series of comedy shows, besides bringing back the beloved and iconic National Lampoon Radio hour.
Premiering December 19, the new, 11-episode podcast, in partnership with Forever Dog Podcast Network and available on iTunes, Spotify and other podcasting platforms will feature a collection of National Lampoon comedy sketches, characters, music and more, thanks to lead writers Cole Escola (Emmy-nominated "At Home with Amy Sedaris," "Difficult People") and Jo Firestone (Adult Swim, "The Tonight Show").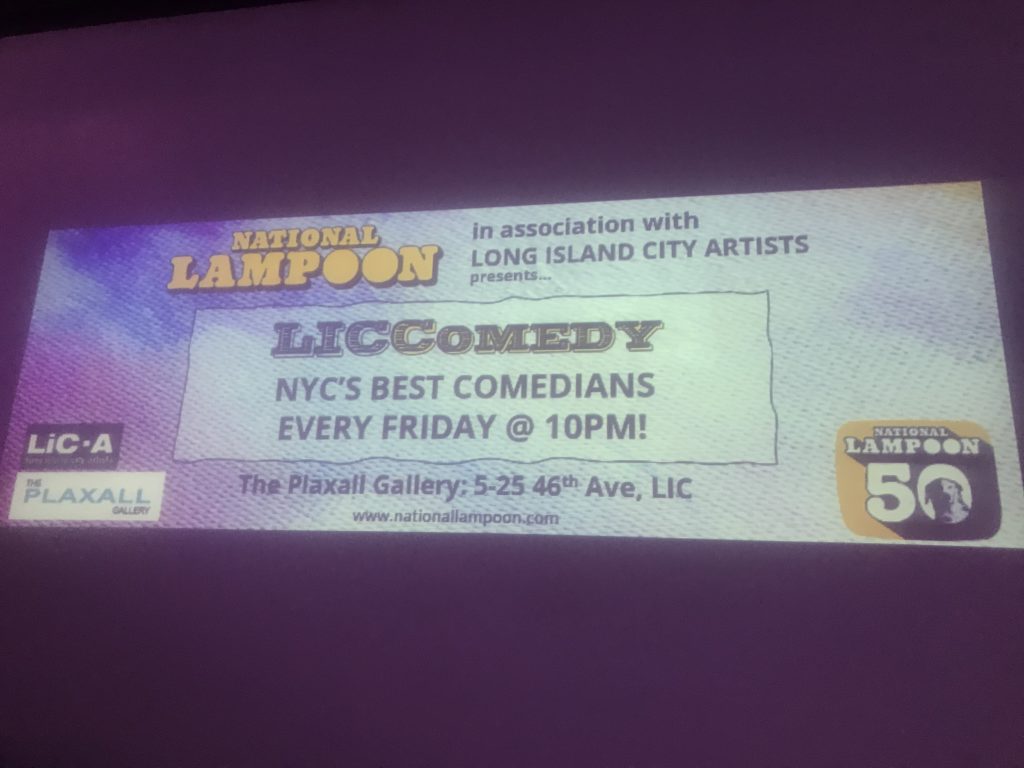 I went out there for the inaugural show and the place is amazing. It's a huge 12,000 square foot community center/art gallery, with many rooms, and fortunately I got there early enough that Gian found me wandering in the street, greeted me and guided me in, and then Evan gave me the tour including an outdoor space right on some kind of waterway that will be amazing for parties during the nice weather. That's THEIR plan not mine! Those who know me know that I LOVE parties! (LOL)
The plan is to have a show every Friday night in perpetuity. The inaugural show was well attended by an interesting and upscale, handpicked group of people, in a very relaxed setting and each of the comics commented on the unusual setting, … performing in a spacious art gallery, with a slide of a huge frame on the wall behind them.
First up was Pat Burtscher, who was originally from Toronto, then lived in London and moved here to NY as of last May. He stuck out to me because he had such unusual and unique premises, which I love and respect. Things like, " We're the only animals that give ourselves jobs" which is a great premise and then he expanded upon it, which is how I learned to do comedy, from some of the greats. You get a strong premise and build a bunch of jokes around it. That's the essence of writing comedy. Or at least it should be!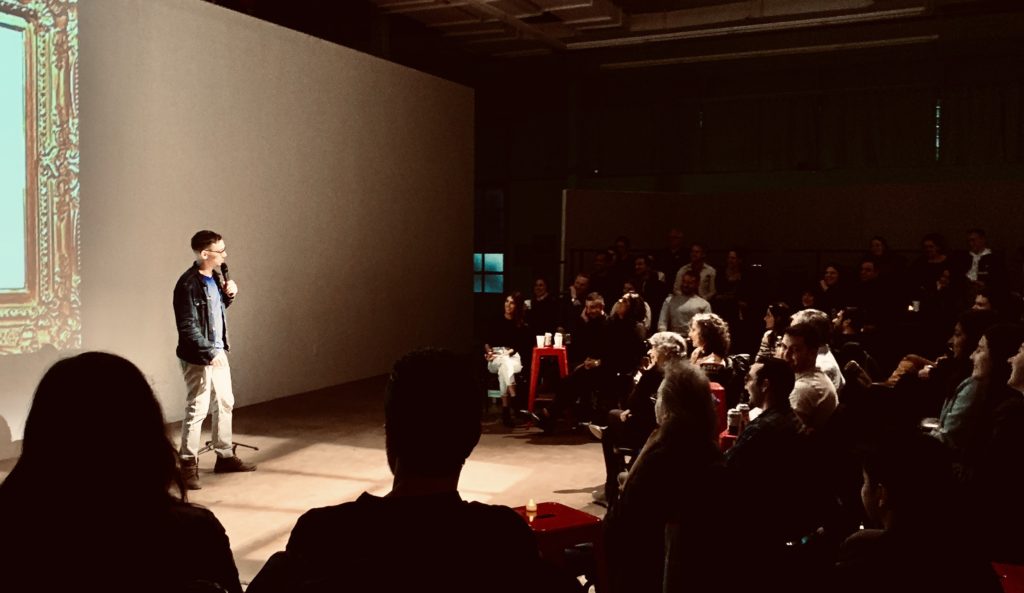 When I went up to him after the show to compliment him he reminded me that we had already met back in August when we were on the same show at the Fairfield Comedy Club, and I drove him and two other comics, Beecher and Jason Salmon back to New York. Pat was sitting in the back seat so I didn't get to learn his face! (LOL) I love unique because it's so hard to find!
Also on the show was Ali Kolbert who talks a lot about being 27 but looking much younger, which is true. Ali had been an NBC page and wound up making her late night debut on The Tonight Show with Jimmy Fallon.
And the always funny Ricky Velez came on next. Ricky's part of the Fat Baby crew with Giulio Gallarotti, Josh Wesson and Benny Demarco and I love the energy that those guys bring wherever they go. Ricky is also tight with Pete Davidson and performs on shows with him on the road.

Ricky talked a lot about his baby, being a Dad, his own Dad, and how his wife comes from money and wears pajamas, which to paraphrase him is a rich person's game!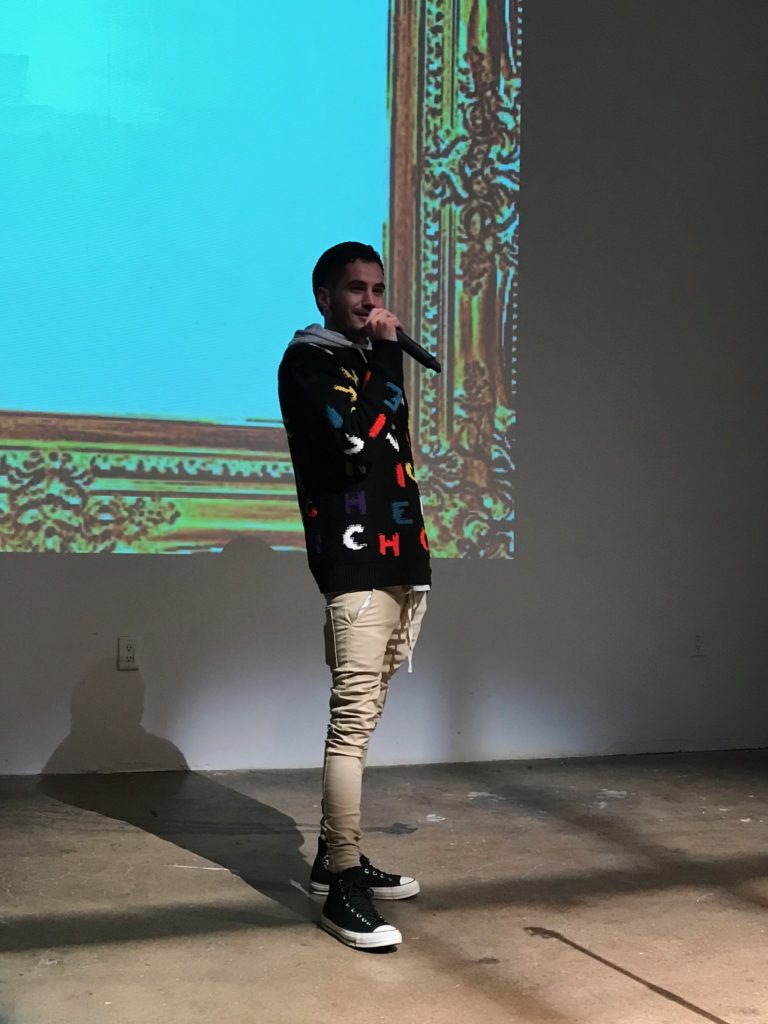 Dave Merheje followed and I had seen Dave this past summer on the Ronnie Chieng TV gala when he surprised me by performing in shorts and a T-shirt for television, while Ronnie was in a beautiful suit.
Dave's background is Lebanese and it was funny hearing him tell the story of how his uncle once came to the door for Christmas proclaiming that he was Santa Claus, without a costume, just a beard, yelled out "Ha, Ha, Ha" instead of "Ho, Ho, Ho", and the kids were scared that Santa Claus had an Arabic accent! Btw, he didn't wear shorts this time, he wore bright red sweats pants!
Giulio Gallarotti came out and closed the show with a strong set, talking about how he doesn't like to smoke weed and gave a strong reason why, and I was hoping he'd do a song as Lil Young Big his rapper alter-ego. Maybe next time.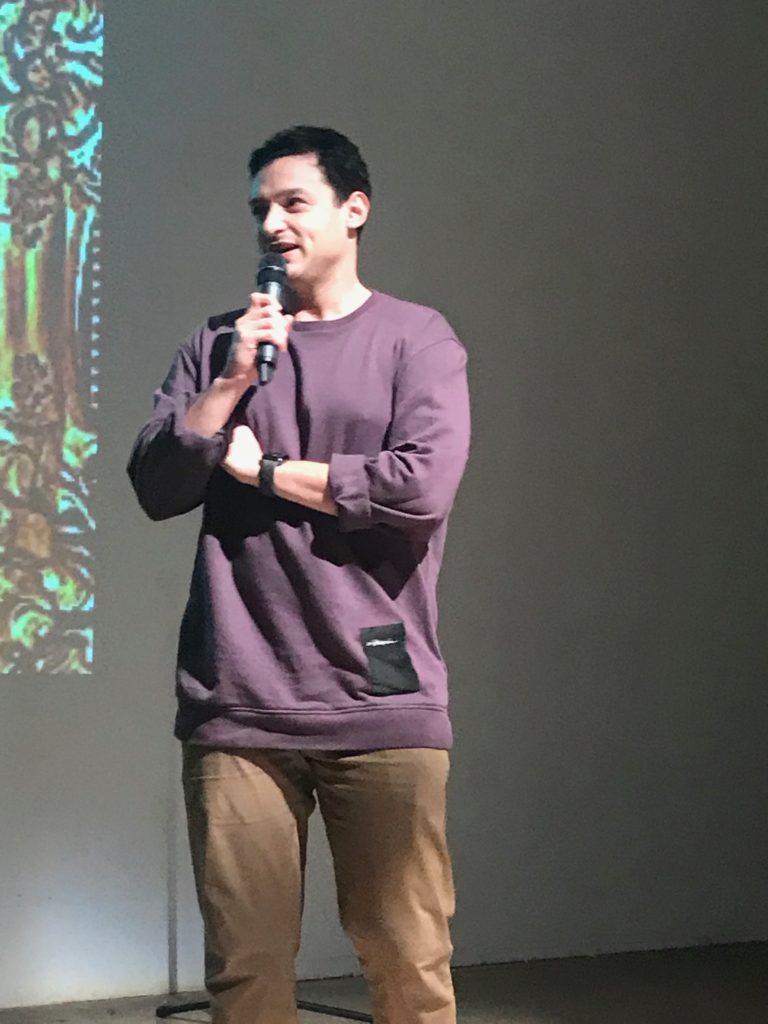 But it was a very cool event, and when I asked Evan what he wanted people to know about it he said to tell you guys that the show will run every Friday at 10, part of the ticket sales go to support local artists, the tickets are 15 bucks and they have the least expensive drinks of any comedy club in the five boroughs!
I've known Chris Distefano since the beginning when we used to do open mic shows at Gotham Comedy Club and he was honing bits like "Tell me no", and talking about his Mom dating a guy named Phineas with polio, and he was always hilarious. So it was great to see him headlining Gotham with sold out shows. The place was so packed they threatened to put strangers with me at my table! (LOL)
I was seated right next to Chris' manager comedy heavyweight Rick Dorfman of Authentic Talent and Literary Agency, who jokingly asked me if I didn't have anything better to do than go to a comedy show!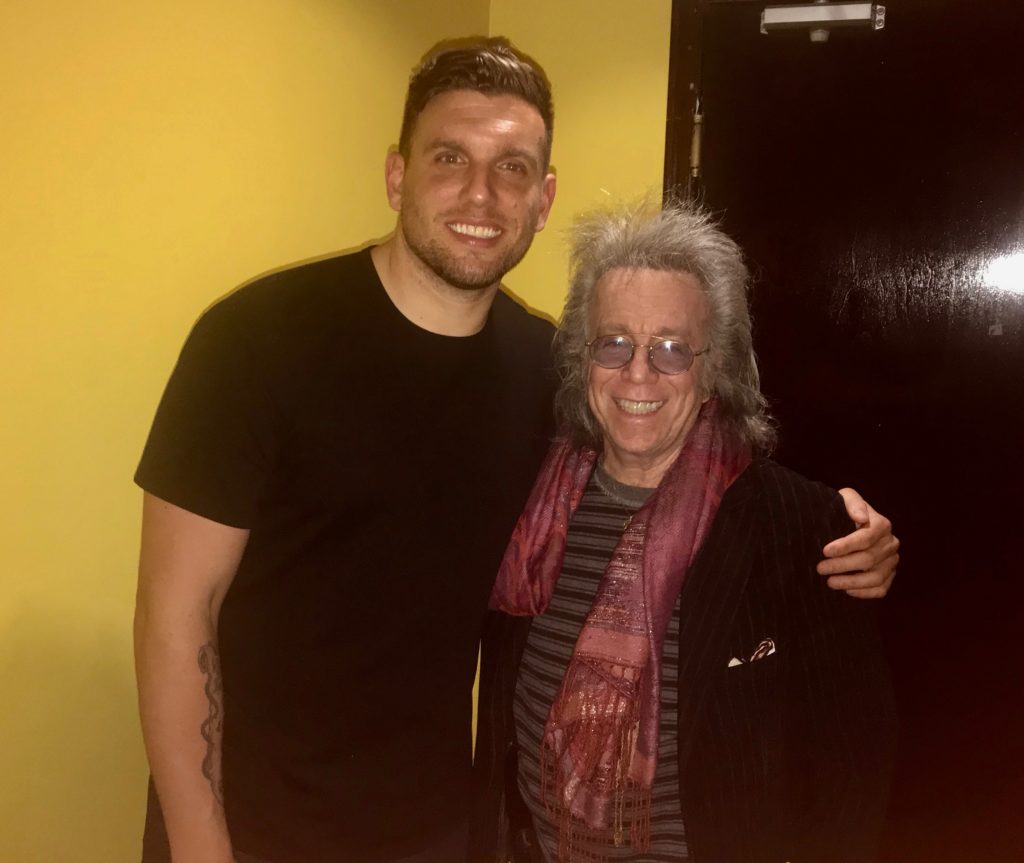 He held it down for an hour with non-stop laughs and his very unique delivery. That's a very rare thing to have and I was glad to tell him that after the show. It's very hard to have a unique delivery. Gilbert Gottfried does it, Judah Friedlander does it, and Chris does it too.
He makes it sound like he doesn't know what he's going to say next in that very kind of staccato way he has of speaking, jumping from one thing to another. To the audience it sounds like he's saying it all for the very first time. He hits on very current topics like memes, peanut allergies, cancel culture etc.
And he kept his jacket on the whole time too, but took it off for the VIP meet and greet after the show. Almost the whole audience signed up for it and lined up to buy merch and take photos.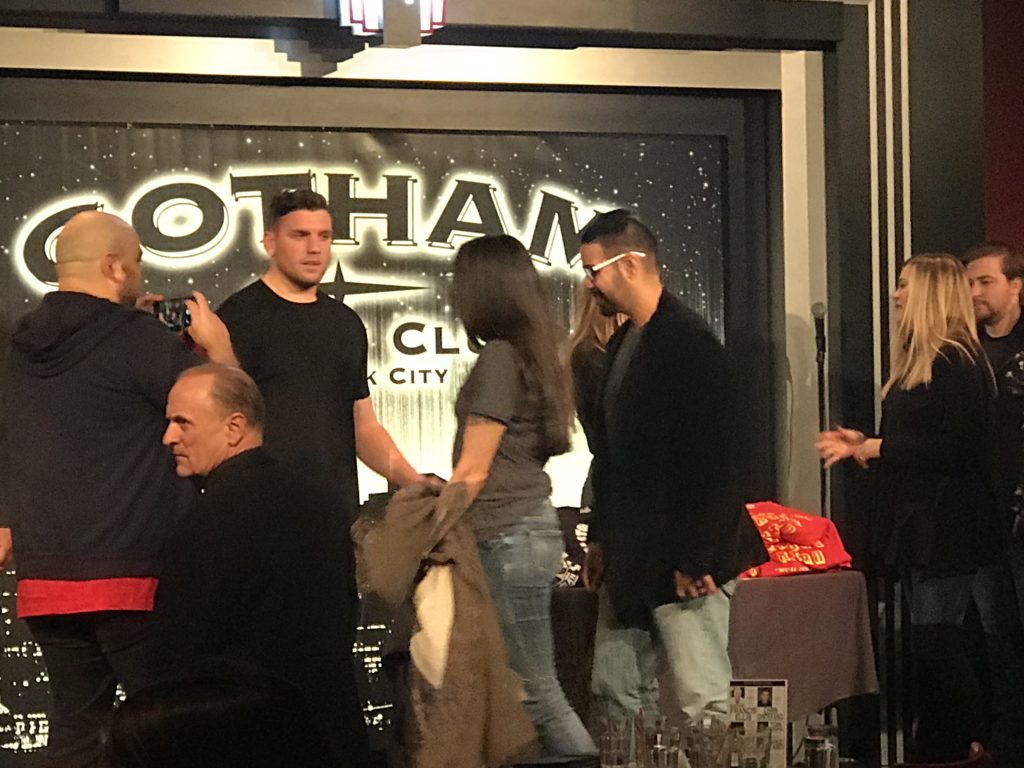 A lot of his merch was about History Hyenas the podcast he does with his comedy bro' Yannis Pappas. Both of these guys were my guests on Sirius XM's Bennington Show. After the Gotham show I went backstage to ask him a couple of questions.
THE INTERVIEW
JG: So tell me about History Hyenas.
CD – History Hyenas is a podcast I do with Yannis Pappas, it's been going on about 18 months now, we just sold out The Gramercy Theatre a couple of weeks ago and we're gonna do another show , actually a residency there throughout 2020, and we've had Jim Gaffigan on, Bill Burr, Andrew Schulz, and all the episodes are available on i-Tunes…
JG – But what's the concept of the show?
CD – The concept of the show is it's a history show but it's comedy first, so you'll learn but you'll laugh first and foremost, it's always comedy and then we'll throw in some history stuff that you can regurgitate at a party and sound and look cool!
JG – Do the comics have to study history before they come on?
CD – No, we don't require comics to study at all. They come on and if they are passionate about it, like Jim Gaffigan came on and did a whole episode about the Samurai culture in Japan because he had just come from there and he loved it. Bill Burr came on and did a whole history tour of Boston because he knows all about it, and that works but we've had other episodes where we just had Michael Kosta on or Sam Morril and just shoot the shit just being three comics in a room.
JG – I just got back from Japan and it's crazy over there. I did a couple of shows there and it's insane.
CD – Yeh, I would love to go to Japan.
JG – It's a long fucking trip!
CD – Yeh, I'll take an edible.
JG – You better bring more than one for 14 hours. What else do you have that people should know about, … your special 38 Waist?
CD – Well my special 38 Waist is on Comedy Central, but I'm gonna do a second special Size 36 Waist, that comes out on Comedy Central in August of 2021.
JG- Really? Or are you just fuckin' with me?
CD – No I swear. Cause I've been on Keto, and I have a good boxing trainer Paulie, who's here tonight that feeds me oregano pills, he's here in the green room, I have a cartoon in development with Comedy Central, and of course I hope that all those things go, but my real passion right now is the podcast Hisstory Hyenas. That's why the shows were sold out at Gotham this weekend, and why shows in general are selling out for me now is because of that podcast.
JG – Where do you tape it from?
CD – We tape it from The Comedy Cellar, RiotCast Studios, Bobby Kelly's podcast network, and we tape anywhere from 4 hours a week to 8 hours a week depending on how much coffee Yannis has had.
JG – Tell me about the cartoon.
CD – It's slated to come out hopefully some time in 2020, and I also have a non-scripted show in development with Comedy Central. The cartoon's about my life. it's about being a single Dad, with a bi-racial kid, and a father who's in the Mafia. ( Lots of laughter)
JG – That's a hilarious story. It's gotta be a hit.
CD – So it's me and my Dad raising this Puerto Rican kid doing the best we can.
JG – Is there anything you'd like to do that you haven't done yet?
CD – Well in 2020, I moved up in certain markets to theaters, so I'm hoping to go from the comedy clubs to the theaters, and start selling theaters out, that's really my main goal for 2020.
JG – Well I just have to say that I've seen you from the beginning and you've always been funny so I'm not surprised that you're doing so well because you deserve it because you worked really hard.
CD – Thank you Jeff I really appreciate that. Thank you brother. Always a pleasure to see you!
John Belushi on Saint Marks
Thanks to long-time comedy manager Jason Steinberg of Steinberg Talent, I got to see this play. It's called "With A Little Help – It's John Belushi" and it's at Theatre 80 on St. Marks Place, and owner Lorcan Otway told me his family has been in the theatre business for over 300 years! That's longer than I've been in comedy!!! And the theatre is beautiful by the way filled with show biz memorabilia including some rare posters!
The award winning play is an ensemble piece with about 8 characters all of whom playing two or three parts except for Jack Zullo who wrote the show and plays a very spirited John Belushi. He definitely brings John's energy level to the stage.
All good actors and very entertaining, but if I had to say anything at all in a positive yet constructive manner, 90 minutes into it they hadn't gotten to the SNL years yet, and John's discovery by Lorne Michaels. Otherwise as I said, … very entertaining. They mentioned National Lampoon a lot, so it was very fitting that when I left I ran out to LIC to catch the inaugural National Lampoon show mentioned above.
Jason by the way. who has been instrumental in the careers of many big stars handles Tony Woods who just had a big thing in the New York Times, and Donnell Rawlings who just launched a new podcast, The Donnell Rawlings Show. He announced it on Joe Rogan's podcast that for the very first time he spoke by himself, all alone for 44 minutes! Joe had been encouraging him to do it for months, and he didn't wanna show up on the show again without having done it, … so he finally did it!
KRYSTYNA HUTCHINSON GOES SOLO
I caught up with my girl Krystyna Hutchinson at Stand Up New York, and we hadn't seen each other in too long so we took a moment to catch up. She was hanging with Justin Silver and she just did her first time solo headlining gig at American Comedy Company in San Diego and brought Justin to open for her.
She said that 4 out of 5 shows were sold out and she did 45 minutes for the first time and found it very draining, but lots of fun.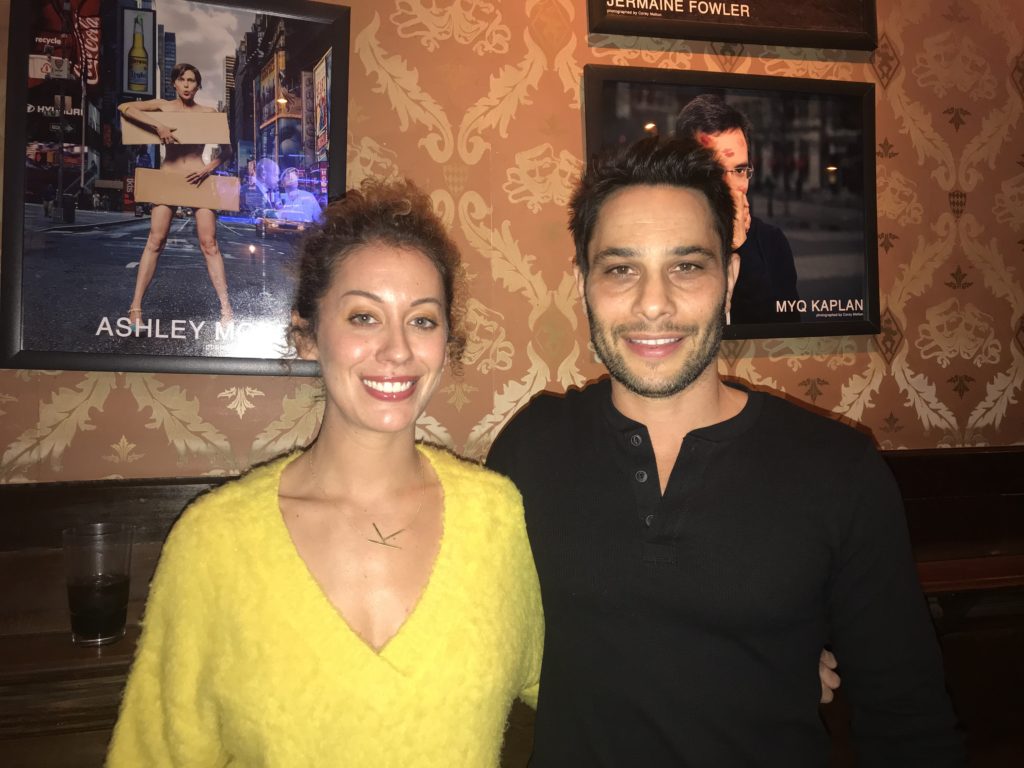 GM Jon Borromeo told me the club is focussing on discovering and promoting young talent, that hadn't been able to get stage time at other clubs, and he named Zach Zimmerman as an example, who just happened to be standing next to him at the time, and said he did his one man show at the club!
COMEDIANS IN "THE IRISHMAN"
If you're willing to sit through 3 hours of Martin Scorcese's new hit "The Irishman" which I did because it's on Netflix and I could get up, walk around, get a snack and pause it when I wanted to you'd see a bunch of comedians in roles, and I personally counted about 18 people I knew personally from the comedy and acting world.

Ray Romano has a big part as Bill Bufalino, the attorney who repped Teamster leader Jimmy Hoffa and was the cousin of mob boss Russell Bufalino played by Joe Pesci.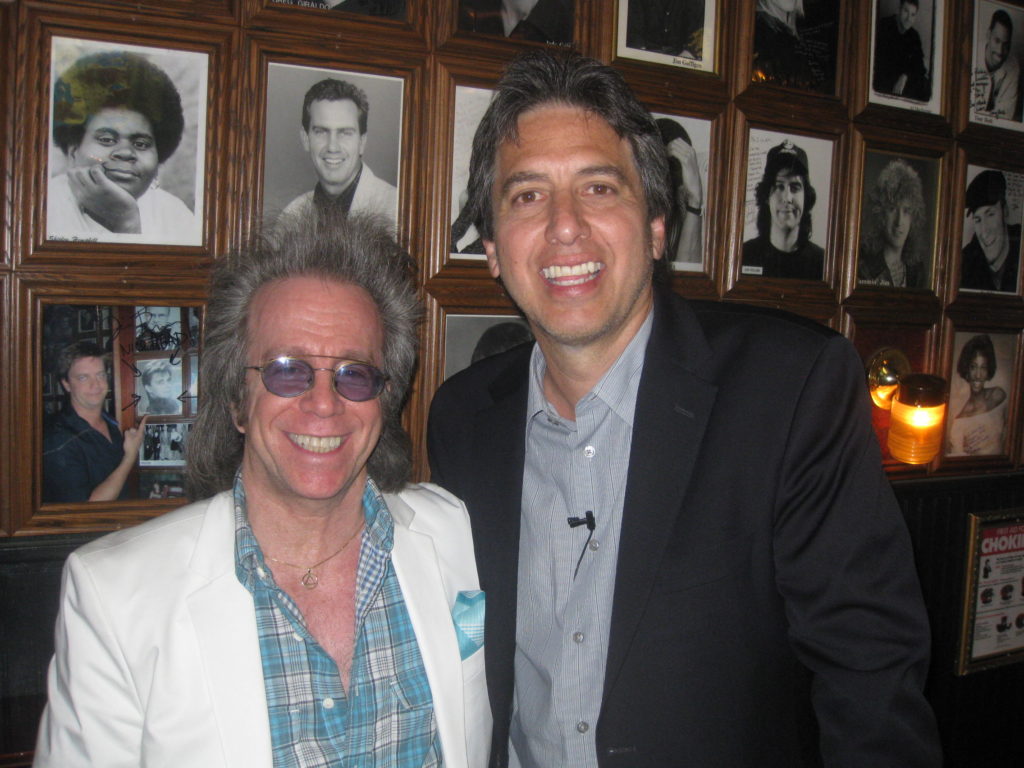 In an example of perfect casting, Jim Norton had a nightclub scene where he portrayed the late legendary Don Rickles, and Sebastian Maniscalco who's always hilarious had a great serious role playing the part of "Crazy Joe" Gallo, which he did so well.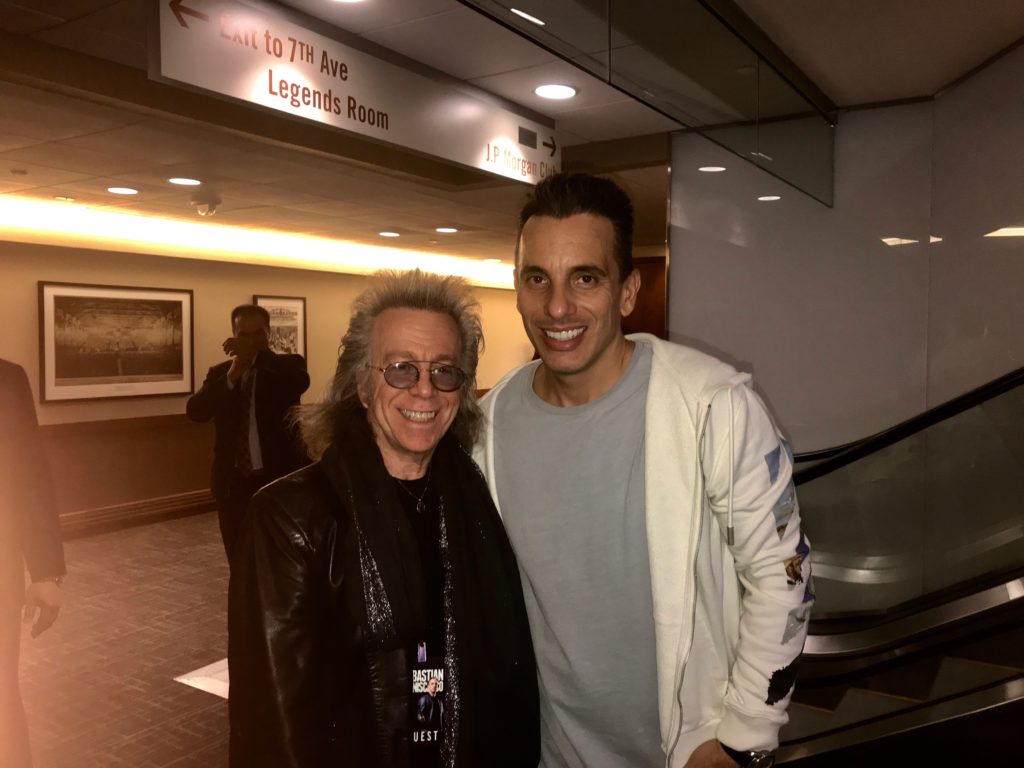 Bobby Funaro who started out working the door at Carolines on Broadway and went on to be in The Sopranos played a character named Johnny, Paulie Herman who used to own Columbus Cafe and is in just about every mob movie played Whispers DiTullio, the late Vinny Vella played a meat company manager and others I've known and/or worked with or interviewed in different projects over the years were the amazingly talented Bobby Cannavale who played a crazy character named Skinny Razor, Bo Dietl, legendary detective who recently ran for Mayor and unfortunately did not win, Kathrine Narducci who played Russell Bufalino's wife Carrie, as well as Artie Bucco's wife in The Sopranos, and attended my play "A Punch In The Face" dedicated to actor/martial artist/Hells Angel Chuck Zito who also attended, Stevie Van Zandt from E-Street who played Jerry Vale in this movie, and Silvio Dante in The Sopranos, my old friend Danny Abeckaser who went from a club promoter/owner to movie actor and producer, Garry Pastore who played Albert Anastasia, and most recently played a gangster named Matty " The Horse" in HBO's The Deuce and is the cousin of another old friend of mine, Vinny "Big Pussy" Pastore, and there were more!
So I'm walking down St. Marks Place the other night on my way to the John Belushi play when I hear someone yelling out to me. At first I didn't turn around cause I'm from New York, but then he said "Mr. Gurian", so I turned and looked.
It was this nice young musician named Supremo Massiv who happened to have a gig right across the street but ran out and had to tell me what a big fan he was of the work I did with Patrice O'Neal on the Black Phillip Show and how much the show meant to him.
It happens wherever I go, most recently in Japan, but in Boston, at Skankfest, at a Syndicate event, and with people from all over the world, the love for Patrice lives on. And a few months ago I started taking a photo with each and every one of them.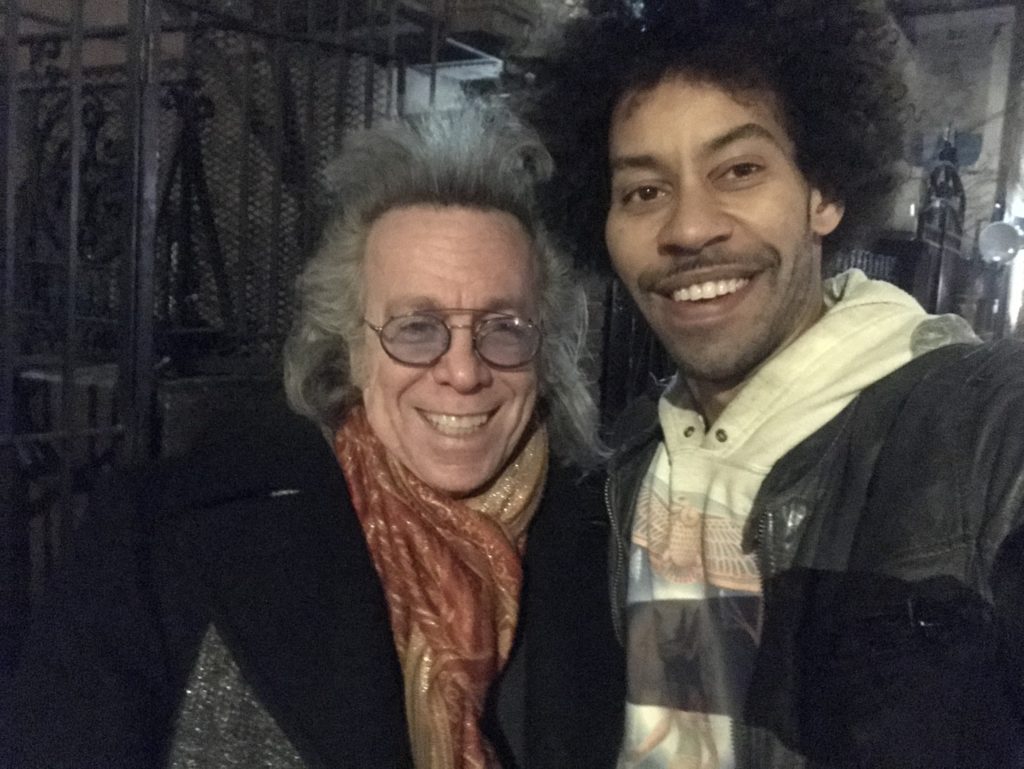 The Mederi Center located in Ashland, Oregon was founded by a master nutritionist named Donnie Yance, who specializes in treating cancer and other serious illnesses with herbs and nutrition in conjunction with traditional medicine.
Some friends of his, including consciousness guru Alan Steinfeld of New Realities, saw me performing at West Side Comedy Club one night and the next thing I knew I was the MC at a big fundraiser they held on 11/22 at the Warehouse of the Fairfield Theatre Company in Fairfield, CT starring pop star and cross over artist Gino Vannelli and jazz singer Grammy nominee Roberta Gambarini. It was a fabulous night, well attended and raised a lot of money!