ARTIE LANGE ON HALFWAY HOUSE
I knew I had to go and see Artie Lange who was headlining at Gotham Comedy Club for the weekend because besides wanting to see him perform, I wanted to congratulate him on his 11 months of hard-earned sobriety.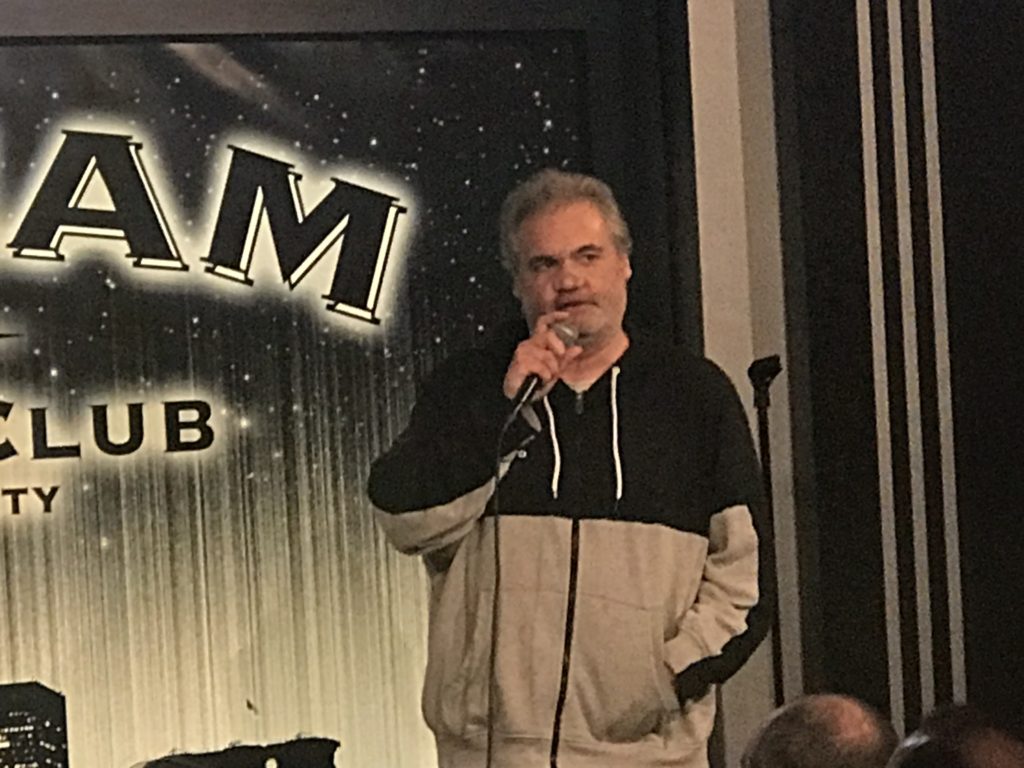 I went with famed feathered hat designer Ivy Supersonic who's also a friend of Artie's and who's gone on to become a paranormal artist and a filmmaker. No surprise it was a great show with Alli Breen who often opens for Artie on the road and Jim Florentine as the feature.
The fans love Artie as much as the comedy community does, and I'm always struck by his honesty on stage. There's literally nothing he won't talk about whether it's embarrassing to him or not, including calling himself "an old junkie" and talking about his nose, which I did not mention during the course of our backstage interview.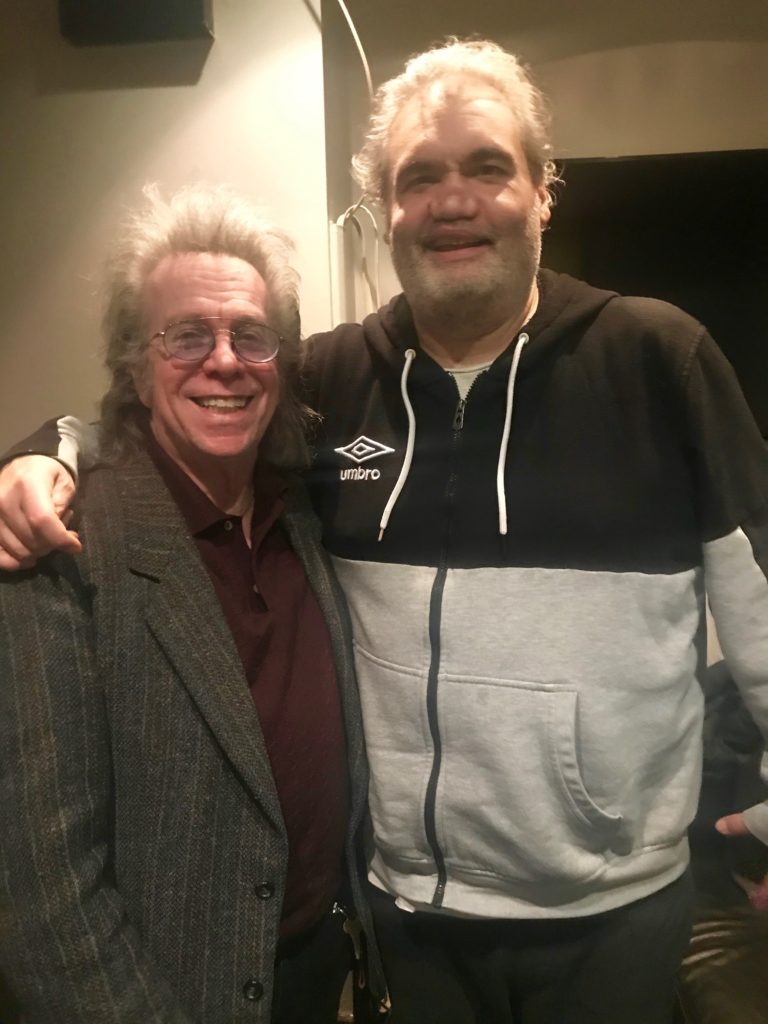 I wanted to talk to him about his new podcast Halfway House which he's taping twice a week at a studio in Manhattan. I saw his first two shows which were sold out.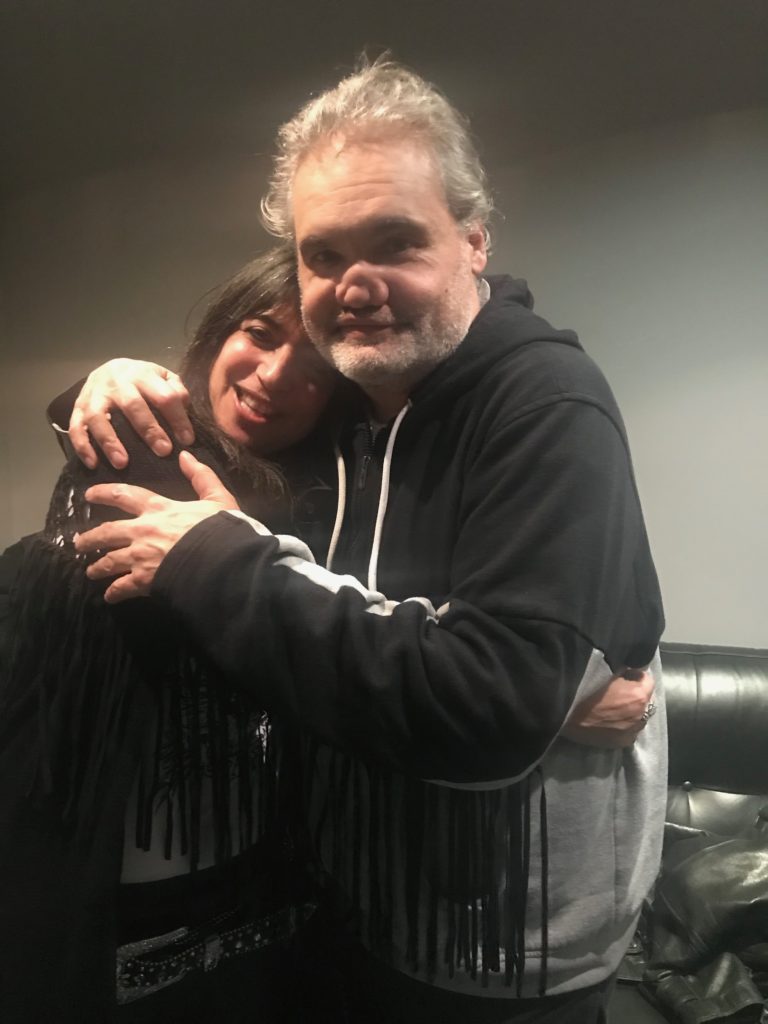 After the show, Ivy and I went backstage to hang with Artie for a bit and Ivy went into her filmmaker mode and shot the interview. You can watch it right here.
ANGELO LOZADA TRIBUTE
When it comes to charity events and comedy clubs there's no one more giving and more compassionate than Chris Mazzilli owner of Gotham Comedy Club. He once told me how many charity events he does every year and I couldn't believe it. Luckily the club is successful enough that he can do that, but he does it with an open heart.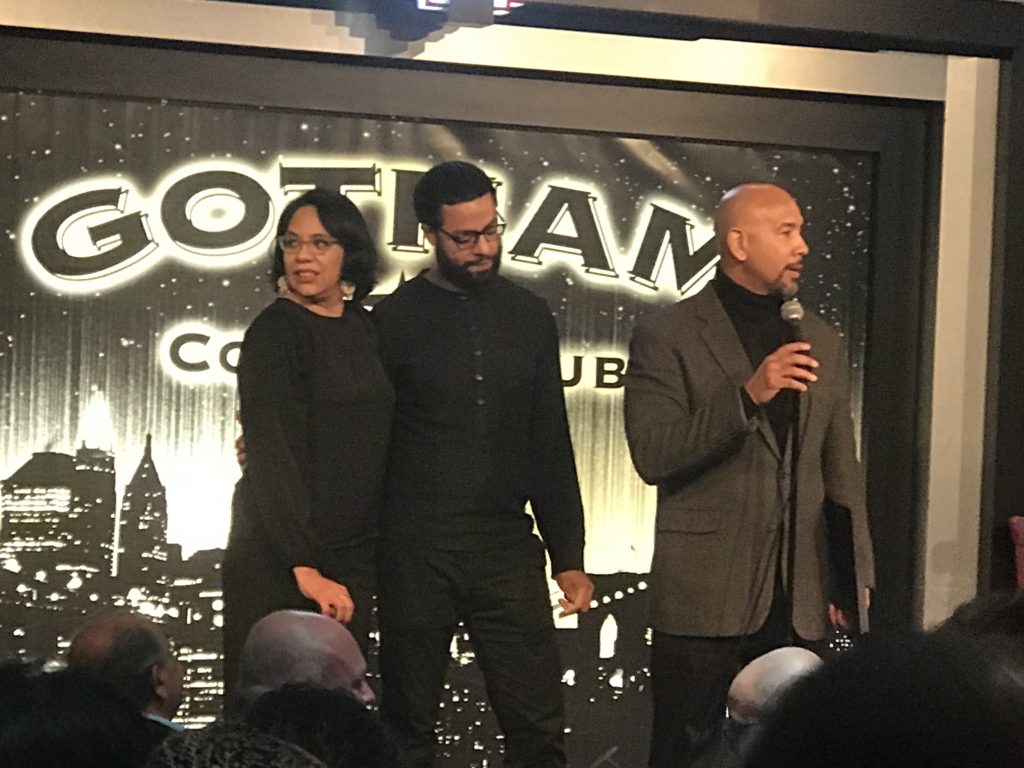 This was evident again recently when he held a tribute to our recently departed close friend and staple of the comedy community Angelo Lozada.
It was called from 5-8 P.M. and I didn't know what to expect before I got there. I didn't know it was going to be a show I just thought it would be a memorial where people would speak. I got there just before 5:30 and the place was packed with comedians, family and friends. My regular table was taken and I sat on the side where the comics usually hang out.
The very first thing that happened almost immediately as I entered the room was that I was approached by a guy who introduced himself and said he had to thank me for the tribute piece I wrote on Angelo's untimely passing.
It was Danny Gonzalez one of the members of Nuyorican Rule, a sketch comedy troupe that Angelo founded and that he was part of, that ran for 12 years. Many members of the troupe, if not all, were there to pay their respects. Danny's kindness made me feel right at home.
They had a great assortment of Puerto Rican food including chuletas, rice and beans, and I think they might have even had cuchifritos! (LOL) Don't ask me how I know about cuchifritos! (LOL)
I forgot to ask everyone if they knew my old friend Izzy Sanabria, known in the Puerto Rican community as Mr. Salsa, a comedian who had a magazine called Latin New York magazine which I used to be involved with back in the 70's and 80's.
I used to be a regular on Izzy's cable TV show called "The Dizzy Izzy Show." That's where I first came across the phrase "Nuyoricans" referring to Puerto Ricans that lived in New York.
The hilarious Mark Viera was the MC for the show and he did an outstanding job in what was a very difficult situation, alternating between laughter and tears.
First on stage was Ruben Diaz the Borough President of The Bronx where Angelo was from as was I. ( Near Tremont and the Concourse! LOL) Ruben spoke warmly about Angelo and presented his wife Isabel Martinez and look-alike son Martique with a beautiful plaque.
After that it was a succession of comedians and entertainers who were close to Angelo telling wonderful stories about what a great guy he was. Not only just super funny and creative, but a wonderful human being. I was wishing he could have been there to experience the outpouring of love there was for him. It was a very special day.
COMEDY LOVE ON THE GOLDEN GLOBES
The Golden Globes showed the comedy community a lot of love this year, first and foremost by them being hosted by Ricky Gervais who roasted the heck out of the audience.
I loved when he said they couldn't do an "In Memoriam" segment this year because it wasn't diverse enough. It was mostly white people that had died during the year, and it just didn't seem right. "Not on MY watch!!!" he declared!
But the highlight for me was when he told them not to make any political statements. "You're in no position to lecture the public about anything. you know nothing about the real world. Most of you spent less time in school than Greta Thunberg!" #HILARIOUS
First winner right out of the gate was Ramy Youssef for his TV series Ramy. He wore a tux and cool snow white sneakers, and started out by saying "Look, I know you guys haven't see my show", which got a big laugh, and went on to say that they probably thought he was just an editor.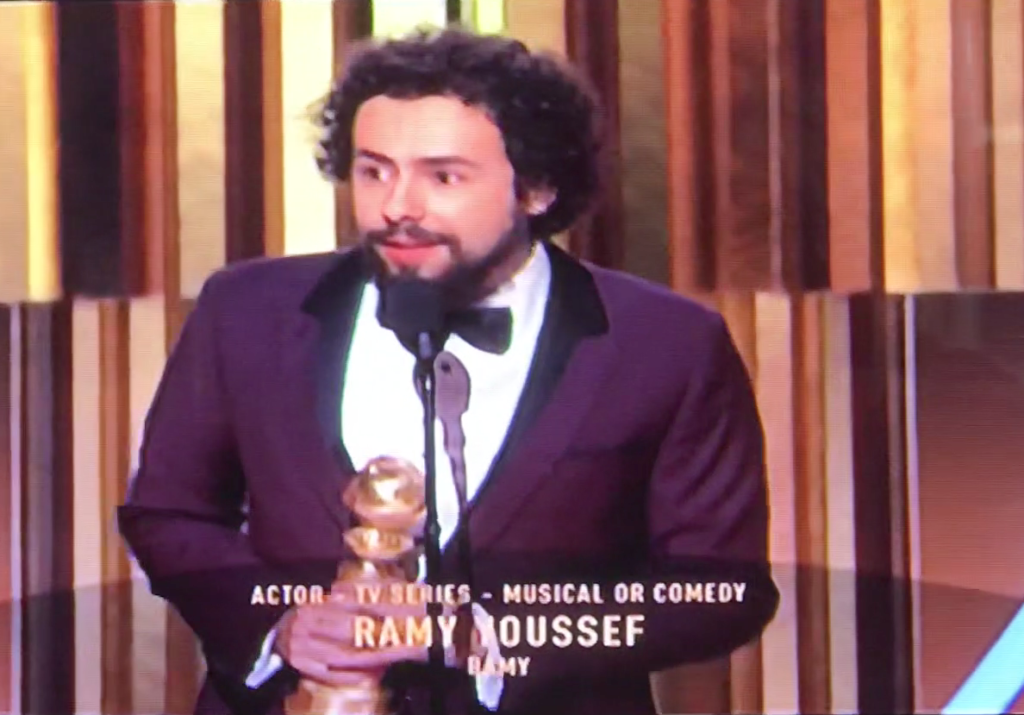 He also acknowledged his parents who were there and said his Mom was rooting for Michael Douglas to win against him because Egyptians love Michael Douglas. He looked so happy and it was a great way to start the show. Ramy's a good dude and I was really happy to see him win!
The comedy talent was so varied and ranged from Kate McKinnon, and Ellen Degeneres, to Amy Poehler, to Carole Burnett and even the award winning Laura Dern who I once did a scene with on Kroll Show.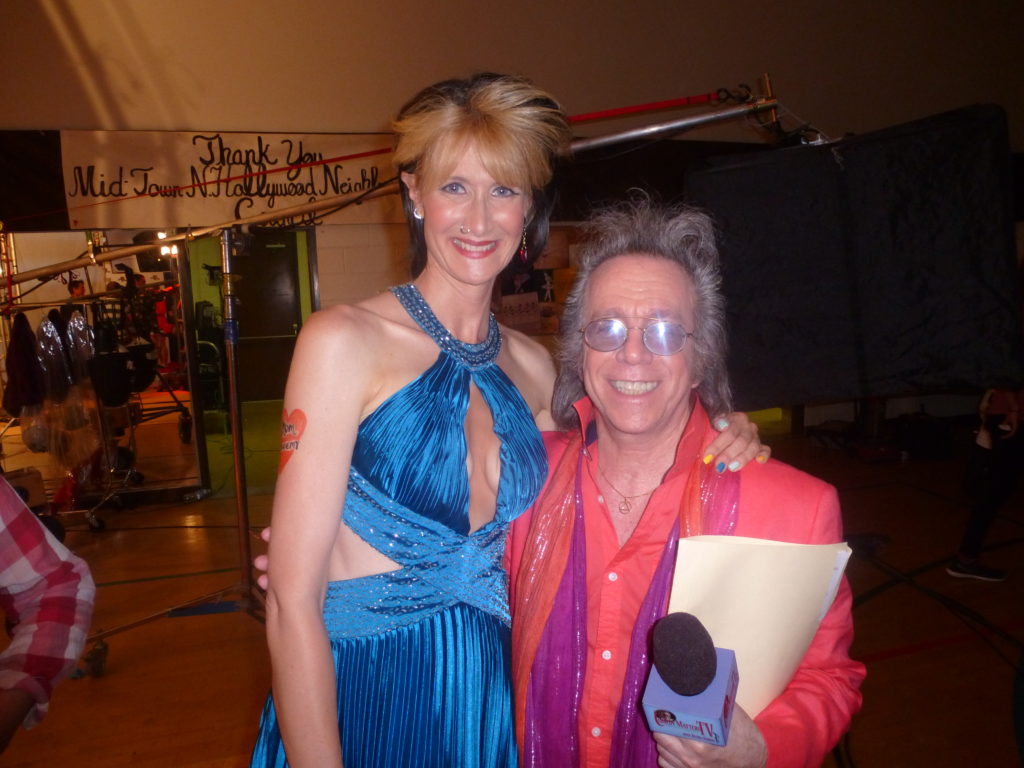 She played C-Czar the toilet baby's Mom in the Blisterito's sketch I was in with Seth Rogen, Amy Poehler, Jon Daly, Jenny Slate and Katy Perry making her comedy debut!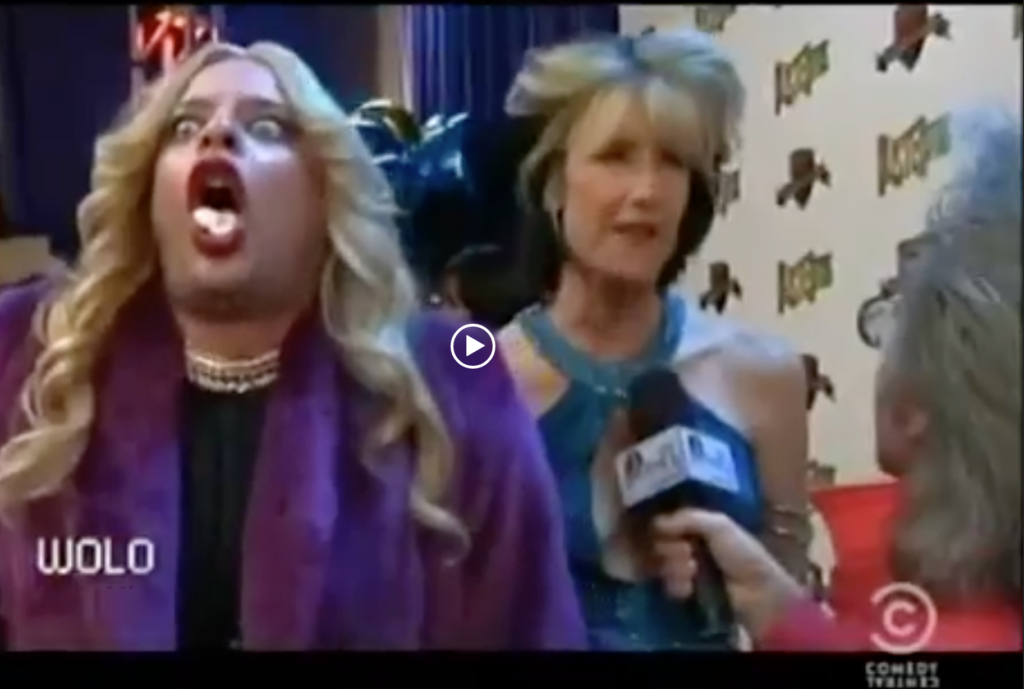 THE MIRACLE AT THE GRISLY PEAR
Two and a half years ago The Grisly Pear was just another bar with a crowded and too often uncrowded back room where people came and tried to tell some jokes.
Then two hardworking comics named Kenny Warren and Gabe Dorado came along and changed the game. They made that back room into a legit comedy club that most of the time is packed with a paying crowd. They created a loyal community of comedians and papered the walls with large foam posters of each comic which made them feel like they were part of something special and they were.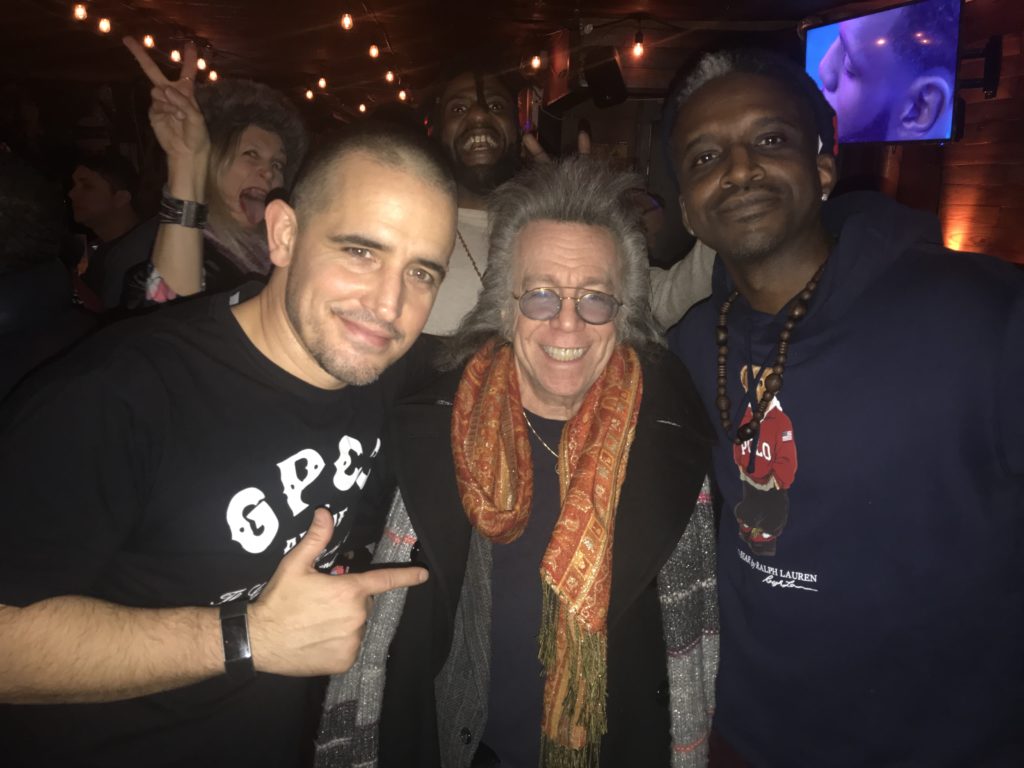 They're doing so well and are so grateful that they threw a big holiday party with food and drinks and a comedy show of course and the place was packed. I got to speak to Gabe and asked him about what they did that made the place so special. He was very humble.
Gabe: I don't think we reinvented the wheel , we just took the characteristics of a show that worked and just ran with it. The main thing is we just wanted a place where everyone could get better at comedy. That was our goal and that's why we call it "The Dojo" . It's a training zone. Every show is practice and if we can facilitate a place that gets you better and working towards your goal then it's a success."
I asked him if he and Kenny had done anything together before this. He said they knew each other from producing bar shows, and "we liked each other's shows because we were organized. The key is good organization, and having structure."
Kenny said, " I feel great that we have this kind of support coming out. There's so many dope comics here right now. We got enough talent here right now to do ten shows in a row cause there's so much talent and they just came out to celebrate with us. And I'm glad you're here as well!"
SPEAKEASY COMEDY ON 18TH STREET
Another hard working comic making moves is David Suarez, the founder of New Comic All Stars that had been doing shows in clubs around town especially Dangerfields, and now moved into a very sexy arena in a place called "The 18th Room" on 18th Street and 9th Avenue, right in the red-hot Meatpacking District.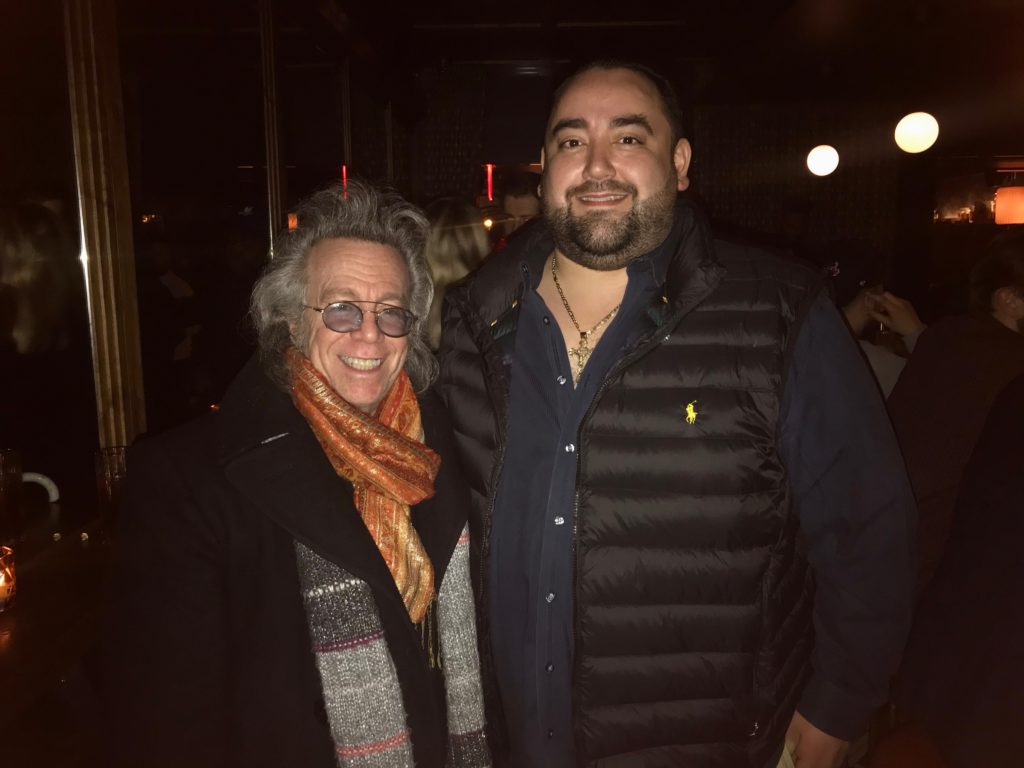 It's literally a speakeasy where you have to be okayed by a big guy at the door, leading you into a very sexy, dimly lit intimate room where you can have dinner and drinks while you laugh. Most of the patrons are pleasantly surprised when a comedy show suddenly breaks out.
The place is owned by Dave Oz who also owns another cool place called Bathtub Gin and has many friends in the entertainment business. And besides the jokes a funny thing happened as well.
There was a guy in the audience who liked what I was doing so much that he texted a comedian friend of his to ask if he knew me and the comic told him I used to be a dentist. After the show the guy came over with his girlfriend and told me the story and that he also was a dentist. We had to take a photo together.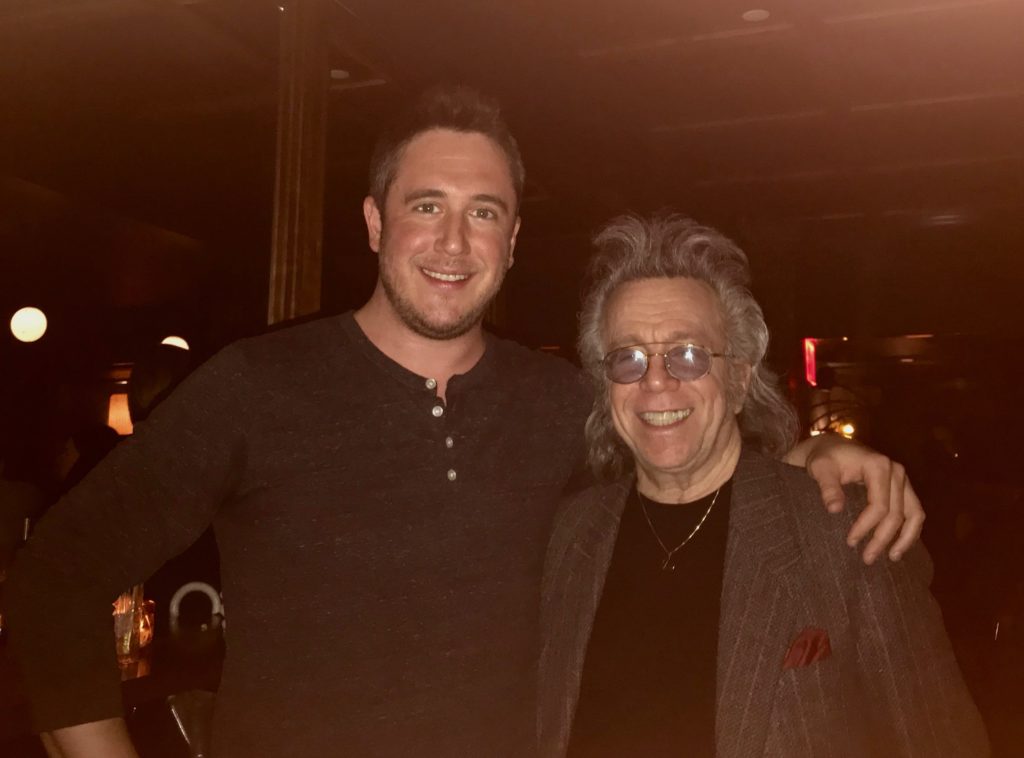 DAN SODER AND DIVERSITY
So I attended the 25,000 strong march against hate and anti-Semitism last week and right in the middle of the throng of people was Dan Soder's poster for his special "Son of Gary." It was just such a funny juxtaposition I had to take a photo!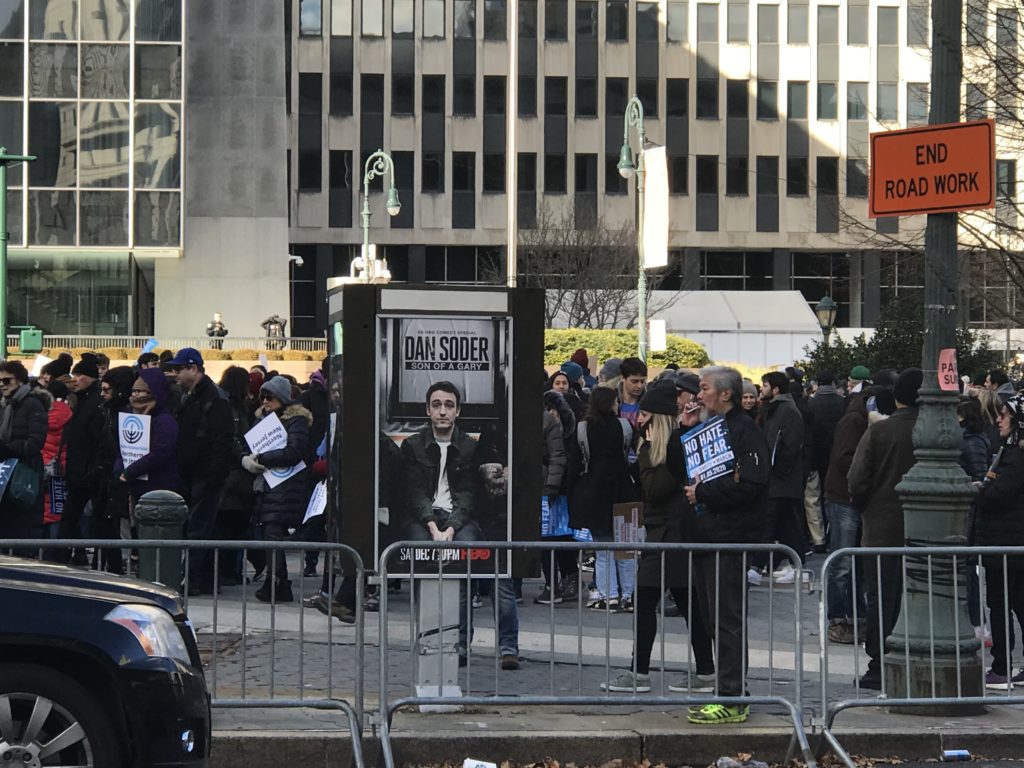 HOLIDAY PARTIES
Every year Gotham Comedy Club and Stand Up New York have their holiday parties on the same night but at least they don't do them at the same time. Gotham starts at 7 and Stand-Up starts at 9.
Both were packed. Gotham had amazing food because Chris Mazzilli goes all out in everything he does, and for a while I stood at the door with Chris greeting people as they came in. I told Chris I love greeting people and making sure they feel welcome, and he said I would make a great host. Now all I have to do is buy a club so I have a place to do that!
It would be hard to name everyone that was there because it was basically the comedy community, but a couple of memorable interactions stood out to me. Dan LaMorte said hello to me and I almost didn't recognize him. He's literally half the size he used to be. He'll have to re-write his act.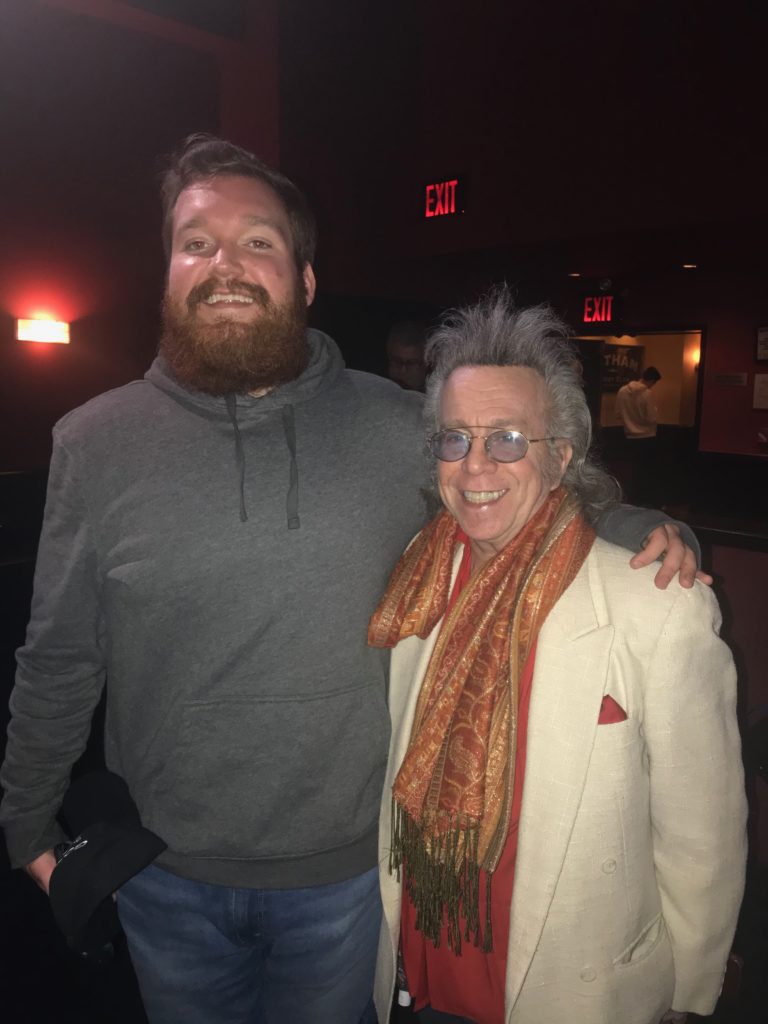 Madison Malloy, who's got a great new podcast called "Next To Madison", and recently opened for Steve Byrne finally let herself dress the way she wanted to!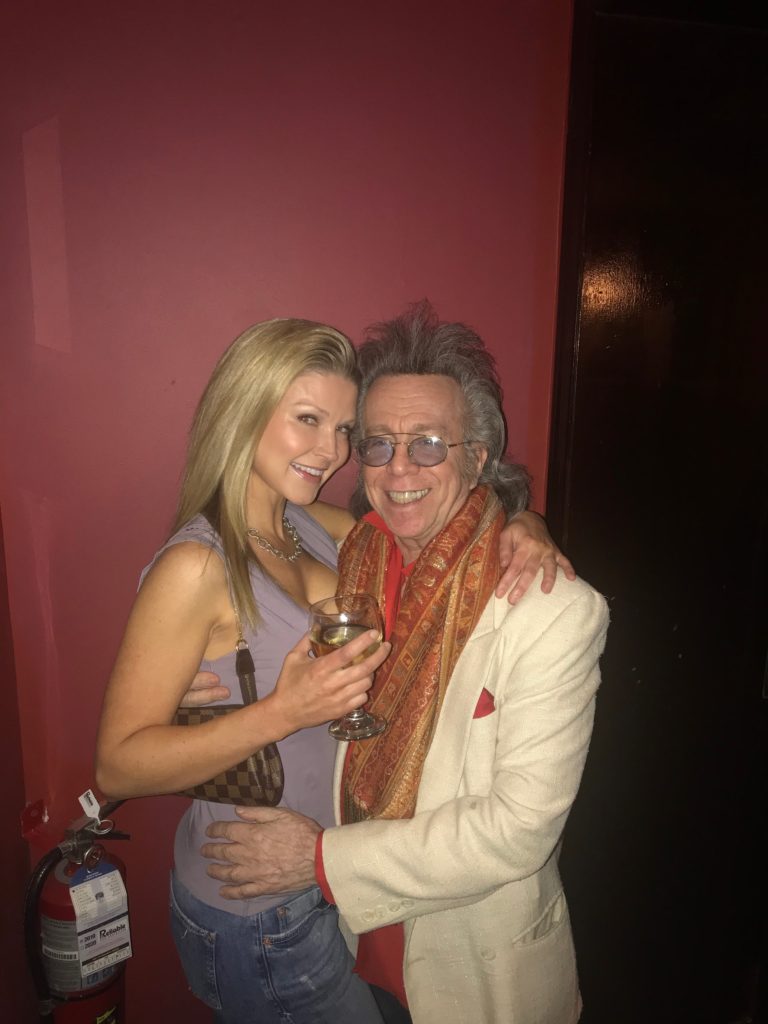 Mark Viera came over and thanked me for my support at the Angelo Lozada memorial show which he hosted so admirably as I mentioned above. It was so crazy that night that we didn't really get a chance to chat but this time we shared a big hug, and I got to thank him for doing such a great job during such a difficult time.
And comedy exec. Jodi Lieberman gave me a video from her charity Comedy Gives Back, that she organized with partners Zoe Friedman, and Amber Lawson which is described as an organization providing a safety net for stand-up comedians in need, whether for emergency financial relief, mental health or substance abuse treatment.
Sixty comedians sang an amazing song called Christmas Magic in the style of "We Are The World." I had no idea so many of my compadres could sing so beautifully. You have to listen to it.
This has been a very long column and so because even good things must come to an end I want to wish each and every one of you the Happiest of New Years and hope that 2020 brings you good health, and all the things you're supposed to have!
Love,
Jeffrey