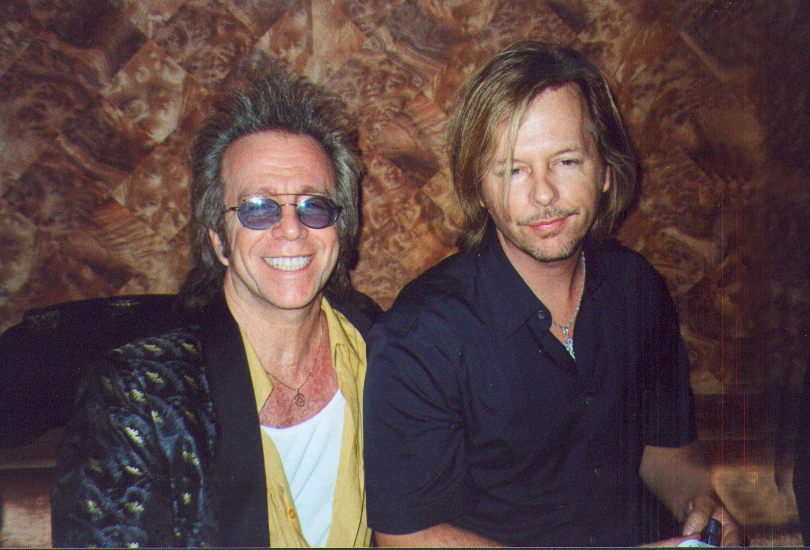 DAVID SPADE AT THE STAND
So I'm sitting at a table at The Stand catching up with Dan LaMorte who I hadn't seen in a while, and who is exactly the opposite of his name. His last name might translate to mean "the death" in Italian, but Dan is all about life, having lost 190 pounds since I first met him.
We first met years ago when he opened for me at a gig in Altoona, PA, and we met to have breakfast the next day. I was so impressed with his work ethic because as I recall he was making his way across the United States in his own car, doing gigs in every state.
When he was 23 his doctor told him he had a fatty liver, which sounds like it's not a good thing to have at any age, and he took control of his life and started running and eating right and lost the 190.
Now he's engaged to comic Natalie Cuomo, with probable marital plans for 2024, totally tatted up as is she, and they have about 800,000 followers between them. They also tour together so they get to spend lots of time together on the road. Maybe some day he'll let me open for HIM!!!
Anyway, while we're chatting he mentions to me that David Spade is about to go on downstairs in the main showroom. I hadn't seen David in many years, so of course I went down to check it out. We met originally up at SNL when I was writing for Phil Hartman. I used to go up there a lot in those days.
Needless to say David was killing it and the audience loved him. I shot a few seconds of him talking because I never post anyone saying their jokes but just to show he was there. It was his first time at The Stand, but I'm sure not the last. The manager told me his assistant called about a half hour before and said that David was in town and would like to come by and do a spot. The power of stardom!!!
When he finished his set he left the club so fast I only had time to say hello and didn't have a chance to tell him I had a feature script I wanted him to star in. Maybe he'll read this???
See the reaction he got in the video below!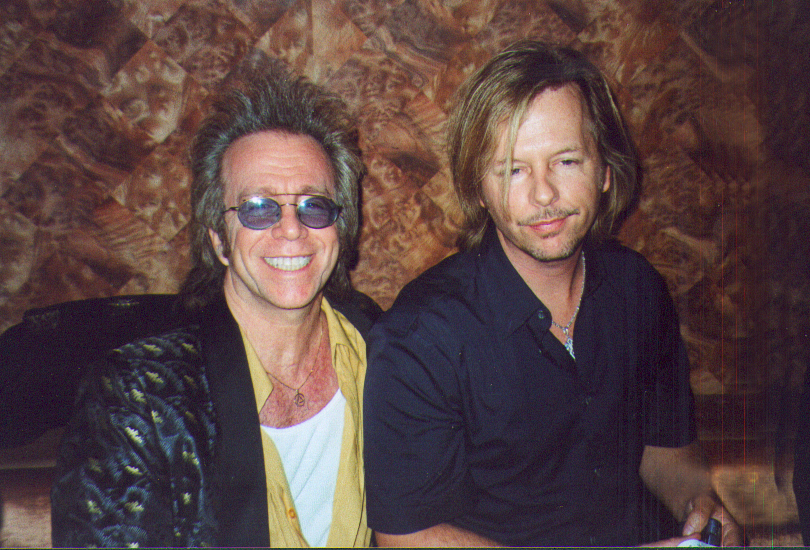 Up at the bar I ran into Tara Cannistraci and Tracey Carnazzo who does all the "Trash Talk" podcasts reviewing what goes on on the reality shows Teen Mom, 90 Day Fiance, and Catfish. She was with her co-host Noelle Winters, and they are besties since they were kids. They used to review the shows amongst themselves and decided they should do them as a podcast!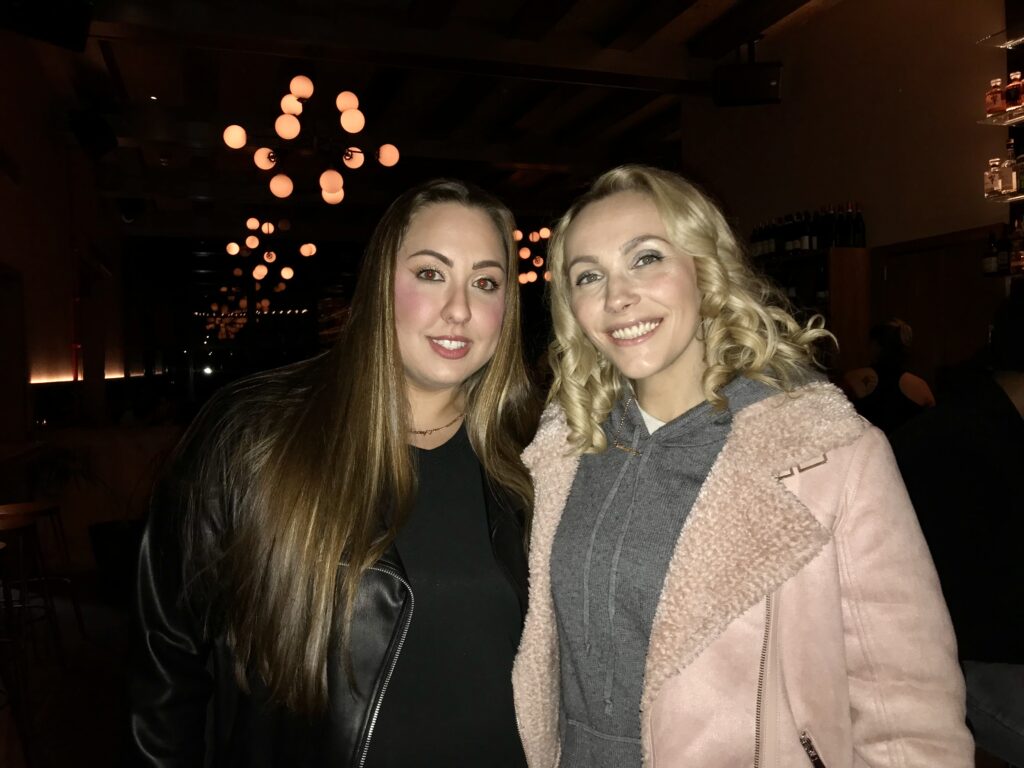 Tracey's got a lot coming up. She's opening for Adrienne Iapalucci from April 13-15th at the new, revised Yonkers Comedy Club which I'm glad to hear just re-opened under the guidance of Jeff Pichardo. Congrats to Jeff on that!!! Adrienne recently opened for Louis CK at Madison Square Garden. That had to be crazy!!!
In March from the 8th to the 11th she'll be opening for Luis J Gomez also at Yonkers, and she's real excited about opening for Hannah Berner on April 16th at The Palladium. There's always a lot of action around the bar at The Stand. Hannah Berner will also be at City Winery on March 3rd and 4th along with Joe List from Louis CK's movie "The 4th of July", and "Dice" opener Eleanor Kerrigan.
CITY WINERY KILLING IT WITH COMEDY SHOWS
If you haven't yet been to the City Winery off the West Side Highway you have to check it out. It's around 15th or 16th street and there's two rooms for comedy, a main room and "The Loft." Nick Kroll and John Mulaney play the main room and then showcase shows play The Loft.
A week or so ago, while I was jumping around, I popped by to see a bunch of my friends all on the same show. It was T.J. Miller, Anthony Devito, Mark Normand, Rachel Feinstein, Usama Siddiquee, who was hosting, and a very funny new friend Sydney Castillo, who also writes for TV. What a powerful line-up!
They had held a seat for me but it's always more fun for me to go backstage to see what people are up to, and then go out to watch the performances. That's what "jumping around" is all about!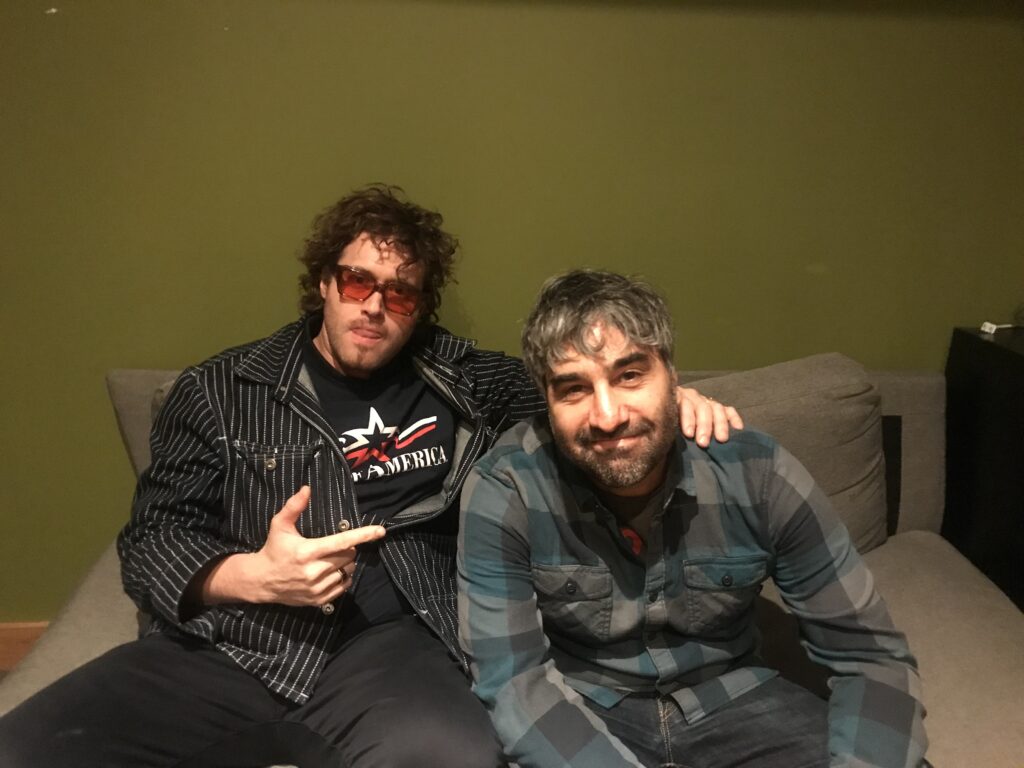 TJ's You Tube special is very special. It's called Dear Jonah and it's dedicated to and named after an audience member who seemed to have special needs and was very excited to participate in TJ's taping. I recall watching it when it first came out. I had run into TJ at The Comic Strip and he sent me an early copy to watch. To his credit TJ encouraged Jonah to participate and did not treat him like a heckler, which showed so much kindness on TJ's part.
I have to say that TJ is one of the most creative, loosest, most relaxed performers on stage that I have ever seen. You never know what he will do from playing the nose whistle to handing out things to the audience, to doing karaoke in the middle of his act! He's been a friend for a long time but what I didn't know is that he has a line of hot sauce, PLUS a line of peanut butter that comes in 3 different flavors like CHOCOLATE COCONUT ALMOND PEANUT BUTTER! All available on Amazon with his picture on the label!
It's always good memories when I see Anthony Devito because in his very early days he performed on my late show at The Comic Strip paying his comedy dues. Now he's playing all over the country. Jordan Rock and I were given the honor of being the only two comics to ever host late night. That honor was bestowed upon us by the late Richie Tienken, the owner and founder of The Strip. So many of the comics from that show are doing great like Sam Morril, Pete Davidson, and Subhah Agarwal!
Anthony also has a You Tube special called Brain Noise which he taped at the Acme in Minneapolis, and which he said is one of his favorite venues, and he got engaged too which is awesome! Congrats to Anthony!
Mark Normand will be taping a new special at the Vic Theatre in Chicago on March 18th. The Vic holds about 1,000 people, which makes it hard to invite everyone back to your room after the show. He said he's done that room before and loved it. The special will be called "From Soup to Nuts" which is perfect because the show he produced in NY was called "Hot Soup" so I guess he has a thing for soup.
I know he has a thing for comic Mae Planert because he married her! They even performed together at the Wilbur Theatre in Boston. All this good news, watching these guys grow up! (LOL) In the meantime he's touring every weekend and is repped by UTA!
Mark is such a clever writer, and I respect that so much. Writing jokes is such a distinct art form and very difficult and he's one of the best. I can't help but quote this line, … he said that the perfect name for a lesbian bar would be Clitz, because men could never find it! #hilarious
Rachel Feinstein is taping a special on April 7th and 8th, unnamed as yet and it will be taped at the Midnight Theatre. And I got to meet the producers of this show, and in Comedy Matters TV I always like to not only show the people performing in the show, but also the people who make the show happen. Without them there is no show! Congrats to Jack Fink and Julie Ray!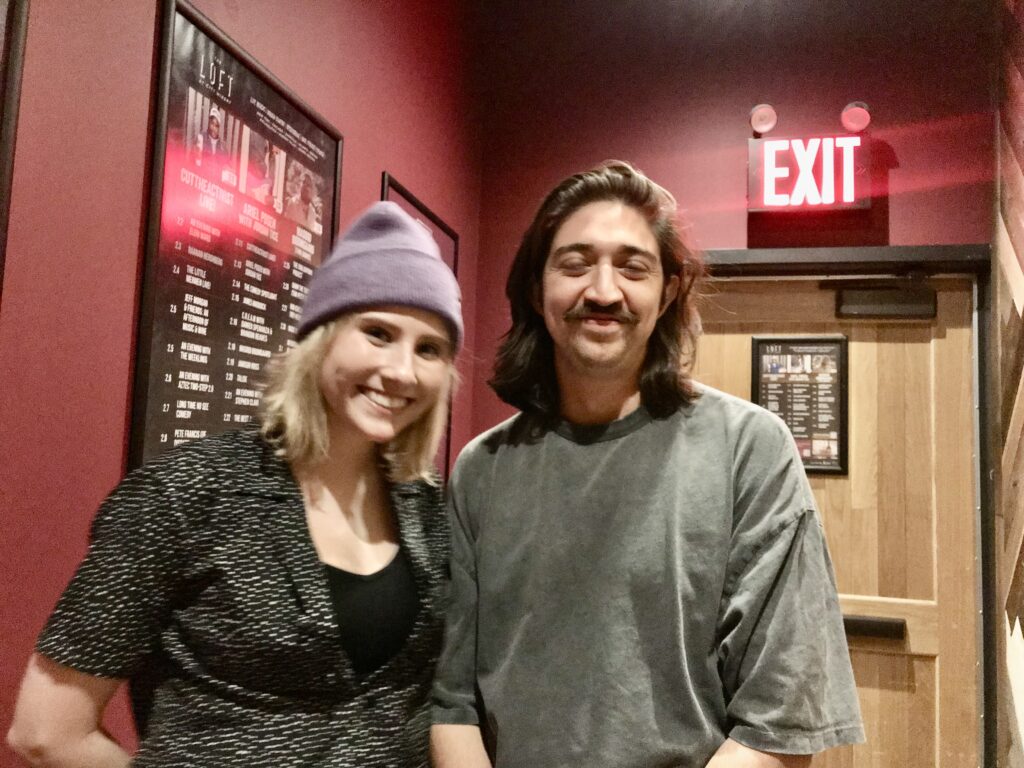 SOUR MOUSE WITH ASHLEY GAVIN
I always love finding something new or someone new to me. That's how I felt when I went down to Sour Mouse a venue on Delancey Street on the Lower East Side. I had gotten an e-mail about it but had no idea what to expect! I walked in and went down the stairs to find a huge room packed with about 250 people on a Sunday night. It was a very downtown crowd, and if you know New York you know what I mean. People look and dress differently in every part of town. The show is produced and hosted by Ashley Gavin. I had heard her name but had never seen her perform before.
She's a powerhouse of energy and talent, with a great resonant voice and she's constantly, … jokingly… chastising the audience for not responding even more forcefully than they already were. The show is about a year old, blew up on the internet, and draws that size crowd every week.
It's a very diverse crowd as Ashley described it , "a lot of Black dudes and White lesbians!" Ashley said she loves being gay, and said of herself that her name is Ashley Gavin but that she dresses more like a guy named Gavin! When she talked about abortion she categorized babies as "inside babies and outside babies!"
She doesn't know this but when she was taping her set on her phone, about 20 minutes in, an audience member accidentally bumped into the tripod and knocked it over. It was on it's way down when I grabbed it and set it upright again. #hero
It was a great line-up with every comic doing 12-15 minute sets, which is a nice amount of time to be given. I had never seen any of the other comics before but they were all good. She told one comic named Yemi that he added to the diversity of the show, not because he was Black but because he was straight!
Kate Willett was very clever and had a really laid back delivery. She came out in a dress, declared herself bisexual and said she's been doing 3-ways with married couples and just once she'd like to be involved in something where there's not a 3rd person crying!
Ashley told me she's planning on shooting a special in a few weeks that will be on You Tube! I plan to go back and really diversify the room! (LOL)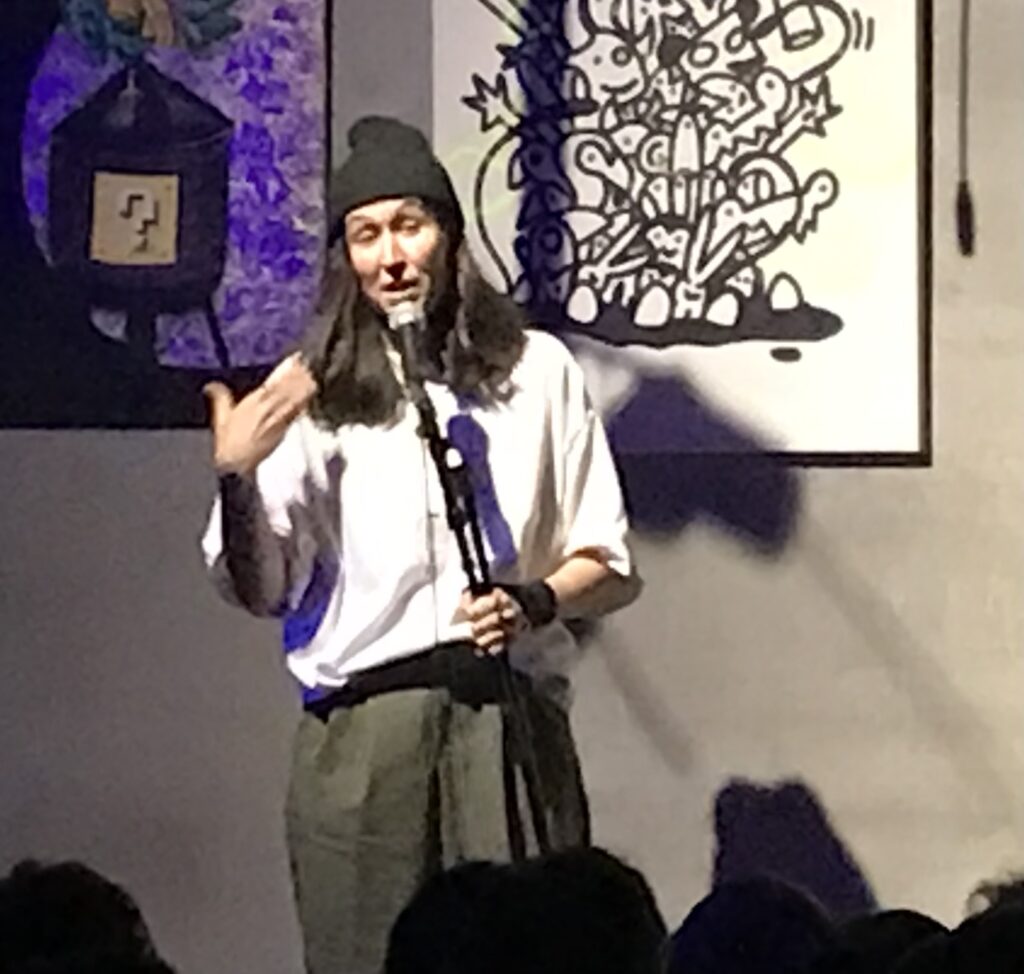 PAUL VIRZI HEADLINE SHOW AT GOTHAM
Paul has developed quite a following and it's a very big deal to headline the 300 seat Gotham Comedy Club and sell it out which is what Paul did. Twice!!! He was the first headline act of 2023 and was very excited to be doing it.
I always get to the show early to take my table which is Table 69. That's the table that owner Chris Mazzilli gave me so it would be easier for me to take photos. It's the only table that doesn't have a number on it because people keep stealing it. This night that table was taken. I didn't know by whom till after the show when we were all in the green room. It was Paul's wife Stacey and his agent.
Paul totally crushed the show I was at and he has a really loyal following. All fans! People came out not just to see a comedy show but to see HIM!!! He did a particularly funny bit on why there are no Italian astronauts, and paces the stage like a tiger while he's performing. Lots of nice family stuff cause he's the ultimate family man who you can tell really enjoys being a Dad to his son Lucas and daughter Sofia.
Paul got a lot of experience playing for big audiences in his days opening for Bill Burr, and I recall back in 2017 attending the taping of what I believe was Paul's first special for Comedy Central at the Tarrytown Music Hall. It was called "I'll Say This" and it was produced by Bill Burr and Pete Davidson.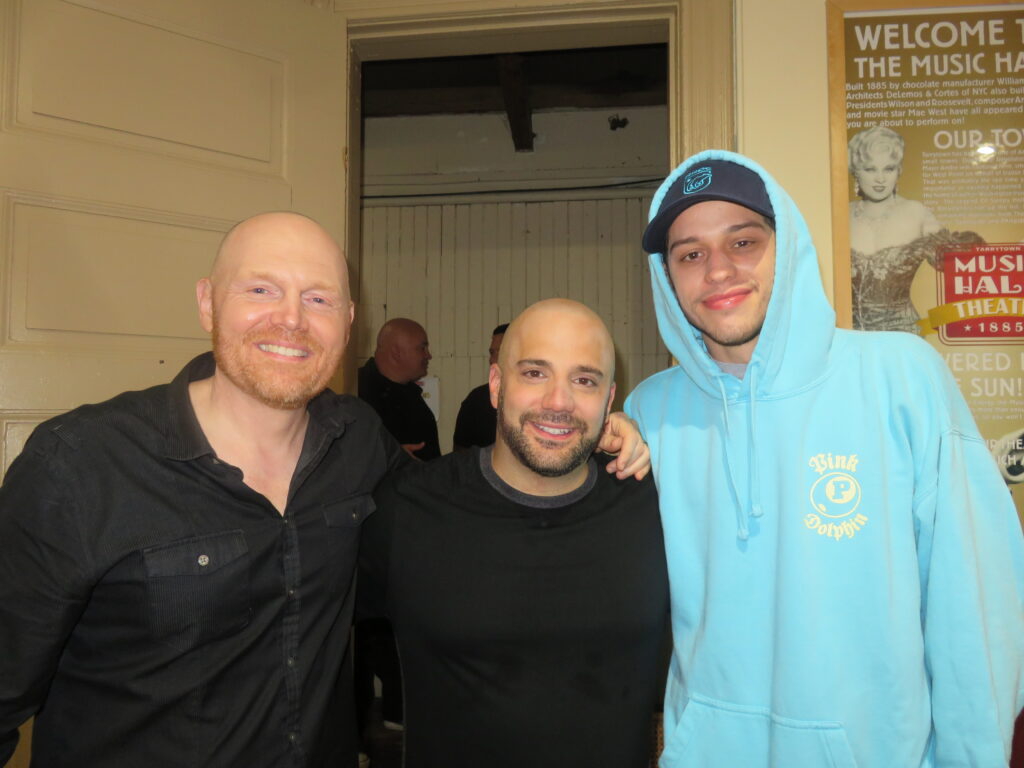 Paul has a new Netflix special called "Nocturnal Emissions", he'll be seen in a couple of scenes in the season finale of Bupkis, Pete Davidson's upcoming show, and recently did Chazz Palminteri's show at Chazz's home in Westchester, after Chazz saw his Netflix special and reached out to him.
Richie Redding hosted the show, and Rich headlined the new beautiful Grisly Pear club on Feb. 23rd, owned by Kenny Warren and Gabe Dorado. Also on the bill were Ariel Elias, and Tyler Horvath who was hosting a show in Madison, WI when he met Paul and Paul invited him to open for him.
I myself got the opportunity to open for Paul one night up at Levity Live and it was really so fun. Paul is a great guy. He also came to the Comedy Matters TV crib once so we could tape an episode of his podcast "The Virzi Effect."
After the show I asked Paul what his message would be to the world from the material he does on stage and he said " Don't take things so seriously. Enjoy your family and enjoy your life" which he seems to do. Paul's on his way to doing very big things! So glad he's my friend!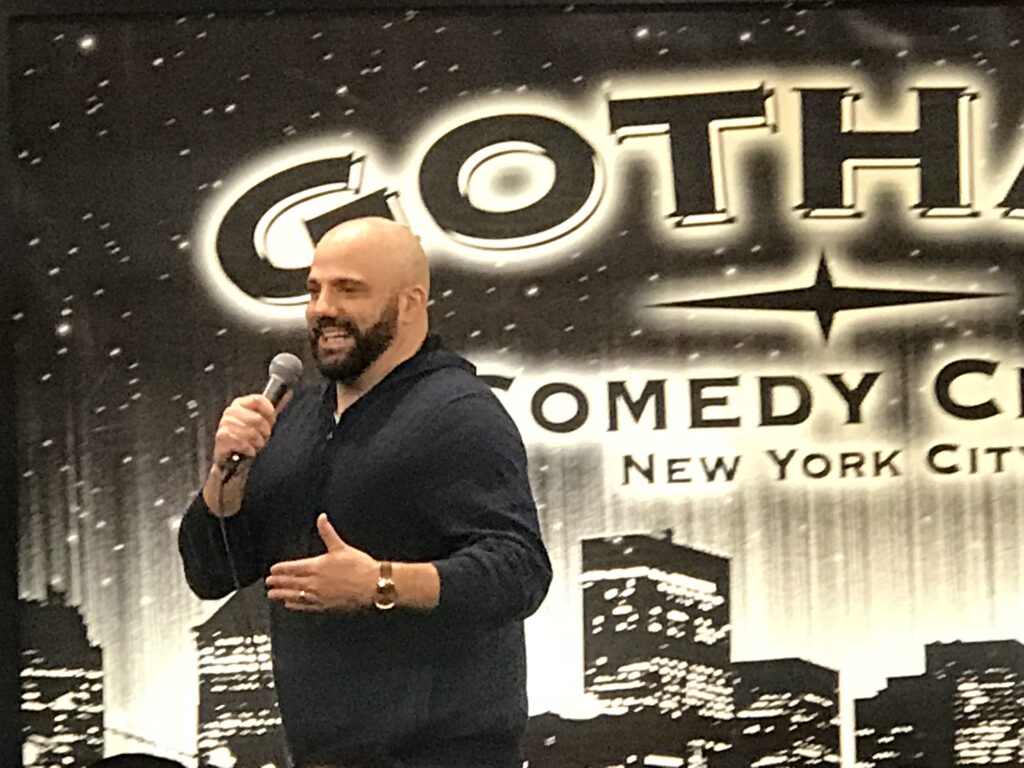 GRAND OPENING OF NY COMEDY CLUB IN STAMFORD, CT
Emilio Savone, Scott Lindner and new partner Jim Panels are killing it in the race to see who can own the most clubs! They just opened their 5th club in Stamford, CT and it's really huge and beautiful. It's the 3rd in the NYCC series and they have one in Atlantic City and one in Fairfield, CT where I once performed with Artie Lange. Emilio contacted me and said it wouldn't be official if I wasn't there (#sonice) so I drove out and was so glad I did.
When I got there there were already lines of people waiting to get in and the signage was blasting! I had to take out my phone and film it because the excitement was palpable. There was a woman beside me who was also filming and it wasn't until later backstage that I found out it was Emilio's Mom! (LOL)
The line-up was crazy! James Mattern, one of the best hosts in town and who opens for Chris Distefano was the host for the evening and really got the crowd warmed up. It was Ashley Austin Morris, Subhah Agarwal, Chuck Nice, Beecher, and Paul Virzi from the previous paragraph, (LOL)!
Chris Distefano who is handled by ComicAccess the management team of Emilio, Scott and Jim will be the first headliner which will have happened by the time you read this! This past weekend it was Andrew Schulz, totally sold out and no surprise on that!!! The club is huge, like 4500 square feet and replaced a burger joint that closed due to the pandemic.
The green room is the size of some comedy clubs and has comfortable couches like in a fancy doctor's waiting room, and a whole area for hair and make-up plus a pool table so comics have a really comfortable space to just chill before they go on.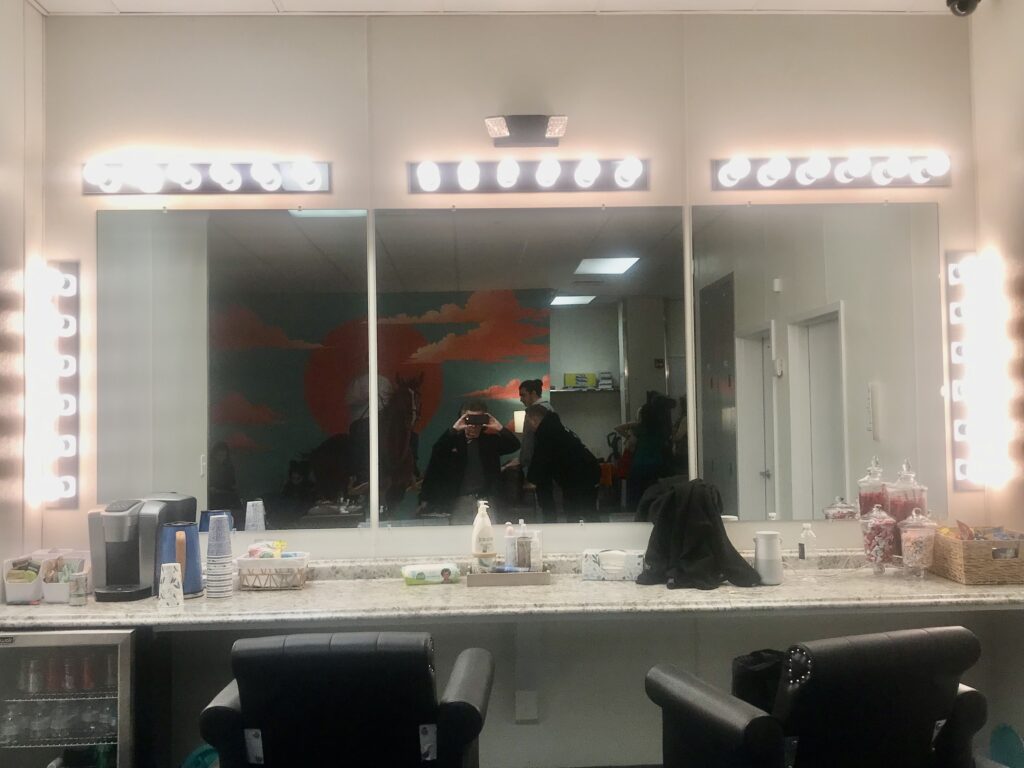 It was great to see Subhah again who was one of the comics who started on my late night show at The Comic Strip. Now she's performing all over, moved to LA, and just got married three months ago to a normie, … meaning a guy who's not in comedy! In March she'll be doing two shows at the Arcade Theatre in Pittsburgh for her 3rd time at that venue! (That means they like her!!!)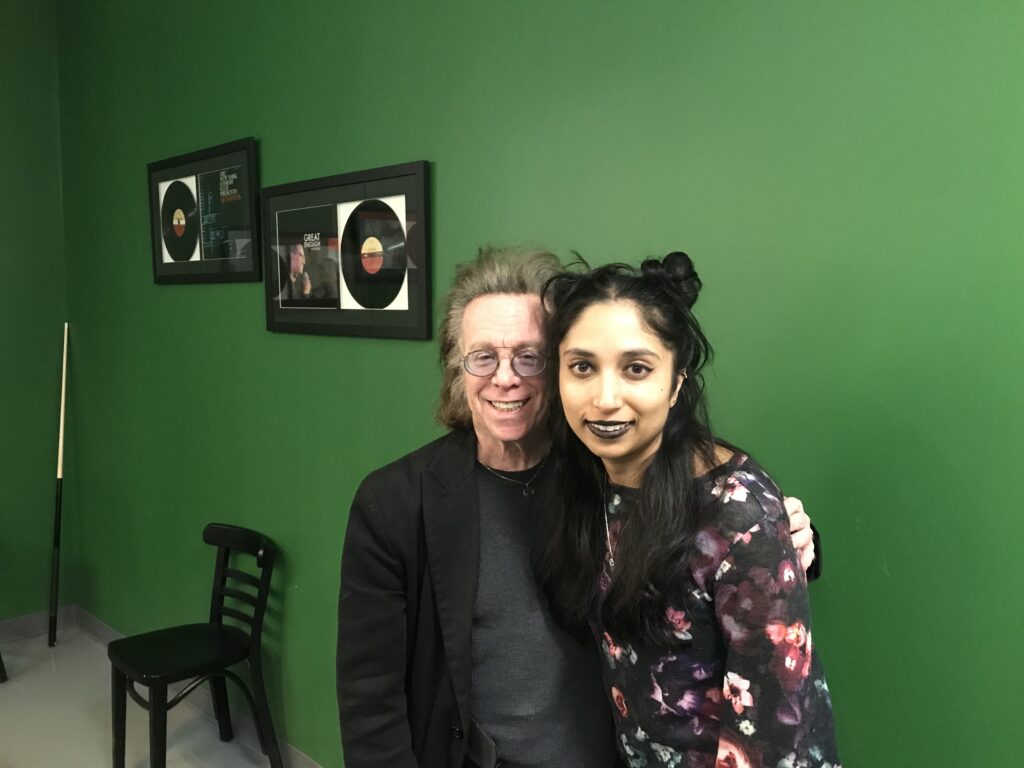 And it was great to catch up with my old friend Chuck Nice definitely one of the classiest and funniest guys in the business. I always tell him that one of the things that impresses me the most about his performance is how he switches seamlessly from street to eloquent, and it's just so smooth.
He's the host of Brain Games on Disney+ and he told the audience he doesn't care if they watch it, as long as they turn it on! (LOL) And for the last 11 years he's been the co-host of Star Talk on You Tube, with Neil deGrasse Tyson. I have such talented friends!!!
During the writing of this column Emilio texted me to tell me that they've been selling out without even having a headliner, just with showcase shows, and the place holds over 200 people. Stamford hasn't had a comedy club for 30 years and they are so happy to be able to laugh again! The night I was there it was so crowded they had to set up a special seat for me on the aisle just so I could move around and get my photos!
So major congrats to Emilio, Scott and Jim and also to booker Candi Clare!!!
And that seems to be it for this column. Just like summer, it goes so fast! See you real soon for more Comedy Matters news on what's happening in the New York comedy scene!