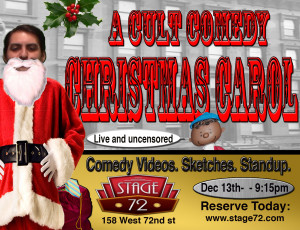 I feel very fortunate to be considered part of Cult Comedy Pictures, a group of very talented, very funny, and very creative performers.  Their forte are comedy videos which is what drew me to them in the first place!
The core group is made up of George Gaffney, Brent Katz, Lance Rizzo, Jake Hart, Mark Becker, Justin Williams, Jose Vega, Jaclyn Brown, Akash Bhasin, and Candice Guardino, and they bring in regulars like comic/producer Alyse Kenny and myself.
The holiday show was an extravaganza of comedy, videos and musical parodies that took place at Rick Newman's gorgeous new theatre Stage 72, which used to be known as The Triad Theatre on West 72nd Street, and the place was jam packed.  They had to insert two people next to me with a shoehorn!
The show opened with Jake Hart, the consummate host due to his commanding presence, (in a bright red suit no less!), and a booming voice which translates to a beautiful singing voice, and he brought up the hilarious Stone Brothers, Adam and Todd Stone who I see often performing at Friars events and clubs all over town.
I love when they speak at the same time.  It's silly and always makes me laugh.  They are very likable and funny, and I understand they decided to be twins at a very early age!
The show was a succession of funny sketches and videos.  One of my favorites is the Black Israelites with George Gaffney, Justin Williams (with the really big hat), and Jose Vega who plays a character called Sup Son!  They are HYSTERICAL!  George works very hard both behind the camera and in front of the camera, and does really great character work, as well as a lot of the editing of the video pieces.
Brent Katz spends most of his time behind the camera but also appears in some of the sketches as well!
I brought the troupe in to film a sketch I wrote with Lance Rizzo for Countess LuAnn DeLesseps and Princess Carole Radziwill of Bravo TV's Real Housewives of New York, which will run in the new season, starting in March, and they came through with a very funny video in a very short amount of time.
Truth be told they worked feverishly until the very last minute and actually got it finished literally 20 minutes before I left for the theatre where it was to be shown!  Luckily for me, I had a very strong heart, and very strong faith in them that they'd get it done, and they came through with flying colors!  Real Housewives of New York means NATIONAL exposure!
Alyse Kenny came up and she and Jake did a sketch which involved a "naughty or nice" contest, and a holiday give-away of prizes to the audience.
And Jaclyn Brown and Mark Becker did a hysterical musical sketch with Jaclyn's Dad a famous musician who accompanied them on the guitar.   Mark wound up shirtless exposing a sculptured body that put everyone else to shame!  Great abs!
And Candace Guardino and Jake Hart teamed up to do a little musical number which parodied Dean Martin's "Baby It's Cold Outside" under the title "Baby, It's Cult Outside!".  Can't wait for Candace to restart her hit off-Broadway show Italian Bred which Lance Rizzo is helping to produce, and I am participating in as well!
The show closed with the very sharp comedy of the always funny Leighann Lord, who's an old friend and who I enjoy every time I see her perform!
But the high point of the evening for me was the group's presentation to me of a very special award, which turned out to be a manhole cover with my face on it!  It was hysterical and I have it now in my apartment as a great piece of memorabilia!
Brent Katz filmed Lance Rizzo and I in the theatre district on 42nd Street one night in the frigid cold, and Lance presented me with the award on behalf of the rest of the group.  You can see my reaction in the video below:
I said to him at the time while we were shivering in the cold, people have no idea what some people go through just to make other people laugh.  The audience was all warm and snuggly in their homes while we were out in the arctic cold, freezing our butts off, busy presenting me with a manhole cover!
And the truth is I can't wait to do it again! (LOLOL)  We're supposed to do a series of funny, sexy videos, with big name comics and gorgeous girls, so stay tuned for that!
Cult Comedy Pictures rules!!!  Check out Mike Sgroi's article on Cult Comedy Pictures as well!