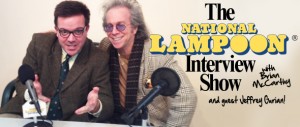 I ran into Brian McCarthy from National Lampoon Radio's Interview Show recently at a party, and he reminded me of when we first met back in the 90's.
He was kind of new in town, and said he used to see me at many parties and events with spectacular women, and always wondered who I was, but was too nervous to come over and say hello! (LOL)
Then one day he realized we had a mutual friend named Chris Walsch. Chris and I had a comedy sketch troupe that disbanded before we got to do any performances, but we were always hysterical laughing, and I wish I knew what ever happened to him. Brian asked Chris who I was and he told him to the best of his ability! (LOL)
Thankfully the ensuing years have given Brian more courage because the evening I mentioned above, he did come over to say hello, and we had so much fun reminiscing that he invited me to be a guest on his interview show. He and producer Marty Dundics do this really fun show, and I was a guest for about an hour.
You can check it out in the video below! We really had lots of fun!