Every year for the last 7 years without fail, Bill Burr and comedy exec. Maureen Taran organize a special tribute to the late, great Patrice O'Neal. It's truly amazing the respect that Patrice still gets. He left us on Nov. 29, 2011, and the love is still there.
It had a lot to do with the man himself, because other comedians have transitioned to that other plane, but people don't talk about them as much, or do annual benefits in their honor. I always say that Patrice was much more than just a comedian. He was a comedy philosopher. He had a well thought out point of view, on many things, especially on how men should act around women.
And as I said the love for Patrice is just as strong as ever. I personally come across it, without exaggerating, probably on a weekly basis. People write to me by e-mail, or on FB or even stop me in the street and give me props for what we did on The Black Phillip Show. I'm always surprised because it was back in 2008, but people say that what we did changed their lives. That's heavy for a radio show. And it was one of the greatest honors of my career to have been Patrice's co-host on that show. We had a very unique relationship and one that his wife Vondecarlo could attest to.
You can hear it yourself in this rare phone call from Patrice to me the first night we did the Black Phillip Show together. it took a lot to get Patrice excited and he was not known for just throwing around compliments but he called me at 4:05 A.M. because he couldn't wait till the morning to tell me how much he liked what we did together.
Anyway, Bill and Maureen hold the show at City Center, a venue in the heart of Manhattan which according to Google holds 2750 people, and every one of those 2750 people were there last night to see an incredible line-up of talent.  Rich Vos MC'ed a show that Patrice would have been proud of.
Although Rich said that it if had been a benefit for him all these years, … maybe Patrice would have shown up, … one year.  And then Rich brought up Joe List who ( and I'm sure it wasn't for me) happened to do a lot of dental oriented material which is not a common theme. He even said that in root canal you take out the roots and throw them away and I meant to tell him that it's the nerves they take out not the roots, but hopefully he'll read this and find out.
Aussie comic Brendan Burns made the mistake of making fun of Vos, and Vos came back with nuclear weapons. He did that with every comic that made jokes at his expense, which was just about every one of them. And later at the after-party, his wife comic Bonnie McFarlane told me she was backstage with Rich and offered suggestions to him for the comebacks!
At the after party over hors-d'oeuvres I told Vos that he was like President Trump (not anything political), who doesn't let anyone say anything about him without clapping back twice as hard. No one gets away with anything.
Mark Normand had some good advice for the audience.  He said it was ok to be offended, just shut up and keep it to yourself. Michele Wolf made fun of Vos' foot size and he made fun of her voice. She also talked about otters raping baby seals, which she swore to be true, and white women's privilege, which she also swore was true, and as she left the stage Vos asked for a big hand for Michael Rappaport.
Gary Gulman showed his prowess as a wordsmith as usual by deconstructing the word "ruthless" as having no ruth, like "Buzzi" or "Bader Ginsberg", and went on to use words like hijinx, and tomfoolery. Writing these notes in the dark by the way was very difficult. I could hardly read my writing. And photos were out of the question. They had everyone place their phones in Yondr bags which in case you don't know is a special bag that locks the phone inside of it until you leave. They literally leave you holding the bag!
After mine was locked I was worried that I had left the ringer on and that I'd get a call during the show and wouldn't be able to turn off my phone  because it was locked in that stupid bag, but I didn't want to leave to have it checked.
The music was hot and was supplied by Cipha Sounds who I had just seen the night before at Chelsea Music Hall where he performed on Ryan Ling's Bird Brain Comedy Show, but this night he was spinning hip-hop in between acts.
And then it was Chris Redd from SNL followed by Bill Burr who closed the amazing show. Everybody killed. No surprise there.
And then it was off to the after-party at a place called Esther and Carol's down on Broome Street. It's the lounge of the Soho Hotel and it was arranged by the owners of The Stand who host the after-party every year. Unfortunately they are still waiting for their new two-level club to be finished down on West 16th Street, so in the meantime they've been doing pop-up shows in this cool lounge.
I walked in early and Bill was there talking to Maureen, and he saw me out of the corner of his eye and because he takes pleasure in torturing me, made sure to say something very loud like, "I sure hope that guy Jeffrey Gurian doesn't come".  I laughed and told him it was too late that I had already snuck in.
They had the whole staff there including owner Cris Italia, Joe Harary, and the always lovely Adele Carollo, and they had good food and drinks.  All of the comics who performed were there, as well as Ronny Chieng, Joe Bartnick who opens for Bill, Luisa Diez, Bonnie McFarlane who I spoke to the longest of anyone, and Krystyna Hutchinson who was also celebrating her birthday and came in with Wendi Starling, whose hair is now short and dark and I almost didn't recognize her.
But the highlight of the party for me was when I heard someone calling out my name and I turned to see Patrice's Mom Georgia calling me over to say hello. She was sitting in the balcony with her daughter Zinder, because she made it down this long flight of stairs which was not easy for her, and they wanted her to sit in a safe place.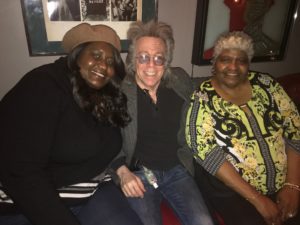 She's always so gracious and we reminisced about Patrice and how great he was, and I told her how many times people contact me about Black Phillip and she said he always loved that show so much.  Then we took the photo you see above and for me that was the highlight of the evening.
I didn't get a photo with Bill because I never know how to approach the man! (LOL) When he was getting ready to leave I walked over to say goodnight and he was talking with Ronny Chieng but he stopped his conversation to yell out, " Jeffrey you have to stop crashing parties", and I was concerned that Ronny didn't know he was kidding!
So I decided to post some of the many photos that Bill and I have taken over the years, starting back in 2005. Great job Bill! Hope to sneak into #8 next year too!