I got to cover the red carpet for one of Comedy Central's most exciting nights, the first annual Comedy Awards at The Hammerstein Ballroom on West 34th Street in Manhattan.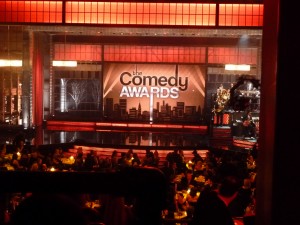 This is the first ever multi-network, multi-platform event dedicated to honoring and celebrating the world of comedy, and it's not a moment too soon!  People are being funny at an ever increasing rate.  Soon the entire planet will be absolutely hysterical, …  except for certain unnamed countries where laughing is still considered a crime!
The event airs Sunday, April 10th at 9 P.M.  simultaneouly across MTV Networks, Comedy Central, Spike TV, TV Land, VH1, and Nick at Nite.  In other words you have to try hard to miss this show.  If you miss this show, it is obvious that you are determined not to have a good time in your life.
The show will honor not only stand-ups but also writers, directors, sit-coms and just about everything and anyone who ever made you smile!  The talent was amazing.  Bruce Willis presented an award, and for some reason grabbed himself during the presentation!
As I got set up on the red carpet, with my assistant Sean Mannion manning my new Sony VG Hi-Def camera and my Sennheiser mic with the Comedy Matters flag, and the wireless set-up, (LOL) I noticed that Christian Finnegan was hosting the red carpet.  When I went over to congratulate him, he played it off very humbly, but I convinced him it was a great honor.
Aileen Budow ran the red carpet very efficiently as she always does with the help of Eve Kenny.
I got to interview Jon Stewart who I had not seen in a long time, and who acknowledged that fact on camera, Will Ferrell, Olivia Munn, The Gregory Brothers, Mark DuPlass who wrote, produced and directed Cyrus, and who was there with his beautiful actress wife Katie Aselton, Craig Robinson, and Louis CK who I got to congratulate for being honored this coming summer in Montreal as Comedy Person of the Year.  Many of them did a little promo for Comedy Matters. Check it out here!
This night, he was up for "Breakthrough Performer" against Aziz Ansari, Ty Burrell, Whitney Cummings, Danny McBride, Emma Stone, Daniel Tosh, and Kristen Wiig, and if you promise not to tell anyone, I'll confide in you that he won!  Do you promise?  If not, I won't tell you!

I also got to see one of my favorites Kristen Schaal who recently hosted the Writers Guild Awards, and who for whatever reason, didn't answer an e-mail I sent her telling her I was coming to see her.
She said that Nick Kroll had mentioned to her that I said "Kristen didn't answer me", and she was so sweet, and apologized, and I told her next time I'm sending her two e-mails at a time to make sure she sees it!

Kristen Wiig's handler got so upset that I didn't recognize Kristen that she didn't bring her over to talk to me.  For some reason Kristen looked different to me that day, but I was surprised her PR person would react that way. Maybe she was a little stressed?

The Roots came over to chat, mainly because they told me they dug my hair! Those are guys who are not afraid to express themselves through their hairstyles, especially Questlove!

I explained to them my theory that most men wear their hair like they're embarrassed for having any.  Almost like an apology.  Sorry I have hair.  I'll try and wear it in a way you don't notice.  Let's see, is this short enough, and non-descript enough for you???

Jimmy Fallon was out of town, but they were "representing" as the house band for the show.

I had been waiting patiently on the red carpet hoping to see Tracy Morgan who was there to present Eddie Murphy with the Comedy Icon Award.

Tracy told me he would try to make an appearance at my Diabetes Comedy Fundraiser, "Laugh at Diabetes" on April 14th at The Comic Strip but when I called him to confirm, his number had changed, and I couldn't get the new one.

I stood on the red carpet freezing my butt off cause I took off my coat so everyone could see my nice tux ( it was Black Tie!), and just as I walked away to get my coat to warm up for a minute Tracy breezed right on by.  Sean tried to alert me, but it was too late, and I never got to find Tracy in the madness that ensued afterwards.  Very frustrating!

So if any of you know how to reach Tracy, please ask him to contact me about this coming Thursday, April 14th at 8 P.M. at The Comic Strip at 1568 Second Avenue between 81st and 82nd Street.  Tracy himself is battling Diabetes which is why I was hoping he'd make an appearance.

Also there was Bill Murray, who presented an award to David Letterman who was actually there to accept it, TIna Fey, Ricky Gervais, Jon Cryer, who was crying about what happened with Charlie Sheen, Stephen Colbert who threw everyone else from The Daily Show off the stage so he could "faux rant" about Jon Stewart, Alec Baldwin, who received an award from Kick-Ass's Chloe Moretz… I mean nobody but Comedy Central gets all these people to show up!

One of the coolest things happened when I ran into my old buddy James Dixon of Dixon Talent.  I know James from his days as an agent at William Morris when he used to pal around with another agent named Mike August.  James has become a powerhouse in entertainment and opened Dixon Talent where he manages some of the biggest names in comedy like John Stewart and Stephen Colbert to name just two.

After the show, James and I were catching up when Jon Stewart came by, and James said to Jon, " You know Jeffrey Gurian right?"  And Jon said, " Sure I do."  And then James himself was kind enough to snap a photo of Jon and I, since my assistant Sean had to leave early to celebrate his wife Jessica's birthday!  Besides being an amazing manager, James takes a good photo, don't you think???

I'll be writing more about this exciting event in the days that follow but this will give you a little preview of what to expect.