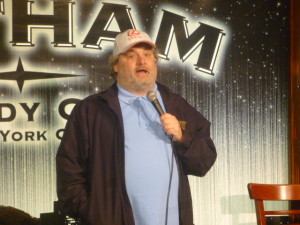 So great to see Artie Lange back on stage again, barely a month after coming out of the hospital due to an episode of "diabetic shock"!
Artie did a late show the other night at Gotham Comedy Club and was in rare form.  He lost 25 pounds and looked great!  He was taping material for an upcoming TV special but this particular tape he explained was for "the lawyers", who he jokingly guessed would probably not like 90% of it! (LOL)
Artie is so relaxed before he goes onstage that he just sat in the back of the room, waiting for Rich Francese to finish his opening set, and both I and Richie Tienken the owner of The Comic Strip, were able to go over and say "Hi".   A lot of comics sequester themselves in their dressing room before a show, but Artie doesn't need to do that.  He's just so relaxed, and confident in his ability to make people laugh.  
He also makes himself available to his fans, and talks openly about every single thing he's been through, the hospitals, the mental wards, the heroin usage, and then manages to make every single incident funny.
He even posts self-deprecating Tweets about himself like the one he got from a supposed "fan" who wrote, "Too bad you didn't croak, waterpig!"    Artie didn't seem to care, but I personally, was so offended by that Tweet!  Only small insignificant people who feel they have no power in the world use anonymity to write hateful and heinous remarks to people who have accomplished so much in their lives.
To write something like that to a guy like Artie who is so talented and one of the nicest guys in the world, plus who has a history of a suicide attempt, is so disgusting to me.  It's just another form of cyber-bullying, and I hope that even though Artie jokes about it, that on some level he doesn't hold onto that negative energy, knowing that there are such sick people in the world.
I admire Artie for being able to read it, and actually go to the trouble of re-tweeting it.  I hope that someday I am confident enough to do something like that!  Long Live Artie Lange!