The Friars Club held a major event last night to rename the famed monastery in honor of comedy icon Jerry Lewis.
Fifty-fifth street in Manhattan , which is known as Friars Way, was blocked off for a champagne celebration renaming the historic building.  It was packed with celebs and media names that came out to honor Jerry, and they even created a special star for him to be placed as the first star in a "Walk of Fame" like they have in Hollywood.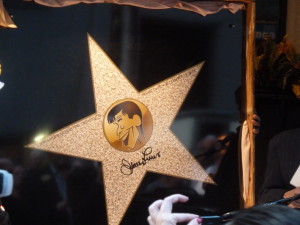 Then they gave Jerry a huge pair of red scissors for a ribbon cutting ceremony!
Some of the attendees were Vincent Pastore, from The Sopranos, Steven ( Little Steven) Van Zandt from The Sopranos, and Bruce Springsteen's E-Street Band, Marvin Scott, ex-Mayor David Dinkins, Gilbert Gottfried, Pat Cooper, Bill Boggs, Rick Newman and his wife Chrissy, Tamsen Fadal, Joe Franklin, Jackie Martling, Dominic Chianese, Richard Johnson from the NY Post, and many more.
I had the honor of escorting my good friend, and comedy superstar Lisa Lampanelli, who I've been friends with for many years.  Lisa and Al Roker dressed up as construction workers to present Jerry with his star for the Walk of Fame!
Lisa was my recent guest on Sirius XM with Ron and Fez where I am a regular, and honored me by coming on despite the fact that she was not doing any other press.  She is still recovering from the loss of her dear father just a few months ago, and she made a decision to not allow any negativity into her life.
She only wants to do positive things which eliminates a lot of other radio shows that can tend to be mean-spirited.  Although she is known as "The Lovable Queen of Mean" I know another side of her, and that's the side that came out on the Sirius XM show that we did.  We talked about positivity, and certain Spiritual principles that are important to incorporate into your way of life in order to achieve Happiness, which I capitalize for a reason!
To me Lisa embodies empowerment.  She has created more change in her life in the last year than most people do in a lifetime, and that takes a lot of courage.  She underwent weight loss surgery and lost 107 pounds, cut off her hair into what at first was a Mohawk, and is now just a very hip short look, that had purple streaks for a few minutes, and she made the loving, but difficult choice to leave a marriage that wasn't working for her, but to her credit she did it on a very high level.  She and her husband Jimmy Cannizzaro, one of the nicest guys you can find, are parting on good terms.
As a matter of fact they are on such good terms that Lisa gave her blessing to his new relationship with singer Jenna Esposito.  
She told me personally and on the radio that if Jimmy and Jenna have kids she wants to be like the favorite aunt who spoils them.  That is a beautiful thing.  I went to Lisa's home in Connecticut just a couple of weeks ago for a Labor Day barbecue, in the home she shared with Jimmy, and it's a happy, joyous place on the water.  Very peaceful and filled with things that make Lisa happy to see, like her father's art work.  He was an accomplished painter whose works fill her beautiful home.
So Lisa was expecting Jimmy and Jenna at the Jerry Lewis event and we all planned to meet up.  As I was walking into the monastery, I felt a tap on my shoulder , and heard someone saying " Hey Jeffrey", and it was Richard Johnson who for so many years ruled the gossip world as the king of Page 6, and now has returned with his own column, " Richard Johnson- The Man Who Knows New York", which should have had the tag, "Like No One Else!" LOL
We exchanged pleasantries as they say, and I pointed out Lisa, Jimmy and Jenna standing outside talking.  He didn't even recognize Lisa but I said to him, "there's your story for the day! That's Lisa, her ex and his girlfriend."  So later during the evening I got to take these cool photos showing how well they all get along.
The other photos below are of some of the other fun guests.  And Vinny Pastore told me he wrote a new play about when he owned a bar in New Rochelle back in the 80's and Steve Van Zandt's wife Maureen is directing it, and he's really excited about that.  It was another great night at The Friars Club!
And I thought I would end this column with a photo of Jerry and I from 1986 when I worked with him alone for two nights in his hotel room to prepare for his Friars Club Roast!