I go to a lot of events. Some stand out more than others. Such was the case with Rita Cosby's event for her bestselling book "Quiet Hero", the touching story of her Dad, Ryszard (Richard) Kossobudzki (Cosby), who had been a Polish Resistance Fighter during World War II against The Nazis.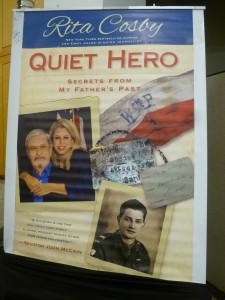 It wasn't just that he had been a resistance fighter, it was that Rita and her brother and Mom never knew the whole story of his painful background until recent years. It seems that her Dad left the family with no explanation, while she was just a teenager, and she hadn't seen him for many years.
In the meantime she had grown up to become an award-winning journalist, known internationally for her work and her interviews with celebrities and Heads of State. Needless to say it had always bothered her, as it would any child, to have been estranged from a parent, and when her Mom passed away she was forced to go through her Mom's personal belongings.
That's when she discovered a long forgotten, battered old suitcase, that had belonged to her Dad. Upon opening it she made a discovery that would change all of their lives from that day on. The items in that suitcase identified her father as having been a prisoner of war in a Nazi dentention camp known as Stalag IV-B. That explained not only the obvious scars on his body, but the internal scars on his psyche and his spirit.
He had never been the kind of man who opened up. The family knew he had been through hard times, but they had no idea of the extent. Rita used her journalistic skills to track down her Dad to where he was living in Washington,D.C.
She called him up and began to re-establish a relationship with the man she missed so much. In time they traveled back to Poland together to work on this book and a documentary film, and as this progressed the ice around his heart began to melt. It was only there as a form of self-preservation, not because he lacked the capacity to love.
He went back to Poland with Rita, for the first time in 65 years, but he went back as the hero he was, and was welcomed by no less than the President of Poland. Several times during Rita's presentation, I was moved to tears, as were others around me, thinking of her Dad as a young boy, risking his life to try and save his country, when so many of his friends had been killed by The Nazis.
Three million Polish Jews were killed along with 3 million non-Polish Jews. Growing up, that was a thought that haunted me. That so many people were killed solely for their belief. How could that happen? How could people be that cruel? How could the world just watch, and let that happen? I've never been totally comfortable in life since learning of The Holocaust as a child.
Just the thought of what happened haunts me, to know that people are capable of such extreme cruelty. Man's inhumanity to man! I believe in G-d, but I could certainly understand how The Holocaust could make you question your Faith!
Thank G-d there were heroes like Riszard Kossobudzki who even as a child fought back against evil, and risked his life to save others. What a story.
The well-attended event was held at the Heyman Auditorium which turned out to be in a Synagogue on East 85th Street, where I ran into several people I knew including Dr. Shireen Fernandez and Alex Harris of Society's Choice. There were also members of our Armed Forces present adding to the power of the evening.
And to make the evening even more special, Rita's husband Tomascek sang two beautiful patriotic songs, the national anthem and America The Beautiful, which if I remember correctly, he sang directly to the American flag. They both thanked me sincerely for coming but I felt honored to have been there!
I had planned to give her a copy of my new book " Make 'Em Laugh" with Chris Rock, so we took a photo together of each of us holding the other's book!
It was an incredibly moving and enlightening evening, and I can't wait to read her book which is available at all bookstores and on Amazon.com!