Lauren Francesca and I are very excited about working together. Lauren is an internet star who has compiled over 250 million hits on all of her films combined.  Some get over 25 million alone.  She often plays Lady Gaga in the hilarious Key of Awesome comedy/musical parodies.
We already shot two films that I wrote for her.  One is called "Besame Mucho's Academy of Oral Skills" in which she plays a sexy Latina named Besame Mucho, " voted by 3 major men's magazines as the best kisser in the world."  Click the link below to see the film:
Besame Mucho's Academy of Oral Skills
She runs a kissing school, where she teaches girls how to kiss so they put men into a dream state.  She teaches them exotic oral exercises  like the "Besame Mucho tongue push-up", and tongue swinging where you swing from a trapeze by your tongue to build up strength!
Lauren found her sexiest green dress and she and I decided to go out and party for St. Patrick's day.  We started out at celeb photographer Patrick McMullen's annual bash at the huge club Pacha, owned by my good friend Zev Norotsky, and then went on to Erik Von Broock's ultra-cool party at ultra-hot hotspot Lavo.
At Patrick's party I ran into my old friend talented actress Aesha Waks, who happens to be engaged to Patrick's son Liam McMullen.  Aesha told me that Liam wants to do stand-up comedy so I plan to help him as much as I can.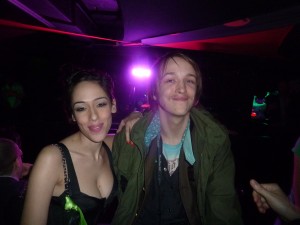 And then we wound up at Lavo to see my pal Erik Von Broock.
Above are some of the photos from our memorable evening!