It makes perfect sense that Chris Mazzilli, who I affectionately call "The Classiest Man in Comedy" would be running the classiest comedy club in town! And not just ANY town, but NYC, which is really saying something!
Plus he's always on the cutting edge of entertainment. Whether they're shooting the auditions for Last Comic Standing, or live streaming Anthony Anderson's Comedy Mixtape Show, he's always offering his audiences something really unique. Now he's got Marc Cuban, and Ryan Seacrest's AXS-TV shooting Gotham Comedy Live every Thursday at 10 P.M. for 11 weeks with fantastic guest hosts, and a great line-up of comics.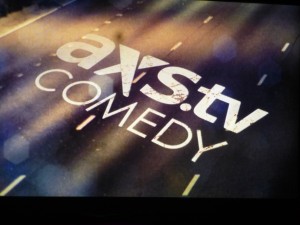 Helming the series are Exec. Producers Dave Goldberg and Rob Cea whose Killer Bunny Entertainment has created week after week of great shows, starting with host Orlando Jones a few weeks ago.
This week I went to see the great T.J. Miller who I had been wanting to interview for quite a while. We first met up in Montreal at the Just for Laughs Festival back around 2010, and have kept in touch, but weren't able to set up a specific date to get together. So when I heard he was hosting this AXS-TV special I made sure to let him know I was coming.
Let me first tell you a little about T.J. I could sum it up by saying he's been in 12 movies in the last three years, but that wouldn't be doing justice to his talent. He's not only a talented actor, he's also a great stand-up, and impressionist, PLUS he makes faces, which he has developed into an art form, starting with just the simplest face he made as a young boy, which was basically moving his mouth to the side like a Bell's Palsy victim. All of this came out in the fantastic, funny, and generous 40 minute video interview he gave me, which you will be seeing soon right here!
Later on in his career, he graduated to making much more complicated faces, some of which I was able to capture in my interview and will share with you as soon as it's finished being edited. I was able to capture a couple of them in still photos and as you can see he's widely considered a master at face-making!
Everyone has different talents, and different strengths. I for one am good at mentioning things to people! Sometimes I'll just walk over to someone and take the opportunity to mention something, … but that's just me!
T. J. was named one of Variety's "Top 10 Comics to Watch," as well as one of Entertainment Weekly's "Next Big Things in Comedy." Miller will soon be seen starring in the upcoming Fox comedy series "The Goodwin Games" opposite Becki Newton and Scott Foley. The show will be centered on three siblings who reconnect after the death of their father when he leaves them his fortune. Miller will play the youngest Goodwin sibling 'Jimmy,' who has just been released from jail.
He will also be seen this October hosting Comedy Central's "Mash-Up," a unique new half-hour series – an exciting mix of stand-up and sketch comedy. In addition to his work on TV, he has a popular podcast on nerdist.com "Cashing in with T.J. Miller" which turns the traditional interview comedy podcast on its head, as it's an interview show, but host Cash Levy only has one guest: T.J. Miller.
He always plays fun, interesting and unusual characters like his recent role in the Focus Features comedy "Seeking A Friend For The End of the World" opposite Steve Carrell and Keira Knightly, and in the Warner Brothers 80's rock musical feature "Rock of Ages", opposite Tom Cruise.
He co-starred in The Weinstein Company's "Our Idiot Brother", along with Paul Rudd. The film premiered at the Sundance Film Festival in 2011 to rave reviews!(As opposed to regular every-day reviews!) He starred as 'Ranger Jones' in the Warner Brothers live-action/CGI feature film "Yogi Bear", along with Dan Ayckroyd, Justin Timberlake and Anna Faris. He also appeared with Jack Black and Jason Segel in the 20th Century Fox 3D film "Gulliver's Travels", and in Tony Scott's dramatic thriller "Unstoppable" with Denzel Washington and Chris Pine.
I really liked him in his co-starring role in the Paramount comedy, "She's Out of My League", opposite Jay Baruchel, a film which really brought him to the public eye. (Which begs the questions, " Where is the public eye? Does the public only have one eye? And if so, does that make the public a Cyclops???)
He appeared with Jay Baruchel again in How To Train Your Dragon, a talent he promised to share with me, as I have a couple of small dragons at home on loan from HBO's "Game of Thrones", which were lent to me by Peter Dinklage, on the promise that no one could know. Fortunately no one reads this Blog so our secret is safe! (LOL)
Dragon also starred Gerard Butler and Craig Ferguson, and T.J. will reprise his role, voicing the character of "Tuffnut" in the upcoming "How To Train Your Dragon 2"! Reprising roles is another thing that T.J. is good at! The man has innumerable talents!
He also worked with Russell Brand and Jonah Hill in Universal's "Get Him To The Greek" and basically there's almost no TV show or film that he HASN'T been in! (LOL)
T.J. has also had two short films at Sundance, once as writer and star of the short "Successful Alcoholics" which the NY Times referred to as "hilarious", a term that goes much better with comedy than drama, and last year's "I'm Having A Difficult Time Killing My Parents", which he also stars in and wrote.
He chose his home-town of Denver to record his first hour long stand-up special for Comedy Central, and he also released a comedy oriented pop/hip-hop music album with Comedy Central Records. Whenever available, he performs with his sketch comedy group "Heavy Weight," with Brady Novak, Mark Raterman and Nick Vatterott.
Comedy Central has featured him on their "Hot List" special which focused on the top 10 stand-up comedians of the moment, and even though that moment has passed, he's still on that list, and will remain there for the forseeable future!
I have no idea how he had the time to give me the interview he gave me what with fielding all those projects. In the short space of time we spent together riffing on all kinds of things, some of which even made sense, and were actually very funny, he fielded three different offers for new films! (While his manager was standing in the corner!)
I left him to prepare for his hosting role, which is different than his bakery roll, and even spelled differently. But not before I gave him a copy of my new book "Make 'Em Laugh" with Chris Rock, and signed it for him by his request saying "You can never have too many scarves!" It also gave me an opportunity to get yet another photo and experience more of the range of his face-making ability!
The line-up of the show was fantastic, with a real variety of different comedic styles, fortunately the one thing they all had in common was that they were all funny!
I got there early to watch the rehearsal as I always like to see what goes on behind the scenes. That to me is where the magic is. So much goes into the making of a show. And this show goes out "LIVE", so there's little room for error! I went down to the green room to say "hi" to the cast.
It was Calise Hawkins, who as soon as she saw me started laughing about our interview last July in Montreal up at the Just for Laughs' Festival where for some reason she felt she was slurring her words. There's not much time to eat in Montreal during the festival so the drinks feel more potent!
Then I turned around to see Keith Robinson, who also gave me a hysterically funny interview in Montreal. He happened to be sitting with the very funny Chelsea Peretti who you can see very often on Chelsea Handler's show "Chelsea Lately", and who recently did a star turn on "Kroll Show" playing an aspiring singer named Farley who wants Bobby Bottleservice to manage her!
Keith is a great guy and a real talent. The audience really responds well to him and his material. He had so many great lines, but one line that really stuck out for me was when he was talking about how people are offended so easily these days, because everything is so Politically Correct. But only people with good jobs can get fired for saying something seemingly offensive. You never hear anyone say, "What happened to Earl the dishwasher?" Oh, he got fired for his homophobic Tweets!"
And then in talking about gun control, he riffed on people saying that guns don't kill people, people kill people. Keith was like, "Guns do kill people. You never hear of a mass choking do you?"
Yannis Pappas was also on the bill. I always mean to ask him if his background is Greek! No one dresses up in the comedy world, and Yannis is no exception. He came out in like a sweatshirt and sneakers, and said to the audience, " I don't know if you can tell by my appearance, but this is what an adult looks like these days!"
Commenting on family, Yannis went on to say that our parents and grandparents worked so hard to make sure their kids had a better life than they did, and my generation doesn't even want to have kids so they don't ruin our lives!"
And Bill Dawes was an LA comic who I hadn't seen before but I was really glad I got the chance. He said Latin women tend not to get drunk cause you can't drink when you're pregnant!
He also told about a threesome he was invited to join. Two guys and a girl. He said, that's basically gay sex with a witness!" (I always felt the same way! Much too awkward!) But he showed up anyway, and said he was going hard for an hour when finally he said, "Hey, when's that girl gonna show up?" That is HYSTERICAL!!!
So afterwards when I went looking for him to congratulate him, I found him outside the Men's Room, talking to two of his old friends, who had just seen the show, and I had to stand on the side awkwardly waiting for them to finish their conversation so I could congratulate him. I'm sure everyone has experienced something like that. You hope the conversation will go fast, but as it drags on you just finding yourself standing there like an eavesdropper! (LOL)
You don't want to interrupt because no one knows who you are, but at some point you have to when it goes past ten minutes and you're feeling like an idiot standing there listening to someone else's conversation that you're not a part of. It's almost funny, but mostly in retrospect!(LOL)
Anyway, I finally interrupted and got to tell him how funny I thought he was, at which point he was joined by some of my old friends including Caron Bernstein the South African model, who was there with her husband. Caron and I go back a long way, and it was great to see her!
A perfect end to a fun evening!
Anyway, T.J. Miller is actually headlining Gotham for another three shows tonight, so make sure you get out and see him. The snow wasn't as bad as they predicted, so you really have no excuse not to go! And when you get there, … tell him I sent you!