A Webby Award is an award for excellence on the Internet and it's presented annually by The International Academy of Digital Arts and Sciences, a judging body composed of over two thousand industry experts and technology innovators. It's a big honor to be nominated for a Webby and Marty Dundics' Weekly Humorist is in line to win one for Best Humor Site, in the upcoming 23rd annual Webby Awards contest.
The event itself will be held on Monday, May 13th at Cipriani Wall Street in lower Manhattan, and will be hosted by everyone's favorite Jenny Slate, so memorable from Kroll Show on Comedy Central. Jenny played many characters especially "niece Denise" and Liz from Publizity which was a sketch I got to be in.
Marty himself describes his recent comedy startup as an "underdog",  but people love underdogs and they're only up against College Humor, Funny or Die, The Daily Show and Cards Against Humanity which bills itself as a game for horrible people.
Marty, who's the CEO and Editor-In-Chief of Weekly Humorist birthed this babe and is basically a one man band. He has an office on Wall Street wHere he hosts the popular comedy podcast Talkward, and produces "Guaranteed Delivery" a monthly standup show at The Mailroom lounge, a very cool space in the same building. I've been on it and he gets great talent. This was a flier from his recent show in April.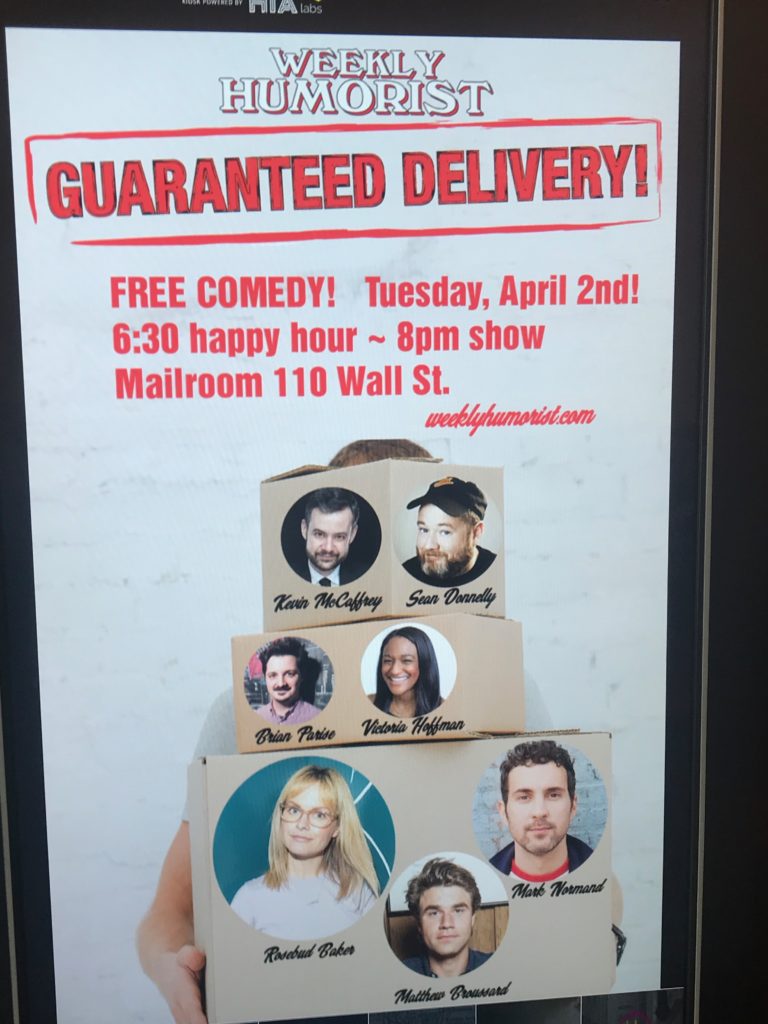 He's also the founder of Humorist Media, which develops comedy media programming and publishing.  Despite having a long history with comedy, having worked at National Lampoon, and The Late Show with David Letterman, he's funny but he's never performed himself.
Voting ends this Thursday April 18th with the winner to be announced on Tuesday April 23rd, and you can vote by going to this site, …but do it now while you're thinking about it, because voting ends on Thursday :  
https://vote.webbyawards.com/PublicVoting#/2019/websites/general-websites/humor
PLEASE REMEMBER TO "LIKE" COMMENT AND SUBSCRIBE AND FEEL FREE TO SHARE THIS WITH PEOPLE YOU HATE!