Paul Virzi's 400th Virzi Effect Podcast But His First One Live with Sal Vulcano as the Special Guest!
Paul Virzi is killing it! He's having a really great year and it's well deserved. He often opens for Bill Burr when Bill is on tour.
When I go to Gotham Comedy Club, as I do almost every night, I usually go backstage first to say hello to whoever is performing and wish him luck.
Paul was celebrating the 400th episode of his podcast "The Virzi Effect" but doing it live for the first time, and he chose The Impractical Jokers own Sal Vulcano to be his special guest.
The Virzi Effect is a really fun show. I have had the honor of being on the podcast and we did it from my place in the city. Paul was nice enough to bring his equipment and we did it from my "comedy museum"! (LOL) I knew that Paul would appreciate seeing all the photos of many of the greats in comedy going back to The Golden Age.
This night I opened the backstage door expecting to find Paul, and instead was greeted by a mob scene. A whole bunch of guys standing and chatting in a circle, and when that happens, and you realize that you know everyone, you don't know who to say hello to first! (LOL) It's awkward!
I tried saying hello to all of them at once. It was co-owner Steve Mazzilli, uber-agent and producer Rory Rosegarten who had just produced the huge Garden of Laughs event, and he was there with his son Ryan, Paul Virzi of course, Sal Vulcano and a close friend of Paul's Sam Jackalow, who just happened to know my daughter Liz. Then Jon Fisch came in and he was doing another show upstairs and he and Sal realized that they had the exact same Members Only jacket that they bonded over!
We hung out and shared stories and laughed until it was time to start the show. Paul brought up Sal to huge applause from the audience.
https://www.youtube.com/watch?v=_FS5tH4oOH8
They are very close friends and it was obvious the affection that they had for each other. Paul gave Sal a gift of some very expensive alcoholic beverage, which as a non-drinker I was not familiar with, but Sal was very touched.
They talked about all kinds of fun stuff, and Sal was comfortable enough to admit to being very sensitive. He said he once cried at a Pep Boys commercial. I totally relate and have gotten emotional about songs, movies TV shows, and when talking about my daughters. I have to censor everything I watch, or watch it alone so I don't have to feel embarrassed! (LOL)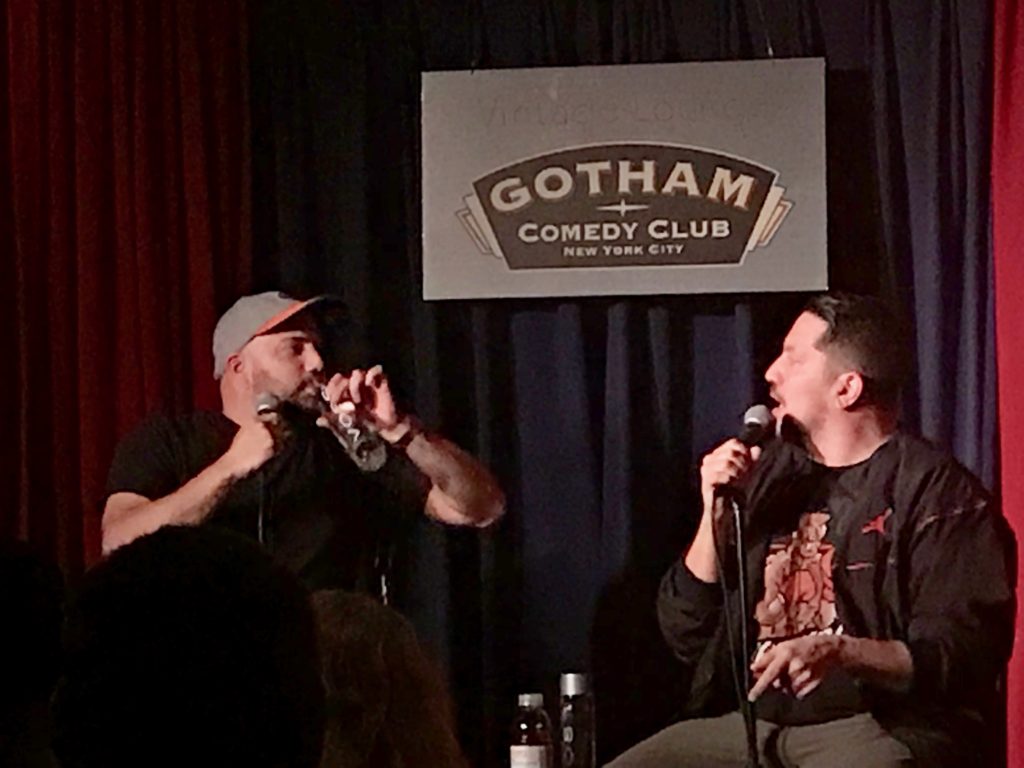 Paul always does an "Unacceptable" segment where the guest and then members of the audience share experiences they had that they deem unacceptable.
I asked Rory Rosegarten if he thought I should share my experience of showing up at Madison Square Garden to do interviews for the Garden of Laughs event with Bill Burr, Tracy Morgan, Jon Oliver, John Mulaney, and a bunch of famous actors, and realizing that I had no microphone with me because my video assistant had forgotten to pack it. I would call that quite unacceptable and Rory agreed but Paul and Sal had already moved on, so I'm sharing it right here.
Luckily my assistant slightly redeemed himself by getting this little snippet from John Mulaney while I had to run home like a maniac through rush hour traffic to get my mic!
Bill Burr had his own take on the situation after I nearly killed myself to run home and get my mic!
Sal talked a lot about the new 8th season of his tru TV hit Impractical Jokers and told some funny stories, including the times when the guys almost got assaulted by people who were pranked.
Fans of Paul and Sal traveled from all over to attend this live show, so they saved a few minutes for a Q&A during which time I raised my hand to ask if they were still entertaining "Unacceptable" stories, which I was informed they were not!
Good thing I have this platform! (LOL) At one point Paul was trying to tell a story while Sal hummed " I Believe I Can Fly" in the background, until Paul found it too distracting.
It was a really fun hour and even ran long because Paul wanted to get in some other things. He invited anyone who wanted to to hang out at Jake's Tavern which is basically next door, to grab a drink and a snack, and he gave all of his guests special posters he had made up to commemorate his 400th episode and first live show.
I'm really glad I was there to celebrate this with them!