I was in Montreal last weekend for the 29th annual Just For Laughs Festival, the biggest comedy festival in the world. One of the special events was the debut of Paul Provenza's great show on Showtime, The Green Room. Paul is a good friend and hooked me up with an "All Access" backstage pass so I could interview everyone for my Comedy Matters Vlog and column. I was the only one back there shooting video and I got some great stuff, which you will see in an upcoming post.
Paul produces the show with Barbara Romen, and gets tons of huge comedy stars to appear on it with him. It's a totally unplanned, unscripted, unprepared talk show. As Colin Quinn told me backstage, the only one who knows what's going on is Paul. He said " Paul looks good and we all look like schmucks!"
Paul was taping the last two shows of the season at the Mainline Theatre on St. Laurent Street as part of the festival. The first show had Colin Quinn, Russell Peters, Paul of course as host, Caroline Rhea, Lizz Winstead, and Bill Burr on the panel, and in the audience was Greg Proops, and Vegas lounge singer Tony Clifton who some of you may recall was Andy Kaufman's best friend!
Things got hot and heavy when Tony began yelling out very inappropriate remarks even for cable, and at first people thought it was a joke, but he wouldn't stop and kept interrupting the comedians while they were speaking. Paul eventually had to have security throw him out. No one knew if it was real or not, but it was.
I even thought it was planned until the security team literally wrestled Tony to the ground and he fell on the glass table where Paul and the panel were sitting. They wouldn't have done that for a joke. I have it on video which I will post in a separate Vlog. He just got carried away. I had interviewed him and his lady friend before the show and he had me do a separate interview with her boobs. That's on the video too!
The second show included Eddie Izzard who I also wanted to film, but the show started late and I still had to pack and get up very early to fly back to The States the next day. While I was waiting for Eddie to arrive, I was warned that he often didn't like to be interviewed and that I should definitely ask first. That seemed strange to me since that's the only way I work. I would never just start filming someone without their permission. But I recalled hearing that Eddie could be touchy at times. The truth is, who isn't???
Anyway, I had to leave before I got to see him or I would have had to stay until the show was over about 2 A.M. Next day on the plane back to New York, who's sitting right near me but Eddie Izzard. I'm two rows in front of him. I went to say hello and told him that I had just missed him last night, and went back to my seat.
Suddenly a guy comes over to him and asks him if he would change seats with him so he could sit with his girlfriend. I was expecting a scene, but Eddie couldn't have been nicer and more accomodating. As a matter of fact, he was the one who went over to the girl, tapped her on the shoulder and said, " Either that guy is your boyfriend, or he's got a great pick-up line." So now he wound up two rows in front of me.
When the plane landed in NYC, for some reason his overhead bag was right above me, and mine was right above him, because the overhead space above my seat had been filled, so I put it two rows in front. I gave him his bag and he gave me mine.
Turned out he was in New York to do an episode of CBS's "The Good Wife" with Julianna Margulies and Chris Noth. He's playing Abbott Thrush, an English barrister, … or a lawyer to those who have no idea what a "barrister" is!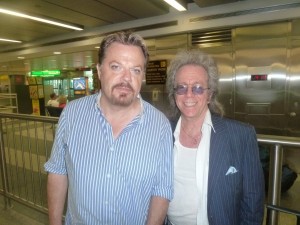 The end result of this story is that Eddie Izzard is a heck of a nice guy. I saw how he treated the people on the plane when they asked him to move his seat, and I saw how he treated me. I didn't get to do my video interview but we did take a couple of stills at baggage claim while waiting for our bags to come around.
And next time I see him we'll get the video, and I do have a feeling I'll be seeing him again!