So as one of the new features of Comedy Matters I'm taking stories from Page 6 in the NY Post, the most powerful and influential page in the country, and adding some personal stories about the people I know who were mentioned on the page.
The top story this day was about Mick Jagger going into the studio with a new supergroup including Dave Stewart of The Eurythmics, Damian Marley, Joss Stone, and A.R. Rahman. And also about how pissed he was at Keith Richards for writing unkind things about him in his new book " Life."
I only met Jagger once but he has a very special place in my history. First of all, as far as I'm concerned, ( and no one actually knows how far that is! ) the man is a King. To me he's the best of the best. No one has ever come close and his performance at The Grammy's this year gave me the chills cause he's 67, and rocks out better than most musicians in their 20's. He's thin and still has the moves that made him famous back in the 60's.
The man is AMAZING. And thanks to Mick no one ever has to be old. Who ever heard of anyone being 67, and being so hip? Mick Jagger changed the world, and the world's perception of getting old. Because if HE can do it, so can others. He's an inspiration. As long as Mick is older than me, I can never get old. I look at him for inspiration.
Now when my kids were little, ( yes, … I have kids! LOL) and we lived in a fancy neighborhood in Westchester, they used to ask me why I couldn't be like the other Dads. At the time, my hair was way, way below my shoulders, and I was driving a car that could only be described as a "pimp-mobile!" It was a Mandarin Orange Eldorado, with a white Cabriolet top, the big white wall tires, and I totally pimped it out with a Rolls Royce grille, just like the pimps did in the 70's. The dealer where I bought it told me it had been made for one of the Eisley Brothers, and he decided not to take it, so I grabbed it.
My wife used to say to me, " We're Jewish and we live in Scarsdale. Why do I have to drive an orange Cadillac? All the women laugh at me! " Obviously she didn't get it! So when my kids said, " How come you can't look like the other Dads, my answer was, " Well you'd understand if I was Mick Jagger!" And their answer was, " Yeh Dad, but you're not!"
In all my years of hanging out, I was sure I'd run into Mick, but it never happened until one night at a place called Lotus. I was at a private dinner party, with an actress named Aesha Waks, and right near us, seated with Jann Wenner of Rolling Stone fame was Mick Jagger. I couldn't believe it. He was like two tables away from me. Because I was a guest at the same party I was able to walk over and introduce myself to him. I actually told him that story about my kids, thinking that he'd think it was really funny, but to be honest, he didn't seem that amused. And he didn't ask me for my number so we could keep in touch! (LOL) Maybe he had other things on his mind.
I also met Keith Richards once as well. This was at an event for the Songwriters Hall of Fame awards, and it was black tie and I was with a gorgeous singer I was dating at the time. We were seated at a main table and with my tux and long hair, everyone took it for granted that I was someone big in the music business. To this day when people meet me, many people still think I'm in the music business. ( Even my parents think I'm in the music business! )
Anyway, on this night, three superstars stopped off at my table specifically to say "Hello" to me even though they had never met me before. I guess I looked like the kind of guy you should know, and they didn't want to slight me. It was Keith Richards, who was there with Patty Hansen, Paul Anka and Billy Joel. I swear to G-d, each one of them stopped by to say "Hi!" and " Great to see you! It's been a while." The girl I was with was absolutely shocked, and said " No one would believe this! "
Perception is everything in show biz! If you like look a certain way, and carry yourself a certain way, and have a gorgeous girl with you, interesting things can happen! Unfortunately in those days I wasn't carrying a camera the way I do now. They didn't have small cameras in those days, and certainly not digital ones.
I missed getting photos with Woody Allen, Salvador Dali, The Beach Boys, and the three musical superstars mentioned above.
David Blaine, was also in a Page 6 story the same day, about him hanging out with Ashton Kutcher, who is replacing Charlie Sheen in Two and a Half Men. They were at a restaurant in Manhattan called Indochine. The first time I met David Blaine was also in a restaurant. I don't recall the name but I know it was on East 21st Street, and I was with the legendary music agent, and long time friend Jonny Podell.
Jonny Podell is known these days as the father of DJ Cassidy who spins at every hot hip-hop party on the planet, whether it's for Russell Simmons, Jay-Z, or Oprah! He was actually flown to South Africa to spin for one of Oprah's New Years Eve parties a few years back.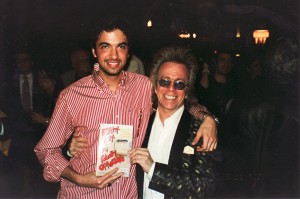 Both Jonny and Cassidy came to my sold-out totally packed, book party at The Friars Club for my book "Filthy, Funny, and Totally Offensive" and it was written up on Page 6.
Anyway, Jonny was representing David Blaine at the time and was also like a mentor to him. We were sitting with Alan Grubman, the famous entertainment lawyer and father of P.R. queen Lizzie Grubman. Jonny asked David to show me some card tricks and the one I remember most is where he asked me to pick a card, look at it and put it back in the deck. Then he threw the entire deck at the window of the restaurant, and the card I picked was stuck to the glass outside of the restaurant looking in at us. I never saw anything like that in my entire life. Even if he would offer to tell me how he did it, I wouldn't want to know. I prefer to think he has magical powers! He amazed us for quite some time with many different and amazing tricks, but that's the trick that stands out to me.
I think it was shortly after that that Jonny got him his first huge TV deal for a special. It could have been for about a million bucks if I'm not mistaken. Since then I see David periodically, usually at some fun special event like Denise Rich's Angel Ball, and he's even a fan of my short comedy films "The Men Who Series", about men who do very unusual things, like " Men Who Take A Pitchfork To The Movies", "Men Who Enjoy Latin Dancing With Tools", and "Men Who Dance Alone In Gas Stations After They Close For The Evening."