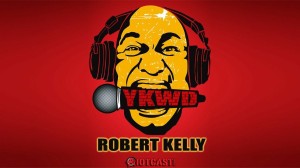 Despite the fact that after all my years in comedy, a lot of people still don't know what I do, …  (which is the reason for the video  "Who The F*@k is Jeffrey Gurian", seen below with Nick Kroll, Amy Poehler, John Mulaney, Bob Saget, Marc Maron, Sarah Silverman, D.L. Hughley, and Robert Kelly), … I get to appear on lots of podcasts.
I really enjoy doing podcasts because you have more time then you do on TV, and you usually get enough time to speak your piece, and expound on a few subjects.
This past summer at the Just for Laughs Festival in Montreal, which is the biggest comedy festival in the world, I got to see Bobby Kelly tape a special JFL version of his podcast "You Know What Dude" on the RiotCast Network and I thought it was great.  After I interviewed him for my Comedy Matters TV channel, he was kind enough to invite me on as a guest.
It's done from The Comedy Cellar in owner Noam Dworman's old apartment festooned with all kinds of fun stuff on the walls, including a collection of guitars that looked very special, and probably are,  since Noam is not a comic but an accomplished musician.
As the special guest, I got to sit on the comfortable couch next to Bobby, along with the regulars Chris Scopo who also produces, Kelly Fastuca, Dan Soder, Joe List and Luis J. Gomez, who all had to sit on regular chairs!
The studio is set up like a cool little clubhouse, complete with a little fridge stocked with beers!
It was cool seeing Luis, who I had just gone over to introduce myself to a couple of nights before when he appeared on AXS-TV's "Live at Gotham" so I could congratulate him on his great set on live TV.
Over the next two hours which went pretty fast we covered a range of topics, including one I brought up about comics not needing to rip on each other all the time which they seem prone to do.  If you force comics to do so, they can actually engage in a conversation without making fun of every word the other guy says!
But it isn't easy.  We got our experience interrupting teachers in school, by making random comments to make the other kids laugh, and comics carry that over into their daily lives, taking advantage of every opportunity to make fun of what someone is saying.
Especially if the other guy is trying his best to  be serious!
That led to Bobby saying that there were some comics who were afraid to do the show.  He made the point that he wanted his show to be the kind of show that all comics felt comfortable coming on, and didn't like to feel like he was putting out any kind of negative vibe, which he is not.
Bobby is a smart, well spoken guy, who like a lot of comics has a lot to say, about a variety of different things.  Comedians are generally really intelligent.  They have to be in order to be the wordsmiths that they are.  And Bobby adds structure to his show by grabbing the reins when he feels it's necessary, to make a point.
He gives his guests a lot of freedom but there's no doubt that it's his show.
Anyway I got to tell some stories about how I got started in comedy by pulling up to 30 Rock in a Mandarin Orange Pimpmobile that had been made for one of the Isley Brothers, and telling the doorman to please watch my car, because Lorne Michaels was expecting me!
Then I snuck past the security and got up to SNL where I met Alan Zweibel playing handball on the wall with Neil Levy, a producer on the show.  I got Alan to look at my comedy films one of which was a faux news story about several men who were arrested for smearing creamcheese on the ankles of elderly women who wore their stocking rolled down like bagels.  I actually got my dear grandmother to roll down her stockings, make believe she had a Jewish accent and then schmeared creamcheese on her ankles, which she let me film.
She explained to the police that Jewish people have two kinds of stockings, one for milk and one for meat and this crazy man schmeared creamcheese on her "meat" stockings and she can't get it off!  Fortunately Alan liked what he saw, and actually called his manager for me, who at the time was a guy named David Jonas.  He was the guy who was managing Freddie Prinze Sr. and got him Chico and The Man, and that's how I got started writing comedy!
As a result of telling that "creamcheese" story, Robert named this podcast episode "Creamcheese on the Ankles!"  And if I hadn't told you that story you would have NEVER figured out the reason for that title!
Bobby also gave me the opportunity to talk about my book "Make 'Em Laugh" with a really cool, heartfelt introduction by Chris Rock.  It took me four years to write it,  and get interviews with Seinfeld, Ray Romano, Billy Crystal, Colin Quinn, Jim Gaffigan, Lisa Lampanelli, Susie Essman, Lewis Black, Gilbert, and so many more.
The book is available on Amazon and also in Barnes and Noble and makes a great Xmas gift! (LOL)
Anyway, we had a real blast, with Dan Soder doing a great Rodney Dangerfield impression after my stories about writing for Rodney, who was the first really big star I ever worked with.  That was in between him and Joe List good-naturedly slamming each other every chance they got, and doing the same to Luis J. Gomez, cause you have to expect that when you're around comics that are friends.  You need to develop a thick skin when you're a comic!
I told Bobby that Patrice O'Neal and I never did that with each other, even though Patrice was known for doing that to most other comics, and Bobby said he'd never do that with me either!  Wheww!  So I got away lucky!
Kelly Fastuca proved she was one of the guys, by taking a lot of heat, and a lot of jokes at her expense, and laughing it off, which is really all you can do in a situation like that!
And the segment went up today so what YOU need to do is to go to www.riotcast.com and sit there and listen to every word!  Then go and Tweet the shit out of it! (LOL)
I'm out!