When you hear the words "Boy Band" maybe you think of The Backstreet Boys, NSYNC, or New Kids on the Block. Well change that image cause from now on you're gonna be thinking of Seth Herzog, Dave Hill, Jordan Carlos and Steve Agee, who played part of a gay couple with Brian Posehn on the Sarah Silverman Program.
All four of the above are comedians who thanks to first time feature screenwriters Joel and Stephen Levinson play members of a boy band called "The Heartthrob Boyz" who were wildly successful in the 90's,  and went into the studio 15 years ago to record an album and are still there working on the same album. They've aged, gained weight and lost hair but didn't lose their childish sense of humor.
Joel and Steven wrote the script together and Joel directed it. They screened it last night at the Chelsea Music Hall on West 15th Street in Manhattan and preceded the screening with a VIP cocktail party at 7 P.M. I who am never late for anything was literally the first one there which is how I got to talk with Joel and Steve, and Seth who was there early too making sure that everything went smoothly, which it did.
I brought the lovely, talented and amazing Jessica Robinson with me, who is kind of my muse, and we had the best time!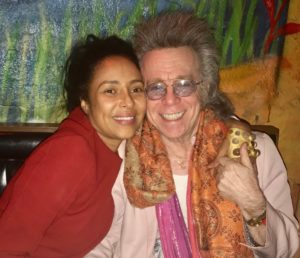 The Levinson boys wrote the script over a six month period and shot it in 10 days in Yellow Springs, Ohio, the home of independent film! (JK) They shot it there because it's near Dayton where they live and because that's where they had connections for locations and also they said that the rates of everything else were much lower. ( Lower than New York? Who would have believed it? LOL)
I always like to know how things come about so I asked them how they met Seth Herzog. They met through comedy writer Rob Kutner who wrote for The Daily Show and Conan through a project called Purim Shpiel, a sketch comedy show in honor of the Jewish holiday of Purim, and Seth always played a wicked character named Haman, who to this day is responsible for Jewish people eating what's called Hamantashen on the holiday of Purim, actually coming up later this month. (Google it!)
They said that Seth played the perfect asshole so he was the first one cast in Boy Band to play the bad boy of the group. He's also a producer on the film. Last May at a John McEnroe charity event at Carolines on Broadway where I covered the red carpet I got to interview my buddy Seth and he told me all about Boy Band before it was shot.
The film was loaded with recognizable faces, like David Gruber Allen and Julie Goldman, and I was pleasantly surprised to see my pal Jerry O'Connell in a pretty big role as a newscaster, opposite Seth's wife, on-air journalist/actress Hitha Herzog, who he somehow coerced to be in the film.  (LOL) Jerry will soon have his own talk show called Jerry O.  on FOX owned stations, and it's set to begin on August 12th. It will feature celebs and comedy for sure because Jerry is a funny guy, who appreciates the importance of comedy.
They even had Questlove from The Roots in the film playing an alien, hence the horns, also appearing in the newscast with Hitha and Jerry.
Seth as you should know is the warm up comic for The Tonight Show with Jimmy Fallon, and so works with Questlove on a day to day basis. Stephen Levinson is also a writer on that show. And Gilbert Gottfried's voice made an appearance speaking as a puppet named Morty who played an accountant.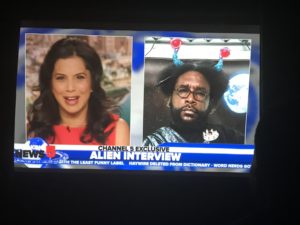 The film also featured comedian Esther Ku playing the character of Tina, Steve Agee's character's girlfriend. Esther recently co-hosted the AVN ( porno) awards in Las Vegas, and she had a big part in this film.
Esther looked absolutely gorgeous as she did hosting the AVN awards, and it's so nice seeing her owning that power and not playing down her looks like many female comedians of the past felt they had to do in order to be taken seriously as a funny person. (Having to be taken seriously as a funny person is a funny concept!) And Esther had the foresight to be Asian before it was even popular!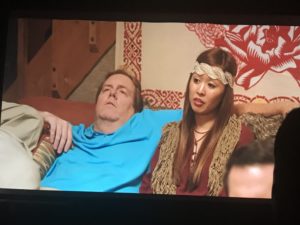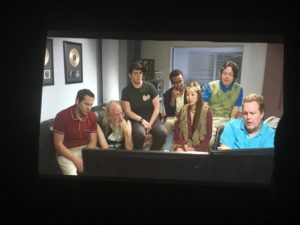 The screening had a great turnout, and was packed with lots of industry people. I ran into comedy exec. Maureen Taran, and Ali Farahnakian founder and owner of The P.I.T. who many people may not recall was also one of the founding members of USB. He was there with wife TV producer Beth Saunders, and he showed her the photo he took of me in the street many years before that wound up, unbeknownst to me, on the wall of the Men's Room in The P.I.T.
Funny story, … I was walking in the street at a street fair when this nice guy who I had never met before asked if he could take my photo. He said he thought I had an interesting look and because he was so nice I agreed. At the time I didn't know who he was. So one night I'm at The P.I.T. and I had to use the Men's Room and while I'm standing there doing my business, I happen to look to my right and see my photo staring me in the face. It was hilarious and we've been friends ever since. He's just a great guy.
And when Bravo TV wanted to shoot scenes with me for RHONY, with Countess LuAnn de Lesseps and Princess Carole Radziwill for a sketch I created and co-wrote for them, Ali was kind enough to give us The P.I.T. for the shoot and after-party.
Boy Band was a fun 90 minutes with a sci-fi element and even a touch of zombie stuff, and it's available to be seen on all platforms that show movies! Make sure to check it out.
And with that, … I'm OUT!!!
Oh yeah, … and please make sure to like this post, comment and "Subscribe" to Comedy Matters TV by clicking on the "Follow" button at the bottom of the post. Also follow Jeffrey on Twitter and IG at @jeffreygurian.