In the ever-increasing entertainment empire that is under the guidance/ownership/leadership of king-maker Lorne Michaels, Seth Meyers will take over the reins of Late Night tonight, a week after his friend and former SNL cast-mate Jimmy Fallon replaced Jay Leno on The Tonight Show.
In a NY Post article, Seth credits the confidence needed to make such a move to Lorne's support in suggesting him for the gig.  It's such a HUGE thing to have someone like that behind you.  It makes all the difference in the world, when someone with that much power believes in you!
Lorne created Saturday Night Live in 1975 and the show has gone on to provide some of the biggest stars we know today like Adam Sandler, Chris Rock, Will Ferrell, TIna Fey, Amy Poehler, Eddie Murphy, Jimmy Fallon and on and on!
It's a huge amount of pressure to do a show five nights a week where you have to interview A-list celebs every night, and keep it fresh and hip!  He'll be in the same 30 Rock building  he's called home, since 2001 when he joined the cast of SNL.  Within a period of two years he went from writing supervisor to head writer, and then to Weekend Update co-anchor with Amy Poehler.
He, like Jimmy Fallon has been doing test shows during the week with guest celebs like Kathie Lee Gifford and Hoda Kotb of "Today", and a few guest comics as well.  His bandleader is also an interesting choice, former SNL star and current star of IFC's Portlandia, Fred Armisen.
Interesting fact: Portlandia was created by Jonathan Krisel who also directs Kroll Show on Comedy Central, and during the last NY Comedy Festival, when Nick Kroll did a panel at The Paley Center, ( formerly the Museum of TV and Radio), Seth was the moderator, and Jon Krisel was on the panel, along with Nick Kroll and Exec. Producer of Kroll Show and sometime actor on the show, John Levenstein.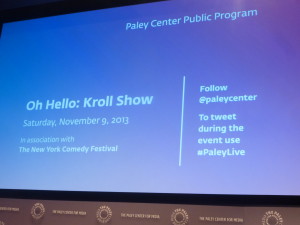 It happened to be during that panel that I got a great surprise.  Not only did Nick give me a shout out from the stage, before showing my " Too Much Tuna" sketch with him and John Mulaney, but they also showed the upcoming sketch I'm in, which I understand will be the finale of the 2nd season, with me playing myself in a sketch with Laura Dern, Amy Poehler, and Katy Perry!
Amy and Seth are very close as they shared the Weekend Update desk for two years from 2006-2008.  This past summer in Montreal at The Just for Laughs Festival which is the biggest comedy festival in the world, Seth presented Amy with the Breakout Comedy Star of the Year Award at a huge awards luncheon.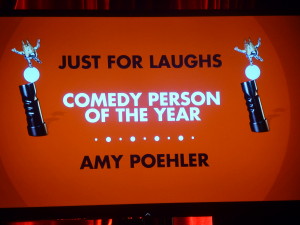 She will be his first guest tonight along with VP Joe Biden.  Interesting mix!  Later in the week he'll have Kanye West, and Patrick Stewart!
Seth is such a charming, humble, and likable guy, he's a natural for the spot and people will love him.   Just last year he got married to human rights lawyer Alexi Ashe and he says his new schedule will allow him to start a family!  ( Not by himself, with Alexi's cooperation, of course! LOL)
Between Seth, Jimmy, and David Letterman, they'll be bringing major entertainment back to New York in a very big way.  So many more stars from LA will be here to do the shows!  Very exciting.
We'll all be watching you tonight Seth, and we know you'll totally kill it!  Below you can see my little interview with Seth in Montreal just before he presented Amy with her award!