There's only a handful of comedians that can fill an arena like Madison Square Garden with 20,000 seats, much less four shows over one weekend!  That's 80,000 people who came out in the cold and pouring rain to see Sebastian Maniscalco do his thing on his Stay Hungry Tour.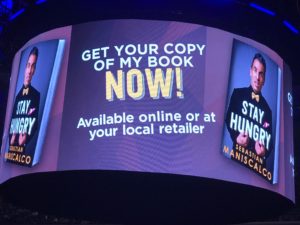 There's also very few performers who only need one name to identify them. Oprah, Cher, Elvis! Nobody ever said Elvis who? And now there's Sebastian, holding it down in the comedy world!
I who drive everywhere had a feeling that wouldn't be a good idea this night so I called for an Uber. I'm basically right across town from MSG, so theoretically it should take a good 15-20 minutes to get there.
The VIP meet and greet was set for 9-10 P.M. between his last two shows. I was told to go to the 8 Penn Plaza entrance which is for employees and media, and make my way to the 5th floor and then down to the third floor for the party.
The car picked me and my date up at 8:15, and I arrived at 8 Penn Plaza just past 9:30 after having to get out and walk the last four blocks in the pouring rain which had been predicted to be snow. For whatever reason traffic was INSANE. Much worse than usual. Every block, every avenue backed up! So lucky I didn't drive.
As we walked over  we saw huge billboards with Sebastian's face on them announcing his show. I got excited just by seeing them. Most comics have the experience of seeing their face on a flier, but to see your entire being on a billboard in Times Square has to be beyond belief.
And in the Garden he and Pete Correale were up on the Jumbotron for their podcast "The Pete and Sebastian Show"!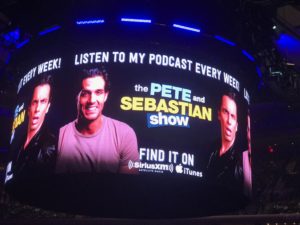 The lines outside of MSG were crazy but I thought we'd have an easier time at the 8 Penn Plaza entrance. WRONG!!! The line was out through the door and into the street. We managed to get inside where it seemed like nobody was moving. They had metal detectors and heavy security but nobody was moving.
I called upstairs to let Sebastian's Levity Live people know I was finally there, but it was so noisy it was hard to hear anyone. They had my tickets and VIP party passes at a special table, and we just missed an elevator because they said there was no more room. The guards made us put on our VIP passes. We weren't allowed to just hold them, we had to WEAR them!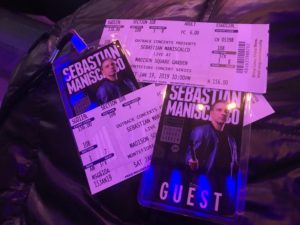 We finally got an elevator and the first guy that got in said, " Hey I know you. Aren't you the "Master Panelist" from Comics Watching Comics on Amazon Prime?" I admitted that I was, and then another guy got in who referenced me from "Too Much Tuna" with Nick Kroll and John Mulaney, and even the elevator operator said he knew me. That was kind of crazy! Obviously I'm very well known in elevators throughout the land!
When we finally got to the fifth floor, we were ushered vaguely to another place that wasn't clear but some nice guy said, " Don't worry I'll show you where to go."
And we finally got there around 9:40 just in time to see Levity's Alex Goodman standing with Sebastian's opening act Pat McGann. Alex kindly showed me into the room where Sebastian was mingling and taking photos with the crowd, directed by Levity honcho Judy Marmel.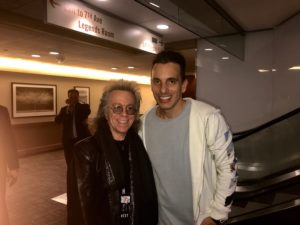 We got to exchange pleasantries with Sebastian, and I was amazed how calm he was knowing he was about to face 20,000 people in a few minutes, but I guess once you do it three times before, the fourth time feels like "old hat", as they used to say in 1810!
When we took our seats, in the third row with a great view, I just sat there trying to take in the aura of 20,000 people. As a comic, if a club is full depending on the club there's maybe 300 people. Lots of clubs have 125. Twenty thousand people is unimaginable, and you really have to put in years of stage time to be able to handle that and not go insane with fear!
You also have to hope they don't all want to come over your house for a drink afterwards! That call to your wife would be crazy! Honey some people are dropping by. How many? About 20,000!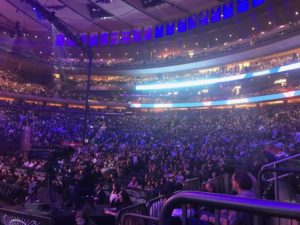 Pat McGann showed why he was chosen as Sebastian's opener by doing a strong opening set with great stories about his wife, kids and family in general.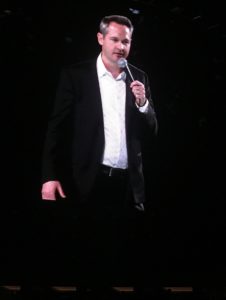 And then it was time for Sebastian, who hit the stage like a rockstar in a sparkly, multi-colored jacket that was the first thing he mentioned.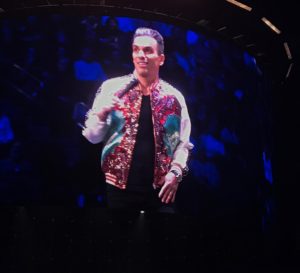 Then he discussed the fact that people had been wondering whether they'd have to cancel the show because of the weather. He laughingly said something to the effect of,  "Hey this is not a brunch where you can just go, " The  weather's not so great. We'll do it next Thursday! This is Madison Square Garden.  It took me two years to plan this thing. It's not being cancelled for a little rain."
He got thunderous applause from the time he came out till the time he left the stage. It's not only his stage presence, it's his physicality that always amazes me.  He acts out almost every joke he does and contorts his body so it looks like the people he's talking about.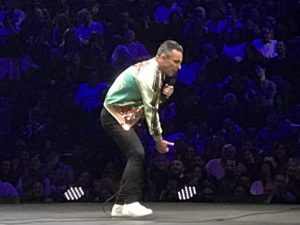 He's married to a Jewish woman which gave him the ability to compare Jews and Italians in talking about his wife's upbringing as compared to his, and people were absolutely hysterical. A guy near me almost fell out of his seat!
He told great stories too like the time his wife made a one year old birthday party for his daughter and ordered an alpaca to make an appearance. He needed to get a permit for the alpaca and the story was hilarious. He even walked and made faces and noises like an alpaca. That's not easy to do!
Talking about the condition his wife was in after she gave birth, he said she looked like she had been thrown out of an airplane, and that made me laugh out loud which like many people in comedy I don't usually do.
I had to learn that early on when writing for very famous comedians who would look at the jokes I wrote and with a very serious face say, " Oh that's funny.  And THAT one's VERY funny. I'm hysterical!", without even cracking a smile.
He announced the good news that he has a son on the way. Very exciting. He certainly proved why he was worthy of the respect of 80,000 people who braved the freezing cold and rain to come out and join him. I'm sure he could have done at least two more shows.
I really look forward to seeing him again!